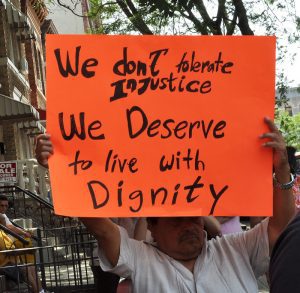 Many mission-driven affordable housing providers view the creation of quality, affordable homes as one opportunity to right past wrongs. Decades of redlining, segregation, and a lack of economic and sociopolitical opportunities have negatively affected the lives of people of color.
However, too often we fail to recognize that some elements of affordable housing—from the development process to the way buildings are managed—are rooted in racist assumptions that dehumanize residents. Many times, the people who lead the decision-making around development and operations are not the ones with direct insight and expertise as to what it's like to actually live in affordable housing. That disconnect can compound harmful policies and practices around everything from building design to the way that management communicates with residents.
How can we as a field expect to improve the quality, conditions, and inclusivity of a property without robust input from residents? Dissecting and addressing these challenges requires a critical eye, openness, the desire to improve, and a willingness to undergo a long, hard look at the ways even well-meaning housing organizations cause residents harm and undermine any mission to promote equity.
How We Signal Distrust
One way housing organizations can "right the ship" is by taking a close look at how they communicate—both directly and indirectly—with residents. Whether we realize it or not, all processes in housing development and operations convey certain messages to residents. For instance, during lease renewals, discussions that owners and management agents have with residents about lease terms and house rules often focus on everything residents shouldn't do, signaling distrust and placing an emphasis on enforcement.
[RELATED ARTICLE: Trauma-Informed Practices Help Deliver Better Care to Clients and Staff]
But these processes can be an opportunity to collaborate with residents. By taking the time to discuss, in plain language, lease requirements and protections and by consulting with residents in developing house rules, a building's owners and management team can communicate respect and consideration and provide an opportunity for residents to exercise their agency and expertise on what, for example, community safety means and how it could be improved. BRIDGE Housing, a member of Stewards of Affordable Housing for the Future (where we work), has intentionally shifted how they engage with residents to foster an environment in which leadership and actions can be shared. They have crowdsourced potential solutions to some of the community safety issues residents have raised, and have since involved residents in ongoing urban planning and programming efforts to ensure their thoughts and needs are incorporated into community transformation plans. As a result, BRIDGE Housing has seen an increase in engagement among the residents at community meetings, which is providing critical insights that help BRIDGE improve on its transformation plan.
Something as seemingly simple as reviewing lease terms, tenant rights, and the resources available if a resident were to get behind on rent before it occurs not only promotes transparency but demonstrates to the tenant how property management and residents can work together as solution seekers. Being proactive with this information can also reduce some of the anxiety a resident might face if they were to fall behind on rent because they now know how to connect to resources and services that may help.
Of course, adapting to safety and social distancing protocols to keep housing communities safe during  the pandemic has shifted how property staff and residents communicate. While in-person, one-on-one communication was once routine and, in some cases remains the ideal (such as with higher need senior and supportive housing populations), many providers have moved to phone and online communications to connect with residents. As the pandemic continues and necessity gives rise to innovation and adaptation, providers are beginning to understand that digital access and multiple modes of communication are not just a means for residents to stay engaged with the outside world when properties are under quarantine or in lockdown. These modes of communication could be another way for them to engage with property management and resident services beyond the pandemic—if that is what residents prefer.
Providing multiple modalities to gather feedback and to communicate is an excellent way to show respect and reflect resident choice.
For example, to understand what energy-efficient features and design changes residents wanted as part of a long-scheduled renovation that was to start in late 2020, Community Housing Partners (CHP) created a survey of easy-to-understand specific and open-ended questions that residents could access online or on paper. Residents could also provide feedback over the phone or stop by the property office if they preferred doing that instead of completing the survey.  CHP also created a website to supply current information about the renovation process and where residents could submit questions to the team. As a result of this effort, CHP incorporated the feedback of approximately 38 households and  was able to include several  improvements prioritized by residents, such as increased storage, energy efficient appliances, and improved community space. This is the first time CHP designed a survey explicitly asking for residents to share their experience with the building system to determine what improvements should be made and is a process the organization wants to continue for future projects.
Moving Beyond Unwilling Research Subjects
Another common process in affordable housing that requires rethinking: the collection of HUD-required resident information or other pieces of data that track resident outcomes. Typically, gathering this information can inadvertently make residents feel more like an unwilling research subject than a resident. The process presents an opportunity for building trust and giving residents a greater voice, particularly when measuring resident satisfaction and other indicators, like community health and wellness. Asking residents for their input on the types of data to collect is one way to place residents at the center of the data collection process. This requires that an affordable housing provider work with residents to determine what success and/or improved satisfaction could look like instead of having staff, who do not possess the day-to-day knowledge of what it is like to reside at the property, set those benchmarks. For data required by law, providers can work with their resident services staff and property managers to create opportunities to thoughtfully share with residents what data is being collected and why. Doing so every time such data is collected demonstrates respect and can help make the process feel less objectifying and invasive.
Resident-centered communication approaches are strengthened by good collaboration between resident services and property management staff, including maintenance staff. A collaborative approach helps ensure consistent messaging and services to the resident. It provides opportunities to better understand and acknowledge the residents' experience by gathering insights from service coordinators and maintenance staff who are in regular communication with residents and who may even serve as trusted messengers in the future. For Preservation of Affordable Housing (POAH), maintenance supervisors are key members of their Designing Trauma Resilient Communities site teams. The supervisors actively engage with residents and are critical to identifying solutions to processes where both residents and maintenance staff feel like there needs to be improvement, such as communications about inspections. As a result, POAH is planning to provide residents a means to schedule inspection times so that residents have more choice and the maintenance team will have the peace of mind knowing that they are expected.
A Sense of Agency, Control Is Important
Besides wanting to be a better, more transparent and equitable housing provider, why should housers review their business practices? Over the past several years, Stewards of Affordable Housing for the Future (SAHF), a national collaborative of nonprofit affordable housing developers, has explored resident voice and agency and what that means for individual and community health and well-being. Research across many different disciplines supports the fact that people are less likely to thrive in environments and situations that offer little sense of individual agency and control. In fact, they are more likely to experience chronic stress, which can result in an increased likelihood of a range of poor health conditions such as heart disease, high blood pressure, anxiety and depression, not to mention an overall diminished sense of well-being. Almost 20 months into an unpredictable and evolving pandemic the like of which hasn't occurred in over a century, this should not come as a surprise. Nor should the fact that when residents are experiencing chronic stress and poor mental health, they may find it more difficult to engage with their landlord to find solutions for problems, like being unable to pay that month's rent.
Knowing that a lack of agency and chronic stress can be toxic, we believe that providing increased opportunities to incorporate resident voice not only leads to more inclusive, resident-centered communities, but can also play a pivotal role in reducing some of the stresses households face. While not a silver bullet, simple, transparent communication (in multiple languages) and relationship-building interactions with residents rooted in trauma-informed approaches are practical ways housing organizations can create vibrant, healthy places for the communities they serve. As we work to find a new equilibrium, let's take the opportunity to examine our practices and consider how we can improve.