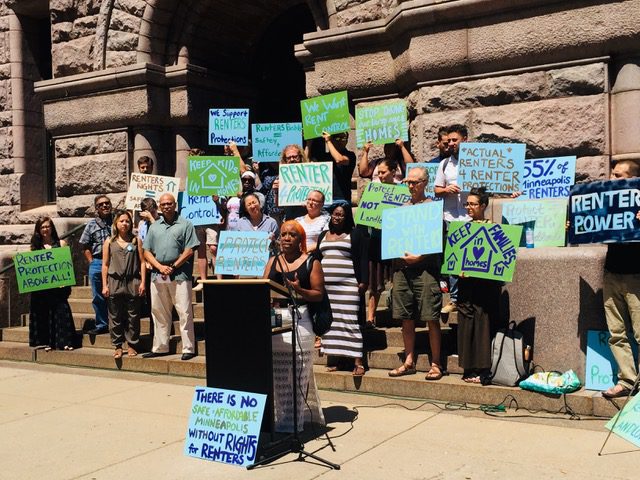 Community organizing and community development share deep roots. Grassroots movements that opposed urban renewal fought to flip the false narratives of "urban decay" and "blight" that led to the destruction of communities of color, and in doing so, fought for the right to control the destinies of those neighborhoods through community-led development with an asset-based lens. Decades later, the proliferation of community development organizations has created an entire industry focused on complex finance tools and the mobilization and attraction of private capital.
Over time, the professionalization of the community development field has led to the slow but accelerating divergence of organizing and development. This division becomes even clearer if we focus on the bottom line of each group: community development works to shift resources into disinvested communities, whereas community organizers seek to shift power into them.
Of course this distinction makes sense, given our inequitable housing system. With such scarce resources from every level of government, community development practitioners face increasing pressure to master qualified allocation plans (QAP) and tedious funding applications to compete for low-income housing tax credits. However, this pivot on the part of community developers toward technical competence has left a vacuum in the space where organizational time and resources dedicated to grassroots movement building used to lie. Meanwhile, community organizers, the majority of whom are not employed by affordable housing developers, have continued to focus on building and shifting power in ways that make systems and institutions more antiracist.
In the Twin Cities, for instance, our CDC landscape has diverged into two general categories. The first consists of small, place-based community development organizations that focus their efforts in specific neighborhoods, and do not depend solely on housing development as their vehicle for growth. These organizations tend to be more connected to the specific community in which they operate, whether that's through organizing or long-term community engagement. Generally, they are grassroots organizations that have fewer staff and less resources. The latter category consists of large, areawide nonprofit developers whose sole activity is developing and maintaining large-scale housing projects, and in order to sustain that, they focus much of their staff capacity on attracting both public and private capital. These organizations are rarely deeply rooted in any neighborhood because their work is spread across geographies, and engagement is only conducted as needed to continue development (such as neighborhood engagement prior to seeking planning commission approval of new projects).
Resources and power are certainly not mutually exclusive, and both are incredibly important to creating and sustaining equitable cities—and combating the white supremacy deeply embedded in our nation. Community developers frequently advocate for vital resources in Black, Indigenous, and People of Color (BIPOC) communities, such as funds for affordable housing development and preservation, small business support, and economic inclusion efforts, all of which are important assets and community needs. Organizers aim to build the power and voice of BIPOC communities so that they may participate in public policy and decision-making spaces. Their grassroots work centers practices like leadership development, deep relationship-building, alignment of people and/or organizations across sectors and identities via coalition-building, and allowing BIPOC communities to define their own needs.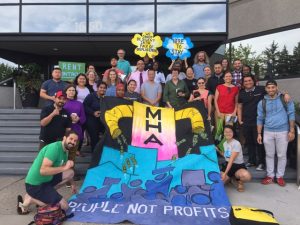 Minneapolis' 2019 housing victories paint the picture of these two different approaches well: Make Homes Happen was a coalition of community development organizations that successfully advocated for historic investments in affordable housing at the municipal level, whereas a coalition of tenant advocacy orgs fought for and won increased tenant protections. The former fought for increased funds for housing production, and the latter fought to dismantle systemic barriers to housing access. Both are critical needs. In a more ideal ecosystem, these two approaches could and should be working together to address our deep racial inequities.
The division between the two means that sometimes community development organizations are not as connected to antiracist work as they might have been. How can community development organizations be better antiracist partners from their position in the field? With specific actions. As Professor Ibram X. Kendi writes in How to Be an Antiracist, "'Racist' and 'antiracist' are like peelable name tags that are placed and replaced based on what someone is doing or not doing, supporting or expressing in each moment." He defines an antiracist person as "one who is supporting an antiracist policy through their actions or expressing an antiracist idea."
In that spirit, here are three actions organizations can take:
Take clear public stances on social justice issues that are not directly related to community or economic development. I'm from the Twin Cities, and the aftermath of the murder of George Floyd by the Minneapolis Police Department is front and center as an example of this for us. Amid the uprising, community members and grassroots organizations would ask community developers "where does your organization stand?" When that happens, interpret it not as a challenge and a pressure to be as radical as possible, but a calling in to join antiracist conversations and movements that are shifting power. You can also reassess the ways that your own organization interacts with police departments (events with police presence, neighborhood watches) and reflect on how that aligns with your community's definition of public safety. Community developers have political clout and narrative influence that grassroots groups often don't—it's critical to deploy that in ways that show solidarity with racial justice movements. It doesn't mean your organization has to say "abolish the police," but it means you can and should publicly acknowledge the role of policing as an institution rooted in white supremacy in the ways that it disparately impacts the communities we work with.
[Related: Community Organizations Have to Talk About Police Violence Directly]
Not all community developers in the Twin Cities met this challenge. Some were more concerned for their bottom line regarding potential property damage and did not recalibrate their perspective to the arc of history that included centuries during which Black people were considered property and denied property ownership. But some community developers did lead the way. For example, the Metropolitan Consortium of Community Developers (MCCD), a nonprofit association of nonprofit community developers in the Twin Cities, released the following statement in the aftermath of George Floyd's murder:
Our community is powerful and we can enact change.
This past week has been a difficult one for our neighbors and community members following the horrific murder of George Floyd. Our hearts go out to his family, friends, and the broader community. We acknowledge that this violence is just one part of a system of oppression that permeates our society and culture. We cannot allow the targeting of Black, Indigenous and People of Color (BIPOC) communities to continue and we stand with those who call for justice.
 MCCD's mission to build strong, stable communities can only be achieved by addressing the inequities that have shaped housing policy and prevented BIPOC and other communities from accessing capital and wealth building opportunities. We can and must do better.
 And as an organization that works daily with small businesses and believes strongly in the power of ownership, MCCD will continue to stand alongside our business community in rebuilding. We commit to using our CDFI and public policy platforms to advocate for resources that will restore our vibrant commercial districts.
 MCCD will stand with our partners and BIPOC leaders in dismantling systems designed to perpetuate disparities. Our community is powerful and we can enact change.
When we don't say anything, we are neutral, which maintains the status quo. When we take a stand, we demonstrate our readiness to be in solidarity and actively antiracist.
Own your role in the movement as the insider. There are many roles to play in advancing systems change, and the asset that community developers bring is a deep knowledge of how to navigate systems and bureaucracies. Share that knowledge! You know QAPs and RFPs inside and out, and you know where levers of power are. Open that knowledge up to conversations with people who see barriers to equity within those processes. Use that expertise to critique and improve systems, and bring new voices with you. At The Alliance, where I am a policy advocate, we convene a coalition called "Equity in Place." Membership ranges from housing organizers and lawyers to community developers and policy advocates. One of the bodies of work we've been engaged in is changing the way Minnesota Housing, the state housing finance agency, prioritizes its housing investments by influencing the qualified allocation plan. (QAPs outline specific criteria and eligibility requirements for funding applications and include a point system through which projects are evaluated.)
QAPs are notorious for being extremely technical and inaccessible documents—often dozens, if not 100 pages long—but have enormous implications for where housing dollars go, and therefore, who benefits from housing investments. With the help of nonprofit community developers who are experienced in QAP documentation and processes, our coalition has brought about meaningful changes to the Minnesota Housing QAP. These include increasing points for longer and deeper affordability (which disincentivizes for-profit developers who consume public subsidy for private gain), and prohibiting the use of credit scores as a screening criterion for LIHTC developments (which disparately excludes immigrant, refugee, and BIPOC households from rental housing).
When we hoard our knowledge of systems, we maintain the status quo. When we share that knowledge with others, we share the power to make our systems more equitable.
Incorporate community organizing into your work by hiring a community organizer. The organizer could work in coalition with other organizations who are advancing issue-specific campaigns that impact your residents and neighborhoods in which you work. Your organizer could even organize your residents—getting to know what they care about, increasing civic engagement, building trust and, more importantly, building power in community. Having a community organizer is a game-changer, because when someone asks at a staff meeting "what do our residents think about X?" you'll have your finger on the pulse.
When the pandemic began and the Cancel the Rent campaign gained momentum, it put the community developer members of Equity in Place in a tight spot. Of course they understood that unemployment disparately impacted residents living in their buildings, who were predominantly people of color, and that therefore rent would be difficult to pay. At the same time, the rent they collected helped with building maintenance, resident services, and keeping the organization afloat—canceling it would put their organizational stability at risk. However, community developers who employed organizers were able to be in closer relationship with residents, more aware of their struggles in that moment, and more responsive to their needs.  Ultimately, these organizers helped their organizations reach a more nuanced understanding and approach to the campaign, and influenced our strategies (for example, approaching banks to discuss mortgage cancellation for multifamily buildings), even if that meant holding tension and having challenging conversations with coalition partners.
Equity in Place still supported the campaign as a coalition, but our talking points came from the perspectives of both renters and nonprofit property owners who understood their role as a "landlord" differently: rentership not just as a transactional financial relationship, but as a focal point for community stability. Therefore, it was in their best interest to advocate to those who held power in their transactional financial relationship: their mortgage holders. While conversations with banks did not go very far, the Equity in Place members who do operate affordable housing were a part of efforts urging the Minnesota governor's administration to release additional housing assistance ($100 million was made available), and some even fundraised additional private donations, which were dedicated to covering lost rent to ensure that none of their tenants entered housing debt.
It will take a lot of work, but it is possible to reconnect the community development field to its roots, and to the fold of ever-growing racial justice work. We must be intentional about how daily organizational decisions either move us toward antiracism or perpetuate racism—sharing power or preserving the status quo—and most importantly, we must develop a lens on race and power to allow for that intention. We must do it quickly, before the field becomes too caught up in market-based housing solutions and neoliberal approaches to development, and before the field loses touch with the people and movements that made it possible in the first place.