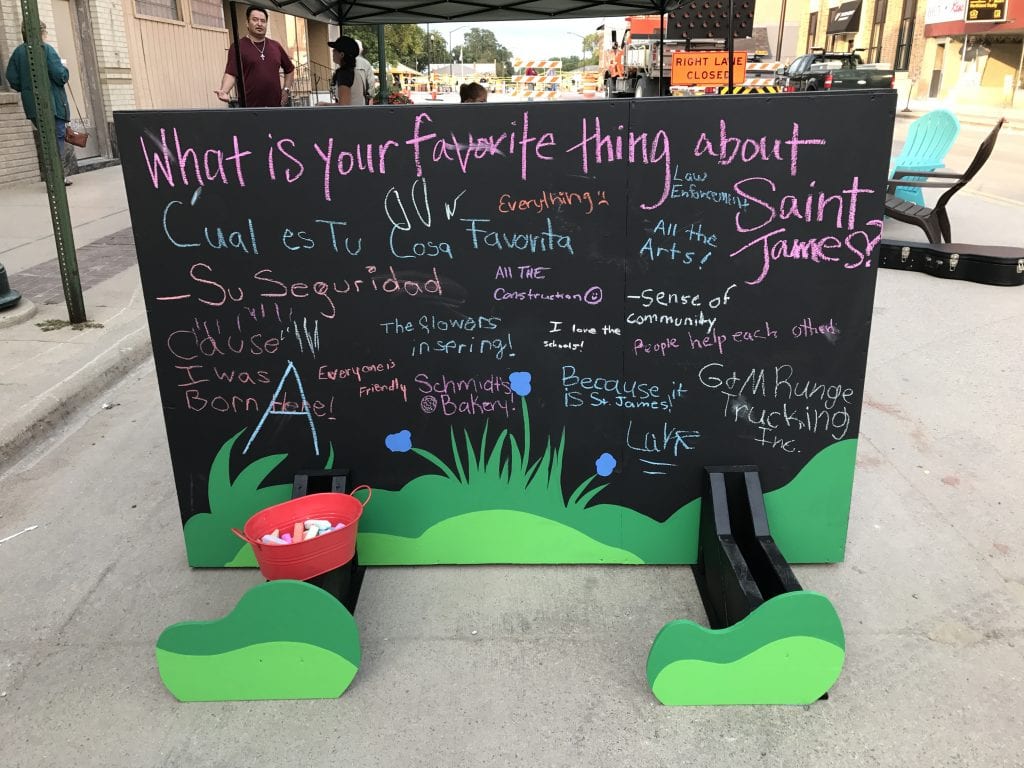 Three years ago, Shelterforce covered the stories of a handful of community development organizations that had begun work under multi-million dollar grants from ArtPlace. The grants gave housing and social service providers an opportunity to explore whether they could further their missions by integrating arts and culture strategies into their work. The initiative—the Community Development Investments (CDI) program—has ended, but the work hasn't. This is the first in a series of articles that follow up on the three organizations we featured—the Southwest Minnesota Housing Partnership in Slayton, Minnesota; the Cook Inlet Housing Authority in Anchorage, Alaska; and Little Tokyo Service Center in Los Angeles, California—and asks what did they do, what did they learn, and most importantly, did they permanently change the way they operate?
It wasn't a typical staff meeting. Everyone was sitting in a circle, and the facilitator had handed out pipe cleaners and playing cards and instructed the participants to use the objects to create an image about their day. A few were apprehensive at first—playing with pipe cleaners seemed more suited to a first-grade classroom than one's workplace—but, following the lead of the facilitator, artist Ashley Hanson of PlaceBase Productions, they were learning to trust the process, worrying less about the result and concentrating more on the task of getting there. So they went for it, twisting, bending, folding, each coming up with their own unique creation. One by one, the participants presented what they had made. And with each sharing, a collective story about the people in the room began to emerge.
The group was the staff of the Southwest Minnesota Housing Partnership (SWMHP). Founded in 1992 with a mission to support the economic development of communities throughout southwest and south-central Minnesota, SWMHP had a longstanding track record of creating affordable housing and homeownership opportunities. In the world of community development, the organization's many accomplishments had followed what some might call a conventional path: listening sessions and surveys, city council meetings, funding applications, and endless puzzling over how—with limited resources—to build functional, well-designed homes.
But now SWMHP was defying convention. In 2015, the organization became one of six community development organizations in the country to be awarded a $3 million grant from ArtPlace America through its Community Development Investment (CDI) program. The three-year initiative challenged grant recipients to explore sustainable ways of integrating arts and culture into their core operations. That art could serve a practical purpose, as much as any spreadsheet or survey, was a new and exciting concept to the leadership team at SWMHP—exciting enough that they applied for the CDI grant and won it. Now, sitting in a circle with their pipe cleaners and playing cards, they wondered what exactly they had gotten themselves into.
What is Art?
Often what constitutes "art" is narrowly defined as a product—preferably a marketable product—with a mostly aesthetic purpose. A painting can brighten a bare wall; a sculpture can add interest to a street intersection or a park. Or art can be entertainment: a concert or a play can add some variety to the routine of everyday life. But neither art as product nor as entertainment seems immediately applicable to the work of a community development corporation. Making the decision to apply for the CDI grant challenged SWMHP to rethink its perception of what art is and what it can do.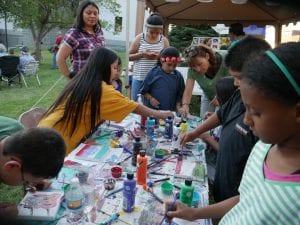 Architect James Arentson joined SWMHP as a Rose Fellow in January 2015, a two-year opportunity facilitated by Enterprise Community Partners to connect socially engaged architects with community development organizations. Arentson was among those staff members urging the team to slow down and take a closer look at what "all this creative stuff" was about. During one of the preliminary meetings on the topic before the CDI application was submitted, one staff member shared a story about a mural in the town of Walnut Grove that had made headlines. Like many towns in Minnesota, Walnut Grove had experienced a massive demographic transformation. In 2000, of the nearly 600 residents of Walnut Grove, less than 1 percent identified their race as Asian; 10 years later, the total population had grown to 871 with over one-third identifying as Asian. The town that inspired Little House on the Prairie was undergoing a major change in identity.
The mural decorated the side of a grocery store owned by a Hmong man who had immigrated to Minnesota from Laos in 2001 and purchased the store in 2003. In the background, a man plows a field with an ox while a young woman carries a basket for hauling rice. In the foreground, a portrait of Laura Ingalls Wilder (1867-1957), author of Little House on the Prairie, stands alongside a woman in traditional Hmong dress. The design of the mural also acknowledges the town's Scandinavian heritage while embracing the diversity of the present day.
The staff at SWMHP understood the story of the mural as a helpful model of art strengthening a community in a simple but effective way. If a sense of cohesion could be achieved with a mural, maybe there was indeed something to be said for exploring the arts. But no one would really know what there was to gain until they began the journey.
Laying the Groundwork
SWMHP used the CDI grant to lay the groundwork for Partnership Art, an initiative to explore the use of arts and culture to engage local communities. SWMHP serves a vast rural area encompassing 30 counties over 8,000 square miles. Driving from one town to another can take as long as three hours. Given the scope of SWMHP's reach, there was an immediate concern about how and where to focus. "How do we take this large region and localize the process to create meaningful outcomes?" explains Chelsea Alger, who was a resource development officer at SWMHP at the time.
An essential step was to identify a set number of communities where there was a demonstrated readiness to incorporate an arts and culture strategy into a broader community development agenda. "We didn't want the work to be so spread out that we couldn't see impact," says Lisa Graphenteen, who worked with SWMHP for over 13 years as community development director and, at the time the CDI grant began, as chief operating officer. The leadership team at SWMHP—CEO Rick Goodemann, Alger, Graphenteen, Jorge Lopez, and architect James Arentson—relied on the four points of creative placemaking developed by ArtPlace's deputy director and CDI program lead, Lyz Crane, to guide decisions about which communities and projects were the right fit:
What is the geographic community?
What is the desired community change?
How will the arts help achieve that change?
What rubric is in place for measuring outcomes, and how were those outcomes different as a result of engaging with the arts?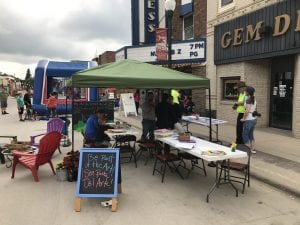 The leadership team took those guiding questions to prospective locations and conducted one-on-one community interviews. Overall, there was excitement around the initiative, but there were specific things that indicated whether a community was truly ready to dive in. Enthusiasm from local government—folks such as Jamie Scheffer, economic development director for the town of St. James, who immediately recognized the potential impact art could have on community engagement—was an essential factor. "Where you have an inspired group of leaders who are willing to get behind an idea and willingly endorse the community's input, you're a long ways ahead," Arentson says. City support meant assistance in establishing the local contacts that would be crucial for achieving the kind of bottom-up engagement SWMHP was aiming for with Partnership Art.
The right location also had to have a change its residents wanted to see take place, something a civically engaged artistic practice could help achieve. Like Walnut Grove, many communities in southwest Minnesota were in the midst of what Arentson called "identity challenges." In St. James, the Latinx population had grown from less than one-quarter of the total population in 2000 to more than one-third by the time Jamie Scheffer started in her new role as economic development director in 2015. Yet the more conventional platforms for addressing community concerns, such as workshops and city council meetings, remained dominated by white residents of European descent. For all of these reasons, interest in doing more to include people of color and celebrate the growing diversity of the region became priorities in SWMHP's selection process.
Ultimately, three communities were selected for the first iteration of Partnership Art: St. James, Milan, and Worthington. SWMHP itself would be the final project.
Community As Collaborators, Not Consumers
SWMHP then issued a call for artists—with the criterion being that applicants be based in the region and have an interest in collaborating on issues related to community development, like affordable housing, downtown revitalization, and public safety. SWMHP created a roster of creative collaborators; artists added to the roster became eligible to submit proposals for projects in the three communities.
As proposals came in, the question of what art is and what it can do—and in this case, should do—returned. Some of the proposals outlined ideas for using art as an aesthetic add-on, and reflected an understanding of public art in the most conventional sense. Ideas for a new mural to cover up an empty wall downtown or an interesting statue of a historic figure were well-intentioned, but far from what SWMHP hoped to achieve.
Graphenteen recalled a few awkward interactions with applicants who wanted to know why they couldn't get funding to simply do what they wanted to do. Why not put a statue of Amelia Earhart in the middle of the park? She made aviation history! But the applicants knowing exactly what they wanted to do was the very reason such proposals didn't make the cut. SWMHP was looking for ideas that began with engaging the community in deciding what to do rather than going to the community with a decision that had already been made. "They could not be at the point of 'ready to implement,'" Graphenteen says. "The goal is to find out what your community wants to do."
For many artists, taking their work out of the studio and thinking about the community as potential collaborators instead of consumers was an unfamiliar concept. Models for formal training in the field of art as social or civic practice are not the norm. There are a few exceptions: The Center for Performance and Civic Practice (CPCP), which worked closely with each of the six CDI grant recipients, Art for Social Change at the Higher Education Consortium for Urban Affairs (HECUA), and the honors seminar "Performance for Social Change" at Minnesota State University at Mankato. These programs support community-based artists who, while they may have studied theater or visual art in an academic or other formal setting, have found more meaning in an artistic practice that embraces process rather than product.
SWMHP looked to Intermedia Arts, a multidisciplinary arts nonprofit formerly based in Minneapolis, for assistance. Intermedia Arts conducted a series of Creative Community Leadership Institutes in Worthington, St. James, and Milan, as well as for SWMHP. The institutes offered two days of leadership training for artists whose proposals had been chosen and community developers. The aim was to "[match] people who have a passion for change with the tools and experiences to advance their effectiveness and take their work to the next level by leveraging the power of arts and culture." SWMHP provided stipends to those participants with demonstrated need, which allowed artists, many of whom can't depend on professional development funding from an employer, to take part in the institutes. Altogether the institutes reached around 20 people—enough to grow the pool of artists associated with SWMHP who were ready to engage in community development work.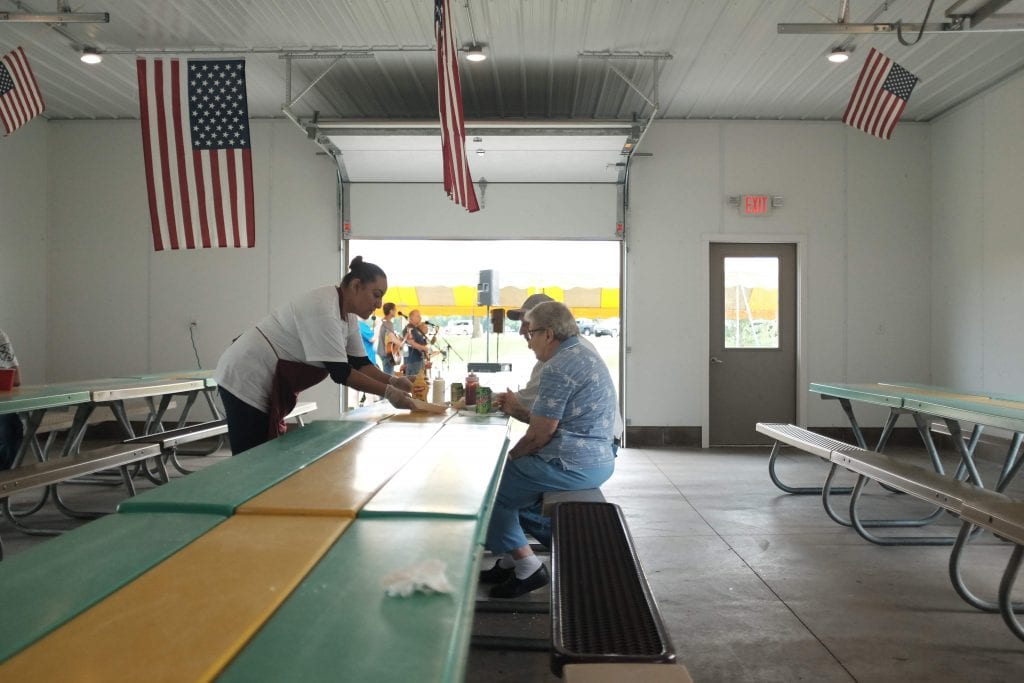 Getting to Know Neighbors
Mary Rothlisberger, a.k.a Mary Welcome, had been working in Minnesota for almost 10 years when SWMHP's call for artists landed on her desk. The call specifically sought artists who could help in the process of conducting housing assessments in the city of St. James, a program SWMHP calls the Healthy Housing Initiative. Assessments entailed a project manager visiting individual homes and taking stock of rehabilitation needs and urgent repairs. Residents would then be informed about resources to assist with making the repairs, including funding programs available through the city for low-income households. SWMHP managed to conduct around 70 such assessments a year, but wanted to use the grant program to improve outreach into the Latinx community, a segment of the population that accounted for over 35 percent of the total population of St. James, but was sorely underrepresented in housing assessments.
Welcome hadn't heard of SWMHP before, but the mention of affordable housing and community development in a call for artists immediately piqued her interest. She reached out to fellow artists Jack Forinash and Kelly Gregory, and, working together as the Homeboat Collective—a self-described "crew of doers focused on community engagement, radical architecture, ethical design, and really good times"—submitted a proposal to go to St. James with the aim of applying their own brand of radical outreach. Homeboat, formed in 2010, is an informal network of like-minded artists who see themselves, as member Jack Forinash writes, "as part of a change led by students and recent graduates who want more than the ability to work unapologetically for the socio-economic elite." Homeboat was at one point based in Green River, Utah, but its members now live in different places and come together around a variety of projects.
If artistic practice in all its forms is ultimately about people—how we interact, how we express ourselves, and how we interpret the world around us—then the more we embrace art as a practice of "neighboring," as Mary Welcome calls it, the more potential we have to foster empathy. This practice is not to be confused with studio work, where the end product is often an object or artifact. In "neighboring," the end product might be a potluck or a cultural festival, but it will be something that brings people together and fosters new relationships.
"With arts and culture, you're getting genuine information from people in ways that are not confrontational, and sometimes you learn a lot more than you would in other ways," James Arentson says. "If it doesn't dissolve the barrier, it lowers the barrier to the point where you can see over it, even if you have to stay comfortably on your side for a while."
The Homeboat team set to work learning as much as they could about St. James, from the meeting times of community organizations to which hangout spot had the best jukebox. "We started with a phone-a-thon," Forinash recalls. They scoured the city website for names and contacts and reached out to everyone: real estate agents, staff at the mayor's office, local business owners. They would start by introducing themselves, explaining that they were artists working with SWMHP who were interested in learning about St. James. Then they would ask questions: "What organizations are doing things in town for the kids? For the Latinx community? For elders?"
Once in St. James, Homeboat continued in-person dialogues that had begun on the phone. One interaction would lead to another, and eventually they might find themselves invited to a church service, a potluck, or a game day in someone's yard. They made a point of wearing name tags to every gathering so people would come to recognize them easily. Welcome calls this a "neighboring" practice: "We spend a lot of time getting to know places," she explains. "The work has to happen in collaboration with communities, and we can't do that if we don't make friends with people."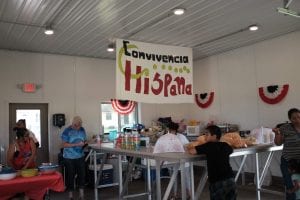 In their information gathering, however, there was one organization that no one had mentioned. La Convivencia Hispana is a local nonprofit founded in 2015 to support the Latinx community in and around St. James. Among the group's activities is providing scholarships to Latinx youth who would otherwise have to give up on school in order to work and contribute to the family economically. Homeboat came across La Convivencia Hispana on Facebook, and asked if they could talk to the group about housing in St. James. "We showed up to this meeting not knowing what to expect," Welcome remembers. Over food and drinks, the members of Homeboat learned more about La Convivencia and the community it served, and more meetings followed in which they got to know one another.
Homeboat explained the Healthy Housing Initiative and the qualifications for an assessment and asked if La Convivencia Hispana had ideas about what SWMHP could do to reach more households. La Convivencia Hispana, as it turned out, had more than a few ideas.
"They came back with a list of every house that was willing to have a health and safety assessment," Welcome says. La Convivencia Hispana had succeeded where the SWMHP had fallen short—they'd gone door-to-door, speaking to friends and neighbors, and, crucially, explaining the goals of the Healthy Housing Initiative in Spanish, ensuring that everyone could understand and be understood.
This approach challenged the conventional means SWMHP had relied upon in the past. Each assessment on La Convivencia Hispana's list involved a project manager from SWMHP and a community member who translated for the resident, dismantling the language barrier, establishing trust, and paving the way for a frank conversation about needed repairs. After all, "you're going to talk to someone about what's wrong with your home," Forinash explains. There is no location more personal and more vulnerable than one's home, and the tendency is to hide flaws rather than expose them, especially in front of a stranger. Having members of La Convivencia Hispana present during an assessment made the process feel less intrusive, and made it easier for residents to open up about things in the house that needed fixing.
The collaboration between La Convivencia Hispana and the Homeboat Collective resulted in a total of 34 housing assessments completed between July and August 2017—nearly half of what SWMHP expected to complete in an entire year. Building on this success, Homeboat launched the Community Advocate Program (CAP) to formalize the role of advocates in the Healthy Housing Initiative.
A core tenet of CAP is that people within the community work on behalf of the community. "It's not the traditional structure of elected officials representing you," Arentson says. "You have these community advocates [who] are connected at a different level in a different way." The efficacy of this approach is rooted in fostering a sense of safety and trust, the importance of which cannot be overstated. "With the political issues of our time, there's fear around the government," Scheffer says.
Homeboat had facilitated a connection between local government and the Latinx community through direct contact with the community, not as government officials, but as curious, open-minded individuals with no agenda other than to learn how people felt about the place they lived. In addition, the label "artist" evoked less anxiety than that of "city official"—a term rightly associated with work that leaves little time for the level of interpersonal interaction Homeboat uses to build essential networks in the community. City officials are very often wrapped up in gathering and analyzing data, churning out grant proposals, and attending meetings. Easily overlooked are the interactions that form the basis of community, but from Homeboat's perspective, fostering these interactions is a creative practice.
Homeboat used their experience to develop a handbook for SWMHP, outlining best practices for implementing CAP based on their work with La Convivencia Hispana. Advocates interested in serving their communities are invited to training sessions where they learn about the Healthy Housing Initiative and the steps involved in completing an assessment. Materials explaining the assessment process are translated into Spanish, and simultaneous translation is made available at workshops and trainings. And, crucially, Homeboat recommended compensating advocates for their time and participation.
The current roster of advocates in CAP are all members of La Convivencia Hispana; one leading member, Julieta Ochoa, became the first person of Latinx heritage to sit on the St. James Housing Committee.
Saying Hello Was Only the Beginning
On the town of Milan's official website, its Norwegian roots are evident in the names of local sites: the Arv Hus Museum, Kvitseid Lutheran Church, Tokheim Stoneware. But not all of Milan's residents trace their ancestry back to Scandinavia. In 1986, the Federated States of Micronesia, a country made up of four island states situated in the Pacific Ocean, entered into the Compact of Free Association with the United States. The "relationship of free association," which allows the United States to maintain a military presence in Micronesia, also allows eligible Micronesian nationals to live and work in the United States without a visa. Over the last 10 years, better job prospects and educational opportunities—as well as the threat of rising sea levels to the island's very existence—have led to a spike in Milan's Micronesian population. According to the 2010 census, Milan's population was 369, with 1 in 5 claiming Pacific Islander heritage. These days, that number is 1 in 3.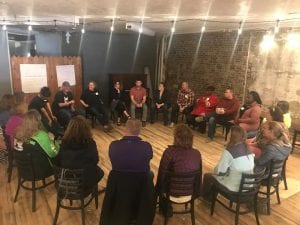 With these changes came growing concerns about affordable housing, and SWMHP made this the focus of the call for artists issued for Milan. Ashley Hanson answered the call, but wondered how best to address its focus. Hanson had worked throughout southwest Minnesota with PlaceBase Productions, a theater company with a long history of developing site-specific theater in Minnesota.
Hanson questioned whether it made sense to deal with the issue of housing without first addressing some of the underlying tensions in a small town undergoing massive demographic shifts. It was uncomfortable territory, but the discomfort alone was enough to galvanize Hanson and her team. "Let's listen to as many folks as possible and let the themes percolate," she says of the approach PlaceBase took. "If housing and home is one of those themes, then yeah, we'll go there, but if it's about fear of change and loss of identity, then I think that's not only the more compelling story to tell, but it's the more important story to tell."
Though classically trained, Hanson didn't take long to realize that portraying a Cordelia or a Juliet—tragic, owning-class characters reminiscent of a life far removed from the rural upbringing she'd had in Aitkin and Farmington, Minnesota—would never satisfy her. A turning point came when she took a course in Performance and Social Change at Minnesota State, where she was exposed to the work of renowned director Augusto Boal's Theatre of the Oppressed (TO). Theatre of the Oppressed methodology encompasses techniques and exercises aimed at addressing and ultimately dismantling structures of injustice within a specific community. Audience members are not passive consumers, but active participants—or, in TO-parlance, "spect-actors"—whose on-stage interventions model ways of identifying problems and generating potential solutions. The more Hanson learned about the methodology, the more she saw a path for herself as a theater practitioner.
Hanson began her work in Milan by inviting residents to a series of "story swaps."  In a story swap, participants gather in a circle. After icebreakers and warm-up exercises, the facilitator introduces a prompt or question. Participants might be asked, "What is your family's arrival story?" If the question is too specific for some, it can be rephrased to be more inclusive: "Share the story of an arrival." Attendance is free of charge, and food is always provided.
"You have three to five minutes, and you just share your story," Hanson says. The technique has its roots in community development; Roadside Theater, a company based in Central Appalachia, first used story circles as a method of devising plays, and later as a vehicle for social change: "By periodically collecting and organizing the knowledge about the issue generated by the stories, communities have an informed basis for recommending change, abetted by an enhanced sense of mutual trust." The individual narratives that surface during a story circle reveal common themes, and these themes inform ways of strengthening the community as a whole.
Hanson speaks in vague terms about what was shared during those initial workshops to preserve privacy. But she does mention fear as a common theme for many participants: fear for their children's future, fear of being alone, fear of losing their community. Hanson remembers one participant who admitted being afraid to speak to the people next door: "I want to say hello to my neighbor, but I don't know if they speak English or not. I want to get to know them, but I don't know how."
"Can we learn the word hello in Chuukese?" Hanson gently suggested. In another context, the suggestion might have fallen flat. But in a story swap workshop, free from judgment, learning a word in a new language wasn't so intimidating. And saying hello, as it turned out, was only the beginning. Hanson introduced a collective "memory-mapping" exercise where residents identified locations in Milan that held personal significance—the site of a first kiss or a childhood playground—underscoring how, as the town's demographics shifted, so too did the meaning attributed to place. Suddenly the volleyball courts, a part of the park left unused for years, had become a favorite hang-out for Micronesian youth. Through food, story, memory, and even dance, new and old residents of Milan came to embody, quite literally, each other's culture.
The material gleaned from the workshops culminated in the October 2017 production "This Land Is Milan," an original site-specific play with music written, directed, produced, and choreographed by Andrew Gaylord and Ashley Hanson. The play was a promenade piece, and the audience of 250, which was significant turnout in a town with a population of 369, followed performers from Library Park to Main Street to the high school gym, watching and hearing the history of their hometown retold by their neighbors in scene and song.
The story touched on fears workshop participants had shared; the lyrics of one song, performed by a young cast member, urged the audience to "put the sea monster / back where it belongs / and talk about what's really on our minds." The sea monster referenced in the song was based on a bit of Scandinavian folklore Hanson had picked up during the story swap phase of the development process. In the climactic final act of the play, the sea monster—a massive puppet of a saber-toothed fish created by Hanson's creative collaborator Alex Hathaway—makes a dramatic appearance, and the cast unite to fight it off. "The sea monster represented the fears that everyone had," Graphenteen recalls. "It was this wonderful story of where the community had been and of coming together to move forward."
Working Outside the Box 
"Trust in the process" is a mantra familiar to artists of all genres, but less familiar to community development organizations with grant deadlines to meet, where "You have to justify why you would go about this process," Arentson says.
Even for all of SWMHP's enthusiasm around the arts and culture projects they were engaged in, their daily work around rigid guidelines and reporting structures dictated not only how they did their work, but how they communicated with each other. And having two offices, one in Slayton and the other 100 miles away in Mankato, only hampered the flow of communication.
In February 2018, Hanson joined SWMHP on a five-month contract as artist-in-residence and established three strategies for relationship-building within the organization. She started, as she had in Milan, with story circles. Hanson gathered together groups of seven staff members at a time for creative activities—like making sculptures from pipe cleaners and playing cards— designed to tease out some of the internal challenges the organization faced. "You start to get a sense of where people are stressed and anxious," Arentson recalls. In an organization dedicated to providing affordable housing, it was easy to focus on problems without taking time out to celebrate successes. What could be done to champion the success stories? How could the organization do a better job managing workload and capacity? How could staff, whose work is so much about helping others, be encouraged to take better care of themselves?
Working off the story circles, Hanson next created Off the Clock, a podcast series featuring one-on-one personal interviews with SWMHP staff. Hanson set up two guidelines for the interviews: 1. "Meet me somewhere that makes you happy" and 2. "We can talk about anything except work." She met staff in living rooms, at church, in ice cream shops, and on shooting ranges, and listened to them share personal memories about going to school, traveling abroad, falling in love, raising families. There was even an award for staff members who listened to all 22 episodes. The podcast served the dual purpose of allowing Hanson to get to know SWMHP better while giving the staff a chance to get to know one another better.
While most staff at SWMHP embraced the integration of arts and culture into their housing development work, there were some who didn't fully understand what such a strategy entailed. Few doubted that a colorful mural qualified as a work of art, but a potluck? Did a potluck count as "art?" "There was a lot of conversation about our work, and how we frame it as 'art work,' and that being different from expectations of [SWMHP]," Mary Welcome says.
Divergent definitions of what art is and isn't resulted in tensions Hanson said she addressed by offering SWMHP more exposure to diverse forms of artistic practice. She tapped her artist network from across Minnesota—theater practitioners, photographers, storytellers, printmakers—and invited 10 of them for half-day workshops with SWMHP staff to grow SWMHP's roster of artist consultants and foster familiarity with diverse artistic practices.
Toward the end of her initial residency period, Hanson brought the process full circle with an initiative called "Staff-Led Projects." Staff were placed in groups of three to five and paired with an artist. Each group chose a topic they'd like to work on or a problem within the organization they wanted to solve. But the real challenge was to use a creative approach to find solutions.
One team wondered what could be done to update office staff on the real-time progress of construction projects. The solution: Create an on-site video system where anyone could log in and see for themselves what phase the project was in. "It's not an art product," Hanson says, "but it was a creative process with the artist to come up with the solution and see what technology exists that could also help the construction process." It was a key lesson for SWMHP staff who, through the progression of activities, from podcasts to troubleshooting teams, now had a clear sense of how to apply the creative process to everyday operations. "It's been a great experience. Refreshing actually," Arentson says. "Community development [work] can be somewhat formulaic, and arts and culture is decidedly not formulaic. We've learned along the way that there are many, many different types of artists. You can't put artists in a box."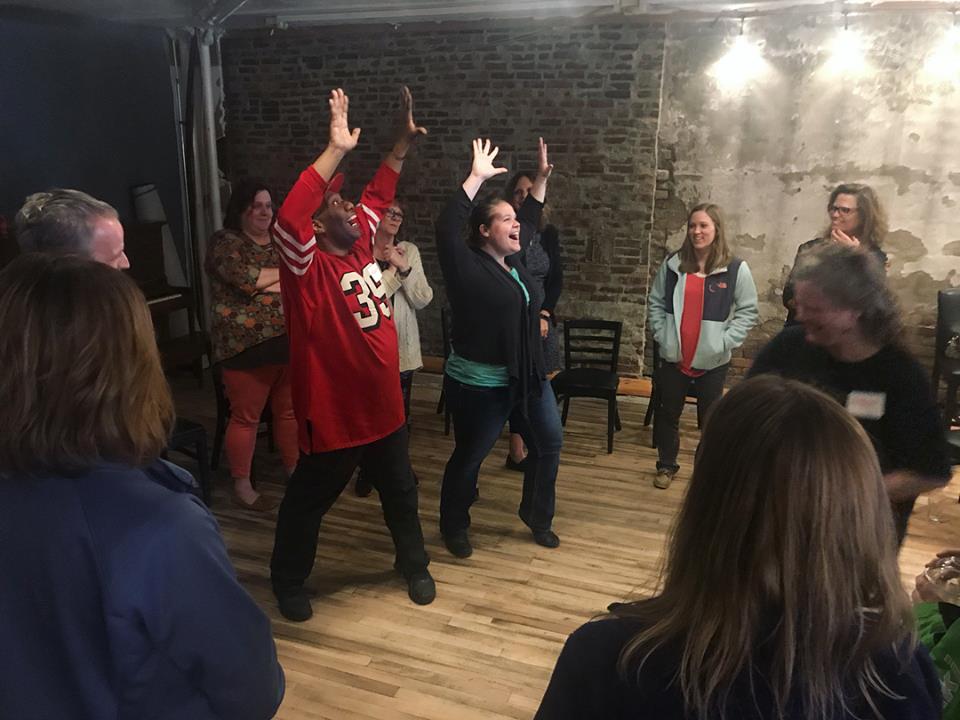 After the Grant
A lot has changed at SWMHP since it first became a CDI grantee. CEO Rick Goodemann, who had championed Partnership Art from its inception, passed away suddenly in February 2019, leaving shock and uncertainty in his place. Chad Adams, Goodemann's successor, is keen to pick up where the grant left off. No one at SWMHP wanted the effort to be a one-off; the changes in how staff interacted with one another and the approaches to problem-solving Hanson had introduced were far too valuable. A search for a new artist-in-residence began in spring 2019.
Ashley Hanson, a 2018 Obama Foundation Fellow and currently a Bush Foundation Fellow, continued to devise new work through Partnership Art. "Now having a baseline understanding of just how completely messed up our affordable housing system is makes me want to be more of an advocate for rural community housing," Hanson explains. Her interest in advocacy led to a collaboration with zAmya Theater Company, founded in 2004 by Lecia Grossman. zAmya works with a cast of performers who all have experienced homelessness firsthand, making their plays a potent vehicle for building audience awareness, especially among those with no direct experience of what it means to be homeless. "We had this incredibly powerful exchange with [SWMHP] staff and cast about what it's like to be homeless on the prairie," Hanson recalls.
That exchange led to the summer 2019 production of the play A Prairie Homeless Companion, sponsored by zAmya and Partnership Art, drawing directly from the stories of people in the southwest Minnesota region who have been homeless. Hanson has since joined forces with The Homeboat Collective in Granite Falls, Minnesota.
The transformation from skeptic to believer, from observer to active participant, echoed SWMHP's journey.
One of Hanson's favorite memories of her time as artist-in-residence at SWMHP is Ron Anderson, mayor of Milan, who watched skeptically from his porch during rehearsals for This Land Is Milan. "Ron! You want to come over?" Hanson would shout. The answer was always a firm no. Finally, Hanson tried a new tactic: "Ron, we wrote a part for you!" Anderson relented and joined the cast, showing up to rehearsals and participating in warm-ups.
Hanson recalls how, after the show when she and the rest of her crew were rushing around Milan striking the set, Anderson pulled up in his truck. "I really didn't want to be a part of this," he admitted, "but I see what you all have down here and it felt like something really special. So thank you." The transformation from skeptic to believer, from observer to active participant, echoed SWMHP's journey.
The impact on SWMHP was profound. Graphenteen watched SWMHP transform its approach to community development from "something we do" to "who we are." "Now we consider ourselves working with the community when we do housing development," Graphenteen says. "It was a transforming moment for the organization when they really sat down and reflected on the first three years."
For Chelsea Alger, the impact of engaging with arts and culture was deeply personal. "The opportunity to engage with people different from me, and hear their stories and their challenges and their dreams … it's incredibly humbling and just gives you a whole new perspective on everything," she says. "I wish everybody had the opportunity to do that because we'd be a much more empathetic country."