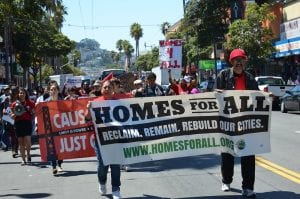 Universal rent control is gaining traction and popular support in urban centers, suburbs, and even rural parts of the United States, where mobile and manufactured home residents are experiencing the pressures of real estate speculation and have been organizing for stronger protections. Last year, this growing tenants movement achieved several landmark wins: New York passed historic protections closing loopholes and enabling rent control across the state; California and Oregon passed statewide "rent caps," extending basic protections against rent gouging to millions. 
Today, the COVID-19 pandemic only underscores that we must ensure everyone has access to housing, as a public health imperative. Its economic fallout requires us to take drastic action to protect housing affordability. But even prior to the COVID-19 pandemic, our long-standing housing affordability crisis called for universal rent control as a baseline protection.
Rent control delivers quickly and at scale to enhance housing stability and affordability for renters in privately owned rental housing. It is crucial for protecting low-income communities of color from displacement before it is too late. Our analysis last year found that if rent control were adopted nationally, 42 million households could be stabilized, the vast majority of them low- to moderate-income. Established now, universal rent control alongside other needed measures would boost our country's post-COVID-19 recovery by promoting equity. Study after study shows rent control does not harm housing production.
Yet opponents to rent control often ignore or contest its ability to reach marginalized tenants—those targeted and harmed most by rent gouging, harassment, eviction, and displacement. Many academic studies of rent control's impacts have not disaggregated data by race, gender, migration status, or even income. Still, the evidence we have largely shows that rent control is critical for lower-income people of color and immigrants, and has disproportionately benefited these groups.
Evidence
Expanding and strengthening rent control is necessary for advancing racial justice, precisely because of who it reaches: a broad swath of low-income renters of color, including many who are excluded from other forms of assistance.
Studies of rent regulation in New York City, New Jersey, California, and Massachusetts (before it banned rent control) showed that people of color disproportionately live in rent-controlled homes or communities with rent control. In Staten Island, 27 percent of tenants in rent-stabilized units were Black in 2011, compared to 12 percent in market-rate units.  Thirty-two percent of New York City tenants in rent-stabilized units were Latinx, compared to 23 percent in market-rate units.  In Berkeley, a 2009 survey found that the long-term households benefiting most from rent control were disproportionately Black, compared to the city's overall population. Why? Those long-term tenants in rent-controlled units were shielded from rising rents which displaced Black households throughout the region.
By the second year after Los Angeles adopted rent control, the share of renters who had moved in the past year decreased by 37 percent compared to before rent control, with the share of movers dropping most for Black and Latinx renters. Of renters who did not move since the start of rent control, Black renters received the greatest savings for one-bedroom units compared to white renters, availing of rents that were an average of 27 percent lower than rents for Black renters in market-rate units.
In New York City, immigrants are more likely to live in rent-stabilized housing than non-immigrants. They are also less likely to live in subsidized housing, because many non-citizen residents are unable to qualify for public subsidies and are excluded from receiving housing assistance, even though they are disproportionately rent-burdened. Rent control's benefits reach these families, too.
Rent regulation effectively slows gentrification and stalls displacement, making it vital for low-income communities of color struggling to remain in gentrifying urban cores. It is also a necessary tool to stop the rapid loss of affordable housing until longer-term measures that expand the affordable housing stock can be put in place. Rent control can help dampen speculation and preserve affordability on a large-scale, with broader impacts across the housing market.
Strong Rent Control Works Best
Rent control is most effective when it's strong and universal, covering as much rental housing as possible and limiting rent increases even when tenants move out. Ensuring rent control laws lack debilitating loopholes is especially important for renters of color, who are more likely to have to juggle economically precarious living conditions, or to be extremely low-income.
Studies show that rent control with "vacancy control," which limits rent increases between tenancies, is crucial for helping homes stay affordable. In California, before vacancy controls were abolished by the 1995 Costa Hawkins Rental Housing Act, rent control policies particularly benefited Black and Latinx renters, who disproportionately occupied vacancy-controlled homes. A study comparing jurisdictions with vacancy control in California to those without it found tighter controls to be more protective against displacement.
Unfortunately, in most U.S. jurisdictions that have enacted it, rent control has weakened over time due to rollbacks pushed through by the real estate industry, as well as the shrinking proportion of housing stock that falls under rent control. 
Whenever the real estate lobby and policymakers weaken rent control, they harm tenants of color most. Jurisdictions with vacancy control saw a greater increase in the share of Black and Latinx renters, while the share of Black renters in units without vacancy control has especially declined, likely due to being priced out. Scrapping vacancy control quickly erodes the affordability of rent-stabilized units: in Santa Monica, rents for 83 percent of vacancy-controlled units were affordable to low-income households; without vacancy control, less than 4 percent of stabilized units remain affordable to such households. 
As one advocate noted, lack of vacancy control "puts a target on the backs of tenants" in rent-stabilized housing: landlords are incentivized to evict or harass them into leaving in order to raise rents without limitation. If municipalities are serious about racial equity, they must ensure that rent control includes vacancy control.
Lifting Up Communities of Color
Across the country, low-income communities of color are now spending one-third or more of their aggregate incomes on rent. Putting this back into renters' hands would have far-reaching effects on the well-being of these communities as a whole. According to a 2017 analysis by the National Equity Atlas partnership between PolicyLink and the USC Program for Environmental and Regional Equity, if they no longer spent unaffordable levels of income on rent, Black households would experience a 13 percent gain in annual disposable income (an average of $3,157), Latinx households an 11 percent gain ($3,226 on average), Native households 8 percent ($2,276 on average), and Asians or Pacific Islanders 7 percent ($3,575 on average).
Achieving housing affordability would be equivalent to giving rent-burdened households an instant $3 per hour raise, on average. Multiplied on the community scale, this would amount to nearly $2 billion in Chicago, $1 billion in Philadelphia, and hundreds of millions in many cities across the country, back in renters' pockets. And when low-income households gain income, they are more likely than higher-income households to actually spend these funds, bolstering local businesses and job creation.
Rent control does help to more equitably redistribute wealth across the income spectrum, and by slowing the churn of eviction that disproportionately harms women of color, it also creates space for other broad social and political benefit. Housing stability contributes to health, well-being, positive educational outcomes, and workforce development. Countering displacement protects the civic engagement and political voice of communities of color.
A universal approach to affordable housing that is able to tackle market dynamics broadly is needed to check rampant real estate speculation. Rent control is an important piece of this, along with increased investment in non-market affordable housing. With state rollbacks in subsidized and public housing, along with Wall Street investors and large corporate speculators targeting rent gouging at communities of color, expanding rent control is more crucial than ever.