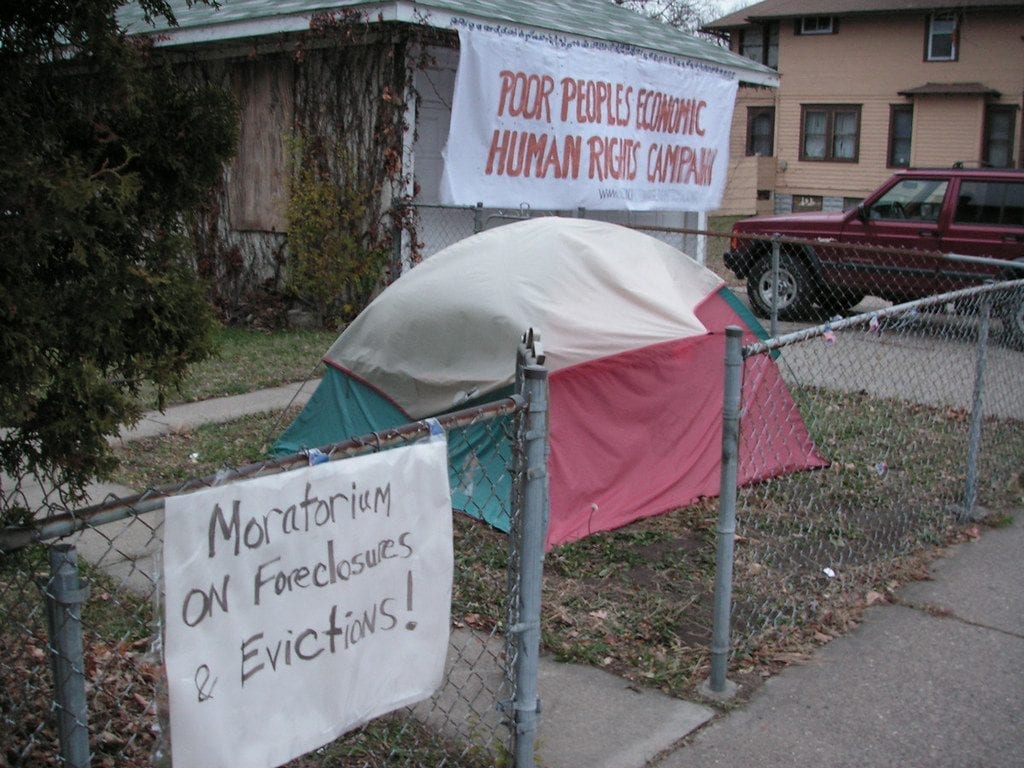 [This post has been updated on March 23 and March 26, 2020. For continuing updates on many of these topics, as well as links to federal resources, see the Disaster Recovery Housing Coalition's COVID-19 page.]
Despite fervent attempts by advocates to get housing provisions included in the emergency relief package (or stimulus "phase 2") that was signed into law Thursday, March 19, the bill passed with no provision for either homeless service providers or preventing homelessness. Attention shifted to getting housing concerns included in the "phase 3" stimulus package. Update: On March 25 an agreement was reached on that bill that does contain substantial funding for homelessness service providers, public housing authorities, CDBG funds and more, as well as eviction and foreclosure prevention in federally assisted properties. The National Low Income Housing Coalition has an analysis of the bill's housing provisions.
The Disaster Recovery Housing Coalition (DRHC) has put out a set of recommendations for what housing provisions should be included in a federal public health response. The recommendations include provisions to support the homeless population, who are extremely vulnerable to this virus, such as funding for shelter (space and supplies), services, and medical care, and a moratorium on sweeps of homeless encampments. "Sweeps are disruptive and damaging to people's health and to the ability of service providers and outreach workers to find people," said Alison Eisinger of Seattle/King County Coalition for the Homeless on a national call on March 16, which was put together by the DRHC. "People lose their medication [in sweeps]. [Sweeps] are dangerous under 'normal' circumstances. We need to see local government halt those activities and shift 100 percent to a public-health informed approach."
Also on that call, homeless service providers in multiple locations spoke of the urgent need to get unhoused people into shelter, and spread those who are already in shelter out to safe distances and create places where they can quarantine.
Referencing the urgency of the need to increase capacity, Eisinger recounted that one of her board members who works with homeless veterans told her, "We don't need the right space. We need all the space, right now."
Resources are absolutely critical in order to expand the capacity of the homeless services and prevention systems, but they will also need to contend with fear and bunker mentalities. When King County, Washington, purchased a motel for use for providing quarantine space, town officials complained about not being consulted, and then sued the county. They are also having to work out security and eligibility policies on the fly.
Keeping People With Homes in Them
DHRC's recommendations also include ways to prevent a new wave of homelessness as people lose income by focusing on stability for low-income renters through a nationwide moratorium on evictions, rental assistance, legal assistance, and additional emergency funding for public housing agencies and other HUD providers of housing.
Erin Burns-Maine, from the office of intergovernmental relations for the New York City Housing Authority, spoke urgently to the need for additional funding for public housing authorities. NYCHA, which is famously struggling with a large backlog of needed capital repairs, houses 400,000 residents in one of the first places in the U.S. to be hard hit by COVID-19. NYCHA ceased evictions as of the week of March 9 (many other housing authorities have followed suit), and are expecting additional losses of income as resident incomes drop and their hardship program serves more households. Meanwhile, NYCHA's costs have risen as it has contracted for special cleaning services at senior-only buildings and is covering sick pay even for staff with no accrued leave. These are all the right things to do, but NYCHA is redeploying operating funds that were intended for other, non-optional things. Federal help "would not be a day too soon," said Burns-Maine.
HUD has so far recommended but not required that all public housing authorities institute eviction moratoriums, said Diane Yentel, on the March 23 Disaster Recovery Housing Coalition call, because it says it believes it doesn't have the power to do so. Yentel, the president and CEO of the National Low Income Housing Coalition, says her organization believes HUD does in fact have that power.
Action on pausing renter evictions has so far been at the state and local levels, despite calls for federal action. States from New Jersey to Kansas have suspended evictions for periods of time, while California encouraged localities do so but didn't make a statewide requirement, and evictions are still proceeding in some places. In Massachusetts, a voluntary moratorium by large affordable housing providers was announced on March 15, and activists are still pushing for statewide legislation. Some local measures were initiated by law enforcement, as in Miami where police announced they would refuse to carry out evictions. In other places, advocates have focused on the need to close the courts. 
Tenant advocates and affordable housing providers alike are already looking ahead to when the moratoriums lift; some are calling for rental and mortgage assistance; others for rent suspension.
When it comes to mortgages, HUD and the Federal Housing Finance Agency have moved from their initial reaction of merely reminding the banks that they are allowed to issue hardship forbearance, to requiring 60-day foreclosure and eviction moratoriums for occupied single-family FHA-insured mortgages and mortgages backed by Fannie Mae and Freddie Mac, and actively encouraging forbearance for up to 12 months for those who were current on their payments as of March 31 and have a COVID-19 loss of income, without requiring upfront documentation. (NPR reports they are "ordering" those moves, however, that language isn't found in the Freddie Mac bulletin.) States including New Jersey and New York have also placed halts on foreclosures.
On Monday, March 23, FHFA issued further guidance that said that multifamily property owners would be offered forbearance only if they agreed to an eviction moratorium for the entire duration of the forbearance. "Renters should not have to worry about being evicted from their home, and property owners should not have to worry about losing their building, due to the coronavirus," said Director Mark Calabria. 
"This is a scary time for many of our residents and we echo the governor's sentiment that no one should fear being kicked out of their home," wrote the New Jersey Housing and Community Development Network (NJHCDN), in a statement praising action by New Jersey Gov. Phil Murphy. 
New Jersey's moratorium on foreclosures and evictions will remain in place for "no longer than two months following the end of the Public Health Emergency or State of Emergency … whichever ends later." Local advocates who were on a call hosted by New Jersey Citizen Action (NJCA) Wednesday, March 18, expressed the need to have moratoriums on mortgages, foreclosures, and evictions last for longer than two months.
"In addition to the moratorium on foreclosures and evictions, New Jersey has had one of the most robust rental assistance programs in the country. We know that people will need additional help and are already working to identify mechanisms to increase this assistance as we move forward," according to the statement from NJHCDN.
However, the kind of permanent mortgage debt relief seen in Italy would be difficult in the United States because of the secondary mortgage market and bond holders who expect interest payments, reports HousingWire.
It seems, in any case, that it will be up to the servicers to judge whether someone qualifies and how much relief they get. Given the nightmare scenario of attempting to get a mortgage modification from servicers in 2008-2009, it seems highly likely that a flood of housing counseling funding and bank accountability organizing will be necessary to support homeowners who need this provision. I wonder how much of the amazing housing counseling apparatus that was looking for ways to survive the ebb of stimulus funding five years ago can be quickly revived.
—
Note to Readers: Like everyone else, Shelterforce is pivoting our plans to try to best be of use during this difficult time, while information is shifting by the hour. We'll be getting into more depth on all of these topics and many more in the coming weeks, and we welcome reader stories about the challenges, the moments of hope and collaboration that you're seeing on the ground, and questions you want answered.