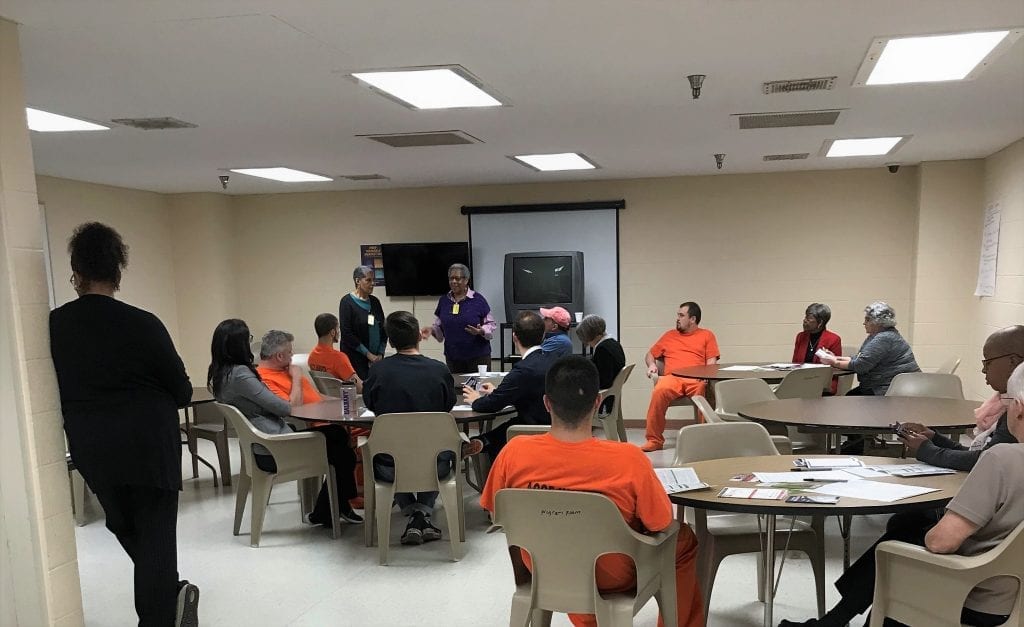 Mike Brickner, the head of the Ohio arm of All Voting is Local, organizes dozens of initiatives, call-ins, town halls, and voting drives a year, but he recalls being especially moved during a 2018 sign-up visit to the Painesville jail in Lake County, just northeast of Cleveland. That year in Ohio, a proposal to reduce criminal penalties for drug crimes and channel more money into rehabilitation and mental health treatment was on the ballot. The measure clearly struck a chord with Lake County detainees, who were legally allowed to vote if they were awaiting trial or serving a sentence for a misdemeanor. "It was amazing to see people practically climbing over one another to register," says Brickner, who for 14 years worked as a policy director for the state chapter of the ACLU before joining the voting advocacy group in 2018. "They knew the issue, and I have to say it was powerful to be there and to witness how they felt they were voting for their own freedom." 
Regina Tillman, a volunteer program director for the League of Women Voters of Albany County, New York, had a similarly inspiring moment after organizing a 2018 drive to register people awaiting trial in a facility in her hometown.  
 "One story is emblazoned on my memory," Tillman says. "At the end of one of our sessions, I asked the attendees how things went and one man responded that he was 35, had never voted, but now saw how important it was." Tillman believes her efforts helped change life for the man and his family. "He said that he was going to convince his two brothers at the same age to vote as well."  
Voter Registration: Albany, New York 
Tillman started contemplating a registration effort at the Albany County Correctional Facility as a result of a discussion she had with the director of the nonprofit group Capital Area Against Mass Incarceration, who asked her if the League conducted drives to target people who had not yet been sentenced and confined in county jail. In the U.S. people who are jailed and awaiting trial for misdemeanors or disenfranchise felonies are legally allowed to vote, according to the ACLU.  
"When I looked, the numbers certainly made this worthwhile to investigate," she recalls. Albany County's correctional facility is one of the largest in New York. At any given time there are an average of 600 inmates in the facility, with 7,000 there during the past year.  
Tillman says the groundwork, including preparation and approvals for the registration program, was completed in less than three months. "We're lucky that we have a sheriff who is supportive of education and who saw that what we had in mind was in alignment with what he wants to do," says Tillman, who points out that studies have drawn a direct link between education programs and reduced recidivism. 
Tillman got things started by putting together a proposal. She sent it to the county sheriff who assigned a liaison to work on the project with the League and the facility's program director. An ongoing dialogue between Tillman and the jail administrators helped pave the way to several important steps, including creating a guide and FAQs for volunteers, working out a schedule, and thinking about handouts to get inmates interested in the drive. 
 The job of recruiting volunteers came next. Tillman called on a variety of organizations—the local NAACP, community outreach center, a sorority, and a pro bono program at Albany Law School. She solicited the expertise of leaders, law professors, and college students to hammer out a guide. 
 The League scheduled four voting drives, each lasting four or so hours spread over two days. Sessions at the Albany facility began with a presentation covering not only the civic responsibility of voting but also the history of struggles by women, African Americans, and others to gain and secure suffrage. "There is an explanation of the levels of elections, but we also stress the connection between their votes and how tax dollars are applied to the social safety net, health care, and schools," says Tillman. "We don't miss out on reminding them about the 'power of one' as a member of a greater collective, especially in light of recent close votes for the presidency, for instance." 
 Even so, Tillman says not every one of the 40 detainees who attended a session registered to vote on the spot. Instead, she says the goal was to answer as many questions as possible, on topics such as absentee ballots, which permanent address to list, and mailing the ballot. 
"This wasn't a hard process once we had the approval of leadership, and particularly the sheriff," says Tillman as he reflected on the work she and other volunteers put in. She is hopeful that the League will hold drives again soon now that important national and state elections are fast approaching. At the same time, Tillman got an appreciation of how difficult setting up such a program can be. For example, her attempts to reach out to neighboring Rensselaer County to start a similar drive have gone nowhere to date. 
Ball of Confusion 
A surprising number of people—whether they are in jail, prison, on probation, or on parole—don't know their rights and often assume they cannot cast a ballot, so education must be a priority for community groups working with them. 
One result of the predicament of being unable to vote is that people feel pushed out of society. Tillman and Brickner say a sense of powerlessness can grip not only individuals, but their families, too.  
Local leaders, however, can take concrete steps to battle disenfranchisement and rebuild a better understanding of civics, rights, and in the end rebuild a sense of inclusion.  
State by State, Controversy by Contention 
Prison and jail voter registration is at the nexus of several highly charged issues, such as criminal justice, bail reform, and vote suppression. That makes it a multilayered, nuanced, and unavoidably controversial matter.  
The Sentencing Project, a nonprofit organization that works to secure the rights of current and former prisoners, estimated that 6.1 million people were disenfranchised as of 2016—23 percent were currently incarcerated, while 77 percent had completed their sentences. From a different perspective, those figures mean that roughly 2.5 percent of the voting-age population in the U.S. was barred from voting.  
Needless to say, the same disproportionate racial ratios that characterize prisoner populations carry over to voter disenfranchisement. The NAACP Legal Defense Fund estimates that 36 percent of the people kept from voting, or 2 million in raw figures, are Black Americans. One specific example is Florida, which had disenfranchised more potential voters than any other state—over 10 percent of the rolls, and more than 21 percent of the potential Black voters there. Before 2019, Florida had barred citizens who had served time on felony convictions from voting.  
For context, in 2016, 418,000 African-American Floridians, or 18 percent of the Black voters in the state, had finished sentences but were ineligible to vote at the time. 
The questions concerning which incarcerated people can vote, which crimes and sentences bar people from voting, and whether and when a person regains the right to vote are up to states to decide, and frequently all 50 approach the matter quite differently, resulting in a patchwork of varying laws. A map of jail and prison voting rules and restrictions across the country would show a wide amount of variation between the states—not to mention a considerable number of gray areas.   
While disenfranchisement is very real, many people who are or have been involved in the criminal justice system often believe they are not eligible to vote when they are. And they aren't the only ones who are confused, as Brickner, Tillman, and other organizers will tell you. Their work tends to be an educational experience for every party involved—detainees, courts, correctional officials, and even voting authorities. Moreover, it doesn't help that inmates are also in the dark about issues that appear on ballots, since access to news media, whether through computers, newspapers, or television, is limited. 
Where and What 
It is possible to start a review of voting rights with the outliers—Maine, Vermont, and Puerto Rico—where all prisoners can vote, no matter what the charge underlying their conviction. (Residents of Puerto Rico, like those in the four other U.S. territories, cannot vote in federal elections.)  
For the remaining 48 states, people who are being held in jail pre-trial have the right to vote. In many cases, this includes people who failed to post bail, often because of a lack of financial means. This group numbers roughly 750,000 people in the U.S. at any given time. As recently as 2015 in Ohio, Brickner's group reports, about 64 percent of the people in state jails, 11,100 of 17,350 incarcerated, were being held awaiting trial without having been convicted of a crime. Brickner says poor people who cannot afford to pay bail make up the solid majority of this group. 
Getting people who are awaiting trial registered if they aren't already, and getting absentee ballots to them in time to cast a vote are big challenges. In Ohio, for instance, a class-action suit was recently decided to push the state to help. Similarly, people serving sentences for misdemeanors retain the right to vote while incarcerated. In some states people convicted of certain non-disenfranchising felonies do as well. But in both cases they generally need support to realize this right, and the rules about registration and legal addresses vary.  
States differ widely on what happens to the voting rights of people who were convicted of felonies and have completed their time in prison. In 11 states—including Arizona, Alabama, Tennessee, and Kentucky—some or all people convicted of some or all felonies lose their vote beyond all the terms of their sentences, and sometimes permanently. Another 18 states revoke voting rights during prison, parole (early release with supervision), and probation (supervision usually offered as an incarceration alternative). Three—California,Connecticut, and New York—revoke voting rights during prison and parole, though New York Gov. Andrew Cuomo has recently used his power of clemency to restore the franchise to people on parole. And as of December 2019, the remaining 16 states and the District of Columbia revoke voting privileges only during prison terms.   
Perhaps nowhere have the stakes—and disagreements—been more momentous than Florida, where during the November midterm ballot in 2018, 65 percent of voters approved a constitutional amendment to restore voting rights to the formerly incarcerated once they finished their sentences(except for some people convicted of murders or felony sex charges, who have an additional five-year waiting period). The move effectively paved the way for 1.5 million state residents—roughly 9 percent of Florida's voting-age population—to return to the voting booth once more. The measure did not go unchallenged. In March, the Republican-controlled Florida legislature tried to block the same measure voters had approved four months earlier. Legislators later added stipulations to the law requiring that those who are formerly incarcerated pay stiff restitution fines to be set by courts in each county before being allowed to vote again, a requirement the state Supreme Court recently upheld as constitutional despite accusations that it is a "poll tax." It has been reported that some counties—Dade and Broward, as two examples—have set up quick reviews or "rocket dockets" in order to set aside the fines and allow people back onto the voting rolls as soon as possible. Other counties have refused to budge. 
A Nation Distanced from Others   
If you were to survey democracies around the world, you'd see that most U.S. states are holding steadfastly to policies that set the nation quite a distance apart from most industrialized countries both in Europe and elsewhere. A 2009 study, for instance, examined how European countries approached prisoner voting. It found that 17 nations placed no ban on voting in prison. In Belgium, Lithuania, and Romania, more than 60 percent of inmates voted, while in Italy and the Netherlands between 20 percent and 60 percent cast ballots. Court cases in Canada, South Africa, and Israel have upheld the voting rights of prisoners. 
Cook County Vacuum 
Illinois is an interesting case study, one that is reflective of the current state of jail voting rights and how they apply to people who have been convicted of a felony. State law there strips the incarcerated of their vote while they serve time. The same individuals automatically recover the right to vote once they have completed their sentences. Illinois, meanwhile, allows offenders on parole or probation to vote. The problem is that of the 4 million Illinoisans who have a felony conviction on their record, 80 percent are unaware that they have the right to vote, according to Chicago Votes, a nonprofit organization.  
The potential impact this has on election outcomes is staggering. In the massive criminal justice system in Chicago, for instance, 100,000 people are detained annually or put under "community corrections," an umbrella term for probation or parole—while awaiting trial. Those figures translate into a population of 6,000 on an average day at the massive Cook County Jail in Chicago, with another 2,000 held in community corrections. On any given day an average of 170 men and 25 women are admitted. Statistics compiled by the sheriff's office found that the mean daily number of nonviolent, low-level offenders who were being held because they couldn't afford bail of $1,000 or less was nearly 190. 
Despite the benefits of educational programs, 85 percent of Cook County's budget of $226 million is earmarked for the salaries of over 4,000 staff members, which leaves little for rehabilitative programming. The activist organization Chicago Votes sees its mission as helping to fill the vacuum. According to Jen Dean, deputy director of Chicago Votes, the organization has registered over 4,000 detainees since it started registration efforts in Cook County jail in 2017.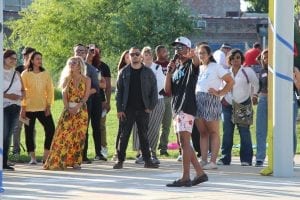 Dean says sign-up drives are typically held once a month, but are stepped up to a bi-weekly schedule a few months before important elections since early absentee voting is allowed up to 43 days before ballot days. In 2018, Chicago Votes recruited about 400 volunteers, most between the ages of 24 and 32, although Dean says there are participants as young as 18 and as old as 78. While anyone can sign on, volunteers must gain clearance, starting with a background check to verify recruits are over 18 and haven't been convicted of a felony in the last 10 years. Next comes two training sessions; one on how to become a deputy registrar is held by the Chicago Board of Elections. The other, conducted by Chicago Votes, covers sensitive issues volunteers should keep in mind on visits and the right way to conduct themselves. 
In looking back at the work Chicago Votes has done, Dean says she was struck by a response over and above the feedback she has received from college, community, and high school registration drives. "It's the best I've ever been treated, says Dean. "The people there were overwhelmingly grateful and thankful. The enthusiasm was clear in conversations we had with participants and employees about civics or building social capital."  
By the Book(s) 
The steps to register voters while they await trial within prison walls are intricate and delicate, calling for equal parts diplomacy, tact, and aplomb, as spelled out in a national guide the ACLU has published.  A local guide published by the Ohio chapter of the ACLU goes so far as to list strategies. It first recommends that registrars make inroads with administrators at a local jail—even before mobilizing and training volunteers—and building coalitions with community groups. Another important consideration is working to draw up a security plan along with corrections officers, who are often overworked and themselves confused about the rules. 
A handout Chicago Votes includes a checklist of basics like voter forms, identification, a clear bag to hold forms and pens, to a more–detailed summary of visitation dress code. Volunteers are to leave cell phones, headphones, drugs, gums, and eye drops stashed at home, in their cars, or in lockers before they enter the facility. They have to dress conservatively.  
More importantly, Dean stresses that trainees steer clear of partisan sloganeering or entreaties and words that might make pre-trial participants feel singled out or inferior. Volunteers are told to remind registrants the date of the next election and that along with national positions, they can vote for governor, mayor, alderman, and judge.  
By comparison, the rules in Albany are relatively more relaxed. Participants must be at least 19 and have completed voter registration training within a year prior to volunteering. The training must be nonpartisan and stick to a factual explanation of the laws and voter rights. At the jail entrance volunteers must show ID, but don't need an orientation to the jail or a background check. They can wear jewelry at their discretion. Volunteers can serve even with a prior record, the exceptions being those on parole or probation.  
All Voting is Local, the League of Women Voters in Albany, and Chicago Votes  stress the importance of remaining nonpartisan and avoiding conflict with guards and administrators. Often, in fact, the jail staff sees the value in registration drives. "We even saw officers in the jail get excited about this type of work and [feel] a bond with the volunteers and their efforts," says Dean.  
Acceptance Anew 
Brickner of All Voting is Local says the reward for his work and that of other groups lies in the transformative power of the vote. "This is a great experience, because during these efforts when we talk to people in jail, we hear how many feel that one time in their life they just didn't matter their rights stripped away from them, to tell them they have a say makes them feel like a part of society," he says. "The takeaway from our effort, they say, is that ultimately they still indeed matter and have a role in our society." 
Gerrymandering Behind Bars
While pushing to get jail detainees' and former prisoners' votes to count is one matter, there's a separate but related ongoing struggle: ensuring that the Census accurately reflects an incarcerated person's home community, and not where they are incarcerated.
The underlying problem is called prison gerrymandering. The Census form expressly instructs households to leave out family members who are in jail or prison; the Census counts them instead when collecting numbers from correctional facility administrators. This affects how representational districts are drawn, because prison gerrymandering inflates the headcount in rural towns and counties where prisons are often built.
Because inmates cannot be counted in two places at the same time, there is a zero-sum seesaw in effect. The densely populated urban areas where convicted people lived before they were sent away (and where they frequently return) are undercounted, and as a result, cheated of representation. That's gerrymandering.
Prison districts count inmates as residents and benefit by getting outsized legislative representation, and as a consequence more say in laws, policymaking, and government budgets. Compounding the problem, even though incarcerated individuals on average spend three years in prison, the numbers are tilted for an entire decade between Census calculations.
To fully appreciate the magnitude of the problem, look at the numbers. The U.S. prison system concentrates large groups of people in a relatively small number of facilities. According to the activist group Prison Policy Initiative (PPI), 1.4 million state and federal prisoners in the U.S. are held in just 1,000 locations. That means shifts in population figures between urban areas and counties that have prisons can be dramatic. In Illinois, for example, 60 percent of the state's prisoners resided in Cook County before sentencing, but 99 percent of prisoners appeared in Census tallies outside of their place of origin. In one rural district in Texas, reports PPI, the population was close to 12 percent prisoners. In real terms that meant the district needs only 88 non-incarcerated residents for every 100 residents in cities such as Houston or Dallas, which tend not to have large prison populations, to get the same representation in the Texas House of Representations.
Progress toward blocking prison gerrymandering has been made in the past few years. Most state constitutions expressly state that incarceration does not change a citizen's residence, according to PPI. While the Census continues to lump incarcerated people in with the population nearby a prison or jail, six states have insisted that redistricting be based on figures that count prisoners as residents of the address where they lived before confinement. The Census has made provisions for this, although states will shoulder the responsibility and expense for collecting previous addresses.
In January, New Jersey Gov. Phil Murphy signed a bill to end prison gerrymandering, making the state just the seventh in the U.S. to do so.
For more information, visit Prison Policy Initiative's Prisoners of the Census, prisonersofthecensus.org.