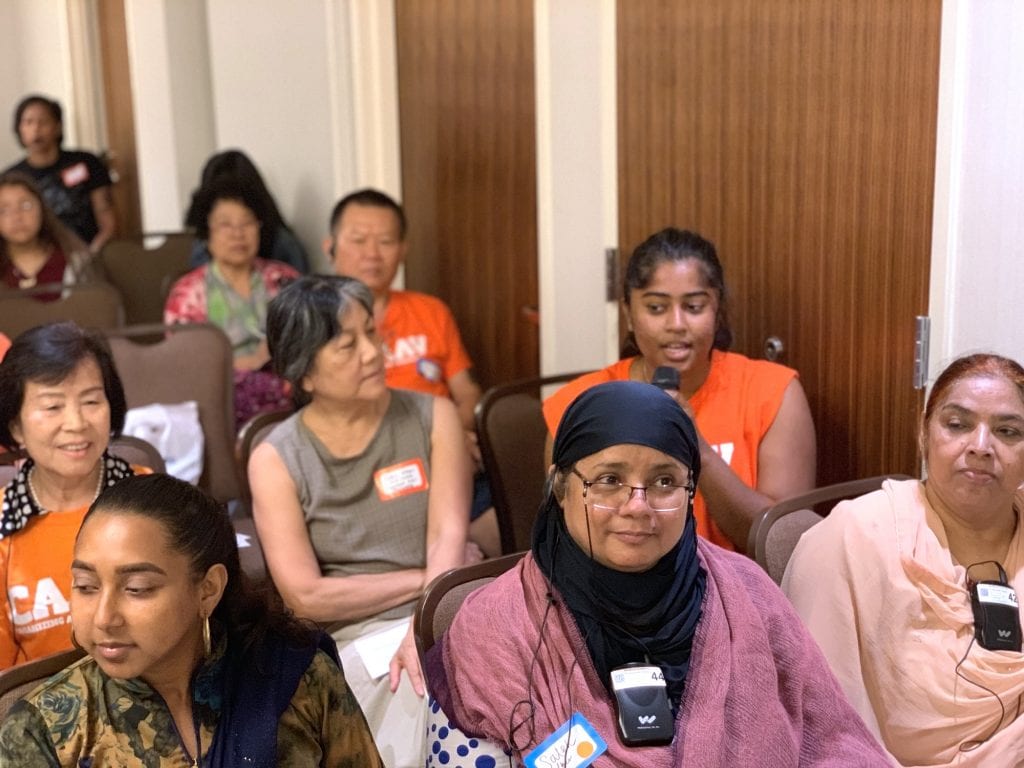 In last month's Democratic presidential candidate debate, candidates brought up our nation's housing crisis for the first time. Sen. Cory Booker explicitly referred to racial disparities and the impact of gentrification, offering a renters' tax credit as a policy solution. Sen. Elizabeth Warren shared her plan to invest in housing for working and low-income individuals and families. Although the debate did not give the issue more than a few minutes, it was progress.
Sen. Warren was correct in stating that housing is a supply issue, but there is a more pressing issue affecting low-income communities of color—displacement resulting from gentrification. And among communities of color, low-income Asian Americans and Pacific Islanders (AAPI) are disproportionately at risk of displacement in the current market compared to other racial groups. In fact, 73 percent of low-income AAPIs live in the highest cost housing markets in the country. This means the possibility of new affordable housing developments five years from now would be too late for many, including the AAPI communities National CAPACD, the organization I work for, serves and organizes. What we urgently need are resources and tools that help local residents organize, advocate for their rights, and push back against displacement in the face of speculation and egregious landlords.
In most of our major cities, the neighborhoods that are facing gentrification are often ethnically and racially diverse, and so meaningfully engaging AAPIs who live alongside other communities of color is a key factor to successful organizing strategies. Organizing in AAPI communities requires a unique and culturally appropriate approach that only groups with leadership from these communities possess; which reminded me of my work at Chhaya CDC, a community-based organization in Jackson Heights, Queens.
Chhaya CDC works with New Yorkers of South Asian and Indo-Carribean origin. Jackson Heights has historically been among the most diverse neighborhoods in the country, representing more spoken languages than any other ZIP code in the U.S. (in recent years, it has lost this title to a ZIP code in Houston). Residents who call Jackson Heights and its surrounding neighborhoods home face rapid change as residential and commercial rents become increasingly unaffordable, making it difficult to continue to live and own small businesses there.
Over the 15 years that I worked in this community, I witnessed an ever-increasing number of management companies working aggressively to displace tenants. They used unethical and predatory practices, including imposing dubious rent increases and fees, neglecting repairs and maintenance, and harassment to drive tenants out of their buildings. These egregious landlords had one goal: to change the landscape of the neighborhood by driving out immigrant tenants in order to attract a higher-income, whiter demographic. These changes translate to the commercial corridor as well, where new businesses that cater to said demographic are displacing the existing, longstanding small businesses that give Jackson Heights its special character. It is a classic case of gentrification with residential, commercial, and cultural displacement in tow.
Local residents decided to fight back and reached out for support. To respond, Chhaya's organizers worked with other community-based organizations in Queens to organize tenants, homeowners, and local businesses. We organized in dozens of buildings to create multilingual, multi-ethnic building associations in order to grow the leadership of tenants, conducted know-your-rights workshops, and took group legal recourse against management companies when necessary. This work was done in six languages, and Chhaya built the model from scratch. Though it took a great deal of time and resources to develop, we were able to preserve thousands of units across the city with our coalition partners. This strategy resembles the grassroots efforts of dozens of local organizations in National CAPACD's network, working tirelessly to preserve the neighborhoods that AAPI communities call home.
One characteristic that makes organizing in AAPI communities unique is the amount of time and resources invested in interpretation and translation into multiple languages. AAPIs have high levels of language diversity; within National CAPACD's membership alone, work is implemented in more than 30 languages. Fully 77 percent of Asians and 43 percent of Native Hawaiians and Pacific Islanders speak a language other than English at home and have high rates of limited English proficiency (40 percent of Asians and 15 percent of Native Hawaiians and Pacific Islanders). This means that written materials, ranging from tenant rights' brochures to meeting flyers, need to be translated into multiple languages.
Most correspondence tenants receive from landlords is in English only. When organizing AAPI community members, a significant amount of time also goes toward explaining materials that tenants receive from their landlords. When door-knocking in buildings, organizers need to be able to speak to LEP tenants. If a building-wide meeting is planned, interpretation in multiple languages is needed. This means dedicating additional time and effort in the staff and volunteer recruitment processes to identify candidates who are bilingual or multilingual. Furthermore, when the meetings are large, interpretation can take quite a long time and thus, simultaneous interpretation equipment is usually required. This technology is expensive, often too expensive for smaller organizations.
Finally, many agencies dedicated to serving tenants, housing courts, and other providers do not have information available in multiple languages or interpreters on staff. Groups working with LEP individuals often have to accompany tenants to agency visits to support with interpretation. To confront and respond to these challenges, organizations in our network also dedicate significant time and energy to build and win language access campaigns.
The unique linguistic needs of AAPI communities are often combined with cultural factors that require thoughtfulness when organizing in these communities. For example, there are many AAPI households that are multigenerational, so organizers need to be sensitive to senior and disability justice issues. There are also many cultural norms within AAPI communities that require sensitivity in staffing and volunteer recruitment to ensure that community members feel comfortable. For example, when door-knocking in Queens, Chhaya staff found that many South Asian or Muslim women were not comfortable opening the door to speak to men and thus, they intentionally hired a Bangladeshi woman as an organizer.
Immigration patterns and histories deeply inform the process of organizing in AAPI communities. Because AAPIs tend to be newer immigrants, it is harder for organizers to draw from an established culture or history of political organizing in the United States; instead, organizers are doing the work of creating that culture and history. In doing so, they have to be sensitive to the ghosts of political trauma, ranging from genocide to cultural revolutions, that many AAPIs have carried with them from the countries they've emigrated from. This trauma creates challenges because many AAPIs may be averse to organizing for fear of being "too political." Organizers have to consider strategies that instead ease these community members into the political process.
Fear is a recurrent challenge when organizing large, low income AAPI populations. Many live in overcrowded conditions in order to stay in their neighborhood of choice, making them averse to organizing for fear of their living situation being discovered. In other cases, fear exists due to the political and xenophobic climate in the U.S. today. For example, Muslim, South Asian, and Indo-Carribean community members are often hesitant to organize due to heightened levels of Islamophobia. AAPIs living in households with mixed immigration status are often afraid to organize out of fear of retaliation through loss of status or deportation.
Though many, these examples are still just a handful of what makes organizing in AAPI communities unique, demonstrating the need for increased investment in the work to authentically and meaningfully organize AAPI communities. Groups organizing in AAPI communities are pouring immeasurable, and often unfunded, hours into engaging with community members in a way that they can relate to and understand, that is sensitive to their fears and reservations, and that meets them where they are at. This work ultimately benefits all residents in our cities. We need deeper and larger investments and commitments to ensure that there is adequate compensation for hours spent on translation and interpretation (linguistic and cultural); intentional recruitment of staff who can connect with community members and put them at ease; and increased funding and capacity to develop the necessary materials and resources.
Knowing this, National CAPACD launched the #OurNeighborhoods anti-displacement toolkit last month. #OurNeighborhoods is an online resource meant to provide grassroots organizers in AAPI neighborhoods with tools to support their work, including an analysis of gentrification, strategies from the organizing field, examples of successful anti-displacement campaigns, and custom data on housing costs and poverty. Developed in partnership with local organizing groups, many of whose campaigns are described, the toolkit aims to meet the linguistically and culturally diverse needs of AAPI communities confronted with the rising threat of displacement.
Recognizing the importance of resources developed by and tailored to specific cultures, a significant amount of the time and resources dedicated to developing the toolkit was invested in the translation process. We worked with local organizations and translators to translate key parts of the toolkit into Bangla, Chinese, Korean, Spanish, and Vietnamese, and have plans for additional languages. We took particular care in adapting the language of organizing and national political systems to ensure cultural sensitivity because there were not always easy or readily available translations.
We all know that resources are limited, and public and private investments in the nonprofit sector needs to be optimally distributed. We also know that supporting work in such diverse populations is challenging. The strategy of community organizing, however, is to empower and build the leadership of people to take care of their communities by providing them with the tools to identify, plan, execute, and win their own campaigns. The #OurNeighborhoods toolkit documents the deep potential and powerful impact of organizing using a linguistically accessible and culturally sensitive approach. Though it does take additional time and resources, it also benefits the entire community and neighborhood—and ultimately, our cities.
Displacement resulting from rapid gentrification of our neighborhoods is one of the gravest challenges in this political moment, yet it continues to be an issue that receives little attention. This is especially true for displacement as it impacts AAPIs and other communities of color. It is incumbent upon us and our elected officials to explore and advocate for strategy and policy solutions that help low-income residents remain in their homes and neighborhoods.
Organizing in AAPI communities using a linguistically accessible and culturally sensitive model has proven effectiveness, and we will continue to develop and advocate for investment in this model. In doing so, we will not leverage AAPIs as a "wedge" community, a strategy too often used by people in power to divide our communities or to manipulate us to believe that our goals are different. Instead, we will work with other communities of color impacted by gentrification to cultivate multiracial coalitions in our grassroots and national anti-displacement efforts because we can build power through our collective experience, knowledge, and resources. Together, we must organize and invest in organizing to protect and preserve neighborhoods that tell our stories and continue to be home for us all.