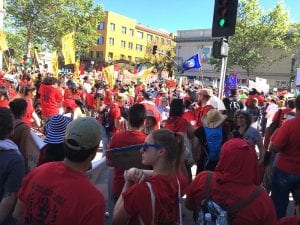 California's progressive activists won a major victory in mid-September when the state legislature passed, and Gov. Gavin Newsom promised to sign, a bill creating unprecedented protections for renters facing skyrocketing rents and arbitrary evictions in a state where the increasing unaffordability of housing has reached crisis proportions.
Rent laws are typically the domain of local governments. But in February, Oregon became the first state in the nation to adopt a statewide rent-cap law. The new California law, called the Tenant Protection Act, is stronger. It limits annual rent increases to 5 percent a year plus the consumer price index, but no more than 10 percent annually. It also includes a groundbreaking provision requiring landlords to have a "just cause" when evicting a tenant, such as failing to pay rent or damaging the property.
During the campaign to pass the bill, its proponents—including its author, Assemblymember David Chiu, a San Francisco Democrat and chair of the Assembly Housing Committee—described it as an "anti–rent-gouging" law rather than conventional rent control.
The new law will apply to cities that don't already have rent control laws and expand tenant protections in those cities—including San Francisco, Los Angeles, Santa Monica, Richmond, and Berkeley—that do. It will cover about 8 million renters (about half of the state's tenants).
The win marks a remarkable comeback for California's tenants movement, which suffered a defeat last November when voters rejected a statewide ballot measure that would have allowed cities to adopt strong rent controls. That measure, Proposition 10, was designed to repeal the Costa-Hawkins Act, a 1995 law favored by the real-estate industry that protects a landlord's right to raise the rent to market rate on a unit once a tenant moves out and bars municipalities from expanding rent control to units built prior to 1995 or to single-family rentals.
Proposition 10 was defeated by a 59.4 percent to 40.6 percent vote. The real-estate industry spent over $72 million for an onslaught of propaganda designed to deceive and confuse voters, including claims that seniors, veterans, and other vulnerable groups would be hurt rather than helped by the measure. Their ads conveniently ignored the fact that Proposition 10 did not require cities to do anything, but simply gave them the option of adopting reasonable rent regulations. The Yes on 10 campaign raised about $25 million, most of it from the L.A.-based AIDS Healthcare Foundation, which operates a lucrative network of pharmacies, clinics, and stores.
Through their work on the Proposition 10 campaign, community groups grew their base of rent control activists and supporters. After the measure lost, the state's political pundits concluded that rent control was dead on arrival as a political issue. But rather than concede defeat, the setback galvanized tenant leaders and organizers to push for a bill that could get through the state legislature, while also fighting local battles.
Since last November, tenant activists in Culver City, Glendale, Sacramento, Inglewood, Long Beach, and Pasadena have successfully pushed local officials to adopt stronger tenant protection measures. And in the same week that the state legislature passed the Tenant Protection Act, the Los Angeles County Board of Supervisors voted unanimously to adopt permanent rent caps, limiting rent increases to the rate of inflation, up to a maximum of 8 percent a year, in the unincorporated areas of the county (home to more than one million people).
Although both the state Assembly and Senate have overwhelming Democratic majorities, the real estate industry's close ties to moderate Democrats have thwarted strong statewide tenant protection proposals for decades. The campaign organizers understood that getting a bill through the legislature would require forging alliances with some elements of the business community and the real-estate industries.
The Alliance of Californians for Community Empowerment (ACCE), a grassroots organizing group with chapters in the state's major cities, took the lead in expanding the broad-based housing justice coalition it had built to fight for Proposition 10. Led by ACCE, and such other progressive organizations as PICO California, the Western Center on Law and Poverty, Public Advocates, PolicyLink, and TechEquity, the organizers recruited more than 150 groups to support Chiu's bill, including the state Democratic Party, the California Labor Federation (AFL-CIO), the California State Building and Construction Trades Council, the ACLU, the League of Women Voters, YIMBY Action, the Sierra Club, and California Alliance for Retired Americans.
One of the key members of the coalition was PICO California, a faith-based group with chapters throughout the state. It mobilized its network of clergy and congregational leaders to hold rallies and meetings with on-the-fence Democrats.
"We were excited to be part of this fast-growing movement," said Jennifer Martinez, PICO's chief strategist. "Getting a bill through the legislature was the obvious next step, but we knew it was an uphill battle. We had to get very loud, and we had to get some unlikely allies."
The labor movement was critical to the bill's success. The first union to jump on board was the Service Employees International Union's Local 1021, which represents Bay Area public employees who work for cities, counties, and hospitals. Local 1021 conducted a survey of its members to find out their major concerns.
"They told us that housing costs are killing them," explained Vice President Gary Jimenez. "We were winning wage increases, but they were getting wiped out by rent increases."
SEIU's statewide council, which led the fight to raise the state's minimum wage to $15, hadn't previously prioritized housing issues. It joined forces with tenants groups in the Proposition 10 campaign, however, and then became an important force in the legislative campaign. The union brought its members—most of them renters—to lobby moderate Democratic lawmakers and helped recruit other unions to get involved.
One week before the bill came up for a vote, the mayors of Los Angeles, San Jose, San Francisco, Sacramento, Oakland, and Stockton—cities where housing costs have outstripped many residents' ability to pay—issued a strong statement in support of the bill.
The coalition partners introduced the media to renters living in overcrowded apartments, getting huge rent hikes, facing eviction, and to those compelled to live in their cars. ACCE members held a sit-in at Newsom's office to prod the liberal governor, who had pledged to address the state's severe housing crisis, to get more directly involved in pressuring legislators to support the Chiu bill.
The reasons behind the new wave of tenant activism are plain to see.
Only 30 percent of California households can afford to purchase the $608,660 median-priced home, according to the California Association of Realtors. A minimum annual income of $122,960 is needed to make monthly payments of $3,070. As a result, California's homeownership rate has been declining, while the percentage of Californians who rent has been growing, from 42 percent in 2010 to 45 percent in 2017, the most recent figure available.
More than 17 million Californians now rent their homes, including an increasing number of middle-class families. The typical California family needs to earn $34.69 an hour to afford the typical two-bedroom apartment, according to a report by the National Low Income Housing Coalition. In many parts of the state, this "housing wage" is much higher. Over half (53.9 percent) of California's tenants—and 92 percent of renters with incomes below $25,000—pay more than 30 percent of their income toward housing. More than one in four (28.4 percent) spend over half their household income just to keep a roof over their heads.
From 2006 to 2017, median annual earnings for California's full-time workers increased by just 2.1 percent, adjusted for inflation, while rents increased by 16.1 percent, according to a recent report by the California Budget and Policy Center, a nonprofit research organization. The widening gap between incomes and rents is a problem "across every region of California, from the high-cost San Francisco Bay Area and Los Angeles and South Coast to the lower-cost Central Valley and Far North," the report concluded. As rents outpace income, families and individuals struggle to cover housing, food, clothing, and other basic necessities.
California politicians and media pundits across the political spectrum have recognized the seriousness of the state's housing crisis. Most have argued that the singular solution was to build more housing. Last year's Proposition 10 campaign, however, gave tenant activists a tremendous platform to educate voters and opinion leaders about the urgent need to address the rent-gouging and evictions that were displacing families and pushing more into homelessness. Building enough new units would take many years, but renters were suffering now.
During his campaign for governor last year, Newsom called for 3.5 million new homes to be built statewide by 2025. That's five times faster than the current rate. In his February 2019 State of the State address, he also called for action on skyrocketing rents.
Earlier this year, the state's housing developers rallied behind a bill sponsored by state Sen. Scott Wiener, a San Francisco Democrat, that would have rewritten zoning laws and forced local governments to allow taller apartment buildings near transit areas and job centers. But mayors and other local officials objected to the bill's infringement on their authority over land use, while housing and anti-poverty activists opposed the bill for not requiring enough affordable units within new developments, fearful that it would exacerbate gentrification. When the bill died in May, it looked like Newsom had dropped the ball on addressing the housing crisis.
But the failure of the Wiener housing production bill provided activists with an additional argument for dealing with the epidemic of evictions and rising rents.
Even as Wiener's bill was tanking, the media were filled with reports on an alarming upsurge of homelessness, not only in the highest-priced regions but throughout California, which intensified the sense of urgency to address the crisis. A May report put the number of homeless people in Los Angeles just shy of 59,000—36,000 of them within the city of Los Angeles, a 16 percent increase in one year. San Francisco recorded 8,011 homeless people living in shelters and on the streets, a 17 percent jump over two years. Ventura, San Bernardino, and Kern counties all reported increases of 20 percent or more. The number of people without homes living in Santa Clara County, the center of the nation's high-tech industry, increased by 31 percent in that two-year period. Orange County and Alameda County each recorded a 43 percent increase from their previous counts in 2017.
Perhaps the most damning number of the housing crisis came from a February survey released by Edelman Intelligence, which found that 53 percent of Californians—and 63 percent of millennials—are considering moving out of state due to the high cost of living. Moreover, 62 percent of those surveyed said that the best days of living in California are behind them. The California Chamber of Commerce issued a report warning that "the shortage of affordable and accessible housing is restricting economic growth, inflicting economic and environmental damage, and driving low-income and middle-class residents, as well as businesses, to seek opportunities outside of the state."
"Some business leaders are waking up to the fact that the housing crisis is their problem, too," says Francisco Duenas, ACCE's housing campaign director. "When families are spending half their income for housing, they don't have enough left over to spend in local businesses. And when people have to commute two or three hours a day to get to work because they can't afford a place closer to their jobs, that's bad for employers."
Newsom helped persuade the California Business Roundtable—the powerful organization of the state's largest corporations—to embrace Chiu's bill, and got the state Chamber of Commerce, which typically opposes any form of rent regulation, to remain neutral. That signaled to moderate Democrats that major business groups didn't view the bill as anti-business.
But the biggest hurdle was neutralizing the real-estate lobby, which has deep pockets and is among the largest donors to Democrats' political campaigns in the state. Newsom, Chiu, and the housing justice coalition groups sought to find the right combination of compromises to get at least one of those groups on board. In August, the Terner Center for Housing Innovation—a research and policy group at UC Berkeley that is funded primarily by developers—embraced the idea of rent caps and eviction protections. That gave the bill credibility as being reasonable rather than radical.
To win over the California Building Industry Association, the developers lobby, Chiu agreed to exclude apartments built in the previous 15 years from his bill's coverage. Chiu resisted pleas from the California Apartment Association (CAA), the state's major landlord lobby, to include a provision to prohibit cities from adopting local rent control laws, but he initially agreed to a 7 percent-plus-inflation rent cap and to allow the bill to expire after three years, which would have required the legislature to pass it again.
In August, as the bill was heading toward its final votes, Newsom fully engaged himself in the process and insisted on strengthening the bill, lowering the amount of permissible rent increases to a 5 percent-plus-inflation formula and lengthening the bill's life on the books from three years to ten. The permitted yearly rate of increase is still clearly too high, but in the back-and-forth with the real-estate industry and the moderates, going lower might have jeopardized the bill. Setting a statewide rent cap with eviction protections, however, established an important precedent for future more-progressive legislation.
According to one Sacramento insider, the developers, large corporate employers, and landlords—including the CAA—swallowed their pride and accepted the compromises in hopes of avoiding having to pour tens of millions of dollars into a campaign to oppose another ballot measure to dismantle the Costa-Hawkins Act, for which the AIDS Healthcare Foundation is already gathering signatures.
Among the major real-estate lobbies, only the California Association of Realtors (CAR) refused to accept the compromise bill, even though Chiu had agreed, at CAR's insistence, to exempt single-family homes from the bill, except those owned by major corporate landlords like Blackstone. CAR urged its 200,000 members to flood Democratic lawmakers with phone calls and emails, urging them to vote against the bill. It didn't work. CAR's statement—"It was disappointing that the California Apartment Association and the California Business Roundtable did not stand with us"—reflected the success of the bill's proponents in dividing the potential opposition.
The advocates gained the support of moderate Democrats like Assemblymember Sharon Quirk-Silva from a swing district in Orange County. Local community groups and unions met with her and her staff on multiple occasions, and generated hundreds of calls from constituents. When the bill reached the Assembly floor, she made a striking statement explaining why she voted yes despite the opposition from some real-estate interests.
"I won't go as far as saying there are threats. But there are threats. And doing what's right is not easy," she said. "I know I like being a legislator. But I want to see people housed more than I care about being a legislator."
The bill was approved in the state Assembly by a 48-26 vote and in the state Senate by a 25-10 margin. All Republicans and a handful of Democrats in both houses either voted "no" or failed to vote.
Christina Livingston, ACCE's executive director, believes that the California victory, coming on the heels of victories in Oregon and New York, will inspire community and tenants groups around the country. Activist groups in Seattle, Chicago, Denver, Orlando, and elsewhere are currently waging campaigns for rent control, protections against unfair evictions, and funding for the construction of more affordable housing by nonprofit developers. In a further indication of the new political mood, several Democratic presidential candidates have announced ambitious plans creating more affordable housing.
"This is just the beginning of the fight," says Livingston. "Tenants have been the sleeping giant in American politics. Now they are waking up."
A version of this article originally appeared in The American Prospect.
Editor's Note: The headline for this article has been updated. A previous headline incorrectly indicated that a statewide rent-control bill passed in California. The California legislature passed a statewide rent-cap law.