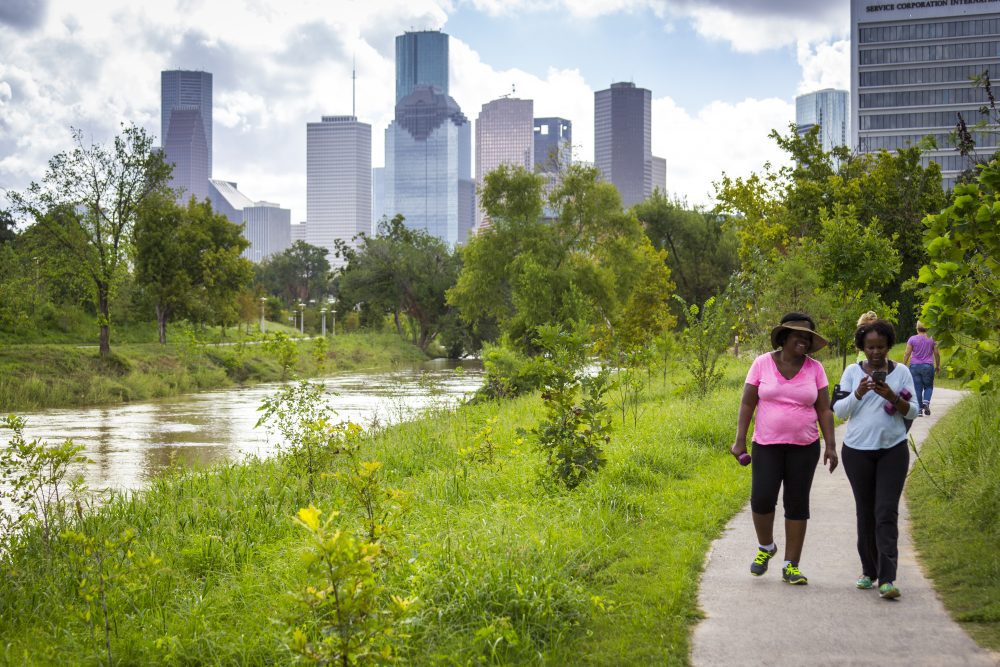 In August 2017 when Hurricane Harvey hit Galveston, a barrier island 30 miles off the Texas Gulf coast, a new affordable housing development called Villas on the Strand kept residents safe and weathered the storm with minimal damage. From the project's inception, resilience—of the buildings and its residents—was a priority.
As climate change brings powerful storms like Hurricane Harvey with increased frequency and intensity, housing developers are increasingly interested in disaster resilience, which considers issues related to both design and land use. Along with disasters that draw international attention, the everyday effects of climate change, such as rising temperatures, longer heat waves, and increased sunny day flooding and sea level rise, will have direct impacts on communities and the housing stock. How can housing, including affordable housing, be made more resilient to extreme weather and better prepared for the consequences of climate change?
In an effort to help answer that question, the Urban Land Institute (ULI) developed a set of 10 Principles for Building Resilience that are based on its real-world technical assistance efforts. The principles can serve as a resource to help practitioners understand what, at a minimum, constitutes climate and disaster resilience.
ULI, where I work as a senior associate, is a global, member-driven organization established in 1936. The membership includes more than 40,000 real estate and urban development professionals who are dedicated to providing leadership in the responsible use of land, and in creating and sustaining thriving communities worldwide.
"The four fundamental requirements of a home are that it be clean, safe, warm, and dry," says Philip Payne, CEO of Ginkgo Residential and a contributor to the 10 principles. But beyond that, "understanding the importance of building resilience into every project is essential to providing homes for people of all income levels."
In 2005, after Hurricane Katrina devastated several areas—particularly New Orleans—ULI members teamed up with experts, advisers, and local public and private leaders to work with communities to create fresh visions and investment strategies for enhancing resilience. Almost all of those projects have included a significant affordable housing component. The principles combine common features present in those projects.
Resilience and Affordability
With a significant focus on equity and community engagement, the principles acknowledge the central reason why affordable housing must be resilient: climate change disproportionally impacts low-income and marginalized communities.
This disproportionate impact has a number of underlying causes, but one important factor can be the design of the built environment. For example, high temperatures disproportionally impact low-income communities, and one reason for that is there's less protective tree canopy in those neighborhoods. The connection between health and hazard exposure is sometimes even more direct; heat-related mortality is higher for residents with bedrooms on the top floor of buildings than in other urban residential locations.
Fears of displacement—both physical and cultural—are part of a larger conversation about preparedness, climate change, and housing affordability.
Some affordable housing developers and municipalities are addressing these health risks through the design of their housing projects. ULI recently published a number of case studies that demonstrate how incorporating specific features, often at relatively low cost, in affordable housing can support the day-to-day health of residents. The same should be true with respect to safety during weather-related events.
Strategic window location and material selection, for example, can support resident psychological well-being, reduce total building energy costs by as much as one-third, and help maintain safe building temperatures during extreme weather events or power outages.  
Exposure to climate hazards is a factor even for those who aren't likely to be directly impacted. "Climate gentrification," the process by which affluent populations move away from historically high-value yet vulnerable areas and move to safer locations (potentially driving up prices), is becoming a concern among low-income communities that are not located in vulnerable parts of cities. Fears of displacement—both physical and cultural—are part of a larger conversation about preparedness, climate change, and housing affordability.
If and how climate risks will impact real estate value is an area of active research, but there is some early data. The first peer-reviewed study to document how climate risk affects property values was published in 2018 about flood-vulnerable housing in Florida. A team from Harvard's Graduate School of Design demonstrated that the value of single-family properties at higher elevations is higher and is increasing more rapidly than similar properties at lower elevations. And a new ULI report released in February 2019 examines how real estate investors are managing climate risks to "future-proof" their properties. For example, a growing group of investors and investment managers are incorporating physical climate risks into acquisition decisions, diversifying their portfolios, and contributing to city-led resilience efforts by mitigating the risk of all assets under their jurisdiction. 
In addition to their geographic exposure to risk, communities with the least financial resources are also typically the most vulnerable in times of extreme events. They are the least likely to have sufficient resources to support needs after an extreme event and have the least job security, which can often affect decision making and preparedness before severe weather.
However, as demonstrated by ULI's technical assistance experience that informs the 10 Principles of Building Resilience, disaster-resilient homes protect residents and often contribute to social and economic resilience.
Resilient Building Design: Galveston, Texas
One factor that successful resilient real estate developers have in common is that they, "Understand Vulnerabilities," the first of the 10 principles.
The Villas on the Strand in Galveston are built on the same site as Magnolia Homes, an affordable housing complex that was severely damaged in 2008 by Hurricane Ike and, as a consequence, later demolished.
Learning from Ike, developers incorporated key features into their planning to reduce storm vulnerability at the Villas. The lowest living spaces and the utilities are elevated 17 feet above sea level—well above Hurricane Ike's 10-foot storm surge. All of the building's windows, doors, and roofs are storm-rated. And the management company has a detailed hurricane preparation plan that includes a list of residents who will likely require assistance during an evacuation.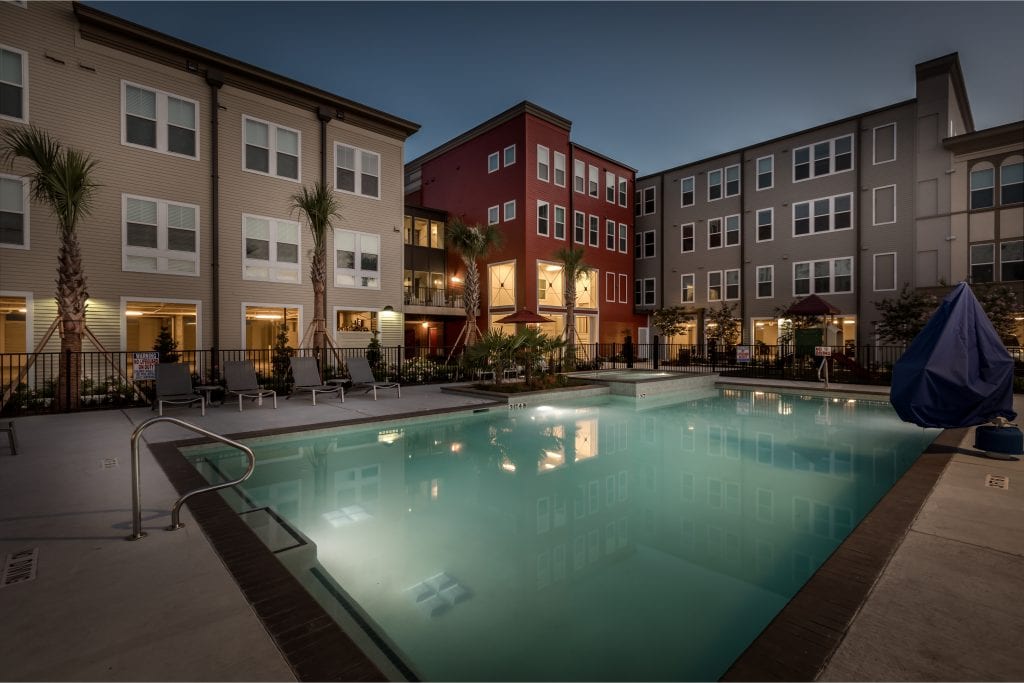 The goal, according to developer McCormack Baron Salazar in a project summary to ULI, was "to reduce the impacts of storms on the island's most vulnerable residents and allow them to recover faster, more easily, and at less personal expense."
The preparation was worth it. Two months after the Villas opened, Hurricane Harvey hit Texas as a Category 4 storm with winds of 145 mph. There was minimal cosmetic damage to the development from blowing rain, and with voluntary evacuation orders in effect, residents were able to shelter safely in their new homes.
There was also one unexpected benefit of a storm-resilient property: the avoided cost of vehicle damages. The property management company's storm-preparedness plan included moving all residents' cars offsite to a high-level lot to avoid property damage that could be caused by parked cars floating in rushing floodwaters. While some residents opted out and chose different storage options, thanks to this strategy, not a single resident of the Villas had to pay for car storage or repairs.
Affordable and Diverse Housing Types: Larimer County, Colorado
In addition to understanding vulnerabilities and climate-aware site design, a key principle of building resilience is strengthening job and housing opportunities for residents. This principle moves beyond the design of a single housing development to address broader land use and economic development policies in place at the metropolitan or regional levels. Ensuring affordable and diverse housing types is both a strategy for and a component of resilience in Larimer County, Colorado, where ULI completed a technical assistance project in 2014 after devastating flash floods in 2013.
The floods exacerbated an already existing affordable housing shortage, in which many key workers lived far from the communities where they worked. When the floods made key roads impassable, some hospital staff faced prolonged commutes of three hours or more. As a result, the hospital had to bring in staff by helicopter, and provide housing and meals per diem, at an ultimate cost of about $700,000 in one month. This level of emergency expense can be a convincing motive for local businesses affected by floods to invest in future preparedness and resilience measures.
Diversity within the housing supply was quickly recognized as a key resilience strategy that would contribute to Larimer County's ability to bounce back from a severe weather event as well as "bounce forward" and contribute to long-term economic strength.
The ULI panel recommended multiple strategies to proactively address the county's housing challenges, including the establishment of a fund with contributions from the private sector to develop affordable multifamily housing.
Community, Engagement, and Inclusion: Seattle, Washington
One of the best ways to build resilience and address both housing design and the aligned community engagement process is to promote equity, another ULI principle. Involving historically marginalized and the most hard-hit communities in climate resilience is crucial for identifying the solutions that will ensure all communities share and receive access to the benefits of investments in infrastructure, land use, and development.
Community and public leaders in the Duwamish River neighborhoods outside of Seattle, Washington, are striving to make social equity, cohesion, and investment in social networks core pillars of flood resilience, and in 2015 invited ULI to study how these neighborhoods could be made more flood resilient. The city was particularly interested in understanding potential models for funding protective infrastructure and best practices for engaging residents in the decision-making process.
The towns of South Park, Georgetown, Port of Seattle, and SoDo ("South of Downtown") are Seattle's most vulnerable areas for flooding brought on by sea level rise and changes in precipitation. The frequency and magnitude of coastal flooding will increase over time, with existing annual events projected to become monthly events by 2035 and daily events by 2060. The areas are also home to a larger group of minority and low-income families in comparison to the surrounding counties.
The equity and community engagement strategies generated by the study team for Duwamish Valley are also replicable in other contexts. Some of the strategies include:
Creating programs, including in-kind and financial assistance, to help low-income residents more easily prepare for and recover from emergencies.
Tailoring outreach strategies through Seattle's Department of Neighborhoods, including providing interpreters, leveraging existing neighborhood groups, and offering meetings at multiple times of day.
Planning inclusive communitywide events to cohesively communicate trends, development, and concerns, such as holding an annual "State of the Duwamish Summit."
Following the technical assistance project, the city formed an interdepartmental team in 2016—the Duwamish Valley Action Team—to deliver projects in the community and implement new community engagement and partnership strategies. The team has focused on listening to residents' input and identifying capital projects, such as park development, that address the community's most pressing concerns.
This simultaneous focus on both infrastructure and community is a best practice when building resilience; stronger, more resilient, buildings and land uses reduce the challenges communities face before and after disasters, reduce operational costs and losses at the time of a disaster, and support the well-being of the people who live there.