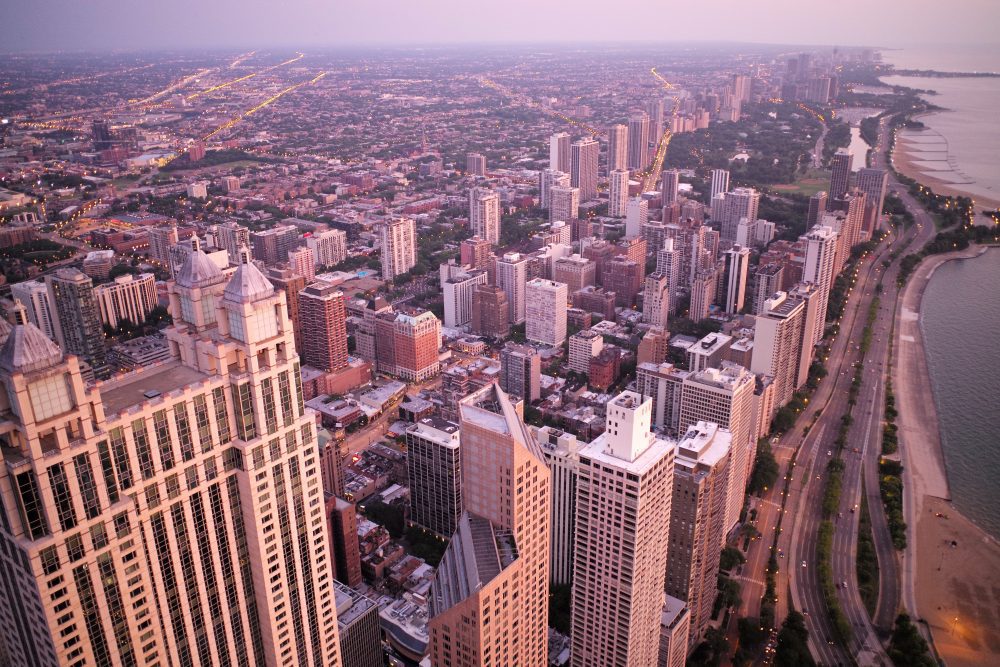 The supply of affordable housing in Chicago has fallen dramatically in the last few years. Owing to rising rents, the conversion of 2- and 3-flat buildings into single-family homes, and new development mostly happening in the high-end sector, the city saw its supply of affordable apartments decline by more than 10 percent between 2012 and 2016, according to DePaul University's Institute for Housing Studies. Though largely the product of diffuse market conditions, and only partially steered by government bodies, the net result is a loss of overall units and increasing rent costs for many city residents.
Three buildings for seniors owned by Presbyterian Homes on the city's North Side nearly became another example of this death-by-a-thousand-cuts story. While the nonprofit had provided subsidized units to seniors for years, it decided to sell the buildings in 2015, initially announcing that it had found a for-profit buyer that would evict all 150 residents. But activists with the Jane Addams Senior Caucus and ONE Northside sprung into action to oppose the sale. Their activism drew intensive public scrutiny of the nonprofit's decision to sell, which led to the Presbyterian Home CEO's salary being published in the Sun-Times.
That's when the Community Investment Corporation (CIC), a nonprofit affordable housing lender, stepped in. The lender, a community development financial institution (CDFI), has offered $1.3 billion in affordable housing financing across the Chicagoland area since 1984. With a mission to offer favorable financing for affordable housing, particularly in some of the city's most credit-starved communities, the fund was the ideal broker for the situation. It shared similar goals with community groups, but had the experience and resources to negotiate an expensive property sale. Thanks to CIC, the Chicago Housing Authority (CHA) was brought into the purchase and it bought the buildings and preserved their affordability without disrupting or displacing residents.
CIC isn't the only group in Chicago that is seeking creative routes to preserving affordable housing. The Chicago Metropolitan Housing Development Corporation (CMHDC), which was chartered by the CHA in 1982 to provide financing for housing developers in the city, has also managed to preserve hundreds of low-cost units in high-performing neighborhoods through targeted purchases, all without new public subsidy.
In that sense, both CIC and CMHDC share a common ethos: avoid too much public attention, invest funds carefully, and leverage the private market rather than costly public subsidies to maximize affordable housing preservation. It's an unusual approach to a challenging question. It won't be able to solve the core issue of rising rents by itself, certainly. Yet in a climate of minimal direct government spending on affordable housing, and frequent hostility to new buildings that include low-cost or public housing units, both CIC and CMHDC have successfully used low-profile purchases to keep housing in thriving communities available for those who need it most.
Opportunity Investment Fund
CIC has been financing affordable housing for years, but most of its investments before that were made in lower-rent areas, with loans provided to owners in order to make sure units were kept in good repair.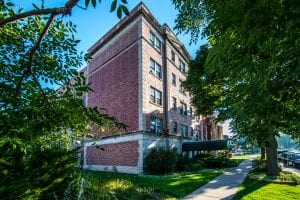 In 2014, CIC created the 1-4 Unit Rental Redevelopment Loan Program, which has granted nearly $16 million in loans for 281 units. A project known as the Chicago CDFI Collaborative, a partnership with the Chicago Community Loan Fund and Neighborhood Lending Services, has raised $41 million in funding, keeping another 593 units affordable and in good repair. These units are primarily located in low-income communities that were hardest hit by the foreclosure crisis, helping to restore the housing stock rather than letting it deteriorate further.
But with Presbyterian Homes, CIC realized it also needed to reckon with the loss of affordability in higher-opportunity areas.
A new unit of affordable housing in a high-cost area financed by the Low Income Housing Tax Credit can cost upward of $400,000. A purchase-rehab loan from CIC loans can be a more efficient means of keeping housing in those areas affordable.
"The unit costs weren't that high," said Stacie Young, director of the Preservation Compact at CIC, a collaboration that works with partners to develop and execute these preservation strategies. "If you averaged out the unit costs [for the Presbyterian Homes project], it was less than $200,000 per unit, and oh my god, you're getting 60 units in [high-income] Lakeview? Are you kidding me?"
As a result of its experience with Presbyterian Homes, CIC launched the Opportunity Investment Fund (OIF), which finances purchases in "high-opportunity" areas (which tend to be higher-income, whether recently or long term) that will preserve or introduce affordability. The fund has raised an initial $35 million, and offers developers loans for up to 90 percent of a project's cost at 7.5 percent interest, far lower than typical market rates. Though CIC requires only 20 percent of any rehabbed units to be affordable to residents making 50 percent of the Area Median Income (AMI) for the following 15 years, it can nevertheless make a considerable difference in high-opportunity communities. With the $35 million, CIC expects to finance 1,500 total units, 300 of which will be affordable housing.
To fill these affordable units, nonprofit and for-profit developers are also able to advertise to people with Section 8 vouchers, making it easier to match the units with low-income families who need them. Young notes that most landlords in gentrifying areas are unlikely to advertise to potential voucher holders or simply refuse their applications, but because OIF-funded developments are mandated to have some affordable units, it's far more likely to result in property managers contacting the CHA to advertise to low-income renters. The arrangement allows the housing authority to advertise quality units in thriving neighborhoods, a small win for voucher holders who encounter landlords who illegally block them from applying to live in their properties.
No Red Tape
Though CMHDC is still technically housed within the CHA and draws one or two of its nine board members from the housing authority, in practice, it's largely independent. Its day-to-day governance steers mostly clear of CHA oversight.
This independence frees CMHDC of many of the restrictions that traditional housing authorities face. In fact, the only strict legal requirements that the organization must adhere to come from the Internal Revenue Service, which mandates that the organization preserve at least 75 percent of its units for residents making 80 percent of AMI or less. With that flexibility, CMHDC is able to be far more nimble with its property acquisition process than a public housing authority could be, even as it works on a much smaller scale than an organization like CHA.
According to Rafael Leon, executive director of CMHDC, there are advantages to this approach. For one, the company is able to buy properties while attracting little to no attention from the wider public, unlike many other public and affordable housing developments, which often prompt backlash from residents unwilling to allow affordable development in their neighborhoods.
"If you don't use any public funds, you can go out and buy a building without telling the entire world what you're doing," said Leon. "Not just in Chicago, but in other areas, if you're buying a 6-unit or 12-unit building and you preserve that as affordable housing and you become a good neighbor, who's going to object to that? Very few people."
To Leon, CMHDC's investments in affordable units can help those opposed to affordable housing to understand its importance. He says that many people have a misguided understanding of what affordable housing actually is, even residents who may actually qualify for some of the units that the CMHDC owns.
"I look at the charts and I say, 'It says here that according to the federal government, if you have a spouse and two children, and you make $65,000, whether you like it or not, you're considered a low-income family in Chicago, and you qualify to live in this unit,'" said Leon. "You would not believe how people react to that statement, because they don't think that a family making $50,000 or $60,000 is considered low income."
When CMHDC was first founded, it served as a lender to other housing developers in the city. In 1987, the organization was incorporated as a 501(c)(3), allowing it to begin acquiring its own affordable housing units. In 1994 the initial bonds CMHDC had issued a decade earlier were refinanced by U.S. Department of Housing and Urban Development (HUD) as interest rates declined from 11 to 7 percent. The organization split the proceeds from the refinancing with the federal government, amounting to approximately $15 million for CMHDC between 1994 and 2004.
With that initial pool of money, CMHDC began acquiring units without any of the red tape typically associated with accessing public funding sources and it has grown its housing stock considerably. By acquiring and maintaining existing buildings in neighborhoods with growing property values, the organization has been able to take profits derived from its existing properties to make new investments in other communities. From that initial $15 million, CMHDC now controls properties valued at approximately $75 million in neighborhoods across the city of Chicago, as well as nearby suburbs Evanston and Skokie.
CMHDC operates with only five employees, and contracts its property-management needs to two outside companies, keeping costs down. But its unique status has allowed it to make efficient investments in preserving low-cost units, often in places where other affordable development programs were unsuccessful. CMHDC preserves at least 75 percent of its units at rents affordable to renters at 80 percent of AMI, and in many cases the organization is able to offer units to renters at a deeper discount, exceeding IRS minimum requirements and all without strict regulatory oversight.
"Organizations have to be creative," Leon said. "Most people think that the only way to do affordable housing is through public programs, and that's not the case. We're a testament to that."
Working with Community Groups 
Though many housing agencies have adversarial relationships with residents and activist groups, the experiences of CIC and CMHDC have been quite different. For the two agencies, community groups have actually played an important role in identifying effective targets for redevelopment as well as prodding reluctant stakeholders into action. Because both work closely with the city government and the CHA, they're also useful mediators in project negotiations, in several cases collaborating with other bodies to make units even more affordable.
To Young, the Presbyterian Homes project was a perfect example of the working relationship her program has developed with community groups. When the buildings' sale was initially announced, and various community groups began their campaign to maintain affordability and prevent displacement, the original owner was unwilling to negotiate. But as pressure mounted on the nonprofit to not displace dozens of seniors from their tight-knit community, the owners eventually came to CIC to help make a deal. CIC was instrumental in brokering the deal that led to the CHA purchase.
"There have been a lot of examples where I've gotten amazing information from [activists] I would have never gotten otherwise, and as a result we were able to preserve something that would have gone away," Young said. "I feel like we've worked really well together, and we appreciate each other's strengths, and don't take each other for granted."
Though it didn't require the pressure tactics employed in the Presbyterian Homes case, activists played a similar role in CMHDC efforts in Albany Park, considered the city's most diverse community and one that's seen rapid gentrification in the past few years. In that neighborhood, the group Communities United initiated a process of identifying buildings for purchase in the neighborhood. After several of the purchases, the city's Department of Planning and Development helped CMHDC sustain rents that would be affordable to residents who earn substantially below 80 percent of AMI in 15 units, with a non-amortizing loan on which payment was deferred for 30 years, another example of the agency's effective use of existing resources. Other units are often rented to lower than 80 percent of AMI too, Leon said.
In the end, the success of both organizations hinges on a combination of a desire to support affordability and careful investment in strong markets, a unique position for agencies working toward preserving affordable housing. But for Young, the successes CIC has experienced, modest though they may be, are what's most important.
"It's not changing the world, but it's 300 affordable units that would otherwise not exist in strong markets, and no one lost a dime in the process," Young said. "It's not the 300 we should be focusing on here, it's the efficiency of getting to the 300, and thinking about how we're using available resources."