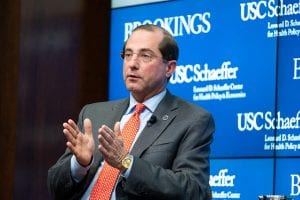 Late last year, Alex Azar, the secretary of the U.S. Department of Health and Human Services (HHS), shocked people in the health, housing, and social services fields by strongly hinting that Medicaid funds could be used for housing costs in the future.
"What if we provided solutions for the whole person, including addressing housing, nutrition, and other social needs? What if we gave organizations more flexibility so they could pay a beneficiary's rent if they were in unstable housing, or make sure that a diabetic had access to, and could afford, nutritious food? If that sounds like an exciting idea . . . I want you to stay tuned to what CMMI [the Center for Medicare and Medicaid Innovation] is up to," said Azar in a November 2018 speech to the Hatch Foundation.
Later that day, he gave a speech to the Commonwealth Fund with a similarly intriguing message. "We are actively exploring how we could experiment with actually paying for non-health services, like housing and nutrition—an integrated, individually driven approach to health and human services on a scale that has never before been tried in the United States," he said.
Over the past few years, the Centers for Medicare & Medicaid Services (CMS) has embraced the concept that upstream factors like housing and food—the social determinants of health—deeply affect individuals' health. That may seem revolutionary for a federal agency in the Trump administration, but it's part of a general trend across the health care industry. "I think it's consistent with a move towards value-based payment"—paying for health outcomes rather than direct services—"that incentivizes value, not volume," said Diana Crumley, a program officer at the Center for Health Care Strategies.
In 2015, CMS began granting waivers to states to allow them to use Medicaid funding for various preventive measures, including housing-related services that help individuals find and stay in housing. In itself, this option was considered groundbreaking, and several states have applied for and received those waivers, including Illinois, California, and New York. California's Whole Person Care pilot program, for example, allows hospitals and social service organizations to collaboratively treat high-cost homeless patients; Medicaid funds can be used for housing services, and local and state money can be applied directly to housing payments, helping to get needy individuals into homes.
However, using Medicaid funds to pay directly for housing, as opposed to housing services, is prohibited by the Social Security Act—which is why Azar's comments came as such a surprise. And few observers know exactly what he has in mind.
But some analysts point to a Medicaid waiver for North Carolina that CMS approved in October 2018 as a possible road map. With the waiver, North Carolina will launch two to four pilot projects over the next five years; each will be implemented in collaboration with a network of human service organizations. Like other state waivers, the funding can be applied to housing-related services, as well as for some housing modifications, like the removal of moldy carpets, which can trigger asthma attacks. But the waiver also declares that Medicaid funds in the pilot areas can be used for one-time payments for security deposits and first month's rent, as well as for post-hospitalization housing for up to six months.
"That's something of a breakthrough," said Jeffrey Levi, a professor of health policy and management at George Washington University, who describes the North Carolina waiver as a big deal. "They're taking some initial steps. It's clear the administration is doing this to see how far they can go to address health under the social determinants."
Levi thinks that those types of housing payments still fall under the health-related services category, at least according to CMS's general counsel, and therefore are allowed by law.
Lisa Dubay, a senior fellow in the Health Policy Center at the Urban Institute. Maybe there will be some additional funding later, she adds, but the bottom line is a waiver "has to save money."
For populations with substance abuse problems or severe mental illness, paying for housing is indeed cost effective, because it keeps them out of hospitals and other institutions. And for low-income families facing a financial emergency who might need just $100 to stay in their apartment at the end of the month, assistance could make a serious difference, allowing them to avoid a raft of serious short- and long-term health problems that follow the stress and disruption of eviction and homelessness.
But ultimately, those are efforts at the margins. For CMS to allow Medicaid funding to be used in a much bigger way—to build enough housing to meaningfully address the housing crisis, for example—would be an almost inconceivable stretch.
"I think it's potentially an important change in policy," said Dubay of Azar's comments. "But in the end, we're going to have to build affordable housing: the health care system can't do that."