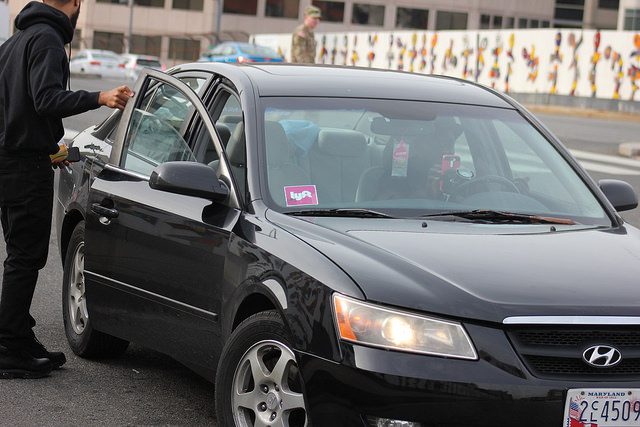 Ride-hail drivers in New York City will now be guaranteed a minimum pay after the city's Taxi and Limousine Commission (TLC) voted for the change early this week. New York is the first in the country to establish a minimum pay rate, which will affect over 70,000 drivers. The proposal and decision came after a study the TLC commissioned that looked into pay records and found that a majority of high-volume drivers were earning below minimum wage. The pay standard goes into effect in January 2019, and companies will receive summonses if they don't comply.
Welcome to the field, please ignore the headline writer. We know that writing headlines is hard. But it's also important. So it's really a shame that someone saw fit to describe a project that Black Lives Matter Louisville has recently embarked upon—purchasing and rehabbing vacant buildings for low-income families, especially people who have been incarcerated—as "flipping." Flipping can span a range from legal to illegal practices, but it's pretty much always focused on turning a quick profit with minimal inputs, buying low and selling high, and is often associated with damaging speculation and gentrification. That's clearly the furthest thing from BLM Louisville's goals. We wish them luck and hope the affordable housing community will lend a hand if they need it.
From the department of you don't say: A study just released by a St. Louis university and the Federal Reserve of St. Louis compared the health and financial well-being outcomes of those who were insured under the Affordable Care Act, and those who were not. With no surprise, it found that people who had access to subsidized health insurance under the ACA were less likely to miss rent or mortgage payments. The report helps to further make the connections we've all been discussing, and may also dispel some myths about how low-income households manage their health care costs and interact with the health care system.
It's estimated that more than 10 million rural and low-income communities will be left "on the wrong side of the digital divide" if the FCC gets its way. The FCC's order to speed up the roll out of 5G will make it so fees local and state governments charge carriers on public infrastructure are capped at below-market rates, "forcing local taxpayers to subsidize the difference," according to this piece in CityLab. More than 20 cities have filed a suit against the FCC because they say there are no requirements to provide broadband service to low-income and rural communities, where it costs a lot more to bring 5G to residents.  "In rural areas, the cost of bringing 5G to a single resident could be up to $30-50K per user—many times more than the cost of servicing an urban dweller." Internet access isn't a luxury, and it hasn't been for quite some time. This piece is a must read.
An all-too-frequent complaint of tenants living in buildings owned by negligent landlords is that finding out who to pursue is difficult—owner names are hidden, often layered behind multiple shell companies. But they have a new and useful tool, and bad landlords have a new nemesis—coders. Computer scientists across New York City have come together to create a database that enables users to find out who owns the building they live in. The database lists owners names and compiles all their owned properties as well as code violations and eviction history. We can only imagine how invaluable a tool this will be for individuals and organizing groups alike.
More than 12,000 people have lost medical coverage in Arkansas thanks to the state's new rule that requires Medicaid recipients to work or perform other activities to keep their coverage. But Seema Verma, administrator of the Centers for Medicare and Medicaid Services, says it's "very possible" those people left the program because they decided they didn't want coverage [oh please!], they found a new job, or they chose not to follow the new work requirements. It looks as though the agency is not going to slow down the work-requirements train, no matter how many people lose medical coverage.
Residential property in majority-Black neighborhoods consistently sells for $48,000 less than in other neighborhoods, according to a new report. Nationwide, this phenomenon amounts to $156 billion in losses. How depressing—it's difficult to see how we're ever going to close the racial wealth gap. But there was a small bit of good news: In 15 metro cities, Black homebuyers did see their home values rise as much, if not more, than their white counterparts, according to this piece. When we say "small bit" we mean it—Black homeownership rates are still at their lowest levels in 50 years.
Airbnb wants to get into designing buildings, reports FastCompany. Though the company's new project Backyard is still in the very early stages, it seems like it will involve customizable green buildings that are easy to "share" and easy to adapt the changing needs of owners. Despite the name, the project will not be limiting itself to accessory dwelling units, or selling just to potential Airbnb hosts. We're confused too.
Black people are more than three times as likely to face police force in New Jersey, according to an investigative report by nj.com. For the last two decades, officers in the state have been required to document every time they use force against another person in an effort to "flag dangerous cops for scrutiny," but no one was reviewing those documents. The newspaper company launched a 16-month investigation and obtained more than 72,000 documents from every police department in the state. (Forgive us—the news nerd in us is super impressed by this feat!) The report shows, among other important points, that almost 300 officers used force more than five times the state average, and that the state fails to flag officers who use disproportionately high uses of force. We have a feeling this report is going to bring some change to NJ. Yay investigative journalism.
The way students were treated at the unaccredited private school TM Landry, as exposed by The New York Times, is nothing short of horrific. However, as this interesting Twitter thread points out, the story exposes far more than the school itself—it paints a story of elite colleges so hungry for a certain narrative of exceptionalism that they fell for fake transcripts playing on egregious stereotypes, and then found that a good portion of those students, who wouldn't have been accepted without falsified documents, are doing fine. "Turns out a low-income Black kid doesn't have to be a 1-in-a-million child prodigy to thrive in elite higher education! Which raises the question of 'why aren't more admitted,'" writes Will Stancil, a fair housing advocate following the story.
What We're Reading
Zip Codes Don't Kill People—Racism Does, Health Affairs
On the Front Porch, Black Life in Full View, New York Times (which, of course, reminds us of Sitting on Porch Can Be Good for Your Health)
Financing the Future of Cooperative Low-Income Housing, NextCity