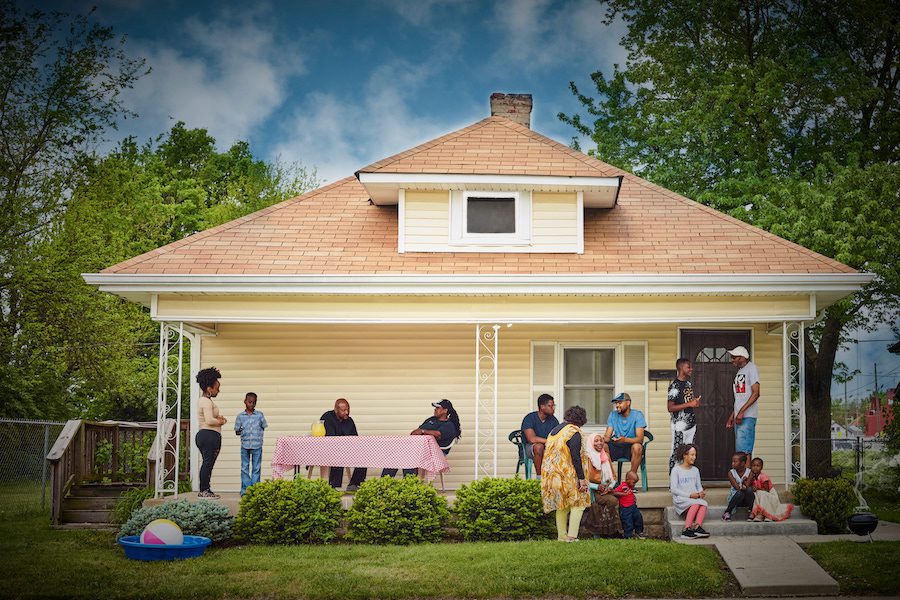 I didn't grow up with a front porch. My suburban Washington, D.C., neighborhood featured backyard patios behind tall fences where families gathered in privacy. When my husband and I moved to Indianapolis in 1991, we chose an older neighborhood with historic homes that had large porches, small yards, and sidewalks. We enjoyed those things, but brought our suburban habits with us and promptly built a back deck, rendering the front porch a mere decoration. It wasn't until 2007 that I rediscovered my front porch as a communal space, which changed my perspective of what community could be. 
I am not a sports fan, but gathering with neighbors to watch Indianapolis Colts games got us tailgating on neighbor's porches, enjoying a cold beverage and snacks for an hour or so before the game. Eventually, football season ended, but the long conversations and relaxation continued. As one month faded into another, the gatherings simply became known as "porching." Now every Sunday afternoon, a neighbor will text "porch?" and by 3 p.m., a handful of residents will gather on someone's front porch, laughing and sharing stories of the week.
It was during those Sundays on the front porch that I began to observe how the social connections that were being formed had a profound effect not only on the emotional well-being of friends and neighbors, but on our community as a whole. Our gatherings had become less exclusive, with new guests joining us each week. Passersby who stopped to chat were welcomed. From young singles and married couples, to teenagers and empty nesters, the porch seemed to unite all ages, genders, and cultural identities. It became our countercultural weapon to creating a human-centric community presence—something that had faded as a result of suburbanization, air conditioning, privacy fences, and attached garages.
From my porch swing, I observed that when people were connected, they were happier, which led me to believe they were healthier. After all, scientific evidence suggests that there is a strong connection between happiness and improved health. Over the years, I watched as unemployed neighbors found jobs, and divorced neighbors found spouses, life changes that would most certainly reduce stress and increase one's happiness. And through these social gatherings, we all found a sense of belonging. It's said that loneliness and social isolation is as bad for your health as smoking 15 cigarettes a day, so by socially connecting with one another, our neighborhood became healthier.
By 2013, I wondered if porching could translate into a broader community-building initiative to strengthen our city—by connecting people in neighborhoods.
Combating Isolation
What had been personal became professional. Through my role as executive director of the Harrison Center for the Arts, I was concerned about community health. Artists need support structures to thrive, and we have long helped them with housing, employment, and social connections. We believed that the healthier the neighborhoods around the art center, the healthier our artists would be. So we conducted informal research and learned that many longtime urban residents were lonely and felt disconnected from their community. They longed for the "good old days" when they knew their neighbors, when eyes were on the street, and when gathering on a porch was a cultural activity. Changes in the community, including an increase in crime and vacant lots, the threat of gentrification, and the loss of culture, made residents stop going on their porches like that had in the past. We also learned that new residents didn't know the neighborhood's story and were dealing with their own feelings of isolation from modern living as well.
Since the 1980s, the percentage of American adults who say they're lonely has doubled, from 20 percent to 40 percent. As social isolation continues to grow in cities across the country, research shows the physical and mental health consequences—altered immune systems, disrupted sleep patterns, and an increased risk of heart disease, stroke, and an earlier death—are taking a toll on lonely people, many of whom are elderly.
To help combat the isolation felt throughout our urban neighborhoods and to rebuild the connecting fabric that had been lost, we launched an initiative that eventually became #PorchPartyIndy. At first we targeted older neighborhoods that had large porches, small front yards, and sidewalks designed to foster a community that interacts and intersects. It was a simple campaign. We encouraged people to be visible, sit on their porches, have their eyes on the street, to porch; we encouraged neighbors to host small porch parties. We visited neighborhood association meetings, sought out neighborhood champions and civic leaders and spread the word about the power of porching through social media and sponsored events.
We thought the concept was so simple that it didn't need instructions, but we realized that the front porch lifestyle was so foreign in this modern age that people wanted help. So we created a step-by-step guide and video to distribute to those who were interested, and reiterated that porching was meant to be spontaneous and easy. We communicated through informal language on a simple, artist-inspired flyer that could be easily distributed through neighborhood associations at local businesses, restaurants, and during community events.
The 10 easy steps include:
Pick a weekend afternoon or evening.
Invite 6 to 10 neighbors.
Gather porch furniture around a small table filled with fixings.
Offer some finger foods.
If you have time, get creative and make your own food. Break out a family recipe.
Serve refreshing drinks like lemonade or iced tea in the summer. Offer cider or hot cocoa in the cooler months.
Put on some of your favorite music.
Enjoy good conversation, community, and a chance to connect with your neighborhood in a new way.
Take pictures and share on social media to encourage others to begin porching
Smile and wave at each passerby. The point is to build a sense of togetherness and community.
Over the next few years, porching gained momentum. What started in one urban Indianapolis neighborhood spread first to 13 neighborhoods and then eventually to 52 counties in the state. When one downtown condo developer presented the city board with architectural plans that didn't engage the community, a commissioner said, "Haven't you heard of porch parties? Come back with porches on that building." Even the Indianapolis Motor Speedway, through the Indy 500, embraced porch parties and is now promoting them as a civic celebration during the month of May. Personally, I plan my family's travel schedule so that we are home on Sunday afternoons to porch.
Reaching Residents Who Were Left Behind
While many residents were participating and the movement was growing, it became evident as we monitored social media posts and attended neighborhood association meetings that many longtime residents were being left behind. The neighbors participating in #PorchPartyIndy were sorted by their financial ability and energy level to host a porch party. We wanted to make our porching initiative more inclusive.
Drawing on our community development skills and knowledge of how to create connections between people and our community, we realized the time had come to not only encourage residents to host their own parties, but for the Harrison Center to intervene and host porch parties for some of our neighbors.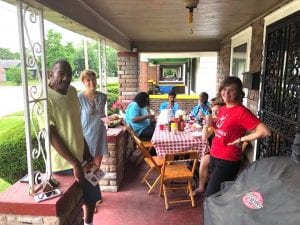 In the summer of 2018, we worked with local youth to collect oral histories in the neighborhood. Our youth planned a series of parties for older residents. Several of our residents didn't have a formal front porch any more. Some porches were torn down due to disrepair, and other homes lost their porches when they were "modernized" as architectural styles changed. We improvised by setting up a picnic table in their front yards. Porching isn't about the physical porch, but a lifestyle of engaging the street.
Before the party, we organized a group of Harrison Center interns to visit the homes of residents we had met through neighborhood association meetings. At those meetings, we noticed that some of these neighbors expressed strong opinions and concern for their community and this convinced us that they had powerful stories to tell. We queried them about their favorite foods and colors to ensure we catered to their porching style.
For instance, we discovered that a neighbor named Miss Terri loves purple, so we arrived with a table for her front yard covered with a purple tablecloth, and served purple carrots, purple chips, and grapes. Miss Jimmie turned 101 and was tired of the same old cake, so we put candles in her favorite dessert, a pecan pie.
A Restorative Power
Along the way we learned that aside from helping to break the cycle of isolation, porching has become a powerful forum for community storytelling. Sharing stories and inviting new people to understand and take part in documenting their stories shows people that they are valued, which has measurable health benefits for storytellers and listeners alike. The restorative power of nostalgia contributes to feelings of optimism, which has been linked with improved mood, less pain, and a host of other positive wellness outcomes.
Ultimately, art captures our hearts and propels us into a movement. Porching has become a muse for our artists. It has inspired them to draw upon their creativity to document and elevate the stories of our neighbors and the history of the neighborhood through paintings, songs, billboards, and videos. A recent public art installation, 'Greatriarchs of Monon16', came out of artist Abi Ogle's experience attending six porch parties at longtime residents' homes. We unveiled the art on the wall of a vacant building in the neighborhood while we "porched" together.
Porching isn't just for small towns. It is needed now more than ever in cities and neighborhoods where we spend so little time thinking about the world outside the four walls we live and work within. Welcoming neighbors to our "porch" builds community. When people are connected within neighborhoods, their neighborhoods are healthier. As we build these connections throughout various neighborhoods in Indianapolis, the anticipation is that our city as a whole will become healthier. Creating a sense of knowing, belonging, and connection to where we live and a renewed sense of the important role all people play is critical in making a community healthy and whole.