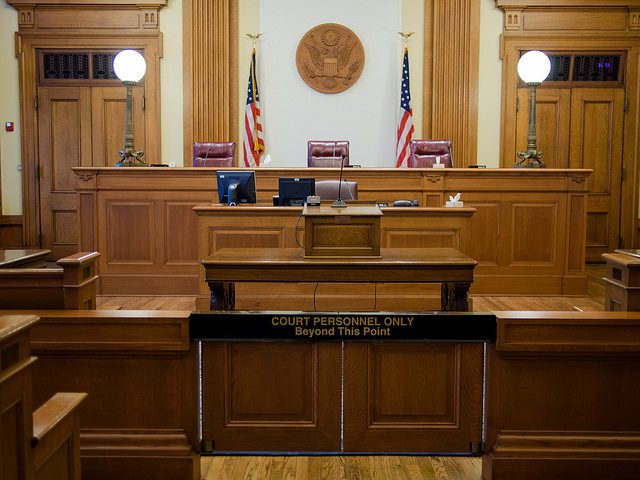 The corrosive effects of over-incarceration on low-income communities—predominantly ones of color, is clear, and so it was encouraging to see a good number of district attorneys elected this November who ran on progressive, anti-mass incarceration platforms. Also encouraging (after our wide-eyed astonishment) was Louisianans vote to now require unanimous juries to convict people on felony charges, reversing a Jim Crow-era state rule that helped to give it the highest incarceration rate in the country. The hope by justice advocates is that this change will lead to longer, more thoughtful jury deliberations in Louisiana and presumably fewer convictions.
As the very real and personal impacts of climate change on our lives add up by the day, we can't help but think of those who do not have the means to rebuild their lives in neighborhoods that have been washed or burned away. An op-ed from California's Enterprise-Record was not only interesting for its calling out of the president for being the opposite of helpful in a crisis, but its statements about the need for increased federal support—especially related to housing—further point to the existing nationwide housing crisis that is being exacerbated as climate-related disasters cause mass, and in some cases, permanent displacement.
The deadliest wildfires in California continue to rage on, ravaging the lives of families and destroying neighborhood after neighborhood. In Butte County, which has already been going through its own housing crisis with a near-zero percent vacancy rate, some families will need to leave the state all together, or face homelessness. "There is no housing for them in the county or in the neighborhood or even in California," says Ed Mayer, director of the county's housing authority, in a report by NPR. "So we really have no capacity to absorb a disaster like this."

Reinventing Redlining: A blog post on a real estate investment site grouped Cleveland neighborhoods into color-code categories, using red to denote a "warzone" and "wild wild west," areas where home values are low and crime is more common. It's reminiscent of redlining maps used by banks in the 1930s to illustrate which neighborhoods were not worthy of investment. If the existence of this map doesn't made your blood boil, the comments on the blog post will (interestingly enough, some say the blog post might actually be a good thing for affordable housing advocates). What do you think?
HUD's inspection system is "basically worthless," according to an investigation by ProPublica and the Southern Illinoisian. The overworked, unfunded system is trying to inspect buildings that are themselves suffering from sometimes decades of deferred maintenance—but that's no excuse for giving passing grades to places with peeling lead paint or no heat. It also reinforces our concerns about HUD's task force that intends to make Section 8 more friendly to landlords—if inspections are already this bad, what happens if HUD decided to make them "less onerous" to respond to landlord complaints?
Amazon has announced its long awaited locations of its next headquarters—to be split between Long Island City, Queens, and Crystal City, Virginia. But many of the residents of the "winning" cities aren't celebrating. There is widespread criticism of the $1.5 billion in direct subsidies being promised to the profitable company (three times what Virginia offered, though far less than some of the sites that weren't chosen). Such incentives are widely found to be ineffective at job creation or small business support. Democratic Assemblyman Ron Kim is introducing legislation to redirect that money to student debt relief instead, which a study shows would have a greater effect on unemployment and GDP. Queens residents report they began to instantly experience waves of increased speculative interest in their homes. Christopher Robbins of the Gothamist tweeted an email from a company that "helps rent-stabilized tenants get maximum landlord buyouts" touting the arrival of Amazon and wrote about widespread expectation of rising rents, stoked by Seattle residents sharing the effects Amazon has had on their city. Others, like the DC Policy Center, are trying to counter the alarm, arguing that Amazon's arrival is not actually that far outside the normal growth pattern for DC so far. The region still has a housing shortage, argues Yesim Sayin Taylor, but this doesn't necessary change what needs to be done about it, while New York Mayor DeBlasio said in a press conference that he believed New York was better equipped than Seattle to create the needed affordable housing.
A post-mortem of the ballot measure in California to repeal the prohibition on new rent controls suggests that it might have failed partially because the opposition sowed confusion about what the measure did and many people thought they were voting *for* rent control. Given that a poll found that 52 percent of Californians support rent control, the margin by which Prop 10 lost certainly ought to raise some eyebrows. Nonetheless, LA County just passed a temporary rent freeze in unincorporated portions of the county, after emotional debate; after Prop 10's loss, it will be limited to older housing stock.
More than half of the country's households are now headed by someone over 50, reports the Joint Center for Housing Studies, but we lack the affordable, supportive, and accessible housing to accommodate them as they age. Aging in place is complex, with factors as wide ranging as oral health and social isolation playing parts; but accessible, affordable housing is central. See Shelterforce's aging issue for more on what's being done or could be done.