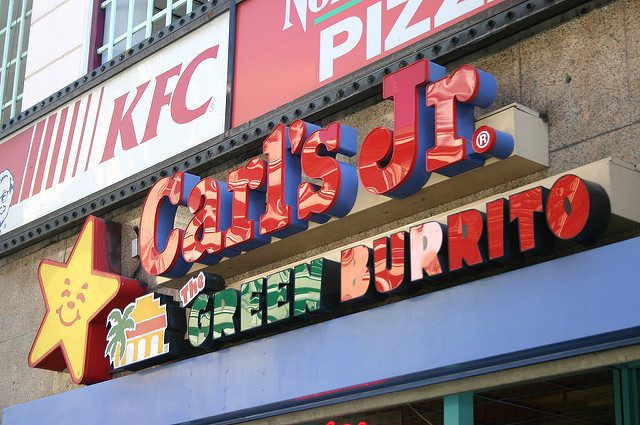 When we talk about addressing health disparities within communities, increasing access to healthy food options often comes up as a solution. We tend to focus on food deserts, neighborhoods where fresh food options are located more than a mile away, but a recent study is zeroing in on a new term — food swamps, or areas that are packed with unhealthy options. That's because fast-food restaurants tend to be concentrated in areas where people of color predominately live. "African Americans and Latinos also have higher obesity rates than whites, and this research suggests the two trends might be related," according to The Atlantic.
It's no surprise that the criminal justice system isn't working the way it should; there are countless examples. But if you want to hear about ordinary, everyday-type cases that truly highlight the unfortunate and downright cruel happenings within the justice system, listen to the Serial podcast. We've only gotten through three episodes so far, and admit it's a difficult listen. From an unsavory Cleveland judge who threatens to jail defendants if they father a child while on probation (among other awful things), to a case involving a man's brutal beating by police officers over a marijuana cigarette, each episode is unsettling. Still, it is absolutely necessary that stories like this be shared on a program as popular as Serial, and that we all listen.
Barriers to a fair criminal justice system are present at every step of the way in our nation, and this segment from NPR highlights another that is a product of our modern era. Video proceedings, courts and jail officials say, save time and money—they remove the cost and hassle associated with having to shackle inmates and transport them to courthouses. Inmates stand before a video camera and are spoken to by a judge and have a set amount of time to plead their case. But public defenders say video hearings remove humanity from the process, alienate defendants from judges, and do not enable defendants to fully argue their case. Cost-cutting should not come at the expense of a fair hearing, and so supporting the work of organizations like the National Legal Aid & Defender Association are key to reversing this trend.
We'd love to live in a world where there's universal basic income, a regular and guaranteed payment from the government to cover a person's basic needs. While not exactly the same, a pilot subsidy program in Washington, D.C., is dipping its toe in the basic income approach. The program, called D.C. Flex, is a yearly $7,200 stipend for up to four years that can be used to help offset exorbitant rent costs. By the end of four years, money that hasn't been used for housing costs will go to directly to the subsidy recipient. "One of the more interesting things about the program is that the decision-making is squarely in the hands of the household," says Mychal Cohen, a research analyst at the Urban Institute. "That provides people more autonomy in decision-making." We're looking forward to seeing how this pilot program goes.
The bigger they are . . . Rent prices have stagnated and apartment units are sitting empty for longer periods of time in Seattle, says a recent Seattle Times article. We know that rent growth has slowed in most major metro areas, but Seattle is special because it had a tremendous construction boom—next year over 13,000 new units are slated to open in King and Snohomish counties alone (two of Seattle's more "affordable" counties, but even their average rent is above the national average). Landlords now have to compete for market-rate tenants, offering things like a free month's rent and greater amenities and lease-signing perks. If there's wonder as to whether this will trickle-down to lower-income markets, Fannie Mae says not very much. As we know, the only thing that can truly ease rent burden over the long term is wage increases.
Union members and business leaders in Anaheim clashed at a city council meeting this week when the city attorney delivered his opinion that the Disneyland Resort would not be included among the hospitality businesses subject to a November ballot measure requiring workers be paid a living wage. The attorney said the issue was one of timing, as the resort recently ended a tax-incentive program it had been participating in, and also claimed that a new building project was on hold because of the potential measure. Supporters of Measure L say it will do things like afford people the ability to work full time and eat and house themselves, but opponents say it will scare business from the city. We have heard that argument before.