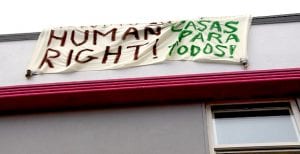 Zane Selvans is among urban America's most insightful housing advocates. When I interviewed him last year for my upcoming book, he was optimistic that his city of Boulder, Colorado, would build more housing and create a more urbanist future. But Selvans announced earlier this month that he is leaving Boulder.
Selvans told the Daily Camera, "Even the pro-housing, pro-development folks are not willing to contemplate solutions on the scale that would be required to address the problem we've created. It's hopeless. It's totally hopeless."
Boulder is filled with people who see anti-housing Palo Alto as a positive role model.  Selvans's tried his best to break through this mindset—in 2016 he helped lead Boulder to host the first YIMBYtown conference—but his experience does not mean other cities will follow Boulder's lead.
What I hope everyone working to address the urban housing crisis takes from Selvans is this: bold rather than incremental action is needed, and the time is now.
Seizing the Current Moment
I've been working to address housing affordability since the late 1970s. There has never been this much media and public focus on the issue. We had a burst of coverage on the rise of homelessness in the early 1980s, but media and public interest faltered when solutions were not implemented and the problem persisted.
Some housing advocates have effectively seized the moment. For example, California tenant activists in many cities seized upon anger over rising rents after 1978s Prop 13 to pass rent control and just cause eviction laws. Richmond and Mountain View activists have responded to recent rent hikes by winning rent-control campaigns.
California's Prop 10, which repeals a Costa-Hawkins Act that drives rising unaffordability, also seizes the current political moment. The Legislature is too influenced by real estate interests to ever reform Costa-Hawkins, so a November 2018 ballot measure is the only chance for cities to fully regain their power to regulate rents.
Nationally, a coalition of groups led by the National Low Income Housing Coalition (NLIHC) seized upon public anger over proposed HUD cuts to actually win a 10 percent increase in key federal housing programs. Last week The New York Times even did a rare front-page story on the federal government's failure to address the housing crisis. National housing groups could have given up in response to Trump, Ben Carson, and GOP control of the House and Senate; instead they parlayed public anger over housing prices into a political win.
Legalizing Housing
The challenge faced by Selvans and other activists in high housing cost cities is getting apartments built in the many neighborhoods where they are banned. And while the media largely supports this goal, the politically powerful homeowners who profit from exclusionary zoning are as opposed as ever.
That's why the time to strike is now, when support for addressing the housing crisis is high. With raging fires reflecting the impact of climate change, ever longer commutes, and rising housing prices endangering the middle class, now is the time for housing advocates to think big. Small reforms will not meaningfully address the crisis. Advocates either push to implement major reforms now or risk losing the political moment (recall how health care reform was said to be "inevitable" after Clinton's 1992 election and then only happened in 2010).
What does this mean in practical terms?
In cities like Austin, greater Boston, Seattle, Portland, and Minneapolis, it means that activists in all fields should join ongoing campaigns to increase density and affordable housing. If these cities cannot enact necessary land-use changes in the current political climate, an historic opportunity to promote inclusion may be missed.
Los Angeles has become a hotbed of housing activism, as it strives to make up for decades of inadequate new construction, inadequate tenant and rental housing protections and the nation's worst homeless crisis. Yet homeowner opposition to new affordable housing and shelters and landlord opposition to increased tenant protections means that major progress on the housing front is not guaranteed—and that activists must focus on implementing a progressive housing agenda now.
Oakland responded to its eviction and rental housing crisis by putting a measure on the November ballot to eliminate a destructive loophole in its rent ordinance excluding just-cause eviction protections for tenants living in owner-occupied buildings of two and three units. San Francisco eliminated this loophole in 1994. Oakland also put a measure on the ballot to raise the real estate transfer tax for luxury sales, with the proceeds going to affordable housing.
San Francisco Action Plan
After electing pro-housing Mayor London Breed, San Francisco's challenge is to finally build a lot more housing. But this will not happen unless San Francisco legalizes apartments citywide.
Rising construction costs, a dysfunctional and lengthy housing approval process, and a culture that promotes neighborhood opposition to housing have left San Francisco with the nation's highest housing prices. The city is experiencing unprecedented support for new housing but inaction could readily shift optimism to resignation.
Zane Selvans represents a warning sign: victory in cities' struggle for greater environmental sustainability and affordability is not assured. To the contrary, those profiting from rising rents and home prices are not backing down.
That's why housing advocates must push for bold solutions. Now.
A version of this post originally appeared in Beyond Chron.