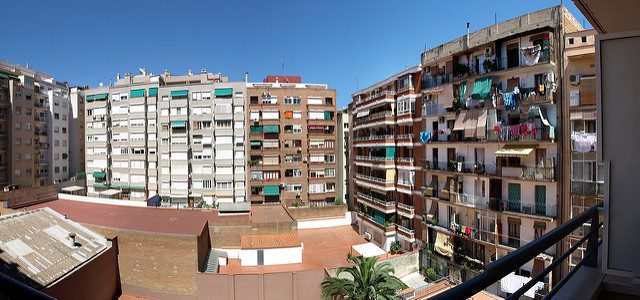 Our news feeds are filled with story after story of people of color being singled out or targeted in retail spaces—seemingly just for their presence. While many of these cases go viral because they end in police arrest, or worse, a larger number go unrecognized because they happen every day in suburbs and gentrifying areas around the country. This Racked piece on retail segregation delves into the inconvenience and stress of being a shopper from historically disinvested cities, and how their lack of basic goods and services means traveling great distances to find them, sometimes to places where shoppers are made to feel unwelcome.
Does the introduction of yet another pilot program or the requirement that a program be "innovative" to get funded sometimes make you want to scream? If you find yourself shouting, "We know what to do, we just need the funding and the political will!" you're not alone. We're written about this before, and now Kevin Starr weighs in over at the Stanford Social Innovation Review, saying "Enough Innovation Already." "I hate to be the skunk at the party," he writes, "but look: The most urgent challenge in the social sector is not innovation, but replication. No idea will drive big impact at scale unless organizations—a lot of them—replicate it." Starr also has some interesting things to say about why replication often fails—for example, replicators (and their funders, we're guessing) often try to cut corners on the very things that made a project successful. These seem like lessons we could stand to take to heart scale.
Barcelona is our hero. We read this week that the city has revived a policy that forces banks to do something with properties it has foreclosed on—or it will. The city announced that it had already taken control of five repossessed properties that have sat vacant for two years or more, and will put people from its public housing wait list in them. The properties will remain under city management for between four and ten years, after which time we're pretty sure the bank will be ready to deal with them [smile]. We know some organizations in this country who would welcome such a plan.
Sometimes an advocate can be so powerful. The Lower 9th Ward Homeowner's Association (L9WHA) reports that it recently kept a woman from being evicted from her childhood home through tax foreclosure by delving into the bureaucracy. L9WHA discovered that the city had done several things wrong, including serving notices to dead people and charging unconstitutional fees, and brought this to the attention of a judge. Everyone should have someone in their corner when the chips are down. Here's to all of you who do this regularly.
An increase in construction work and the tearing down of old buildings is creating a lot of lead dust in the environment and causing a big health issue among children. In the Bay Area, where the housing boom is in full effect, some neighborhoods have higher rates of childhood lead poisoning than in Flint, Michigan. The City of Emeryville, which has one of the higher lead poisoning incidence rates, passed an ordinance that requires construction workers to provide proof of compliance in training for lead safe remediation before they can obtain a permit for work. The city's mayor hopes that will help change the tide.
California's Humboldt County was awarded over $1 million for the construction of at least 30 permanent supportive housing units. "Without a roof over your head and a safe place to sleep, it's difficult to stay healthy," said the CEO of Partnership HealthPlan of California, which awarded the funds. "We decided to address this critical health-related issue right where it starts—by funding projects that address homelessness and the lack of housing for the most vulnerable populations in our communities." This is just another example of the housing and health connection that we've been writing about for years now.
Real estate database giant Zillow is spreading its wings, and we're wondering if we should duck. The company announced that in addition to selling ads online, it would begin buying and selling homes directly to and from homeowners, according to Housing Wire. "Zillow says that it when it buys a home, it will make the 'necessary repairs and updates' and list the home 'as quickly as possible.'" The announcement echoes Redfin's move into direct home buying.
The recent, highly discussed study on economic outcomes for Black boys in the U.S. used a cross-section of data over a long period to track disparities along race. But according to an article in The Nation, what it failed to note was the reason for much of the disparity: namely, that generational wealth accrued by some, mostly whites, is directly tied to the historical poverty of others, mostly people of color. The article cites, among other things, housing discrimination, the subprime mortgage crisis, and mass incarceration as reasons for such disparate outcomes for people of similar backgrounds.
Could an incentive-based zoning system be the answer to maximizing a community's wellbeing? A group of researchers are trying to do just that by proposing the use of machine-learning algorithms to create more equitable cities. "For example, if the goal is to protect residents from displacement, the algorithm might value longevity," according to a Next City article. It's a very interesting proposal and has merit, but we're a little concerned. While it's great that the community would have a say in what the proposed algorithm values, who in the community would give that input? What if the system doesn't produce equitable results? "Machine learning and artificial intelligence could actually make it harder to hold public decision-makers to account. Because they could always say, 'it's the algorithm,' as opposed to having a public person you could vote out of office," says urban planner and critic Solomon Green. What do you think?
In "tell-us-something-we-didn't-know" news, a San Francisco-based study found that kids who grow up in tough neighborhoods go to the emergency room more often. It's a sad, but unsurprising fact. Most interesting was the breakdown in hospital visits: 40 percent of kids were seen for respiratory conditions, 15 percent were diagnosed with asthma, one-third were seen for conditions that could have been handled during a doctor visit, and one-third of the visits were due to injury or trauma.
We are rooting for cities developing right to return policies for longtime residents who have been displaced, and Austin, Texas can now be added to the list (along with Portland). A resolution was presented just last week, and has until May 25 to be worded in a way that complies with Texas law and the federal Fair Housing Act. An affordable housing expert quoted in the article believes things must get worse before they're forced to be better, but with most anti-displacement efforts, we've found that is often the case.
This story of a family owned development company's commitment to affordable housing is great, but we can't help but think how much more of a happy ending it would be if this development were being converted to a permanently affordable housing model. The need for education and access to information on alternative, sustainable forms of ownership for entities looking to do good is still very much needed.
Experimentation with strengthening tenant protections and fair housing continues on the local level—even if it's not always successful. A judge has blocked a Seattle law that required landlords to rent to the first qualified applicant. The law was attempting to both reduce discrimination and bidding wars in the city's superheated housing market, but the judge found it to be an unjustified "taking" of property rights.
What do you want in your backyard? NIMBYs and YIMBYs have been joined by PHIMBYs— public housing in my backyard—an attempt by advocates for lower-income households to stake out a position that is clearly different from either the density-phobic wealthy homeowner NIMBYs and the market-will-solve-everything-with-trickle-down YIMBYs. Benjamin Schneider at CityLab fears that PHIMBYs may have shot themselves in the foot in aligning with the NIMBYs to defeat California's SB 827, which would have opened all areas around transit to high-density development, even after amendments designed to increase affordability and reduce displacement. On the other hand, they appear to be part of a revived conversation around public housing, something that few would have considered possible only a decade ago.