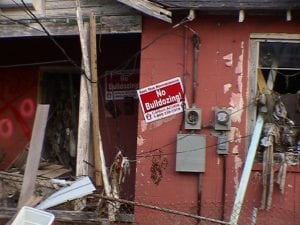 The Monday after Hurricane Katrina hit, New Orleans rescue teams were still making their way through flooded neighborhoods. The previous day, buses had finally begun leaving New Orleans, carrying thousands of survivors who had endured squalid conditions in the Superdome and the Convention Center.
That same week, a group of civil legal-aid lawyers displaced from New Orleans set up a toll-free crisis line for people who would be needing help navigating the disaster aid bureaucracy after the massive displacement.
"Katrina propelled us into being first responders," says Martha Bergmark, founder of the Mississippi Center for Justice, who now leads Voices for Civil Justice, an organization that works on a national level to raise awareness of civil legal aid.
Bergmark notes that though civil legal aid is a "critical component" of disaster recovery, the first time it ever received federal disaster funding was after Hurricane Sandy, when it was a given a mere $1 million allotment. "It was a start," she says, "but it didn't even remotely touch the level of need."
As the floodwaters receded across New Orleans, lawyers from Southeast Louisiana Legal Services (SLLS) watched grim television footage of people struggling to leave the submerged city and saw the faces of many of their clients. There was no doubt that legal aid would be crucial. In many cases, as soon as people made it to safety, their legal needs began.
"Even in good times, thousands of people call us regularly with legal problems that threaten their homes, lives, and basic needs," says Brian Lenard, who was co-executive director of SLLS during Katrina. Suddenly, their clients were put on buses and planes and sent across the country. They'd lost their homes, jobs, and everything they owned. Their support networks were scattered to the winds. The result, Lenard says, was "the greatest civil legal-aid crisis in America history."
Assembling the Team
Though SLLS's lawyers hadn't coordinated their evacuation plans, it turned out that Lenard and a half dozen other colleagues had either evacuated to Shreveport, La., or made their way there. Though it was difficult to reach people with a New Orleans area code even by cell phone, the lawyers found each other when they checked in with the local legal-aid office in Shreveport.
Andy Jacoby, who had been in law school for only five days in New Orleans, also stopped in the office, offering to help. He became an indispensable, integral volunteer and the first of what Laura Tuggle, the current SLLS director who was in Shreveport at the time, describes as "armies of law students," including the Student Hurricane Network and similar groups, that dug into work in New Orleans.
Since Shreveport was Tuggle's hometown, her family also pitched in. Lenard's co-director, Mark Moreau, had evacuated to Oklahoma, but soon left to join his co-workers in Shreveport and was housed by a member of Tuggle's mother's church. Tuggle's mother, who had worked for the local school district, helped to get everyone's children enrolled there.
Once their families were taken care of, the team of SLLS lawyers began plotting how best to connect to clients in need. This was 2005, prior to today's social-media boom, so the task wasn't as easy as it would be today. None of the agency's clients were on Instagram or Facebook.
Though SLLS's offices were inaccessible, with some of them underwater, its website was still up and running, so the lawyers posted their new hotline number there. They also sent it out to the email lists that went to thousands of civil legal-aid lawyers across the country who might soon see Katrina evacuees in their own offices. They went to disaster centers where people were registering for FEMA and Red Cross assistance with copies of intake forms and established a presence at temporary shelters, where thousands of evacuees were sleeping on cots.
Then they waited. "I thought we'd be there twiddling our thumbs," Tuggle says, noting that Moreau made a more accurate prediction. "I think you will be busier than you've ever been," he said.
Once the hotline was set up, the calls began. Many revolved around Tuggle's specialty: housing. On some days, hundreds of messages would be left on her voicemail, asking for help. She'd go through the calls, writing down the messages, only to return later in the afternoon to find hundreds more.
"Katrina was all about housing," Bergmark said. "Real people need roofs over their heads."
Tuggle agrees. Though evacuees had urgent needs on many fronts, housing was foremost. "You can focus on other things if you have stable housing," she says.
To make that happen, seasoned legal-aid lawyers in each affected state were required, since the program rules for rebuilding assistance and other programs varied widely from state to state.
The New Orleans headquarters of SLLS was on the 14th floor, far above the water, but it was inaccessible until mid-November, when staff climbed the 14 flights to get to their files (the elevators had been ruined by floodwaters). A neighboring office in St. Bernard Parish was completely underwater. About 60 percent of staff members lost their homes.
Still, within weeks, SLLS had re-opened three offices and lawyers also began meeting with clients in satellite offices in Houston, Shreveport, and Lafayette, La.
Today, 10 years later, the calls are still coming. But not like they did.
For the first few years, the calls came in torrents, as people sought help in keeping their homes or finding new housing through a hodge-podge of aid that came from the U.S. Department of Housing and Urban Development, the Federal Emergency Management Agency, and local and state governments, which provided temporary housing programs in places like Houston. Evacuees needed help accessing aid, transferring or moving housing vouchers, fighting public-housing closures, and combatting contractor fraud. People who became homeless in the city's sprawling homeless camps had to prove disability in order to be housed by some re-housing programs. Homeowners, in order to get grants from rebuilding agencies, had to gain clear title, sometimes after homes had been passed down through generations.
Very early on, New Orleans civil legal-aid lawyers helped people without personal documents and struggling to get FEMA aid by drawing up countless affidavits to attest that they were renters and what their pre-storm addresses had been.
What became known as FEMA's shared-household rule was an early stumbling block. FEMA, which received 1.5 million requests during the month after Katrina, allowed only one payment per pre-Katrina address. Though the rule makes sense on paper, it created problems for roommates and for families where members of the same household were separated, ending up in different cities and states. Because of FEMA's policy, whomever called first, even if it was the cousin sleeping on the sofa, received the FEMA payment for that address.
SLLS lawyers handled about 1,100 FEMA appeals and also trained lawyers across the nation on the topic. They also appealed FEMA denials of rental assistance, which were fairly common: one study found that FEMA wrongly denied rental assistance in 25 percent of cases.
Within weeks, another urgent need emerged: evictions. Some clients whose apartments were on high ground found themselves facing eviction. Landlords, who argued that the tenants had abandoned the properties, feared that their rental income had dried up for good. Recovery workers and insurance assessors coming into town to work were willing to pay top dollar for unflooded apartments.
"People were getting put out," Tuggle recalled. "The courts weren't even open, so landlords couldn't legally evict anyone. But there were a lot of wrongful evictions where landlords threw out your stuff if you didn't come back." When temporary New Orleans courts opened up out of town to deal with civil and criminal matters, Tuggle and her colleagues prepared to head into court to avert hundreds of evictions. They researched the concept of abandonment, so that they could argue that tenants displaced by a disaster did not abandon property.
But before court, they had to make one other stop. Most had lawyers evacuated with shorts and sandals, but little else. "Always evacuate with a suit, I learned," said Tuggle, who ran into a judge, a law clerk, and another New Orleans attorney at the Salvation Army while looking for proper courtroom attire.
Benefactors and law firms from across the country and national agencies like the National Housing Law Project pitched in, providing monetary help and legal and policy advice. The Lawyers' Committee for Civil Rights Under Law, which had a staff attorney working in the Gulf Coast within two weeks of the storm, sued FEMA two months after Katrina in the landmark case McWaters v. FEMA, which resulted in improved and far better housing assistance.
As part of the Advancement Project's broad Post-Katrina Project, which also helped to stop house demolitions and evictions and to assert the rights of workers and voters, senior lawyer Anita Sinha helped to file suit against HUD on behalf of African-American tenants of four large housing projects in New Orleans that were threatened with demolition. Though ultimately unsuccessful in preventing the demolitions, the suit helped in other ways, such as increasing utility payment support for displaced tenants.
"So many others really stepped up to the plate for us," says Tuggle, who said that they learned that coordinating those resources properly took a full-time person.
A Predictable Progression
Ten years later, as the lawyers from these civil legal-aid agencies look back at their work in the wake of Katrina, they see a pattern. The earliest needs were for temporary benefits: FEMA and Red Cross assistance, Medicaid, disaster food stamps, unemployment, and hotel stays. Then, as rebuilding began, the lawyers found that they needed to fight for affordable housing, testifying before the U.S. Congress and in city and state offices. "You kinda had to shove your way in, to get a seat at the table," Tuggle recalls. Years after the storm, as assistance with rebuilding grants and title work got into full swing, clients began reporting high levels of contractor fraud.
When Hurricane Sandy hit, Bergmark and others shared that timeline with civil legal-aid lawyers dealing with those affected, to show how many stages of work were predictable and triggered by certain factors. Legal-aid lawyers who had worked with 9/11 victims in New York had shared insights with Bergmark and other lawyers after Katrina, she said, remembering distinctly that they were told "It's a marathon, not a sprint."
Though disasters would seem to affect everyone equally, research has long shown that people of color and those with lower incomes are often much slower to recover. That's because disasters often exacerbate existing inequities and put more burden on the poor. Poor people are more likely to live in low-lying areas or places more prone to disaster, and are less likely to have lines of credit to begin rebuilding immediately after a disaster, before any federal aid arrives.
"Many of the most vulnerable people and those with low incomes are still unable to fully recover from the disaster," Tuggle says, describing clients who could never replace a family car or rebuild a family home.
So it's no surprise that what's known as "the justice gap"—the level of legal-aid available compared with what's needed—becomes more pronounced after a disaster, according to Davida Finger, an attorney formerly with the Katrina Clinic at Loyola University Law School in New Orleans, who recently examined the justice gap in an article written for the Boston College Journal of Law and Social Science.
Finger remembers "Mr. T.," the first client she represented at the Katrina Clinic, and how he was determined to rebuild his flood-damaged New Orleans home. "Even after his leg was amputated due to illness, he continued to visit his property and work on his own house, tools in hand, as he labored, hobbling through the construction site that had once been his family home." He died before the rebuilding funds arrived, Finger said.
Finger found that in general, after Katrina, civil legal-aid agencies were unable to handle between 66 and 80 percent of calls for assistance. And measuring calls for assistance underestimates need, Finger notes, because many people with serious legal needs were not able to call or make it to outreach clinics or legal offices. She looked at a time period three years after Hurricanes Katrina and Rita (a hurricane that hit parts of Louisiana a month after Katrina), and determined that poor people likely only sought help for roughly 10 percent of the legal problems they actually faced.
Any comprehensive disaster policy must "meaningfully account for the provision of civil disaster legal services," Finger concludes.
The massive post-Katrina displacement also affected how legal services were funded. Finger, like lawyers at Southeast Louisiana Legal Services and the Mississippi Center for Justice, handled calls from Katrina victims displaced in many other cities, but the Legal Services Corporation, an independent federal agency, funds each state based on poverty data from the U.S. Census. And since Louisiana lost population after Katrina, the funding dropped there, even though displaced New Orleanians were most often represented by local places like the Katrina Clinic or SLLS. Following Katrina, SLLS alone was responsible for more than a quarter of all probate court cases handled by the 136 civil legal-aid programs nationally.
In New Orleans, recovery help from Katrina still continues in the SLLS office, especially for those who need clear titles for their homes. The agency now works in storm-threatened coastal communities to help families go through succession (transferring title on inherited property) before a hurricane hits, so that they can more easily access disaster aid afterward.
The work definitely isn't over. For some of their clients, it is like Katrina "happened yesterday," Tuggle says. "The before and after line of Katrina is vividly etched on the souls and day-to-day lives of many of the people that we serve."