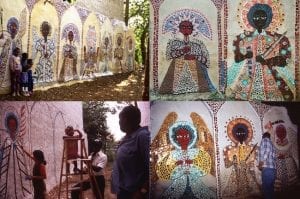 At the center of The Village of Arts and Humanities' creative campus in North Philadelphia, 10 tall mosaic angels guard a scrubby grass lot, well-worn with foot traffic. Their graceful hands hold books and swords. Their eyes, made from mirrored glass, catch and reflect all viewers in their gaze.
Village founders Lily Yeh and James "Big Man" Maxton designed and installed this angel mosaic to mark safe passage for children through a dim alleyway on our campus. Angel Park is one of our best-loved murals. It's also a landmark of civic power. The angels remind us of our community's ability to see and create what is needed, to shape our environment into images of beauty and power, and to protect our most vulnerable members.
Soon, thanks to Artplace America, The Village will embark on a community-driven design process to transform two vacant row homes into the Civic Power Studio, a site for residents, artists, law enforcement, and all stakeholders to study and build the neighborhood's civic power, and to collaborate on new public safety strategies rooted in care rather than control. The rowhomes, bearing the angel mosaics, will be a space for learning, teaching, and practicing civic power co-designed with community leaders.
We are building the Civic Power Studio because power—who decides, who pays, and who benefits—lies at the root of our community's current state of emergency. Generations of inequitable decision-making, in which our neighbors' needs and voices were not present in the halls of power, have generated literally unlivable conditions in our historic African-American community. Life expectancy in our ZIP code is 15 years shorter than in the most affluent part of the city. Our historic African-American community sits at the intersection of three police and two council districts, resulting in neglect and bureaucratic chaos. Every area high school has closed, 86 percent of households fall below the poverty line, and 26 percent of homes are vacant. Our area experiences one of the highest rates of violent crime in the city.
We know these conditions are a direct result of the century-long economic and political marginalization of our neighborhood. Despite the passionate and periodically successful efforts of dedicated local activists, too many decisions have been made for, not with, our community on issues from education, to policing, to environmental design, to recreation funding.
In order to make lasting change, we need to change the way these decisions are made. And to do so, we need to generate power of our own.
The Civic Power Studio will gather our community's leaders, from elders to youth, to share the practices that make them powerful. There, they will be supported, mentored, and connected to resources by experts in grassroots power-building from around the city, country, and world. Like carpenters who set up their tools in a workshop to produce furniture, we will identify and gather the tools we need to build our community's capacity to shape its future. We will imagine and advocate for policies steeped in neighborhood wisdom about what works here. We will build governance rooted in care, rather than control.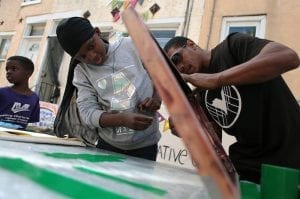 This project is directly inspired by local civic leaders: people who have, largely unsupported by institutions, effected positive change in one of the poorest neighborhoods in the poorest large city in America. Through a 2015 artist-in-residence project at The Village called Places of Power, we sought and profiled non-traditional civic leaders in our community. Nandi and Khalid Muhammad run a penny candy store in their living room, where they teach Black history, self respect, and counting. They command the respect of two generations of neighborhood kids, both young and grown.
Darlene Pope, a block captain, organizes her neighbors to renovate seniors' houses so they can stay in their homes. O, a healer who supports men and women in undoing patterns of family violence, partners with local colleges to fund solar power renovations and apprenticeships in North Philly.
When we listened to these and many other local leaders, they told us that they needed the space and time to work with one another strategically, to pass on their expertise to young people, and to connect with resources outside of the neighborhood. We designed the Civic Power Studio around these aims.
The first challenge we'll undertake at the Studio is public safety, one of our neighbors' most pressing concerns. Traditional public safety strategies have largely failed or exacerbated our community's problems. But our neighbors have developed unique strategies for safekeeping tailored to the needs of our environment. (For example, the Penny Candy Store is just such a place). What if we could scale these solutions, and invite partnerships from police and the city? What does a public safety strategy look like when it is built from the inside of a neighborhood, rather than imposed from the outside? What is public safety rooted in care, rather than control, and borne out of a neighborhood knowing and caring for itself?
By fostering a greater sense of safety for our neighbors, we hope to also make more breathing room for them to become civically engaged themselves. Nandi Muhammad put it this way: "The Civic Power Studio is like the root of the tree. From the roots grow respect. Many various projects are the branches. And public safety is the shade that the tree gives the community."
Ultimately, a safe neighborhood is one that actively shapes its own future. Our community's ability to respond to internal and external pressures is more important than ever, as inequality deepens, gentrification encroaches from many angles, and a volatile political landscape means nothing can be taken for granted. This is the time to say that our neighborhood's wisdom is as powerful as any law handed down from city, state, or national government, and to act from and invest in this knowledge. The guardians on the wall of Angel Park are watching. We're working to live up to their promise.
A version of this article originally appeared on the Artplace blog.