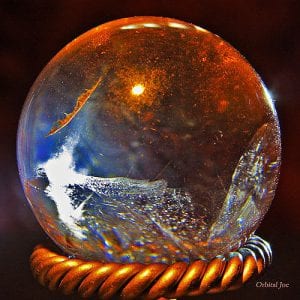 Predictions for the coming year abound around this time. Housing industry types predict falling inventory and rising prices, though they differ on whether those prices will rise faster or slower. If the American Enterprise Institute's Edward Pinto is right (he says faster), then first-time homebuyers are going to have a tough time of it. Meanwhile, Frances Ferguson, acting vice president for Real Estate Programs at NeighborWorks America, is working those silver linings. In the face of uncertainty about the value of the Low-Income Housing Tax Credit, Ferguson focuses on three positive notes: increased GSEs participation in financing rental housing, expectations of an increase in creative impact investing, and predictable and not-too-bad interest rate rises. Yay?
On the policy front, LA Times reporter Liam Dillon predicts that along with follow-ups to last year's round of bills to support more housing production, California will this year see major battles over rent control and Proposition 13, which has limited property tax increases throughout the state for 40 years.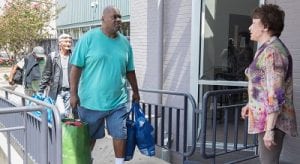 We wrote recently about the multiple roles that community development organizations might find themselves filling after a disaster. In some cases, they might do in 10 days what would usually take them years. We salute New Hope Housing's dash to prepare temporary housing for Hurricane Harvey survivors, and are really glad to see that both the city and foundations recognized the organization's capacity to do this, and stepped up to make it happen.
Gentrification and the potential displacement it causes makes headlines and gets people reading (trust us, we know). There's something about the combination of culture clash, rapid change accompanied by policy decisions like upzoning, and people's frustration after having been the ones fighting for change through leaner years, that hits home and focuses outrage and attention. It is the reality in many areas around the country (possibly more than some research would like to suggest). However, researchers like Eric Seymour would like to remind us that in many places such as Detroit, gentrification is not the problem facing a majority of neighborhoods. Seymour says these places are still reeling from the aftershocks of the housing crash—predatory landlords who purchased foreclosed properties, people struggling with abusive contract for deed arrangements, and simply unlivable properties. And though not as headline-grabbing as gentrification, these conditions cause displacement too, as Seymour notes: "There is a churn of poor people in Detroit getting pushed out of their homes, moving from one stable neighborhood to a less-stable one because their credit is hit or they were evicted," often for trying to withhold rent to get repairs done. This is worth outrage too (and more headlines).
Before the new administration took office last year, a groundswell of resistance formed across the country. While many joined forces to ensure all voices were heard, local politicians and cities led the charge as they stood up to Trump on a bevy of issues, including affordable housing, immigration, climate change, and gun control. (We guess great editorial minds like Next City and CityLab do think alike.) The fight isn't going to end anytime soon, and cities are going to continue to move forward with or without the administration's help. This week, for instance, Boston Mayor Martin Walsh said the city aims to create 200 units of permanent supportive housing for chronically homeless individuals with the new Boston's Way Home Fund.
The language around gentrification—displacement, erasure of culture, economic disparity—tends to lean toward its negative effects, but a newly released report from UCLA's Civil Rights Project says that racial segregation has declined in the Washington, D.C., public schools located in its most rapidly gentrifying neighborhoods. This boost suggests a trend opposite to the country, which has seen schools resegregating by race and class for the past few decades (an upcoming Shelterforce interview with MacArthur genius Nikole Hannah-Jones will discuss this further). While encouraging, these findings still sit among the report's other data, including that in 2014, more than three-fourths of D.C. gentrifying and non-gentrifying schools remained "intensely" segregated (90 to 100 percent of students enrolled were of color). Then there are the on-the-ground realities at individual schools, where the potential for unequal treatment of white and of-color students and families is greater in gentrifying schools.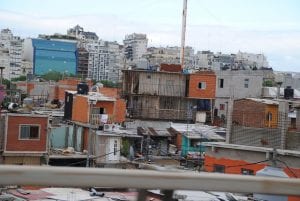 A recent essay in Next City by a group of planners offers some design lessons we can all learn from—from informal settlements in South America. After being asked to provide advice on what to do in a redesign of Buenos Aires' Villa 31 neighborhood—a "slum" that has developed organically and according to its resident's needs—the group came away with greater respect for the way the community adapts to scarce resources and allows for aging in place and entrepreneurship, among other things. Without ignoring the structural and societal inequities that create them, governments and design consultants should strive to build infrastructure that supports health and growth alongside these communities' existing assets.

In more gentrification news, we learned this week that the Black populations in historically African-American neighborhoods in Nashville decreased by more than 20 percent in the last decade. During that same timeframe, the white population rose from 26 percent to 45 percent. It's not surprising to longtime Black residents who have seen small homes in their neighborhoods torn down and replaced by "mansions." The area's home values have increased more than 30 percent in the last four years, putting an economic strain on existing residents and forcing them to move to the city's outskirts. Despite this new data, we're sure people are still going to quote old studies that say gentrification doesn't cause displacement. Let's file this under, "when-will-they-learn."
In "good news for some, infuriating news for others," the Trump administration-led Office of the Comptroller of the Currency and Consumer Financial Protection Bureau (CFPB) announced recently that they would not be assessing penalties on Home Mortgage Disclosure Data (HMDA) collected in 2018 and reported in 2019. The lending industry collectively breathed a sigh of relief with this news, and then cheered to learn that certain aspects of the 2015 updates to HMDA, due to take effect in 2018, will now be reconsidered when the CFPB opens a new rulemaking later this year. On the flip side of this "easing of regulatory burden" for banks is its potentially damaging effect on communities that rely on HMDA reporting and data for consumer protection as well as fair lending, which the National Community Reinvestment Coalition's Josh Silver has continued to ring the alarm about in Shelterforce for some time now.
NCRC was pleased with news this week that Fannie Mae and Freddie Mac will each be allowed to maintain a $3 billion capital buffer to protect against possible losses. But that's not enough; NCRC says the GSEs need "to be set free." Interesting. Is NCRC trying to speak the language of the right by focusing on the constraints on the GSE's, and ending government conservatorship? It's a smart move. "Set them free to do what they have done well for millions of people over decades: help working-class Americans move from being renters to homeowners so they can build equity for their families and futures," NCRC's release stated.