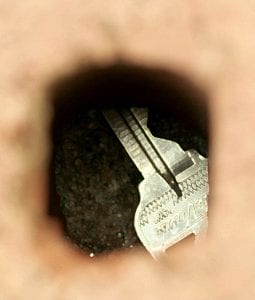 Recent Census data illustrate that median incomes went up and poverty rates decreased in 2016. This seems like great news, but we know that achieving and maintaining financial security depends on more than just income alone. Savings, along with wealth-building assets like a home and tools like insurance that protect families' hard-earned income, are all critical determinants of how well a family can weather life's ups and downs.
Unfortunately, we also know that very few families have the savings, assets, and protections in place needed to set out on a path to long-term financial stability. For households of color in particular, this may be an understatement: as our colleagues wrote in our recent report, Black and Latino households with median levels of wealth are on track to see their assets and savings reach zero within our lifetime. Indeed, if the trends of the past 30 years continue, median wealth for these households of color will reach $0.
The so-called road to zero wealth for many families of color has been paved by policies that lock them out of wealth-building opportunities and keep them in a perpetual state of financial peril. This is especially true in the context of homeownership; as The Road to Zero Wealth notes, homeownership has been one of the most significant contributors to the ever-accelerating racial wealth divide because homeownership has been one of the most significant sources of wealth for the families of color who could afford it.
These findings beg an important question: If expanding access to homeownership can reverse the trends of growing racial wealth inequality, why are we seeing so many states roll back the supports that make homeownership possible?
For current homeowners, the market has generally stabilized, as evidenced by dwindling rates of high-cost mortgage loans and fewer foreclosures and delinquent mortgage payments. But at the same time, market improvements have failed to translate into more people being able to purchase homes and, in turn, build wealth. To the contrary, the homeownership rate has slowly decreased, from 65 percent in 2010 to 63 percent in 2015. In fact, some policies are pulling up the ladder behind current homeowners, leaving renters and aspiring homeowners without the keys needed to unlock longer-term financial health.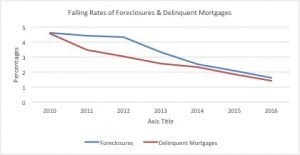 Compounding the problem with lack of access to homeownership is that many of the renters who aspire to homeownership are burdened by their housing costs, meaning they spend at least 30 percent of their incomes on their rent and utility payments. Whereas fewer than three in 10 (29.6 percent) of homeowners are cost-burdened, that number skyrockets to more than half (50.6 percent) of renters, meaning that tens of millions of renters have hardly anything left over after covering their housing expenses to cover everything else, let alone set some aside for a downpayment or to weather a financial emergency. Further exacerbating the problem is the rising cost of purchasing a home—in the past year, the median value of homes rose 7.3 percent, while median income only rose by 3.9 percent.
In other words, unlocking the door to homeownership has become doubly difficult in the last year for those who do not already own their homes.
The Current Policy Landscape: Some Wins and Losses, But Mostly Stagnation
In the Prosperity Now Scorecard we track eight state-level homeownership policies that have the potential to create opportunities for low- and moderate-income households to own their own homes. When we examined the extent to which states embraced or rejected these policies, we found that there was a good deal of movement—in both directions.
One of the policies that saw the most marked movement in the 2017 Scorecard was first-time homebuyer assistance. Overall, most states provide some form of first-time homebuyer assistance. For example, 41 states and the District of Columbia offer "second mortgage" products, which allow first-time homebuyers to borrow with safe and affordable terms to cover down payment and closing costs. Meanwhile, 26 states offer assistance financed with premium bonds, 19 states offer direct grants for first-time homebuyers, and 15 states offer direct lending programs for first-time homebuyers.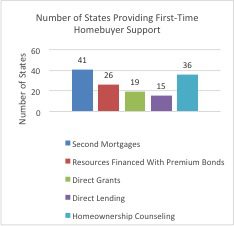 Although these numbers may seem like good news, the story isn't entirely rosy when we dive deeper. Take, for instance, direct lending programs. Direct lending to first-time homebuyers allows borrowers to secure a mortgage at lower interest rates and with reduced fees on certain closing costs and mortgage insurance requirements. These supports are critical for potential low-income buyers because they often struggle to save enough money for a downpayment, much less the range of fees—many hidden—associated with closing.
In 2016, three states adopted direct lending programs, which is great news for would-be homebuyers in those states. However, at the same time, four other states ended direct lending programs that had been on their books.
We think that these moves are misguided, as having a comprehensive set of products and services to help first-time homebuyers enter the market is critical for creating pathways to wealth and prosperity. Although many argued following the Great Recession that homeownership is a dangerous proposition for all but the wealthiest buyers, we find the opposite to be true: we must invest the bulk of our homeownership supports in the homeownership capacity of those who would otherwise be unable to climb the economic ladder, because homeownership remains one of the most significant predictors of household financial security and the inter-generational transfer of wealth.
Of course, such investments need not stop at direct lending programs. Homebuyer education and counseling have proven to make significant differences in consumers' ability to access safe mortgage products and make informed purchasing decisions to determine what they can reasonably afford without endangering other long-term financial goals. In 2016, one state adopted funding for homeownership counseling, while another eliminated their program, keeping the total number of states providing funding for homeownership counseling stagnant at 36.
In addition to forgoing support for homeownership, states have also shown little progress in supporting affordable rental housing. Currently, nine states and the District of Columbia protect renters eligible for assistance vouchers from discrimination, but not a single state implemented such non-discrimination rules in 2016. When renters are turned away solely because of the subsidy they receive, they are more likely to face displacement or to lose their subsidy altogether because they are unable to use it in the amount of time allocated.
To protect renters—especially those in expensive or constrained markets—states should consider granting public housing authorities greater flexibility in working with families that struggle to utilize their housing assistance vouchers due to low availability of affordable units. Taking steps like these to protect households from so-called source-of-income discrimination will not only help reduce housing cost burdens in the short term, but will also allow these renters to save funds for homeownership down the road when they are ready. Such protections can also help renters make their rent payments on time, reducing the risk of eviction that could have a devastating impact on their future chances of getting ahead.
Looking Ahead: State Housing Policies to Increase Access
In upcoming legislative sessions, we hope that states reprioritize housing needs for low-income households and households of color that have been traditionally excluded from homeownership opportunities. States can follow California's example, which recently passed a sweeping package of bills (SB 2, 3 and 35) to finance the construction of new homes and improve access to affordable housing. As for more specific policies, states should focus on:
Supporting first-time homebuyers by offering direct grants and "soft second" mortgages (which are subsidized and/or forgivable loans to help boost a borrower's equity) directly to borrowers.
Funding homeownership education and counseling for prospective homebuyers, given that NeighborWorks® America finds participants in these programs are one-third less likely to become delinquent on their mortgages.
Adopting policies and programs that prevent unnecessary foreclosures from occurring and that can protect homeowners during the foreclosure process, such as requiring that homeowners receive a review in the presence of a neutral third party and the opportunity to appeal their case.
Establishing and committing dollars annually to a housing trust fund that supports affordable housing preservation and development.
Offering incentives to encourage lenders to accept lower down payment requirements, especially given that mortgages are much safer now due to new underwriting and servicing rules adopted after the Great Recession.
Requiring owners of manufactured housing communities to give residents an advanced notice of at least 45 days before a community is sold to offer homeowners the opportunity to submit a bid to purchase.