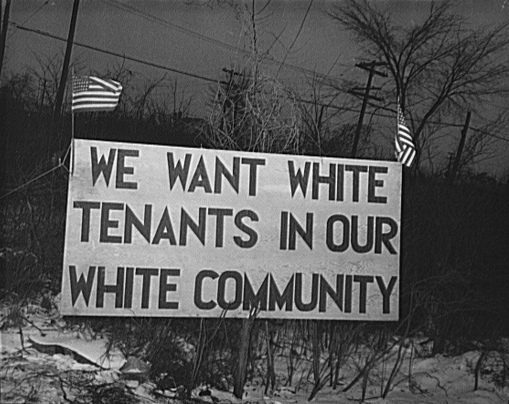 I recently saw the movie Split starring James McAvoy. It's about a white guy who kidnaps three girls and locks them in a spacious sub-basement apartment—fully furnished—with all utilities included. I believe there was also off-street parking, but the lack of windows made it difficult to tell. Then some stuff happens and [SPOILER ALERT] McAvoy's character eats the girls alive. It's the classic story of the landlord/tenant relationship and it really made me think about the ways in which paying rent feels a lot like being held prisoner—at least financially.
Suffice it to say, I hate paying rent.
As it relates to housing, arguably the only thing worse than paying rent is being homeless. So I'd be remiss if I didn't start this piece by acknowledging that, for many people, paying rent is a luxury and privilege not easily attained.
Roughly 3.5 million people in the United States will experience homelessness this year. And homelessness, like mass incarceration, disproportionately impacts marginalized groups. Black and Latinx individuals make up over 50 percent of all homeless people in the U.S., and members of the LGBTQ community make up over 40 percent of all homeless youth. Additionally, Black children in New York City are 35 times more likely than white kids to have lived in a homeless shelter in the past year, according to the Scholars Strategy Network.
But if you're​ wondering why so many people are homeless, it's not due to personal choice or mental illness, as is often suggested. It's simply because "the rent is too damn high" and incomes are too damn low. According to a National Law Center on Homelessness and Poverty study, the top causes of homelessness among families and unaccompanied individuals are lack of affordable housing, unemployment, poverty, and low wages. All four of those causes boil down to the reality that lots of people just can't afford to pay rent.
For those of us who are fortunate enough to acquire housing, we often struggle with the fact that paying rent uses up the majority of our resources. In Black and Latinx households in the United States, rent consumes about 50 percent of our household income. In my city, Boston, rent consumes "about 71 percent of income in Black neighborhood, but just 35 percent in White communities," according to a study by Forbes. That means for every dollar I bring into my home, 70 cents goes toward keeping my name on the lease. Percentage-wise, many Black Americans are paying twice as much on their rent as compared to whites. This is in part due to the enormous racial wealth gap between Black and white families in the United States. It's important to remember that this wealth gap is directly tied to American slavery, and is perpetuated today by a loss in upward mobility stemming from (you guessed it) unequal housing costs.
Not surprisingly, the beneficiaries of housing disparities are disproportionately white. Over 80 percent of homeowners in the United States are white (despite composing only 62 percent of the population), compared to 8 percent of homeowners who are Black (14 percent of the population). This homeowner gap means if you're a person of color paying for housing, you're probably paying rent. Meanwhile, those collecting rent on the majority of units look like James McAvoy.
This also means that white property owners determine where Black tenants and homeowners get to live. The history of racial housing discrimination in the United States is well documented and has taken on almost every form imaginable—from redlining, to gerrymandering, to rejecting rental applicants with Black-sounding names, to denying housing to people using rental assistance programs like Section 8. The gatekeepers of housing have continuously found devious ways to isolate and exploit people of color simply looking to house their families. And these families are forced to "play the game" or risk being evicted and subjected to further systemic abuse.
Speaking of eviction, it's time to remove that word from our vocabulary. In the same way hospitals are, at least in theory, required to provide emergency treatment to anyone regardless of insurance status, housing providers should never deny housing based solely on an inability to pay rent. The threat of homelessness is not a good means of ensuring timely payment, and cash-poor individuals don't often receive income in consistent monthly cycles. I once had a landlord who knew I would be short on cash between September and January due to the cost of winter vehicle maintenance, back-to-school supplies, and holiday expenses. Rather than threaten to evict me, we worked out a deal where I could float for four months and reimburse them with my tax return. Without the threat of eviction looming over my head, I was able to remain productive throughout the winter and make good on our arrangement. Landlords generally have more power and leeway at their disposal than their tenants. Get creative. When working with Black tenants, consider waiving rental payments and chalking it up to reparations, or RENTparations if it suits you better. It shouldn't be a novel idea to work with people rather than threaten to toss their families on the street.
Even well-meaning housing initiatives and developers can alienate and deter Black tenants by partnering with law enforcement to create so-called "neighborhood watch" communities. To many Black residents, advertising a relationship between a housing developer and the police is a clear indicator that Black residents are not welcome there. While police presence can provide a false sense of comfort for white folks, it often has the opposite effect on people of color who have a much more contentious relationship with law enforcement. I won't even eat at a restaurant if I notice a car in the parking lot with a "Blue Lives Matter" bumper sticker, so why would I pay money to live in a neighborhood that's proud to associate with cops?
To those who might dismiss my analysis as the ramblings of a woman who's just sick and tired of paying rent, you'd be right. It irks my soul that every month millions of Black Americans hand over half of our livelihood to the descendants of those who forcefully brought our ancestors here to work for free. Essentially, America is in the business of charging its captives rent.
Yet and still, the vast majority of Black and Brown Americans rely on renting in order to avoid homelessness. We generally lack the financial or social capital necessary to begin the process of purchasing a home; or as CNN bluntly put it, "Buying a home is easier if you're white." While paying rent is difficult for everybody, it disproportionately impacts families of color. And since the heads of household for Black families are predominantly mothers, it disproportionately impacts Black women.
I encourage white accomplices in the fight for racial justice to find creative ways to combat racial housing disparities. If you have financial means, consider coordinating with other white accomplices and supplementing rental costs for families of color in your communities. Sometimes first, last, and security are the only things stopping people from finding a safe place to live. If you don't have families of color in your area, contribute to organizations like Safety Pin Box or the Marsha P. Johnson Institute, which provide support directly to Black women and femmes. And obviously, if you have access to livable property, whether it's a guesthouse or a spare room, consider renting it out and making it affordable and accessible to members of marginalized communities.
With everything going on in the world, we have to be intentional in not overlooking the most basic and fundamental of human needs. Because, as soul singer and philosopher Gwendolyn Guthrie so poignantly noted, "ain't nothing going on but the rent."