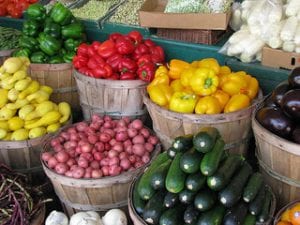 I love the farmers' market in my county, not far from where I live. It has grown into a lively gathering place on Saturday mornings during the growing season, with numerous vendors of fresh vegetables and locally grown meats and eggs. Artisans have been attracted to the market, too.
But I wonder sometimes how many people in the community actually benefit from this market. Like at many farmers' markets around the country, the cost of food can be significantly higher than at the supermarket. One pays a premium to have tastier, fresher food, and to support local farmers. More markets are starting to tap into food stamps and WIC as a means of enabling poorer people to get the benefits of the market, but there are plenty of working-class people who don't qualify for the anti-poverty programs, and don't have the incomes to shop often at farmers' markets.
A couple of academics in Oklahoma recently put together some research that suggests that the local food market may be benefiting people in urban areas more than in rural areas of the country. Presumably in urban areas there is a higher number of more affluent people who can afford to buy organic or local. There is also a bigger market, of poorer or richer people, so farmers seeking markets will tend to gravitate to urban centers to sell more. It's not just the actual markets; other aspects of the "locavore" movement such as community supported agriculture tend to be in or very close to urban areas for the same reasons.
It would follow that a lot of the revenue the farmers make comes back to their rural communities, with more money circulating in their economies. But are people in the community eating more locally grown food? Not necessarily, and that seems like a critical benefit to strive for.
One thing farmers' markets definitely do is create a place where community interaction can happen. Farmers can meet each other, and people can get to know and support their local farmers. The folks who sell hams and chicken at the market invite people to come to their farm, too. They can buy the food right at the farm, right at the source. Valid criticisms of where farmers' markets gravitate aside, the markets are invaluable as the kind of "third place" recently discussed on this blog.