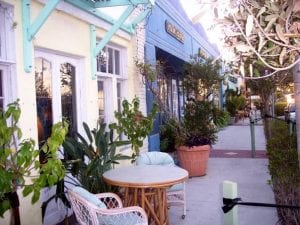 The trendiest neighborhood in West Palm Beach is Northwood, a collection of historic districts, fading industrial areas, and blocks of small bungalows and grand Mission-style homes that is now hopping with cafes, boutiques, a monthly art and wine "promenade," new workforce housing, significant streetscape improvements, a new Maritime Institute, and a can-do attitude. Yet not that long ago it was a worn-down area with declining property values (even pre-recession), empty storefronts, "slum landlords" and a dicey reputation. One local business owner lamented to Palm Beach Post reporter Rhonda Swann in 2008 that "Northwood Village [the commercial district] has been up and coming for 25 years, and that's sad."
Northwood is just north of West Palm Beach's downtown. Its oldest part is Old Northwood, above the Village:
"Old Northwood was developed in the early 1920s during the Florida boom era. Prominent architects such as John Volk and William King designed homes that made Old Northwood one of the most exclusive communities this side of Palm Beach. By the 1970s, however, the boom time glamour was long gone. The renaissance of Old Northwood began in the mid eighties when residents formed an association to revitalize and restore this important part of West Palm Beach history."
While the neighborhood has yet to reach its full potential, there can now be little doubt that a critical mass of revitalization has been achieved over the last decade and appears to be here to stay. As noted in West Palm Beach mayor Lois Frankel's state of the city address in January, the Village now can boast 35 new businesses, plus the new Maritime Institute that will educate 800 students each year, including through a special program targeting high-risk youth in the neighborhood. Improvements to Northwood's building stock, public landscaping, streets and sidewalks have been dramatic, with more to come, and the neighborhood has also gained new mixed-use development and affordable housing.
Support from the City
This hasn't happened by accident but because of a great deal of commitment, investment and work involving a range of public, private, and philanthropic partners. Much of the enabling framework was established by the city of West Palm Beach and its Community Redevelopment Agency (CRA). In particular, a neighborhood plan was developed with the assistance of a 14-member citizens' planning committee and adopted by the city in 2003. In addition, the CRA administers a number of revitalization incentive programs for its Northwood/Pleasant City district:
Capital Improvement Grants: CRA will provide 50 percent of the interest on loans for rehab or renovation of property in designated areas, including the Northwood Business District.
Relocation assistance: CRA will also support tenant relocation, property acquisition, build-out or rehab/renovation in target areas.
Infrastructure improvements: for large projects representing $5 million or more investment, the city will undertake customized infrastructure improvements and provide innovative assistance mechanisms such as tax-increment financing.
For projects representing up $5 million worth of investment, CRA will fund 50 percent of the cost of streetscape improvements in the public right-of-way. for development projects up to $5m.
Housing investment: CRA will provide a subsidy of $5000 per unit of additional housing, plus an additional $5000 for affordable units in mixed-income projects.
Facade and exterior improvement assistance: The agency will subsidize landscaping, awnings, exterior painting and other approved exterior improvements, up to $10,000 throughout the area and up to $25,000 in targeted areas such as the Northwood Village and Broadway business districts.
Neighborhood Renaissance CDC
The city's most active partner in the rebirth of Northwood has been Neighborhood Renaissance, a nonprofit community development corporation formed in the 1990s. Neighborhood Renaissance "works with neighborhood associations, merchants and residents to solve neighborhood planning issues, renovate troubled properties, create affordable homeownership opportunities, complete neighborhood improvements, and to encourage business development and job creation."
With the assistance of the Local Initiatives Support Corporation (LISC) and the Florida Community Loan Fund, Neighborhood Renaissance has managed Northwood's streetscape, facade and infrastructure improvements, particularly to Northwood Road in the Northwood Village commercial area, and has developed a mixed-use project called The Courtyard, with 4,500 square feet of office and retail space and three residential apartments.
The CDC is perhaps best known, however, for its Model Block program, whereby a single block is targeted for comprehensive improvements, including new street lighting, landscape improvements, and construction or rehabilitation of affordable homes for low- to moderate-income homebuyers. The project started on 34th Street, about 10 blocks north of Northwood Village, where the organization purchased, rehabilitated and resold nine Mission-style homes while adding facade improvements to adjacent houses, new street lighting, landscaping, and traffic calming to the neighborhood. The program next expanded to 32nd and 33rd streets. LISC provided homebuyer assistance, and a community land trust was established. All told, 33 affordable homes and $8 million worth of investment was added to Northwood as a result.
Neighborhood Renaissance's biggest project so far is Village Centre, a mixed-use, five-story building providing 60 affordable apartments along with retail space in Northwood Village. The project, which is under construction, is being assisted by LISC and the Florida Community Loan Fund.
In 2005, Neighborhood Renaissance won a community stewardship award from 1000 Friends of Florida. In nominating the CDC for the award, LISC's then-senior program director Annetta Jenkins observed that, with the organization's assistance, "Areas with slum landlords, vacant lots and aging infrastructure are being returned to compact, walkable, livable neighborhoods."
Transformation of Northwood Village
To say all this has made a difference is an understatement. Here's Katelyn Schnack, describing the monthly Art & Wine promenades in the West Palm Beach Examiner:
Local vendors, artists and musicians line the streets of the historic downtown community, for a night of culture and entertainment.
Several live bands dot the streets, providing a variety of background music as participants peruse through the various booths.
Many of the shops keep their doors open late and provide free wine, so you can also browse the unique antique, art, and thrift shops that Northwood Village Has to offer . . .
The three blocks of Northwood Village contain dozens of unique shops, restaurants, and art galleries. The CRA likens the area to New York City's famous Soho.
While the village struggled during the 1980's it is now a mecca for small business owners with an eclectic feel, eager to partake in the area's revitalization.
Some of the Village's businesses are minority-owned, reports Staci Sturrock in the Palm Beach Post. In addition, Sturrock writes, a $4 million renovation of sidewalks, lighting and landscaping on the Village's 24th and 25th streets is scheduled for completion early next year. By the way, Northwood Village has a "very walkable" Walk Score of 85 when measured from its heart at 24th and Spruce.
Enter Northwood GREENlife
But wait, there's more. Last year marked the formation of Northwood GREENlife, a neighborhood nonprofit dedicated to making the neighborhood not just lively and rejuvenated but also environmentally sustainable:
Northwood GREENlife will seek partnerships with like-minded organizations and reach out to inspire residents, business owners, and governments, to develop measurable solutions using established standards for neighborhood sustainability. These include aesthetically pleasing and artistic approaches to water conservation, fostering the use of renewable energy, and moving the community toward zero waste.
Our ultimate Goal is to make West Palm Beach's Northwood district a showcase and thriving sustainable community that is saving water, saving energy, saving money, and saving the Earth.
I first learned about the happenings in Northwood through Mary Jo Aagerstoun, a founder and leader of GREENlife.
For the Art & Wine Promenade just before Earth Day earlier this year, the organization sponsored environmental movie showings and a wildly popular table helping kids paint T-shirts with environmental themes. Some of the organization's more ambitious projects involve food, including the "Green Restaurant Row," an initiative to have all 12 of the Village's restaurants adopt green production practices sufficient to win recognition from the Green Restaurant Association. To receive the Association's certification, restaurants are evaluated on a LEED-style point system in various categories, including water efficiency, sustainable food, disposables, and chemical and pollution reduction.
In addition, GREENlife is pursuing a community "EcoArt" garden that will grow food while providing environmental demonstration of stormwater control and renewable energy on a parcel in the heart of Northwood Village:
Intended to be a pilot project for future community gardens throughout the north end district, the garden will show how to rehabilitate an urban site with exposure issues by utilizing raised beds at different heights to accommodate gardeners of all ability levels. Irrigation will utilize roof runoff into sculptural cisterns that will also serve as the gateway to the garden. Power for pumping and evening lighting will be imaginatively designed solar and wind elements, and off the grid. Educational sessions will be offered regularly for Northwood GREENlife KIDZ, Boys and Girls Club children and other groups, and opportunities will be available for teens to volunteer as gardeners.
Just last month the organization won a grant from the Quantum Foundation to assist with the garden. Quantum also awarded a grant to the Center for Creative Education for the Northwood Village Green Alley Project, intended to support the removal of urban blight in Northwood Village and serve as a "living classroom" with focus on the environment for teachers and students.
The two food-related initiatives should complement well a larger-scale project also in the works, the establishment of an indoor farmers' market in a currently vacant building in Northwood. A major feasibility study was completed in April. And, speaking of Quantum, its new headquarters in Northwood just became one of three commercial buildings in the neighborhood so far to earn LEED green building certification. GREENlife is looking into whether any of the neighborhood's efforts could qualify for certification under LEED for Neighborhood Development as well.
That's a lot. While Aagerstoun conceded that the neighborhood isn't "quite there" yet compared to its full potential, and one can still see some vacant business opportunity spaces in the Village's merchants' map, I find this an amazing amount of energy and progress for one neighborhood. Congratulations to everyone involved on their progress so far, and do invite me down for an Art & Wine Promenade, 'K?
This post first appeared (with several more images and links) in my blog on NRDC's Switchboard. Go here for my writing archive.