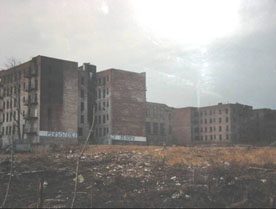 Philosopher and environmentalist Wendell Berry famously observed that "you can't know who you are until you know where you are." Considering this, think about the challenge of re-connecting people to a physical environment that was systematically destroyed over a couple of decades; a place where familiar neighborhood landmarks no longer exist, where today's children — and even their parents — have no recollection of carefree streets or of a time when the mention of their neighborhood evoked warm smiles of recognition.
Kids growing up in the Bronx today cannot recall when being from "Da Bronx" meant taking the first steps into the middle class; when living in the projects signified arrival to a much better place, and where being young meant being busy — physically and mentally — all of the time.
In 1987, at the time I arrived in the Bronx, the dust had barely settled on one of the worst urban calamities this nation has ever seen. Theories of community development practice, including debates over investing in people, places, jobs, or homes, were extinguished during New York's mid-1970s fiscal crisis when policymakers decided that New York City must shrink in size in order to survive.
What ended up shrinking was the Bronx, along with sections of Harlem and Brooklyn. The South Bronx was dealt the worst blow: scores of handsome apartment buildings were demolished, and hospitals, firehouses, and schools were shuttered. Thousands of families fled or were forcibly moved. Community gathering places were obliterated. Fordham University Professor Mark Naison summarizes the result: "The Bronx, once the first rung for upwardly mobile, lower middle class families, ended up buried beneath a mountain of unemployment, urban decay and a crippling city-wide drug epidemic, despite the best efforts of its remaining residents."
City policy then quickly shifted to rebuilding the Bronx, barely a decade after the "planned shrinkage." Bronx community development corporations as well as citywide organizations worked feverishly to rebuild as many of the salvageable buildings as the city would fund.
At the time, I was working on the restoration of 23 vacant buildings — over 700 apartments — one of more than a half dozen such developments of comparable size. Amidst this massive construction site, I saw a small painted mural wrapped around the girth of one building. "Persistence of Memory," it said as if implying to "not forget us; we lived here." I began to think about the impact of the destruction of these buildings on Bronx residents and generations that followed.
WHEDCo, the Women's Housing & Economic Development Corporation, was born in 1991, in the wake of this first wave of housing reconstruction in the Bronx. Scores of abandoned buildings had been rehabilitated into thousands of apartments. Yet by the mid-1990s the massive reconstruction had failed to fix or create anything more than apartments. Beyond the refurbished buildings, streets were bare, stores remained boarded up, schools barely functioned and other essential infrastructure was overwhelmed by the rapid re-population. Without the recreation centers, thriving schools, theaters and shops that had made the Bronx attractive generations earlier, the harsh memories of leveled neighborhoods persisted, even among newly raised residential buildings.
Rather than begin with a specific physical development project, WHEDCo's formative years were spent gauging the temperature of the neighborhood. When WHEDCo did finally undertake its first development, it was the restoration of an abandoned city hospital. The mammoth structure was viewed as an opportunity to respond to what we heard in the community: the need for doctors, good education for the children, and for the ability to earn a decent living.
For the past 12 years, the campus that houses that project, the Urban Horizons/Rafael Hernandez School, has occupied the one full city-block previously occupied by that hospital, replete with faux-Spanish tile roofs, immense arched windows, and detailed façade work. It towers over its neighbors and from the rooftop is a birds-eye view into Yankee Stadium. Inside, over one hundred toddlers attend the WHEDCo Head Start Center each year; a commercial kitchen we built to help incubate small food businesses is producing empanadas and vegan cookies. Two hundred WHEDCo-trained women operate home-based childcare businesses caring for over 2,000 children and collectively generating $8.1 million in revenues in 2008. Over 80 WHEDCo staff serve in the school as tutors, guidance counselors, art, chess, music and drama instructors, sports coaches, parent advocates, education mentors, and community watchdogs. The school's 900 families, compounded over these years, have grown into a formidable constituency.
WHEDCo's founding premise was that every family needs the same basic amenities in life and shares common aspirations for the individual and for children, regardless of disparities in wealth, race, or where we call "home." Today, WHEDCo uses green building practices, while maintaining the importance of attractive design. WHEDCo builds physical space for key elements of opportunity: high quality early childhood and public education, business incubation, and multiple pathways to greater prosperity for parents. WHEDCo buildings are places where developers, architects and contractors alike can envision living. Building beautiful homes and landscapes reflects the belief that physical environments shape people, for better and worse.
Over the past five years, WHEDCo has worked on a challenging development located in one of the few remaining urban renewal sites left in New York City, in the heart of the "burning Bronx" that President Jimmy Carter visited in 1977. Buildings in this area were not simply abandoned; they were demolished block by block. Photos of the area became icons of urban decay.
By the time we began working on this project, now called Intervale Green, the rubble was gone. The surrounding blocks were filled with single-family homes, and two- and three-family low-rise buildings. All of this had been built within the past 25 years. It bore little resemblance to anything that stood before.
The neighborhood reflected a complete inattention to planning. While designing the new building, WHEDCo and the development team struggled to find nearby structures that might serve as architectural touchstones. We located some archival photographs of a building that stood on the site in 1915, and found it looked exactly like scores of other buildings that had escaped demolition and were restored in other neighborhoods. This was good enough. We decided to build a "typical" Bronx building: a characterization that initially drew some derision.
But by "typical" we meant contextual to what the place looked like when it flourished. WHEDCo built Intervale Green from the ground up, a red and blond brick building with decorative cornices, lintels and stone at the street. With courtyards for the residents and set on a flatiron-shaped lot, the building curves around the block with retail stores on one side and a public sculpture garden at the point. Intending to be "typical" of the lost grandeur of the Bronx, the building is in fact quite beautiful.
It is also "green" in that it features 128 new EnergyStar certified apartments and nearly a half-acre of green roofs and landscaped gardens. Building green has the obvious importance of lessening a building's emissions and reducing expenses for those who can least bear the costs. But building green is also grounded in research showing that proximity to nature — to trees and grass — restores the very psychological resources likely to be depleted in the daily struggle to get by.
Despite WHEDCo's progress in the built environment and our holistic blend of programs, we still encounter many of the same problems that have plagued this community for years. WHEDCo staff works with parents and children they describe as being in constant stress and depression. Some of the symptoms are endemic to poverty, some to the urban trifecta of crowding, noise, and danger. Beneath this surface lies something even more disturbing: there seems to be an absence of good memories about the place they call home.
Environmental Psychologist Susan Saegert of Vanderbilt University has explored the disorientation and trauma of events that uproot families, and extinguish social structures, neighborhood traditions and cultures. When familiar places disappear, people who remain can literally lose their way. More than a year after Hurricane Katrina, Saegert examined the trauma wrought by the storm and the disruptions that occurred in significant relationships. She characterizes the post-traumatic symptoms she observed as "relational trauma": something that causes a severe disruption in survivors' relationships to social networks, home, neighborhood, city and physical environments.
While the destruction of the Bronx spanned more than a decade and was not a single cataclysmic event such as Katrina, it was nonetheless equally traumatic and profound. It shredded the social fabric of tens of thousands of lives, and resulted in a terrible loss of memory and an enduring and wholly unwarranted sense of shame and responsibility among today's residents about what happened in and to the Bronx.
Fordham's Professor Naison has been working for over a decade to create an oral history of the Bronx, from current residents, as well as those who left. He is unearthing a rich legacy that portrays the Bronx as a vortex of musical traditions where jazz, rhythm and blues, and hip-hop fused with Afro-Caribbean traditions. Depending on the decade, a child could walk down the streets of Hunts Point or Morrisania hearing live jazz, bebop, or mambo. Thelonius Monk, Herbie Hancock, Maxine Sullivan, Ray Barretto, Eddie Palmieri, Tito Puente, The Chantals, Dion, and later on Grandmaster Flash, all grew up in the South Bronx.
New types of music grew from the cultural migrations of the 1930's and 1940s, when African Americans, Afro Caribbeans and Puerto Ricans converged in the South Bronx joining Irish, Italian and Jewish immigrants. Music flowed from generation to generation. Nowhere else in America, Naison says, has there been such cross-cultural musical creativity with firm institutional roots. In addition to music programs in schools and youth centers, the Bronx was home to theaters and clubs where live music was performed most nights and every weekend, where people went to listen and dance.
Hip-hop's rise reflected a very different era. As the demolition raged, the Bronx lost more than 19,000 theater seats in dozens of venues. For performers, these clubs were pipelines to the recording industry. The 1970s fiscal crisis stripped schools of music and sports, closed scores of after school centers, and left children to their own devices. Angry lyrics reflected the despair, as Grandmaster Flash and the Furious Five illustrate in 1982's "The Message": "Broken glass everywhere, people pissin' on the stairs, you know they just don't care…Rats on the front porch, roaches in the back, junkies in the alley with a baseball bat."
The Bronx produced some important music in this era. Two of the buildings where hip-hop pioneers lived during this era of displacement and devastation — General Sedgwick Houses and public housing's Bronx River Houses — have just received a remarkable (and deserved) designation, as the birthplaces of hip-hop. An annual "Place Matters" ceremony, a joint project of City Lore and New York's Municipal Art Society, is honoring these buildings as the places where DJ Kool Herc (Clive Campbell) first played his "breakbeats" that inspired breakdancers, and where Afrika Bambaataa founded the Zulu Nation, a collective of breakdancers and graffiti artists who used rhyming and music to channel youth energy away from violence.
The Bronx needs these — and more — opportunities for residents, especially young people, to learn about the extraordinary cultural history of their communities. WHEDCo's next development, recently approved by the City of New York and now in the planning stage, is to create a place that directly confronts negative perceptions by celebrating and teaching the Bronx's exceptional musical heritage. We are planning, in collaboration with neighborhood artists, and Naison's Bronx History Project at Fordham, a space where elderly musicians can live, play, and compose as well as enjoy the companionship of other artists, and where younger would-be musicians can gain both mentorship and music lessons by building a school, theater and places to safely play outside.
Building social infrastructure into this affordable housing development project will present challenges as it remains difficult to stretch affordable housing dollars to build more than tenant meeting rooms, along with apartments, let alone a school, recreational center and performance venue. But the neighborhood is determined to see these components through.
As more community space is planned in the South Bronx, Intervale Green aims to increase community pride and activism, with WHEDCo sponsoring monthly community planning meetings to address crime and safety and to assist local businesses. Parents have signaled that children could get exercise with more active play spaces, that could include murals in the building's stairwells to encourage fitness: "Burn Calories, Not Energy. Take the Stairs!"
Philosopher and social activist Simone Weil observed that "rootedness in place is the most important and least recognized need of the human soul," and this observation helps to illustrate the challenges of working in the community development field in the Bronx. Rebuilding institutions and re-weaving social fabric requires a keen ear for equity, and for restoration of memory and a sense of place. It has necessitated genuine engagement of neighborhood residents at every juncture, as sounding boards, partners, parents and friends.
To succeed, our children need to learn about their pasts. Equally important, however, is that we help our children regain contact with their physical selves. A lack of access to healthy food, safe streets, and welcoming parks stymies physical activity and overall healthy living. And now, losing the opportunity for school-based physical activity is a tragic and doubtless unintended consequence of education policy's narrow focus that places sole emphasis on academic performance as measured by standardized test scores and physical education is jettisoned for test preparation. WHEDCo's health initiatives include an education campaign to bring back physical education to public schools — where over half of Bronx children are classified as overweight or obese. Without aggressive health interventions now, these children will become part of what is expected to be a doubling of the number of Americans with Type 2 Diabetes, and a consequent tripling of associated health care costs, both within the next 25 years! No small uptick in test scores can justify the larger human and societal costs of sedentary lifestyles.
Community development must recognize the importance of history and memory. The past is very much a part of any community's fabric. Learning and embodying good stories about an infamous place, known primarily for despair, is essential work. Over time, WHEDCo has come to recognize that pride of place is essential to community development. Restoring a pride of place by recapturing the history of a once vital community, remembering its heroes, its music and culture, gathering places and significant landmarks, represents a critical foundation for education and opportunity for children and adults. Good memories anchor families to their neighborhoods, and while those might be less tangible and more difficult to measure than affordable homes, trees, or schools, pride of place is critical to healthy communities, both for wealthy and low-income individuals alike.