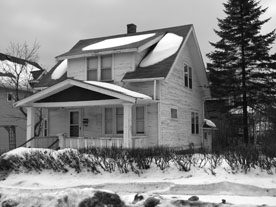 While potential benefits of community land trusts (CLTs) are vast, most that are community-based focus on creating, and preserving the affordability of owner-occupied housing. To do this, CLTs sell homes on land they continue to own, reducing the prices of the homes significantly, and enter into long-term leases for the land with the homebuyers. Resale restrictions in the leases limit the prices the homes can be resold for and ensure the homes will be resold exclusively to income-eligible households. This affordable housing model creates a stock of permanently affordable homes that remain affordable even when resold, with no additional investment required.
Traditionally, CLT housing is considered a way to maintain affordability in hot or rising markets. CLTs also provide benefits via affordable homeownership to communities with lower property values, but these benefits are somewhat less widely acknowledged or accepted. Given the present realities of housing markets throughout the country and corresponding national efforts like the Neighborhood Stabilization Program (NSP), it is an appropriate time to focus on the positive impact a CLT can have in communities with lower property values and on the ways CLTs are using NSP funds to stabilize neighborhoods affected by the foreclosure crisis.
Why More Homes?
"Why are you here?" the Lincoln Park neighborhood representative asked from across the table.
"Why would I want land trust homes in my neighborhood when there are already too many low-income people living there?" he asked further. The room grew quiet as all present waited for the answer.
It was fall of 1999, and Northern Communities Land Trust (NCLT) had been asked by Pam Kramer, program director for the Duluth Local Initiatives Support Corporation (LISC), to come to a meeting of the At Home in Duluth collaborative — a group of nonprofit and government agencies and neighborhood representatives working together to try to bring investment into four of the poorest neighborhoods of Duluth, Minnesota. NCLT had recently forged an agreement with one of the collaborative members, a neighborhood group in West Duluth, to build two new homes in a revitalization focus area. However, it was now quite clear that at least one of the four neighborhoods represented had strong reservations regarding NCLT's participation in the collaborative.
His animosity was not hard to understand. Most of the homes on the market in the Lincoln Park neighborhood were relatively affordable at the time. Over the past 15 years, he had witnessed a steady out-migration of neighbors who owned and invested in their homes. He had seen homes and yards previously cared for by their owners who lived in them deteriorate while the new absentee owners squeezed every dollar out of them. He was tired of seeing the relative value of property in his neighborhood decline. He had become convinced that affordable housing of any kind was the last thing his neighborhood needed and could not be part of a successful revitalization strategy. Since community land trust homes are by design affordable at initial sale and remain affordable at each subsequent resale, it followed logically that he would be doubly dubious about any strategies that included CLT homes.
Duluth was just starting to reverse the trend of a 20-year economic slide brought on by significant downturns in the iron ore and timber industries. At the low point of the downturn in the mid-1980s, when the population had shrunk by nearly 30 percent, someone actually paid for a billboard advertisement that asked, "Will the last person to leave Duluth please turn the lights off?" By 1999, housing prices had started to rise, but neighborhood leaders, tired of seeing most single family homes on the market sold to absentee landlords, had hopes of gentrification and the corresponding stability brought by increased homeownership ratios for their neighborhoods.
Back in the meeting room, the answer about the value of CLT homes was twofold: new construction in neighborhoods that had not seen new homes built in the past 75 years would add value itself, and NCLT's homes would be guaranteed to be inhabited by the people who owned them. Despite the fact that homestead versus non-homestead rates had fallen in the neighborhood to 49 percent (far below the city average of 62 percent), this did nothing to sway the asker from his stance. Nonetheless, NCLT was allowed to join the At Home in Duluth collaborative.
As part of the At Home in Duluth collaborative, NCLT first built the two homes referenced earlier. The following year, NCLT built two duplexes in an At Home neighborhood. Then, NCLT increased housing development efforts, building or acquiring and renovating from 8 to 12 homes annually. This pace has continued through the present, and the majority of the 83 homes the CLT has constructed or acquired and renovated have been in At Home neighborhoods and directly contributed to revitalization efforts in those communities.
Concurrently, NCLT added another 88 homes to the trust with its buyer-initiated program. Quite common for CLTs around the country, buyer-initiated programs provide an income-eligible buyer a significant acquisition subsidy to lower the cost of a home on the market selected by the buyer and varying degrees of funding for renovations that occur after closing. In exchange, the CLT receives the land upon the closing of the sale and the household enters into the standard land lease, which preserves the long-term affordability of the homes. Half of the buyer-initiated homes were also in At Home neighborhoods; the rest provided lower income households the ability to buy homes outside of those neighborhoods, providing diversity of incomes to the neighborhoods and more choice to the buyers.
During this time of increased production, NCLT focused on ensuring the high quality and aesthetic value of its homes and significantly improved the homes' environmental sustainability. Funders took notice. Warren Hanson, president of the Greater Minnesota Housing Fund says, "NCLT produces quality, sustainable, affordable homes that bring real value to their neighborhoods."
Neighbors took notice as well. In 2005, the same neighbor who had previously challenged NCLT's inclusion in the neighborhood revitalization collaborative spoke at the City Council in support of zoning variances needed for development of five new homes in his neighborhood. He had faith in the quality of NCLT homes and loved how they fit into and enhanced the neighborhood. In Pam Kramer of Duluth LISC's words, "NCLT brings skilled housing development staff, along with a commitment to creating a healthy, stable community."
Kramer continues, "Not only does NCLT create quality, affordable, green homes, but they also build community with their home buyers. This all helps to stabilize Duluth's neighborhoods." Kramer is referencing another key facet of what CLTs add to affordable homeownership — a long-term relationship with their homeowners in which CLTs have a vested interest in their homeowners' success. Quite simply, successful CLT homeowners equate to better-maintained homes, and better maintained homes are more easily resold to future CLT buyers. Modest investments made by NCLT, like free home inspections on the fifth anniversary of a home purchase and home maintenance and weatherization workshops, can make a significant difference in the success of a homeowner.
More significant investments, like the Home Repair Individual Development Account (HRIDA) Program, in which NCLT partners with Community Action Duluth, afford homeowners even more opportunities. The HRIDA Program provides post-purchase financial counseling, home improvement training, and matched savings of $2.50 for every $1 the homeowners save to pay for home improvements of their choice. As Kramer says, "NCLT meets a dynamic definition of sustainability, in that their work clearly ensures that all three legs of the stool are addressed: stabilizing the economy through home purchase, renovation, and sales; investing in the environment through green building and energy efficiency techniques; and building family income and assets by working with home buyers to secure significant down-payment and rehabilitation assistance necessary to afford and maintain homeownership, as well as to become involved in their neighborhood and broader community."
By 2007, NCLT had begun to change the focus of its development work from new construction to acquisition-rehabilitation in acknowledgment of the softening market in Duluth. By 2008, driven by the opportunities and needs generated by the foreclosure crisis, all of NCLT's development focused on acquisition/rehabilitation work. This change in focus positioned the organization well as a developer partner for the city of Duluth's 2009 NSP application. NCLT secured just over $1 million of Duluth's $1.6 million NSP award and will address 13 properties with the award. Keith Hamre, manager of the city's Community Development Office reports, "NCLT brings the ability to take houses that are a blight on the neighborhood and turn them back into homes for families. This activity has been a positive force for neighborhoods that have been suffering from neglect." Hamre continues, "One of the main benefits of using NSP funds for a CLT house is that the funds stay here in the community for a longer affordability period so the public benefit lasts through more than one homeowner. The CLT model and NSP funds is one of the best ways to achieve a positive community goal and maximize the public's investment in affordable housing."
When it came time to for the Duluth City Council to approve the city's contracts for NSP, a city councilor from a more affluent neighborhood argued that these funds should not be used for CLT housing. The councilor complained that there were getting to be too many NCLT homes in the community. Three NCLT homeowners spoke at the meeting with passion about what their homes meant to them and how pleased they were to know that one day they would 'pay it forward' to another homeowner when they sold. These homeowners, along with the Lincoln Park neighbor, who had recently joined the council, championed the NCLT NSP contract, which passed with just one dissenting vote. Afterward, Councilor Gary Eckenberg said, "NSP stands for Neighborhood Stabilization Program, and there is no better way to stabilize older neighborhoods than to secure homeownership opportunities for low- and moderate-income families to begin their quest to build wealth and help prevent the disinvestment and neglect caused by the imbalance in the ratio of homeowner properties to rental properties."
The NSP award allows NCLT to rehabilitate more homes to prevent neighborhood deterioration from the foreclosure crisis than the organization could do otherwise in the same time period. The NSP funds also allow deeper than typical subsidies to rehabilitate badly damaged homes and still meet price points that will sell in a down market in a challenging neighborhood.
Of the NSP award to NCLT, Kramer says, "NCLT's access to NSP funds helps ensure that formerly vacant, blighted homes are safe, brought back into good condition, environmentally sustainable and are assets to their neighborhoods, as well as to low-income families purchasing the homes. It is a true win-win-win for the homebuyer community and for public/private sector investors. We are fortunate to have such a strong CLT working in Duluth to ensure the wise use of federal funds, resulting in the benefit of permanently affordable homeownership for those who otherwise could not afford it and the creation of stronger, more stable neighborhoods."