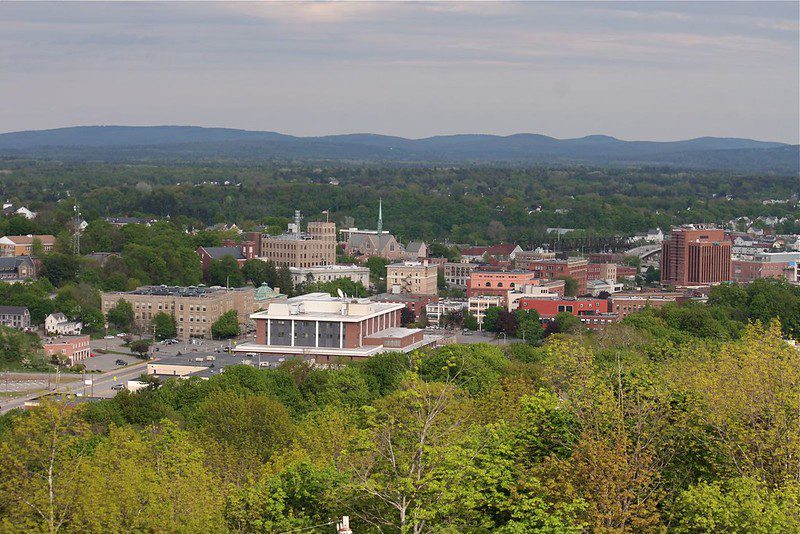 In the past year, officials in Bangor, Maine, have been talking a lot about affordable housing. On the surface, this seems like a positive turn. It follows a pandemic-induced housing crisis that has seen the number of unhoused people in the city increase dramatically.
In 2020 and 2021, in an attempt to make the homeless problem disappear, Bangor officials moved to "clean up" various areas where unhoused folks were living by conducting encampment sweeps, including one on the waterfront, one along a stream containing a walking trail, and one under an overpass that, according to city officials, was difficult for emergency vehicles to access.
The latter sweep, which one city councilor said was conducted thoughtfully and humanely, led to the tragic deaths of three people in a fire in an abandoned house in December 2021: Tim Tuttle, Dylan Smith, and Andrew Allen, all unhoused. Two of the three had been evicted from the homeless encampment when it was swept just a few days prior. In a city council meeting soon after the deadly fire, residents of the town and surrounding areas blasted the city and police for its authorization and carrying out of the sweep that led to the deaths. Some councilors were largely defensive of police and of their actions without appearing to have much regard for those who died.
In the aftermath of the tragedy, Bangor officials shifted their focus away from traditional sweeps toward creating more affordable housing as one solution to address the increasing presence of unhoused people throughout the city. But many of the city's newer housing-related policies won't actually help. We believe the policies will increase property values and rent. This will push out unhoused and precariously housed residents while furthering the aims of developers, landlords, wealthier residents, and city officials who want the problem to disappear.
Unaffordable Housing Is Not New in Bangor
Bangor, the third largest city in Maine, is one of the least affordable cities in the state for renters. Sixteen percent of the population lives below the federal poverty level, according to the U.S. Census, although a city-issued report from 2019 stated that 1 in 4 people lives below the poverty line.
Like many other cities, Bangor's population of unhoused people has skyrocketed since the pandemic. The city reported that there were approximately 25 to 30 unhoused people in 2019. Now there are reportedly more than 200, although this is likely an undercount.
Since 2020, Bangor officials have approved several measures to create more affordable housing in the city, including:
a rezoning ordinance to allow for the building of tiny home parks;
a bill that allows for old homes to be renovated and turned into boarding houses;
a bill that reduces the city's minimum lot size, which will promote more condensed housing development;
and a bill that allows investors to build "permanent supportive housing".
Bangor is not alone in turning to affordable housing as a solution to the housing crisis. Rents in the 50 largest metro areas across the U.S. increased 19.3 percent from December 2020 to December 2021, and Redfin reported a 15 percent increase in rent nationwide from May 2021 to May 2022. In Maine, the reported post-pandemic rent increase was 39 percent.
[RELATED ARTICLE: Rent Going Up? One Company's Algorithm Could Be Why.]
In places like Bangor, these increases make it difficult to afford housing. To afford a two-bedroom apartment at an estimated fair market value of $1,103 per month, a Bangor resident would need to make $21.21 per hour, working 40 hours per week for all 52 weeks. The average wage for Bangor renters is $15.18 per hour. This disparity between earnings and rent makes affording housing difficult even for people with steady work.
Bangor's approach to addressing this crisis is in line with recommendations from the city's pre-pandemic Bangor Housing Work Group. The working group released its report in 2019, which means the housing affordability crisis cannot solely be blamed on the pandemic, but on "the wages residents earn." Alas, the report's only recommendation to address the wage/rent gap was to encourage businesses to raise wages on their own, a suggestion that we know is rarely pursued, let alone embedded in policy. This lack of focus on or willingness to regulate the cost of housing had large repercussions on how officials chose to address the issue.
Instead, most of the group's recommendations that addressed actual housing had to do with diversifying the city's housing stock. While short-term recommendations included "Heightened Accountability for Housing Quality," most of the other recommendations involved incentivizing development and redefining zoning regulations.
These policies, framed as ways to help unhoused people, could in practice make it more difficult for them to obtain stable housing in Bangor.
In October 2022, Lia Russell at the Bangor Daily News reported that a local landlord was pursuing a tiny home park and planned to charge between $1,000 and $1,500 monthly for the homes. The landlord, Louie Morrison, "who owns 300 rental units throughout the city," said, "My goal is to make it cheap," and "That is still relatively affordable, in my opinion." Since then, the tiny home park has been approved by the Bangor Planning Board with an estimated rent between $800 and $1,200 for 320-square-foot homes with 96-square-foot porches.
But is this actually cheap? The tiny homes investors plan to charge between $2.50 and $3.75 per square foot. Data from Apartment List found that as of 2018, the average $1,500 apartment in Maine was 1,100 square feet and cost $1.37 per square foot. In essence, the owner of the tiny home park site is resetting the market for dollars per square foot.
The average apartment size for newly built apartments decreased 5 percent from 2008-2018, and decreased 10 percent for studios. In some cities, residents live in small, 100-square-foot apartments. Bangor's tiny home ordinance thus is part of a national trend of reconfiguring expectations of acceptable living space for people across the socioeconomic spectrum, exacerbating inequities in living conditions between the rich and poor.
This housing is unattainable for unhoused residents. Furthermore, there is no requirement that investors in tiny home parks rent to people who have housing vouchers or are unhoused. Instead, this housing will likely attract those who've seen their rents skyrocket because the market has been reset. Over the long term, the proposal threatens to push people who currently can afford larger homes into 300-square-foot homes.
Removing Zoning Barriers
The Bangor Housing Work Group report also encouraged updating zoning and development standards. Under this recommendation, the report states that the city must "remove barriers to re/development" and "enable denser development throughout the city." In response to this recommendation, the city passed an ordinance lowering the minimum size of lots that homes may be built on from 9,000 or 10,000 square feet to 5,000.
This policy is unlikely to help those experiencing precarious housing or homelessness, in spite of the city highlighting it as a solution in an op-ed in October 2022. Instead, this policy approach, once again, assumes that simply diversifying the housing stock will also increase the affordability of housing by making more homes available.
Admittedly, this zoning change could increase the available housing in Bangor, but simply increasing the amount of housing will not result in an immediate decline in rental pricing. For example, the new housing stock could be sold as single-family homes, landlords could charge even higher rents for new properties, or the additional housing could bring in people from outside the city to live here.
Solely relying on the market to take care of itself when it comes to housing does not account for actors within those market forces who are pursuing profits over affordable housing. Landlords could, in theory, take advantage of this ordinance to expand their housing stock without honoring vouchers or lowering rents, as that is what the market of commodified housing encourages.
The ordinance also makes it easier for developers to buy condemned properties, tear down the structures, and build new housing on smaller lots. The extreme case of this is the tiny home developments, which, when coupled with this ordinance, allow investors to build even more housing within condensed spaces. Thus, the investor building a tiny home park is able to house more residents in tight spaces on their land parcel to draw more rent money. Not only will people be living in smaller spaces, they will also be living in highly dense areas. This smells like a handout to investors and landlords, though it is sold to the public as affordable housing.
The Bangor Housing Work Group report also argues that the city needs to encourage quicker rehabilitation of dilapidated and vacant housing, as "these properties are unattractive and create broader impacts that diminish neighborhood quality of life and property values."
This ordinance thus makes it lucrative for investors to buy up condemned properties, since they can then divide the lots and develop even more structures. The benefit is thus funneled toward developers, instead of taking into consideration the root causes of why these homes are in disrepair. Are they in disrepair because the previous owner could no longer afford to manage their upkeep? Instead of providing potential owners like these with incentives to maintain their houses, those incentives are given to investors. This ordinance thus risks pushing struggling homeowners out, raising rents, and prioritizing developers' interests over those who are precariously housed or unhoused.
Bangor's "solutions" to solving the affordable housing problem are in fact making it worse.
Building More
In June 2022, the city passed an ordinance that allows for large historic homes to be converted into boarding homes that provide private rooms and shared living spaces for tenants. This measure again relies on the market to diversify the housing stock and on the good will of market actors to create affordable housing. As reported by Nicole Ogrysko of Maine Public Radio, city planners say boarding homes attract "young professionals" and "could provide more affordable options for older residents on fixed incomes." While the overall desire might be for the city to attract younger professionals as well as investors who will bring tax revenue to the city, there is no guarantee that this will increase the affordable housing stock in the area. It will, like tiny homes, help to redefine what is considered acceptable housing while increasing opportunities for investors to continue profiting from housing.
Another ordinance allows developers to build permanent supportive housing, "which provides on-site support services but does not have a limit on how long tenants can stay." While probably the most promising of approaches the city has pursued, this again relies on the market and nonprofits to fulfill the housing needs of a community. It does not disentangle housing from market forces and for nonprofits, it creates an incentive to invest their revenue in real estate. Contradictorily, this approach incentivizes the continued effects of the housing crisis, instead of encouraging lasting solutions.
To address the housing need in Bangor, officials have approved plans to build more than 300 units of housing over the next year. Yet again, this solely relies on market forces and the belief that increasing housing stock, no matter the type of housing, will address homelessness. One developer opted for a site that was close to a high school and shopping center, and some developers admittedly chose to develop land because it was cheaper than renovating old buildings. A developer was quoted as saying, "As a developer, you just gotta go with it, but it gets to the point where if the price of developing gets too high, which it's getting to that point, then you can't get enough rent out of the places to make it all work." Onerous code requirements are among the barriers to building affordable housing, according to these developers.
Recently, the city has explored a couple of other solutions. City officials proposed using "emergency management" tactics to move people from encampments to, ideally, some form of shelter, and then use that movement as an opportunity to "reclaim" public land where these encampments reside. In essence, the city proposed homeless encampment sweeps by marketing them as emergency preparedness. This sanitizes homeless encampment sweeps as a necessity for the safety of people living in encampments (similar to New York City Mayor Eric Adams invoking the city's "moral obligation" to forcibly hospitalize unhoused people) and is unlikely to be a bridge to permanent housing.
City officials also proposed an ordinance that would ban camping on public property when there are shelter beds available. This ban was to be modeled from a recently implemented ban in Portland. Some councilors were hopeful that the camping ban would take effect on Jan. 1. This is when encampments would be at their lowest capacity, putting the city in position to keep people from building encampments when, inevitably, they are forced to return outside when the weather warms. So far, it is unclear when this camping ban will go into effect. However, it is clear that the intention of the ban, alongside "emergency management" approaches, is to "reclaim" public land from unhoused people who have limited places to go, which benefits the landowners throughout the city.
Another approach that the city is pursuing, and local nonprofits have promoted, is the use of Pallet, a public benefit corporation that designs and builds shelter villages. However, during a presentation by Pallet for the city, the organization said that its units are as small as 64 square feet. Additionally, these villages often have strict rules; the presenter noted a "code of conduct" that everyone must follow, including a requirement to meet with an assigned service provider or case manager. Pallet's small units, extensive rules, and temporary nature make it a poor choice for Bangor. By confining and concealing suffering away from residential neighborhoods without addressing the conditions that led to it, these shelters contribute to rising property values and rents.
The Blame Game
Throughout this battle for affordable housing, city officials have blamed unhoused individuals for their situation, thus avoiding taking responsibility for public policy's role in the process. The city has even blamed other municipalities and organizations for "dropping people on our sidewalks or providing bus tickets or cab fare to Bangor," without providing any evidence to support their claims. They note that homeless shelters "had multiple beds available, yet some people still chose to live in encampments," without acknowledging that congregate shelters can be dangerous places in the midst of a pandemic. They conflate substance addiction and mental health issues with homelessness, without considering that both can be caused by homelessness (and that they are not on their own causes of homelessness).
In all, the city council claims that the groups they say send unhoused people to Bangor without support "are failing to address their obligations and are shifting responsibilities to this city." Given this attitude, it is not surprising that the city is clearly avoiding its responsibility to individuals experiencing homelessness and precarious housing by off-loading it to the free market, nonprofit groups, and churches.
While Bangor, Maine, may seem like an obscure town whose housing issues are only significant locally, its pursuit of affordable housing may be instructive for other places fighting homelessness and precarious housing. Bangor's implemented and proposed policies reveal that, under the framing of "affordable housing," the city is actually promoting gentrification and the removal of unhoused and precariously housed people from the city. Given the nationwide focus on affordable housing as a solution to the housing crisis, activists and other concerned citizens should interrogate the impact of their own communities' policies.