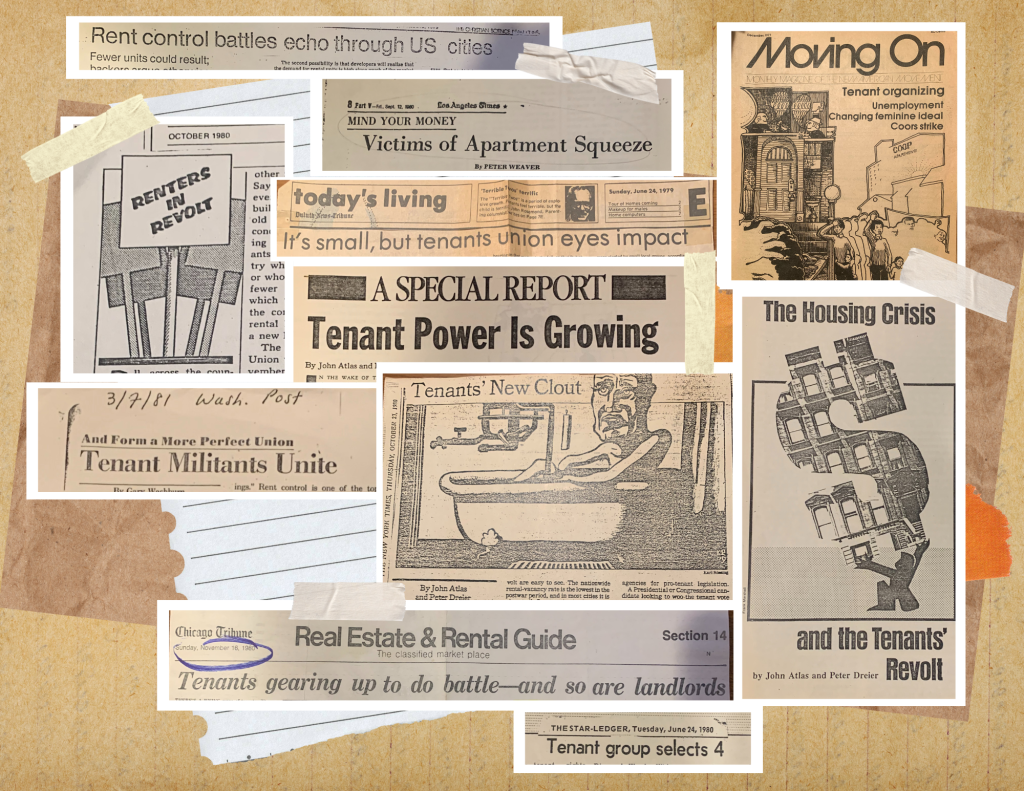 In 1974, I worked as a legal services lawyer in New Jersey, as did my brother Ronnie, who was also a co-founder of the New Jersey Tenants Organization (NJTO) and the top aide to the mayor of Orange, New Jersey. NJTO had won rent control battles in dozens of towns and cities and was about to get the state legislature and governor to pass a tenants bill of rights that included ending unfair, arbitrary evictions, protecting security deposits, and enacting reforms that tenants could use to force landlords to maintain their property in livable condition.
Wanting to connect with others doing the same work across the country, Ronnie and I called together a small group of citizen activists who lived in and around Newark, including five NJTO leaders, and suggested starting a national publication. I wanted to use it to draw together other activists across the country and build a national tenant movement.
We met at the East Orange house of Pat Morrissy, another tenant organizer. The house was a dilapidated, boarded-up 13-room Victorian that he and Ronnie intended to restore as part of reversing the rapid widespread deterioration of that city. We sat around a large wooden dining room table Pat had made from a discarded door. The first to arrive was Phyllis Salowe-Kaye, a former Newark teacher, who had agreed to organize the East Orange Tenants Association. (She is now the longtime director of New Jersey Citizen Action). "So what's this latest thing that John wants us all to do?" Ronnie and Pat laughed. Phyllis sounded skeptical about my latest proposal, but she stuck around.
Next came Woody Widrow, a VISTA organizer with the Newark Tenants Union. Soon came Frank Hutchens, a Newark tenant leader; Stan Varon, a housing poverty lawyer; George Conk, a Rutgers law student; and Marty Bierbaum, a lawyer and Rutgers professor of political science. And Shelterforce was born.
We decided there would be no one in charge, no hierarchy, and we called ourselves a collective, a popular idea among some of the leftists in the '60s who hoped that our "movement" organizations would reflect the kind of equality we would bring about in the broader society. We worked collaboratively, sharing responsibilities for all aspects of the work. At the time, tenant organizing seemed to be growing in most big cities, and we slowly began to connect with activists across the country, sharing their victories, defeats, and strategic ideas.
We covered our printing and postage costs through fundraising parties, and with Creedence Clearwater Revival, the Nitty Gritty Dirt Band, The Band, John Prine, and Bob Dylan playing on the record player, we chattered, laughed, and worked on producing Shelterforce.
We published the first issue in April 1975. The four-issue annual subscription price began at $3, but for at least a year we sent it out free to lists of people and groups that we received from the National Lawyers Guild and from tenant and housing groups.
For the next two years, through letters, phone calls, and subscriptions, we could see and hear activists overcoming their sense of isolation and beginning to feel part of something more significant. Shelterforce was becoming a cheerleader for the movement, giving tenant leaders around the country a national voice and a sense that they could make a real difference in improving people's lives. We began to get requests from tenant activist groups to come to their cities for education and training. Our plan to use the new publication to help give the national housing movement a left-leaning populist voice was succeeding.
A Time of Tenant Organizing
I had friends active in anti-poverty programs. The Democratic Socialist Organizing Committee and the National Lawyers Guild engaged in tenant organizing in several cities across the country. The Massachusetts Tenant First Coalition, a statewide group of tenant unions, fought a sizeable corporate landlord for over six years using rent strikes and eviction blocking. The Michigan Tenants Union, after six years of rent strikes, won an unprecedented collective bargaining agreement with one of Detroit's largest landlords, lowering rents and increasing maintenance. A massive rent strike was growing at 30 to 40 apartments per day, uniting Detroit Public housing tenants to stop a 400 percent rent hike. Rural tenants in Pennsylvania and Hawaii were engaged in direct action to save their homes against large corporate developers. In New Jersey, the longest public housing rent strike led to a negotiated settlement increasing tenant participation in management. Mobile homeowners were striking in Delaware. In New York an increasingly more militant squatters movement was growing. In a review of Colin Ward's Housing: An Anarchist Approach for Win magazine, a publication of the War Resisters League, I wrote, perhaps slightly exaggerating, "In nearly every city in the country, tenants were engaged in rent strikes, eviction blocking, tenant takeovers, and other struggles against unscrupulous landlords, greedy banks, and the uncaring machinery of government."
It would take two more years for the mainstream national press to step up its reporting on the growing affordability problem for renters and the fact that tenants were fighting back, though coverage still  tended to have an anti-tenant slant.
In January 1979, U.S. News & World Report ran an article headlined "Landlords vs. Tenants: Why Clashes Spread." The subhead: "Inflation is driving up rents but not fast enough to relieve the squeeze on many property owners. The effect could be to deepen today's slowdown in apartment buildings."
In March 1979, The New York Times published an op-ed of mine that angered the banking industry. I urged New Jersey's governor and legislature to oppose the banks' lobbying efforts to be allowed to raise mortgage rates even higher. They edited out all references to the tenant movement, though.
In April 1979, Time magazine ran a story with the headline: "Catching the New York Disease." The subhead: "Rent control starts to spread across the country." The article blamed the tenant movement's misguided demands on the Campaign for Economic Democracy, a group formed by Tom Hayden and Jane Fonda when they decided to take a lead role in California's rent control movement. However, it was one of the few news articles to mention organizing.
The local press outside New York, New Jersey, and California began covering tenant organizing and their reporters called us for quotes.
In October 1979, a producer from "It's Your Business," a nationally syndicated public affairs TV program, invited me to discuss the national housing crisis and rent control. Produced by the United States Chamber of Commerce, the program reached about 55 percent of the nation's homes.
Launching the National Committee for Rent Controls
In the midst of this energy and attention, I recruited leaders from Shelterforce and NJTO to plan a national meeting in November 1979, to bring tenant activists from across the country to Newark to map out a nationwide campaign for tenants rights.
The setting was Independence High School, a free alternative non-public school for kids in trouble, housed in an old Venetian blind factory in the East Ward. This project was a direct legacy of community organizing efforts begun by Students for a Democratic Society in the mid-1960s.
When I spoke to the activists from 50 tenant groups who gathered, I had to clearly identify myself as the vice president of NJTO and one of the founders of Shelterforce and not mention my job at Essex County Legal Services (ECLS) since the conservative bureaucrats at the National Legal Services Corporation that funded ECLS might accuse me of engaging in prohibited political activity.
I welcomed the crowd: "I am excited that we have squeezed into this intimate meeting room over 100 tenant activists from over 17 states, from Miami Beach to Seattle, Burlington to Los Angeles." Then raising my voice, "This reflects the groundswell of activism across the country." The hyped-up group cheered loudly. "We called this meeting because the U.S.'s social, political, and economic conditions seem to parallel those of previous periods that led to national price and wage controls. We are tired of speculators and gentry invading our neighborhoods driving up rents and converting rental units into high-priced condominiums, and pushing out many low and moderate-income tenants in the process. We need to end bank redlining, arson for profit, widespread abandonment of buildings, and the danger of homelessness."
Since most of the groups represented at the conference—and many similar groups who weren't able to attend—were involved in fighting for rent control, I said, "We will learn how to win rent controls. We will learn how to organize to keep rent controls. And we will organize to create a tenant movement." More cheers.
I continued, "Our budding tenants movement is like the early stages of the women's movement and the civil rights movement and the labor movement, deepening tenants' consciousness. Tenants are beginning to think of themselves as members of a group, with common problems."
I warned of the growing influence of landlord and business groups organized at state and national levels challenging tenant activism. I introduced Chester Hartman, the eminent urban planner and housing expert who had recently started the Planners Network, an organization for radical planners. He spoke about the propaganda battles in San Francisco between landlords and tenants that resulted in the defeat of rent control.
Rent control was experiencing a national resurgence, with some form of it in effect on a state or local level in nine states and the District of Columbia. Seventeen other states had rent control proposals under consideration.
Art Skelton from Santa Monica, California, told the crowd that Santa Monica had recently established the only elected rent control board in the country: "The tenants movement slate won all five seats!" The crowd stood and cheered.
One of the main tensions of the meeting was how much attention to put into national electoral campaigns. Cary Lowe from California Housing and Information Organization and a tenants rights specialist for the Campaign for Economic Democracy called for injecting tenant issues into the presidential campaigns. Others felt strongly that the group shouldn't use its scarce resources for that purpose. "I don't think we can afford to focus on Washington right now," said Chris Hodges of a Cambridge, Massachusetts, organization. "We have to continue working at the grassroots." Eva Gladstone from Philadelphia joined those against building a national organization with an electoral lobbying focus.
After three days of workshops, panel discussions, and small informal meetings, I chaired a final raucous steering committee meeting that ran for three hours and was attended by just about anyone still in Newark. We agreed to set up a national tenant information network we called the National Committee for Rent Control and to begin the plans for a permanent national tenant organization with a grassroots organizing focus. The office would be at the home of Shelterforce.
In a December 1979 issue of In These Times, Peter Dreier wrote an in-depth story on the Newark meeting. Near the beginning of the piece, he quotes me saying to the participants, "Shelterforce get calls and letters from all over the country asking our advice on everything from how to get a landlord to make repairs to how to organize a rent strike or how to write a rent control law. We thought it was important for local groups to learn from each other and begin making connections. That was one of the reasons we initiated this meeting."
Peter quoted the venerable tenant leader Jane Benedict, a founding member of the 21-year-old Metropolitan Council on Housing in New York City, expressing the common sentiment of the meeting: "Real estate and banking are the same all over. They see housing as a way to make profits. We see it as a place to live. Until the profit incentive is taken out of housing, tenants will have to keep on organizing."
Sleeping Giant
Shelterforce founders and volunteers, and new young activists got to work. Like many groups with few staff and volunteers, those who did the work and raised the money would determine the group's direction.
We needed a phrase that would get the attention of tenants and pace-setting opinion-makers. Dreier and I tried out several ideas. Finally, in the January/February 1980 issue of Social Policy, we referred to tenants—more than one-third of the nation's households—as "the sleeping giant of American politics."
The piece caught the attention of Ann Beaudry, the head staffer at the Conference on Alternative State and Local Policies, whose members included Sens. Kent Conrad and Byron Dorgan of North Dakota, Rep. Barney Frank of Massachusetts, and from NJ,  Essex County Executive Peter Shapiro. Beaudry sent the article to all her members.
Soon after, a limousine came to my house to take me to the Manhattan NBC studio for an interview with Phil Donahue on The Today Show, where I made sure to say that tenants were the sleeping giants. Peter and I got the sleeping giant phrase into a Washington Post op-ed in April 1980 as well. In that op-ed we called for "increased subsidies for renters; grants for tenant-controlled cooperatives; income-tax deductions for tenants (for their share of a landlord's mortgage-interest and property-tax payments); increased mortgage interest rates for luxury housing and reduced rates for necessity housing; protection against condominium and cooperative conversions and arbitrary evictions; an assistant secretary for tenant affairs at HUD; and a National Landlord-Tenant Relations Act to protect tenant organizing."
National Tenants Union
In June 1980, Shelterforce organized the first official National Tenant Organizing Conference. Sponsored by the National Committee for Rent Controls, it was held in Cleveland.
The conference hosts included the Cleveland Tenants Organization and the local Lawyers Guild chapter. We changed our name to the National Tenants Union (NTU). Shelterforce was well represented in the elected leadership of the new organization. I gave the keynote address and made one of the worst predictions ever: "We intend to make the 1980s the decade of tenant rights."
In the fall of 1980, NTU faced its first national political test. After a striking 2-to-1 defeat of an anti-rent-control proposition in California that June, the National Multi Housing Council (now known as the National Multifamily Housing Council) tried to knock the steam out of the tenant movement by getting Ohio Republican Rep. Chalmers Wylie to introduce an amendment in the House of Representatives to a spending bill that would prohibit using certain federal funds in cities with rent control laws.
From the Shelterforce office, on behalf of NTU, Woody Widrow coordinated a national response to the amendment, encouraging local tenant and community groups to contact their congressional delegations. We were disappointed when the amendment passed the House with a comfortable majority. Ironically, much of the opposition came from conservatives opposed to federal interference in local matters rather than supporters of rent regulations. We encouraged our grassroots groups to continue lobbying against the amendment. Fortunately, the House version of the 1980 housing bill with the anti-rent control amendment was not passed.
Reagan Era
After Ronald Reagan's election, New York Sen. Alfonse D'Amato took up the mantle to destroy local rent control. Once again, NTU members lobbied successfully to kill the federal bill. But now the NTU faced a growing powerful counteroffensive that threatened the progress made in the late 1970s. The juggernaut led by the national real estate industry was encouraged by the Reagan administration and supported by a right-wing grassroots movement far stronger than any countermovement on the left. At the same time, the Reagan administration began to dismantle many of HUD's programs and slash its budget.
Tenant organizing continued to surge. To keep it on the national radar, Dreier and I published an op-ed in The New York Times in October 1980, headlined "Tenants' New Clout." To make it timely, we connected it to the election: "The Presidential candidates have overlooked an important, increasingly active constituency." To reinforce the message and increase the likelihood of its retention among tenants and the pace-setting opinion makers, we repeated the sleeping-giant line: "Tenants—more than one-third of the nation's households—are the sleeping giant of American politics."
I was the keynote speaker at the founding of the Massachusetts Tenant Organization, modeled after NJTO, and organized by Peter Dreier, Lew Finfer, and John McDonough. In Chicago, long organized at the neighborhood level, I was helping Jack Kaplan organize a citywide tenants' union. In May 1981, I told the crowd at the founding meeting of the Chicago's Metropolitan Tenant Organization about how the fledgling New Jersey Tenant Organization had solved the problem of publicity in the beginning by claiming in all its press releases that we had 500,000 members. At the time, while thousands of tenants were organizing, NJTO had about 50,000 members. "The point," I said, "is that the appearance of power is often more important than the reality of power. As Saul Alinsky had argued, it's sometimes necessary to exaggerate things at the beginning to give tenants a sense that there's a big and powerful group out there. If you follow up with an effective strategy, it will become self-fulfilling as tenants begin to join.
I also told about a survey that had discovered that a large percentage of apartments did not have smoke detectors, which are required by law. The survey was conducted by calling a few leaders of the tenant unions. It was reported upon in the press, and suddenly tenants were getting smoke detectors in their buildings. "You have to be pragmatic," I said. "We need to do almost anything to win." That attitude is necessary, I said, because the opposition in the real estate industry will do anything to win.
And indeed, they were organizing too. In November 1980, Gary Washburn, the Chicago Tribune's real estate editor, wrote: "Property owners, who steadfastly insist that they're also victims of rising costs, have not been sitting back watching tenant groups push for their goals. The National Rental Housing Council, a landlord group founded about three years ago, has been joined by condo developers seeking to present their views in Washington. The organization has been rechristened the National Multi Housing Council, and it is making its voice heard."
In July 1981, 300 tenant activists gathered in Washington, D.C., for a weekend meeting of the National Tenants Union, which leaders hoped would keep building the movement and lobby Congress on the rent control issue. Congress was again considering legislation that would withhold federal housing subsidies to cities with rent control laws, affecting about 200 cities, including New York, Boston, Washington, and Los Angeles.
"This legislation is an attempt to stem the tide of the growing tenants movement,' said David Sullivan, a city councilor and tenant leader in Cambridge, Massachusetts, in a UPI article. Sullivan said Cambridge, which also had rent control laws, would be severely affected if the proposed legislation was passed and "we're here to see that it doesn't happen." NTU activists convinced House Speaker Thomas P. O'Neill to oppose the proposal and work with them to defeat the proposed legislation. The anti-rent control legislation, sponsored by Sen. D'Amato and Rep. Wylie, was passed by the Senate Banking Committee but defeated in the House Banking, Finance and Urban Affairs Committee.
"With rents rising and no place to move, tenants have a greater stake in their apartments," Carole Norris, leader of the California Housing Action and Information Network (CHAIN), told the wire service UPI.  "They now realize that they are not 'temporary' tenants any longer, but that they may be renting for the rest of their lives."
Woody Widrow recalls that at the 1982 NTU conference in Santa Monica, California, there was a lot of energy and excitement around the creation of a platform that would "provide a guide to action for a powerful and united national tenants movement." The platform's principles included fighting displacement and discrimination and expanding tenants rights, public sector housing, urban development, and rent control.
Decline
After the mid-1980s, the tenant movement began to decline.
At the 1984 annual conference of NTU, held in Detroit, delegates discussed the attacks of the Reagan administration on affordable housing and adopted a resolution, proposed by the Met Council on Housing, a New York City tenant organization, that NTU should sponsor an "evict Reagan" campaign during the fall election season. Members went back to their localities, prepared brochures, and set up phone banks. They urged tenants to register to vote and then to use their votes to "evict Reagan." Reagan was, of course, not evicted, and his win was horribly dispiriting.
NTU's last national event occurred the following year in New York City. In places like Massachusetts and California where rent regulation laws were repealed or gutted, tenant groups struggled to survive. Even in New York and New Jersey, the tenant movement, which had focused on rent control, did not offer much to low-income tenants who were facing mass abandonment, redlining, discrimination, gentrification, and cooperative and condo conversion. Activist low-income   tenants were left to survive by squatting, conducting self-help "sweat equity" rehabilitation, and tenant management. For them, fighting for rent control became irrelevant.
Although the treatment of tenants remained a serious problem in most U.S. cities, the "pro-housing" lobby that gained power was made up of those with a direct financial or political stake in housing the poor—big-city mayors and local government housing bureaucrats, private housing developers, landlords, and speculators who scooped up federal housing subsidies. Groups concerned with representing the poor were politically weak, fragmented, and generally viewed unfavorably by members of an increasingly suburban Congress and white middle-class homeowners.
The pro-housing lobby did not fund tenant organizing, and to make matters worse, it began to characterize the poor as undeserving, joining the right wing to stereotype and stigmatize them by questioning their morality and values. Blaming the victim served to discredit the war on poverty and future programs to help the poor. The union movement was collapsing, the civil rights movement shifted to focus less on increasing jobs and wages and more on affirmative action, while neoliberals joined the right in abandoning public housing for the poor and working class in favor of massive subsidies for developers.
Foundation-supported affordable housing groups agreed that Washington should provide more funding for affordable housing but disagreed on many other things, like rent control, enforcement of antidiscrimination laws, and where federal funds should go—directly to developers or through city halls.
It became hard to raise money for tenant organizing. With a few exceptions, including ACORN and founding groups in New York, New Jersey, and California, NTU's member organizations faltered, leading to a smaller member base. Woody recalls that beyond successfully lobbying against federal anti-rent control legislation, finding national issues to act collectively on was hard. Many citywide tenant organizations were consumed with local casework and direct assistance and often fought battles with well-funded real estate groups on multiple fronts, including urban renewal, condominium conversions, gentrification, and displacement. They didn't have the staff and resources to devote to state and federal fights as well.
Shelterforce made one last effort to build a national affordable housing coalition that would operate like NJTO, but it fizzled in the early 1990s.
Some tenant activists believe the decline in tenant organizing partly reflected the transformation of the political climate in the Reagan years. "Back then, we were all angry; it was a movement era," Iraida Afanadoor, director of organizing for Philadelphia's Tenant Action Group, told Shelterforce in 1999. "People don't have the fight and anger channeled properly."
Others blame the shift away from tenant activism on the professionalization of activists. "People got older and settled down, took on careers," says Mike Rawson, who helped start the Oakland Tenants Union in 1979, became a legal services attorney around the same time, and served as president of CHAIN for four years, fighting unsuccessfully for tenant-friendly state legislation.
[RELATED ARTICLE: Tenants Unions Are How We Win in the South]
Most of the founders of Shelterforce and NJTO illustrate this evolution. We began as tenant activists but pivoted toward affordable housing development and community reinvestment. We pushed NJTO to help build the multi-issue grassroots groups New Jersey Citizen Action and the New Jersey Public Interest PAC. With the decline of the tenant movement, Shelterforce focused less on organizing and tenant rights and more on community development and reinvestment, in part because they were emerging housing issues, but also because we followed the Willie Sutton rule: that's where the money was (from banks and foundations).
What the Tenant Movement Taught Me
I've learned the following from observation and participation in the tenant movement:
The movement was haunted by its early failure to attract lower-income public housing tenants to join its largely white middle-income and working-class tenants. Missing that large group of tenants undermined the ability of the tenant movement to be cross-racial and to represent the poorest tenants.
The best tenant leaders become familiar with the community organizing methods of Saul Alinsky and ACORN, and build their groups by reaching out to friends, leaders, and followers, to encourage their participation. Their road to victory is paved with various tactics, including lobbying, organizing, rent striking, and marching. Their tactical arsenal includes engaging in elections and effective public relations. They are careful not to rely too heavily on one tactic, such as elections, lobbying, or direct confrontation. The rent strike, for example, will not lead to lasting control over rent increases or the enforcement of codes.
The best leaders collect dues, have fundraisers to pay for expenses, and, at some point, hire skillful community organizers. Many reach out to allies across racial, ethnic, and class lines, working with multi-issue community organizing groups and unions and joining national groups like Citizen Action and the post-ACORN groups.
While only grassroots, bottom-up social movements can reduce inequality and improve the lives of the disadvantaged, poor and working class, transformational leaders are essential. A national movement depends on tough, tireless, unafraid, empathetic local, state, and national leaders who understand that their groups need power to achieve their goals and protect what they value. 
This article was excerpted and adapted for Shelterforce from John Atlas's forthcoming memoir, tentatively titled Building a Movement or Spinning My Wheels?

This article is part of Tenant Power Returns, an Under the Lens series produced by Shelterforce. If you're enjoying the series, consider making a donation to our newsroom. Donate Today.