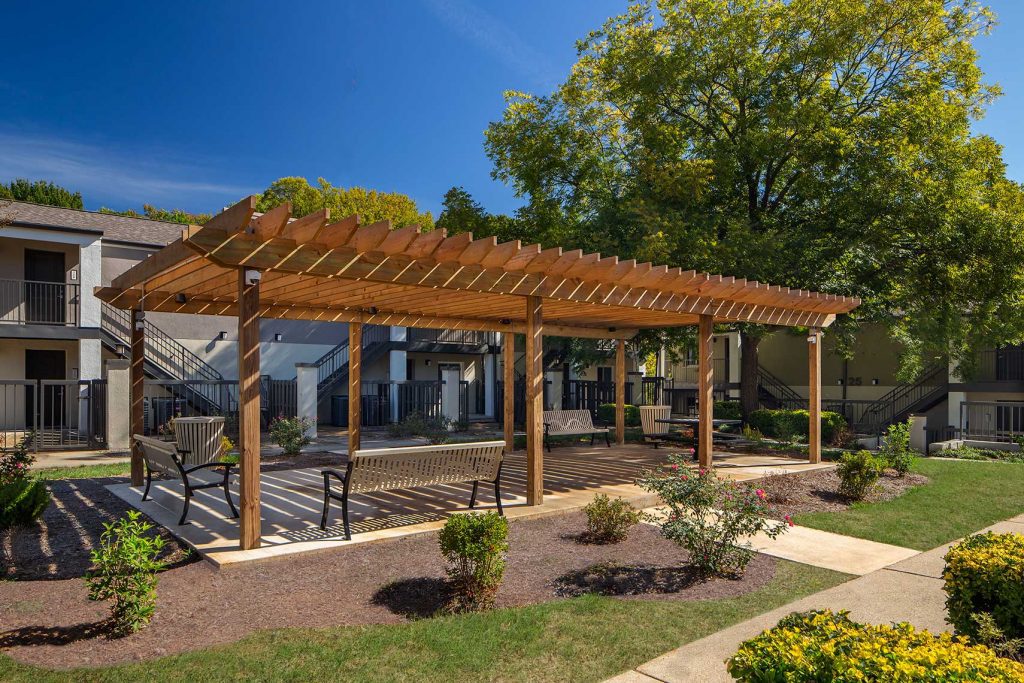 Atlanta's Edgewood Court affordable housing development needed substantial repairs and upgrades when Jonathan Rose Companies and Columbia Residential teamed up in 2017 to renovate the aging 200-unit complex.
Now the complex, renamed Amani Place, contains 222 apartments, all designated for low-income households. The renovation brought a range of new amenities specifically aimed at improving resident and community health: Outdoors, a fitness circuit promotes physical activity, street and sidewalk infrastructure encourages safe walking, and a community garden provides fresh produce. Indoors, integrated pest management and environmentally friendly products improve air quality, all units have a view of nature from at least one window, and a communal kitchen and community center offer spaces for cooking classes, healthy eating demonstrations, social interaction, and onsite programming.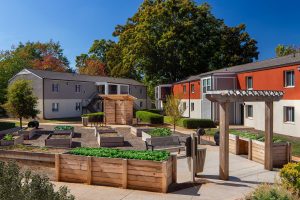 Some of these health-conscious design features came to be thanks to Fannie Mae's Healthy Housing Rewards financing incentive initiative. Launched in 2017, the program offers reduced interest rates for developers who incorporate healthy design and/or healthy resident programs in their new or rehabbed rental properties that set aside at least 60 percent of units for households earning no more than 60 percent of the local Area Median Income.
The initiative's Healthy Design pathway offers a loan rate discount of up to 15 basis points to developers who incorporate health-promoting features like those of Amani Place. For that project, that savings on the long-term loan translates to roughly $35,000 per year, helping to fund health-oriented features and leverage some $500,000 in additional loans to finance the renovation, according to Lori Stanlick, vice president of social impact at Jonathan Rose Companies. "The incentive pushes us to think beyond even our mission-minded toolkit and beyond our standard greening and social programs to add specific health and fitness-focused features," Stanlick says.
The program's second pathway, Enhanced Resident Services (ERS), offers loan discounts of up to 30 basis points to help fund high-quality resident services. Borrowers with strong and sustainable resident services offerings can save between $15,000 and $75,000 per year, according to Fannie Mae, which can then be used to offset resident services costs for the life of the loan.
Bob Simpson spent 20 years with Fannie Mae and was instrumental in designing the Healthy Housing Rewards program. "It's based on the idea that when renters are healthy and stable, properties are healthy and stable," says Simpson, who now advises companies on affordable housing and impact investing opportunities. "Once we explained the concept, everyone was on board."
Supporting a Growing Need for Resident Services
Deidre Schmidt, president and CEO of St. Paul-based CommonBond Communities, says the ERS incentive has brought welcome funding for resident services in four projects so far, ranging from new construction of a mixed-use, mixed-income development to the preservation or rehab of properties the nonprofit acquired or owned. The incentive covers an average of 60 percent of resident services costs for the four sites.
"I am so excited that Fannie decided to do this," Schmidt says. "For the first time, there has been recognition by a capital funder that the services that are provided matter. They are basically providing a discount—'taking a haircut'—in order to allow the property to pay for resident services."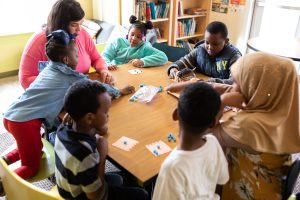 Jennifer Nielsen, CommonBond's director of programs, says their resident services include core elements—eviction prevention, support services, and community-building events—along with employment and financial services, health and wellness activities, homework centers, and teen programs. The organization tracks such outcomes as reduced falls for seniors engaged in health and wellness programs, stability of tenant tenure for households receiving interventions, and improved reading levels for children receiving homework help. All these features, along with strong infrastructure to continue providing the services, helped CommonBond qualify for the financing incentive.
The need is only growing in the areas CommonBond serves.
"The resident services provided are getting more and more intensive—much more case management focused on issues like addiction," says Nielsen. "We're finding we need more staffing—so anything like this incentive that helps offset that cost is helpful."
While the value of resident services seems clear, Schmidt emphasizes that resident services dollars are hard to find.
Simpson concurs. "The cost to own, operate, and manage properties goes up—and it also costs money to provide resident services. If you're generating income from rent and trying to keep rent affordable to low-income families, then it's really hard to figure out how to finance resident services. Some have formed partnerships with philanthropy, but it's not easy. You want to figure out the most efficient way to do it. That's a question owner-operators are dealing with all the time," he says.
External Certification Requirements
In devising the Healthy Housing Rewards incentives, Simpson says, it was crucial to find a legitimate third-party standard. Both the Healthy Design and ERS pathways rely on external certifications.
For the Healthy Design incentive, a property must meet the standards of the Fitwel certification system, created by the Centers for Disease Control and Prevention and operated now by the Center for Active Design (CFAD). Fitwel assesses a property or portfolio for a set of design features proven to promote physical, mental, and social health. A recent webinar on bridging research and practice for healthy affordable housing highlights the Fitwel process and the Amani place case study.
"There's an amazing body of research from around the world, but it really hadn't been translated into direct strategies of building design and operation. That was a missing piece of the puzzle. That's why we haven't until now seen the real estate industry considering itself part of public health," says Joanna Frank, CFAD's executive director. "Fitwel has taken the evidence, translated it, and created strategies."
The Fitwel process begins with a benchmarking tool that identifies which health-promoting design features are already in place and where gaps exist. "That gap analysis becomes your to-do list," Frank says, in preparing for full Fitwel certification.
"It's not rocket science. And it's not expensive changes," she says. "It can be simple things like having access to light and air, seeing nature, having well-maintained grounds, community gardens—all of these things you've probably done before somewhere, but you weren't doing them with awareness of the physical and mental health benefits."
According to Active Design Advisors Inc., the CFAD subsidiary that markets Fitwel, 233 organizations have received Fitwel certifications, though only nine projects across seven organizations have benefitted from the Fannie Mae design incentive so far.
For the ERS pathway, an organization must have achieved Certified Organization for Resident Engagement & Services (CORES) certification, a tool developed and administered by Stewards of Affordable Housing for the Future (SAHF).
Completing the CORES process, which entails some 50 questions assessing an organization's commitment to and capacity for high-quality resident services, is rigorous and can be humbling, many say, but also rewarding.
"The process is not light," says Schmidt of CommonBond Communities. "It really tests whether organizations have what it takes to provide services over the life of the loan. We considered ourselves among the strongest integrated service providers. But the fact that the CORES process made us better, made us improve some things, was good for us."
Flynann Janisse, executive director of Rainbow Housing Assistance Corporation, a third-party resident services provider operating in 19 states, says, "The CORES certification took us about a year to get through, and we felt we're a pretty sophisticated organization to start with. It is not an easy administrative lift. It's a very high standard, and we honor and value that."
So far, 36 organizations are CORES-certified, says Alexandra Nassau-Brownstone, SAHF's VP of resident outcomes and CORES initiatives. She's seen a rapid increase in certifications in the past year, with an active and growing pipeline of 15 organizations. That increased interest translates closely to growth in ERS incentive use. About 38 loans have occurred under ERS since Healthy Housing Rewards began, with some developers involved in multiple deals, Nassau-Brownstone says—and 25 of the loans were in 2021.
"That's huge growth," she says.
Making the Business Case for Healthy Housing

Frank finds it ever-important to convey the financial rationale for why an affordable housing developer should promote tenant health in designing projects. "We've had to make a return-on-investment argument for all sectors of real estate, and it's harder to do that for affordable housing. An incentive program like Healthy Housing Rewards allows us to put our fingers on the financial scale a little, so that it's in the financial best interest of the developers."
She adds, "We are well aware that real estate industry is a business, so we have to correlate health outcomes with financial outcomes. That's how you get market transformation. And the good news is, there is a direct correlation."
Among the benefits that can be quantified for health-promoting practices is resident stability.
Simpson says, "If you're an investor or owner in a multifamily residential property, it's a long-term investment. If someone stays in place longer, you're not turning over the apartment, you don't have to re-market it. You have a more stable financial standing with your property. And for a renter, the longer you stay in place, the less likely your kids will have to change school districts. These are good things."
For Fannie Mae, it's seen as part of an overall mission. "Healthy Housing Rewards is an opportunity to provide pricing incentives to borrowers who invest in the well-being of their tenants," says Karyn Sper, senior director of multifamily customer engagement at Fannie Mae. "Affordable housing is central to Fannie Mae's mission, and we believe the success of an affordable multifamily property is directly tied to the health and stability of its residents."
Tips and Wisdom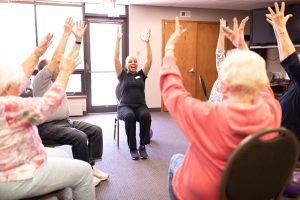 Ready to explore Healthy Housing Rewards incentives? SAHF offers free resources and information for companies considering CORES certification, including a resource library and a webinar covering the basics; Fitwel offers downloadable scorecards and an outline of the certification process.
Nassau-Brownstone reminds potential applicants that CORES is an organization-level certification, not per project. "You need to demonstrate an approach that's been scaled, not just in one or two projects because there was an opportunity. It has to be a thoughtful, system-level approach."
It's also crucial to keep all teams in the loop. "If a developer is looking at this, they should have their director of resident services at the table walking through the process with them, to understand and translate how this applies to their own infrastructure," Nassau-Brownstone says.
Janisse offers a general tip: If there's a funding resource available, use it! It can benefit low-income residents, the firm, the industry, and even larger society.
"In a time when it's difficult to preserve and develop low-income affordable housing, owners should look at every leverage point possible, capitalize on every opportunity that's available to them," Janisse says. "This incentive is valuable. If we can bring stabilization to the low-income affordable housing market, we can bring a greater degree of interest at a public and a political level, so there's an understanding that affordable housing is needed, it's necessary, that there are the means to ensure it's delivered appropriately—and that it empowers economic and social change across the country. That's critically important."