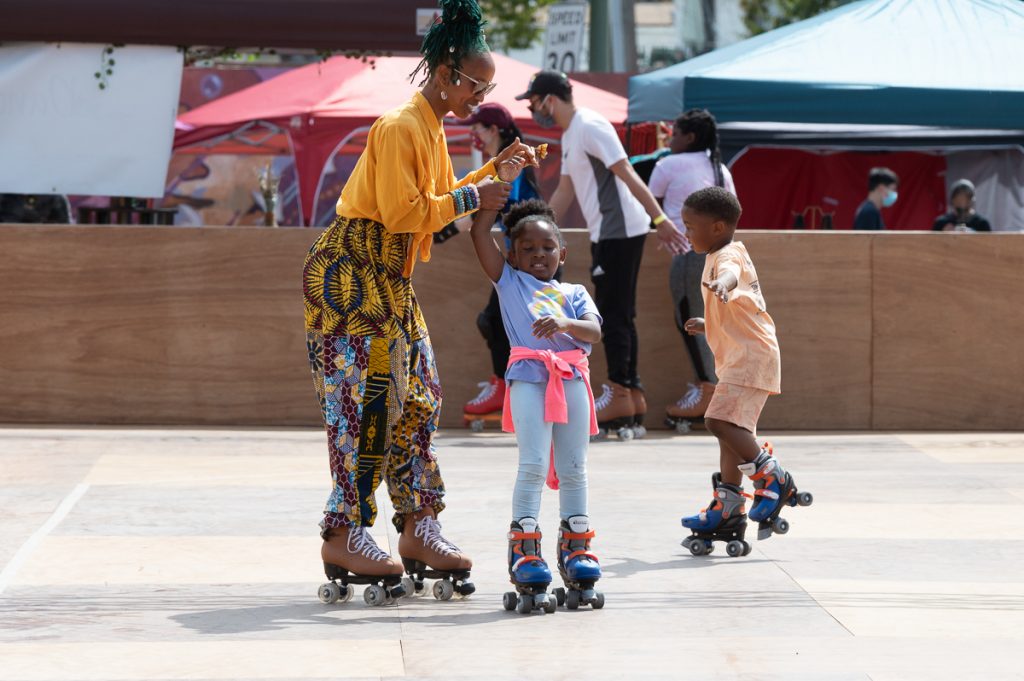 In Oakland, California, mothers who have lost children to gun violence gather to remember their loved ones with storytelling and music. Across town, a vacant lot has been repurposed as an open-air market, where residents can sample Afro-Brazilian food, buy local produce, and take in a dance performance.
In Oakland—and elsewhere—arts and culture are central to community life. The arts enable us to cultivate a sense of belonging, to honor the past, and to envision the future. In this way, arts and culture nurture what sociologists call "social cohesion"—that hard-to-quantify trait that turns "me" into "we."
While the connection between culture and social cohesion is intuitive, research on that connection has been sparse. But a report published this year, WE-Making: How Arts & Culture Unite People to Work Toward Community Well-Being offers new insights. Drafted by Metris Arts Consulting in collaboration with PolicyLink and the University of Florida Center for Arts in Medicine, the report shows how place-based arts and cultural practices can help grow social cohesion.
The Ties that Bind
Social cohesion has been defined as "the extent of connectedness and solidarity among groups in society." Essentially, it means that individuals feel, and act as, part of a group that is oriented toward working together. We know that social cohesion and its cousin, social capital, are linked to a wide variety of good outcomes—among them economic prosperity, good health, and resilience to the effects of climate change.
However, social cohesion is not always benign: hate groups and nationalists function as cohesive in-groups. So, the We-Making report focuses on social cohesion that encourages individuals to act with equitable community well-being in mind.
The term "We-Making" was coined by Carol Bebelle, a cultural thought leader, co-founder of the Ashé Cultural Arts Center in New Orleans, producer, and poet. Bebelle observes that "we have known in our gut for decades and decades that arts and culture are fabulous and magnetic ways to unite people." But it remained unclear how, exactly, that mechanism worked. So, in 2018 a group of funders—The Kresge Foundation, Bush Foundation, John S. and James L. Knight Foundation, Robert Wood Johnson Foundation, ArtPlace America, and the National Endowment for the Arts—sought to explore how place-based arts and cultural strategies connect with social cohesion, and how that connection might be fostered or optimized. (Editor's Note: The Kresge and Robert Wood Johnson foundations support our work.)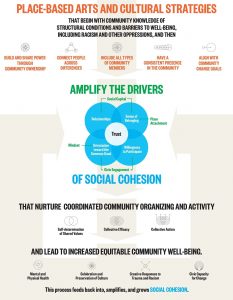 With support from these funders, Metris Arts Consulting examined the complex relationships between the arts, place, and social cohesion, conducting interviews and a literature review and producing a draft report. Then, in 2019 and 2020, PolicyLink and the University of Florida Center for Arts in Medicine brought in additional perspectives from artists, public health practitioners, racial equity advocates, and researchers. The We-Making conceptual framework maps the relationship between place-based arts and cultural strategies, social cohesion, and increased equitable community well-being, was then expanded and finalized.
Case studies from the We-Making report show that place-based arts and cultural strategies generate and amplify social cohesion. Why? According to Victor Rubin, a senior fellow at PolicyLink, "Arts and culture strategies are inherently social. In contrast to programs that support individuals and families, they connect people to their neighbors, to a sense of being part of something bigger than themselves, to a sense that they have a future in this place."
The We-Making report found that social cohesion is an ongoing process, requiring patient nurturing. That nurturing can yield substantial results: the report found that "even modest positive impacts can snowball to create more profound impacts over time." However, social cohesion alone does not guarantee positive impacts, it merely enables coordinated organization and activity. Durable, positive outcomes require further steps: the development of shared values, collective efficacy, and collective action.
The strategies most effective in nurturing social cohesion are ones that build and share power through community ownership, connect people across difference, include all types of community members, have a consistent presence in the community, and align with community change goals to reinforce desired impacts.
Improving social cohesion can promote greater equity in communities experiencing racism, oppression, and structural disinvestment. But equity isn't just the desired outcome of strategies to build cohesion, says Anne Gadwa Nicodemus, who directed Metris Arts' work on WE-Making, "It's also the starting point for such strategies to be effective. They must be community-driven and part of anti-racist efforts that recognize and work to remove the structural barriers to well-being."
The report also identified four "drivers" of social cohesion, which arts and culture can amplify: relationships, a sense of belonging, an orientation toward the common good, and a willingness to participate. Trust is the common denominator in each of the drivers.
We-Making in Oakland
Oakland's Black Cultural Zone (BCZ) shows many we-making strategies at work. The Zone was first envisioned when a new Bus Rapid Transit system threatened to accelerate gentrification and displace Black-owned businesses on a major thoroughfare in East Oakland. Elena Serrano, program director for the EastSide Arts Alliance & Cultural Center, conceived the Zone as a way to preserve East Oakland's remaining Black neighborhoods and businesses.
A coalition of local organizations—including the Alliance, East Oakland Building Healthy Communities, Allen Temple Baptist Church, The East Oakland Collective, and Just Cities—joined forces to create the BCZ Community Development Corporation. Through a series of community listening sessions and other activities, the vision took shape: multiple hubs where neighbors could access resources on housing, displacement, and other issues. From the start, "arts and culture were seen as a tool to invite people to think about how to heal, how to organize, how to advocate and address community needs," says Nehanda Imara, who leads the Zone's community development team.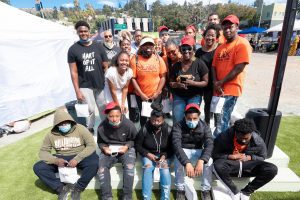 The coalition hired Carolyn Johnson as the Zone's CEO, and plans were barreling ahead when COVID hit. Then, the Black Cultural Zone—like so many other community-based organizations—pivoted to emergency mode: distributing meals and PPE and providing intensive support to keep businesses afloat. The Zone also created its first hub, the monthly Akoma Outdoor Market. Housed in a former vacant lot called Liberation Park, Akoma Market showcases Black- and brown-owned farm stands, food vendors, artists, and small businesses.
The Market embodies several we-making strategies, notably community ownership and having a consistent presence in the community.­ It stands as a cultural cornucopia, with live music and dance, handmade crafts, and foods from all corners of the African diaspora. The land is owned by the City of Oakland, and the Black Cultural Zone Community Development Corporation is in an exclusive negotiating agreement with them to lease and eventually own the land. There are activities for kids, yoga and fitness classes, and even an outdoor roller rink. Importantly, the Market has been a lifeline for local makers and entrepreneurs throughout the pandemic, connecting them with customers and providing business development support.
Johnson hopes to bring cashless trading to the Akoma Market. "During the pandemic," she says, "we realized that some folks simply didn't have any money—but maybe they had a pound of lemons on their tree. What can you trade that for? So another piece of our strategy is building that cashless society." This idea is rooted in culture, Johnson says: "We are a tribal people, a cooperative people, trying to fit ourselves into a system that doesn't allow for that. How do we navigate that world, but still bring in our true culture of cooperative collaboration, to really build a society that works for us?"
Through the Akoma Market and other projects, the Black Cultural Zone is nurturing a more cohesive and cooperative community. It also contributes to climate resilience: research shows that cohesive communities—where neighbors know one another and check on the most vulnerable—are better able to weather the heat waves, fires, and floods of a warming world.
That's why the Black Cultural Zone, along with several other local groups, recently received $28.2 million from California's Transformative Climate Communities Program. The grant supports a wide range of community-led efforts, including affordable housing, bicycling infrastructure, and tree planting. The Zone will take the lead on community engagement, harnessing the we-making power of arts and culture to make Oakland more climate resilient.
For Imara, the Zone's approach to arts and culture shares roots with the environmental justice movement. While mainstream environmentalists often see the environment as separate from human communities, the environmental justice movement, led by Black, Brown and Indigenous people, considers human beings—and the places where they live and work—an integral part of the environment. Similarly, "we don't see arts and culture outside of ourselves," says Imara. "It's inside us, it's a part of us. It's a theme and a thread in everything we do."
Healing Trauma, Personal and Collective
Arts and culture can also help communities process—and heal from—trauma. Be-Imaginative, an Oakland-based collective of artists, healers and community leaders, sought to create a safe space for mothers and families who had lost children to gun violence. "We used all types of artistic mediums to create that safe space," says Benjamin "BJ" McBride. McBride co-founded Be-Imaginative, and now directs and produces films that feature the group's work. "We used poetry, we used music, we used visual art, we used anything you could think of to humanize their narrative and their stories," says McBride.
Be-Imaginative nurtures the drivers of social cohesion, including—most importantly—trust. "We were able to build community in a really unique and authentic way," says McBride. "That's where the magic really begins to flow. Once we were able to build trust, we were able to cultivate a sense of belonging—not just from shared trauma, but around navigating the process of healing."
Be-Imaginative also uses the arts to communicate to the larger community, cultivating empathy for the victims of violence. For example, a project called Dear Beloved features mothers reading letters to their lost sons, set against the haunting backdrop of Oakland's abandoned 16th Street train station, where thousands of African Americans arrived from the Deep South during the Great Migration.
In this way, arts and culture can heal not only individual trauma but civic trauma, says Roberto Bedoya, cultural affairs manager for the city of Oakland. "So often the discourse around trauma resides in the "I" rather than the "we," says Bedoya. "But how are we traumatized? What are the social systems that create disenfranchisement—the segregated schools, the policing? The arts and cultural community is really, really good at creating those mechanisms to address that."
In Oakland and elsewhere, artists and cultural workers are creating mechanisms to address our most pressing issues. They are asking the big questions about where we have been and where we are going, and helping communities heal and thrive. In the language of the We-Making framework, they are strengthening the civic capacity for change.
The We-Making report affirms what we know intuitively: that place-based arts and culture strategies can strengthen the ties that hold communities together—with benefits for individual and collective well-being. More fundamentally, arts and culture help us transcend our subjectivity, encounter the interior lives of others, and see our obligations to one another more clearly—reminding us that, in the words of the philosopher Emmanuel Levinas, "'we' is not the plural of 'I.'"