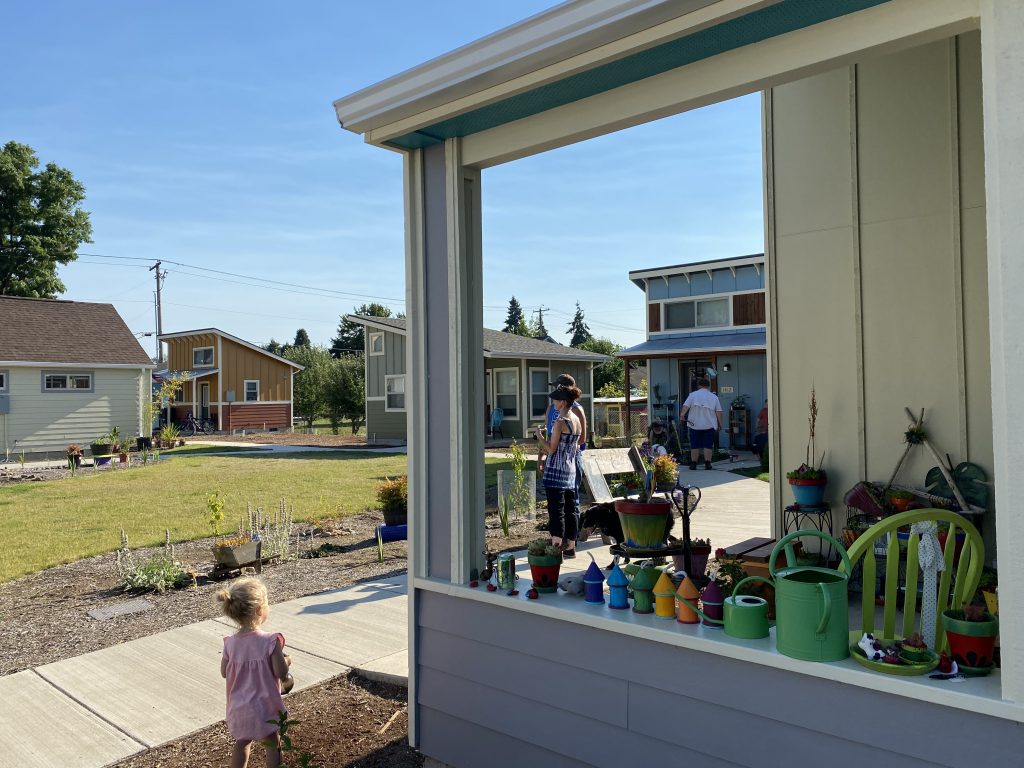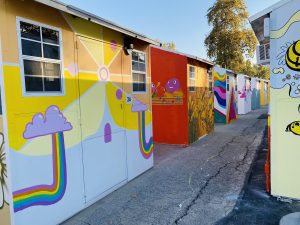 When the city of Los Angeles announced plans last year to create several tiny house villages for homeless people, Ken Craft jumped at the opportunity to operate the sites.
The nonprofit he heads, Hope of the Valley Rescue Mission, had previously run conventional congregate shelters. But since the organization began operating the city's first tiny-house village in February 2021, he's seen how much the residents appreciate their individual, 64-square-foot, temporary dwellings.
"There's something very special about having your own place, that you control the temperature, that you don't have somebody walking by and looking at your space," says Craft, whose group now operates six city-funded villages with more than 600 residents. "You can lock the front door. I think that's very inviting for people."
Andrew Heben of Square One Villages also got his start in transitional housing, helping develop a micro-home community in Eugene, Oregon, that grew out of the Occupy movement. But his most recent project is infill housing—a new limited-equity cooperative with six 384-square-foot units in two buildings—and his next development will have 70 affordable detached homes ranging in size from 278 to 768 square feet.
Both Craft and Heben describe their projects as tiny home villages. Yet tiny homes now exist in such a diversity of sizes and styles, and with such a wide spectrum of occupants and programmatic uses, that the notion of a coherent movement is almost meaningless.  
Organizers of some communities say they hadn't even heard of the trend when they developed their projects.
"We really weren't aware at the beginning. It was just kind of, this is a need, and so we're going to meet this need," says Mike Foster, community manager for Second Wind, an 18-unit village for men who were previously living on the streets of Ithaca, New York.
When Tiny Houses Got on the Map
The modern idea of the tiny house was born in the 1970s but really took off in the late 1990s. Since the 2008 recession, in particular, a variety of home-design trendsetters, elected officials, homeless activists, and others have embraced the tiny house trend in its many different forms. The houses range from extremely small, pre-fabricated Pallet cabins like those in Hope of the Valley's villages, to larger multi-room structures like Square One builds, to miniature houses on wheels and even luxurious vacation homes.
In recent years tiny homes have been increasingly used as transitional housing for people experiencing homelessness. There were at least 1,200 such homes in 34 active villages across the country as of July 2019, according to a University of Missouri study. Such communities have rapidly proliferated since then, especially municipally sponsored transitional villages like those in Los Angeles.
'Leaving people out on the streets for years at a time while you're trying to build affordable housing is cruel and inhumane.'
Pallet, the Washington State company that makes the shelter units used in many cities, lists 50 villages on its website with a total of 1,740 two- or four-person Pallet cabins. A unknown number of other villages have shelters made by other companies, tiny houses on wheels, or permanent structures built on-site. The figures also do not include thousands of other very small homes that have been built as low-cost or affordable housing, for rent or ownership, whether by housing organizations or privately.
As varied as they are, tiny home villages do tend to share several common features, starting with their small unit sizes. Tiny homes are typically defined as less than 400 or 500 square feet in size, much smaller than the U.S. median size of about 1,600 square feet for a single-family home or 1,075 square feet for a newly built apartment.
Village managers like Foster say residents prize the privacy and autonomy tiny houses provide, especially people living in transitional-home villages who may have previously suffered sexual trauma and other harms. That physical separation became even more important in 2020 when the pandemic raised fears about the safety of group shelters.
[RELATED ARTICLE: Tiny Houses—Not a Big Enough Solution]
At the same time, the projects are often designed with communality in mind. Both Heben's 3-year-old Emerald Village, which is a cooperative, and the relatively high-end Tempe Micro Estates in Arizona, which is not, have shared community rooms, kitchens, and laundry facilities, as well as homes that face central yards. Both projects are affordable.
Building tiny homes rather than standard-size buildings may or may not save money, due to fixed site-development costs. But it does allow density without the design complexity and regulatory barriers that accompany multi-story construction.
"I see it as balancing the privacy and autonomy of single-family housing and the greater density and economy of multifamily housing," Heben says of the tiny home concept. "So it's kind of this in-between model where it has values of both, and I think that's why a lot of people find it attractive."
Tiny homes also have small per-person carbon footprints, and they serve single people and couples who often lack access to the variety of transitional or affordable options available to families with children.
"Families probably make it to the top of the priority list, but that's only part of the people that are being priced out of the housing market," says Monte Walker, president and CEO of Habitat for Humanity in Jacksonville, Florida, which recently built 50 affordable tiny rental homes. "We all realize that if we're going to solve an affordable housing crisis, it's going to have to be a multifaceted approach, and this was an out-of-the-box way to do that."
Protection From the Elements
The number of tiny house villages for homeless people has been growing in part as a response to Martin v. Boise, a 2018 federal court decision that barred cities from arresting people for sleeping in tent encampments if not enough shelters are available. Creating villages allows cities to house people and resume enforcement.
The new popularity of tiny houses among local officials has angered some homeless activists, who argue that the shed-like structures "advance the idea that homeless people are subhuman," and are paltry stopgaps that give policymakers an excuse not to create more permanent housing.
[RELATED ARTICLE: Tiny Houses—Does Size Matter?]
Tiny houses, especially Pallet-size cabins, should never be considered "a viable solution to the affordable housing crisis," says Donald Whitehead, executive director of the National Coalition for the Homeless in Washington, D.C. "People should have the ability to be able to live in regular, full-sized houses, just like any other person in America. Just because you're homeless you shouldn't be forced to live in that small a space."
Even so, Whitehead, who has been homeless in the past, strongly supports the use of tiny homes in emergency situations like those in Los Angeles, where more than 41,000 people experienced homelessness last year.
A tiny home "does present something that is really, really, incredibly important for people experiencing homelessness, and that is protection from the elements," he says. "We should encourage the production of those because they're such an incredibly powerful tool in that way."
Providers like Craft say the shelter units are so much better than the realistic alternative—no housing at all—that they must be used.
"If a community has the resources to quickly and rapidly build affordable, supportive, low-income housing, then do it, and you don't need these," he says. "But space is hard to come by, it's expensive, and leaving people out on the streets for years at a time while you're trying to build affordable housing is cruel and inhumane."
Pallet shelters are relatively inexpensive at about $7,500 each, Craft says. The total per-unit cost for Los Angeles' first village was much higher, at about $70,000, but city engineers subsequently figured out ways to reduce expenses, for example by running just one sewer line instead of a few, and by bolting the shelters to existing asphalt rather than pouring concrete pads, he says. At the newest village the per-unit cost was $22,000.
The villages are gated, with controlled access, which adds another layer of privacy and security. One downside is the need for separate hygiene trailers, which sometimes means having to walk across the site in the cold to use the bathroom or shower, Craft says.
Compared to people staying in a congregant shelter, the tiny-home dwellers don't have as many opportunities to socialize and build relationships, he says. But they can choose to eat meals together, and Hope of the Valley provides art and music classes, as well as case management, housing navigation, mental health services, and job training and placement.
Most stay four to six months, with some finding housing more quickly, and others, such as people with disabilities, remaining longer.
"We will not ask anybody to leave. We tell them when they come, 'Your next stop is permanent housing,'" Craft says. "We work with them until we get them permanently housed."
A Sanctuary from the Street
Wraparound case management is also central to the mission of the Veterans Community Project (VCP), which runs a 49-unit tiny home village in Kansas City, Missouri, and is building additional villages in St. Louis, in Boulder County, Colorado, and in Sioux Falls, South Dakota.
The Kansas City units are 240 or 260 square feet and are built to code on slabs, with kitchens and full bathrooms. The sense of personal security they provide is hugely important to the veterans, some of whom have post-traumatic stress disorder, says Ben Hendershot, VCP's vice president of construction. Their average stay is 14 to 16 months, with 84 percent successfully moving to permanent housing, he says.
A common building with community space is used for meetings and classes, but Hendershot noted that none of the buildings have washing machines or dryers.
"It doesn't do anybody any justice to take someone who's street homeless and put them in a tiny home that's isolated and doesn't give them access to resources or teach them how to function in day-to-day life," he says. "Part of that programming is actually having the residents get their laundry, go to laundry facilities somewhere, and get back. It's actually done on purpose."
Substantial volunteer labor and donated materials help keep down construction costs for VCP, which is funded entirely by private contributions. Hendershot declined to provide a per-unit cost but noted that the retail price for materials alone would amount to $60,000 per home.
"Do you save money overall? Yes, I would say that you do, but your square footage price, a lot of times it's substantially more than if you were to build a modest, single-family, detached home," he says. "You've got to put all the pieces together. They're just smaller pieces."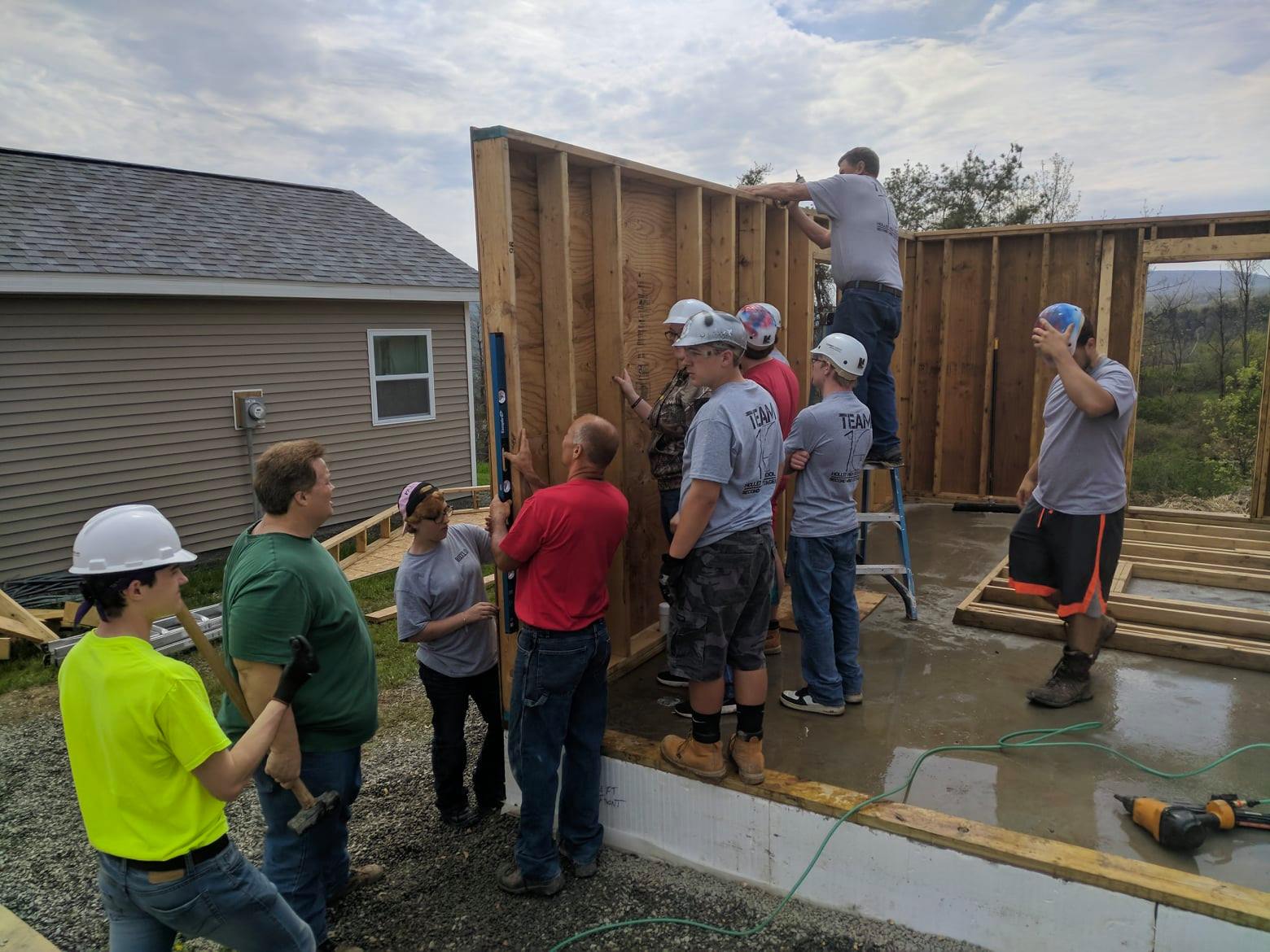 Cost savings were definitely a factor in the decision to build the 320-square-foot Second Wind Cottages for previously homeless men in Newfield, New York. Local businessman Carmen Guidi initially used small recreational vehicles parked on land he owns, but found that cost-prohibitive and decided to build units instead. Foster, the community manager, says the per-home cost was about $15,000.
The 18 tiny homes are built on slabs and are "spacious on the inside," he says, with kitchenettes and bathrooms. Two larger units serve as common buildings, with laundry and kitchen facilities and space for church services and movie nights.
Before moving into Second Wind some of the men had been living for decades in the Jungle, Ithaca's longtime homeless encampment. They avoided the available shelters and boarding houses, which could worsen mental health or substance abuse problems, says Foster, who is a social worker and has previously been homeless.
"One of the biggest areas of feedback that we hear from the guys is, there hasn't been that sanctuary that someone can go to, for years, sometimes many years. They just never had a place of their own that they can go into and shut the door and relax," he says.
However, for some of the men, living alone can get "messy," he says. Residents quickly notice if a fellow villager is struggling, and Foster can intervene if necessary.
"In more of a shelter kind of environment, you can open the door. You can look through the window. Someone goes into their own private residence, and they close the door and they pull the curtains—you don't know what's going on all the time. It can create problems," he says. "We're still learning and there will probably be adaptations in the future."
The men are ethnically diverse and range in age from 19 to 75, he says. Some work and pay up to $850 month in rent, while others focus on drug recovery and pay nothing. The village has hosted formerly incarcerated men, and men who are on sex offender registries. Many have gone on to find permanent housing, some have left and returned, and some will probably remain for the rest of their lives, Foster says.
Creative Affordable Housing Solution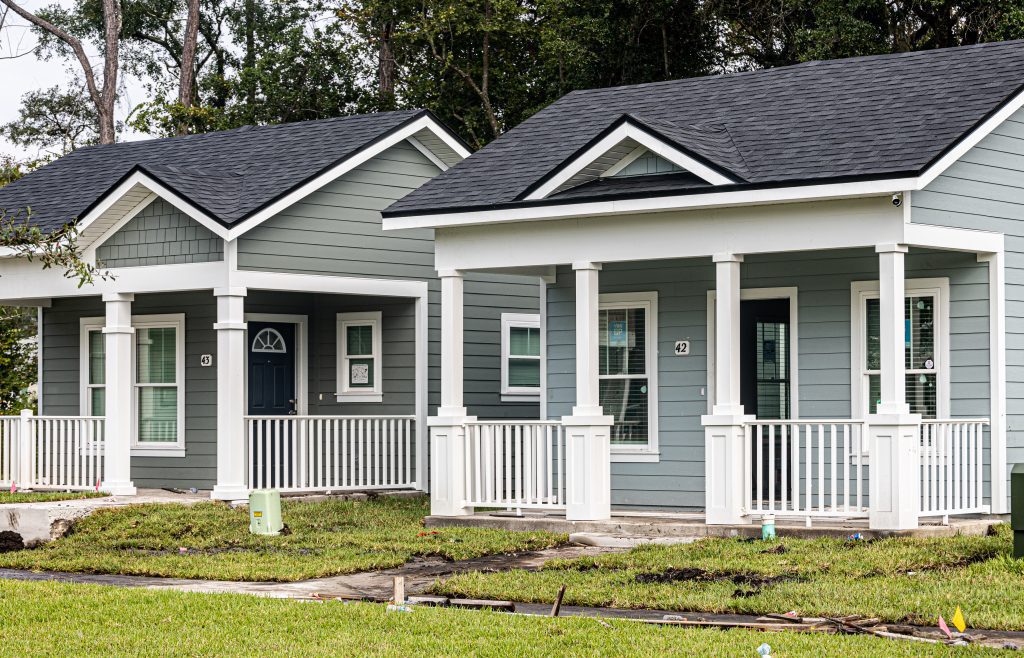 In Jacksonville, Florida, the idea of tiny homes as a response to the city's shortage of affordable housing came from philanthropist Delores Barr Weaver, whose charity funded the $5.5 million, 50-home rental project for Habijax, the local Habitat for Humanity affiliate. Walker, the Habijax CEO, says the village is a departure from the organization's usual focus on building standard-sized infill housing for ownership.
The units are larger than most tiny homes at just under 600 square feet. They are built on site, fully fitted out with furniture and appliances, and laid out around four courtyards with picnic tables to create a "community feel," which was one of Weaver's goals, Walker says. The per-unit construction cost of $110,000 included site planning and development costs such as bringing in utilities.
"You're building an entire community starting with vacant land, and all the infrastructure and everything that goes along with that, which is very different than just building a house on an infill lot," he says. "It wouldn't be for a small builder that didn't have experience just doing, from ground up, the entire project."
Rent will vary based on tenants' incomes, and range from $500 to $700, he says. Habijax has targeted prospective residents who earn 30 percent to 80 percent of the area median income and expects most will be at around 50 percent of AMI, or $29,950 for a two-person household.
The organization had "an unbelievable amount of applicants" for the homes, including low- and medium-income people referred by social service agencies and new college graduates who cannot find affordable places to live, Walker says.
Square One Villages has not yet built homes as large as those at Habijax's development, but the Oregon nonprofit is planning to do so as the next step in its ongoing experimentation with different models of tiny home villages, Heben says.
Its first project, Opportunity Village Eugene, opened in 2013 with 30 micro-homes of 60 to 80 square feet that serve as transitional housing, along with shared restroom, kitchen, laundry, and meeting space. Seeing the need for more permanent housing opportunities, in 2018 the organization opened Emerald Village, a leasehold co-op with 22 units of 160 to 228 square feet. Each home has its own bathroom and kitchen, with other facilities in a common house.
Emerald Village was an attempt to gauge the financial viability of affordable tiny home projects, Heben says. Donated materials kept the per-unit construction cost to $55,000, and fundraising allowed the project to avoid taking on debt. The residents, many of whom are seniors receiving Social Security or other fixed income, pay a monthly carrying charge of $200 to $300 a month, which covers the village's operating costs without any ongoing subsidy.
"If we can subsidize 100 percent of the development cost, then it doesn't have to be that expensive to operate these places, if you allow people to have a sense of ownership over it and be involved in the management," Heben says. "Permanent supportive housing remains necessary for folks with serious conditions, but there's a ton of folks out there who simply have extremely low incomes."
This year Square One opened its first limited-equity co-op (LEC) called C Street Co-op, an infill development in Springfield, Oregon, with four single-family units and two accessory dwelling-type units in two buildings. It was designed as a model for other organizations to follow starting next summer, when a statewide zoning change meant to encourage dense infill projects goes into effect, Heben says.
The "suites" are 384 square feet, cost $100,000 each to build, and are mostly occupied by single individuals who paid $10,000 each for membership shares in the co-op and contribute a monthly carrying charge.
Square One's next project, the 70-unit Peace Village LEC, aims to scale up the concept of an affordable tiny-house village for ownership, and include a mix of tiny townhomes, one-bedrooms, and two-bedrooms, Heben says. The project will have a single mortgage so residents do not have to individually qualify for loans.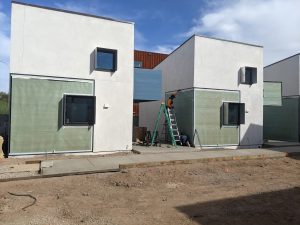 On the higher end of affordable tiny home villages are projects like Tempe Micro Estates, a newly completed development of 13 units, each 600 square feet, in downtown Tempe, Arizona. Designed to maximize the number of units on a small lot, the homes have semi-private backyards, face a shared courtyard, and come with standard appliances except for laundry facilities, which are in a community space.
Due to high site-preparation costs, the project had a budget of $3 million or about $262,000 per unit, which is not much less than a full-size home would cost to build, says Stephanie Brewer, executive director of Newtown Community Development Corporation, the project developer. They sold for $170,000 or $210,000, depending on the buyers' income and other factors.
"They're not cheap, but they're the cheapest opportunity we have in the valley right now," Brewer says.
'No doubt some of them will move out and start families. But for now it's an opportunity for them to build some walls, some equity, and appreciation.'
The residents are mostly younger single people, including two who have disabilities, as well as one middle-aged couple, she says. As part of Newtown's community land trust the houses will remain permanently affordable, but the owners can still build some equity over time.
While Brewer said she's heard objections to the homes' small size, she argues the village is a great way to get people into decent housing at a cost they can afford, given the region's soaring real estate prices.
"It's a way of life. They're making the commitment to be sustainable, and live small, and they don't want a big house to maintain," she says. "No doubt some of them will move out and start families. But for now it's an opportunity for them to build some walls, some equity, and appreciation."