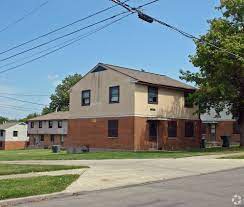 Neighborhoods B.U.I.L.D. Dayton is a community lawyering project of Legal Aid of Western Ohio Inc. and Advocates for Basic Legal Equality Inc. (B.U.I.L.D. stands for Bringing Urban Initiatives Through Legal Development.) It has been representing and building relationships with residents at Hilltop Homes, a public housing development in Dayton, Ohio.
In 2019, Hilltop residents informed our staff at Neighborhoods B.U.I.L.D. Dayton that the local public housing authority planned to demolish the development and relocate residents to subsidized housing throughout the city. Hilltop is one of the oldest and largest public housing developments in Dayton, and one of the most segregated. Isolated from amenities such as parks and community centers, it has a reputation for poor, "old" living conditions.
Two years later, there are still no firm plans for relocating Hilltop residents or for demolition of the development. During that time, residents reported feeling lost and excluded from the demolition process and relocation planning. Residents also worried that criminal records, debt history, and prior evictions would prevent them from getting new housing once Hilltop is demolished, particularly private housing in high-opportunity areas. The insecurity of their housing future was yet another barrier to stability.
Residents also needed legal assistance to resolve longstanding housing conditions issues. Cockroach and mice infestations and leaky pipes were the most common, while other residents raised concerns about brown water, mold, and broken windows and doors. One resident reported that at one point, her bathtub was filled with cockroaches. Another resident reported that her ceiling was sagging due to a leaky pipe.
My team wanted to help Hilltop residents form a resident council or informal group that would spearhead residents' efforts to advocate for their housing futures, including current maintenance and conditions issues and future demolition plans. While there once had been a resident council, it had become defunct and the joint effort between my team and residents to revive it was taking longer than expected. As that process was going on, residents wanted an immediate avenue to build their collective voice, evaluate what housing opportunities they wanted for themselves, and to advocate for those opportunities using their collective power.
[RELATED: Paying Community Members for Their Time]
My team met with residents several times at Hilltop Homes to discuss how we could support them in these efforts. Then the COVID-19 pandemic hit. We decided not to risk the health and safety of Hilltop residents with in-person gatherings but still wanted to provide a space for residents.
We researched "natural leader" and promotora-style programs that had been successful in immigrant communities and healthcare settings. Through immigrant-welcoming initiatives around Dayton and through ABLE's agriculture and migrant farmworker advocacy, we learned that "natural leader" and promotora-style programs recruit community members to promote health in their communities through their existing relationships with fellow residents.
We drew inspiration from the Natural Helpers program of Welcome Dayton, Dayton's immigrant-friendly city initiative, to design what we call our Resident Ambassador program. The Natural Helpers program had been successful in integrating immigrant communities in Dayton. We understood that members of impacted populations typically want to improve conditions in their community and often are willing to share information about local resources and issues. Additionally, community members can essentially skip the trust-building phase and do on-the-ground advocacy quickly because of their existing relationships with the community. We met with resident leaders to learn about needs and possibilities for information-sharing and community-building during the pandemic, which led to the creation of the Resident Ambassador program. We trained three public housing resident leaders to disseminate legal information to residents and gather information from residents to incorporate into our community-based advocacy. The idea was to have the Resident Ambassadors use their expert knowledge of their community to direct their work instead of us directing their work.
We identified three community leaders for the Resident Ambassador program who were active with or supportive of the previous resident council, which had engaged in self-help initiatives that enabled residents to maintain a positive living environment and provided programming that benefited the resident families. Some of these initiatives included strengthening families by providing trainings on topics like parent involvement, parenting skills, and child development. Other initiatives included facilitating health, nutrition, and safety trainings. The three women named as ambassadors have been the driving force behind an after-school program for school-aged children, daily meal distributions, neighborhood cleanups, and other community-building events and activities. They were well-respected by other residents and were seen as resourceful.
Because of a COVID-related hiring freeze, we could not officially hire the Resident Ambassadors as employees of our firms, but we wanted to offer them a token of appreciation for their leadership and for their volunteerism. We purchased three $250 Visa gift cards using a small portion of grant money received to fund our community lawyering work. We arrived at the amount after researching stipends for similar programs and asking the women if it seemed a reasonable amount for the work that we were requesting them to do. We do not know when the COVID-related hiring freeze will be over, but we will continue to work with the Resident Ambassadors and similar programs to provide a fair stipend amount.
We provided each Resident Ambassador with personal protective equipment, office supplies, and legal aid literature to ensure their safety and assist with their advocacy. Resident Ambassadors have canvassed door to door, made phone calls, and engaged residents through daily activities such as delivering meals, taking out the trash, checking the mail, and waiting for the bus. We have weekly check-in meetings with the Resident Ambassadors on Zoom. During our meetings, the Resident Ambassadors update us on residents' questions and concerns gathered from the community, and we regarding the pending demolition and relocation, rental assistance, and general legal information. "I have learned so much and I am happy to share this information with others," Wilma Lawson, a resident ambassador, said during a meeting. "If I know just a small amount that I can share with someone else, I am doing something good for my community," added Janice Bowers, another resident ambassador.
The Resident Ambassador program has proved to be a great tool for resident empowerment. The ambassadors have provided my team with insights into residents' concerns with the maintenance system and current housing conditions. The resident ambassadors also compiled a list of specific requests and concerns on topics such as transportation, childcare, relocation counseling, and the time allotted to procure safe, decent, and affordable housing.
The Resident Ambassadors also wanted to meet with the public housing authority to ask questions about the demolition of the public housing site and to provide input about the resident relocation plan. We worked with the Resident Ambassadors to draft a letter to the PHA voicing their concerns and requesting a meeting. The letter was then circulated to raise awareness and obtain signatures from residents. Since then, my team and the Resident Ambassadors have met with the PHA twice. The ambassadors and other residents at the public housing development have expressed that they felt empowered when they used their collective voice to advocate for issues that are important to them. "It is so important to stand up for yourself when you have concerns about where you live," says Bowers. Other residents have displayed a renewed desire to participate in creating change in their community because they feel like their voices are being heard.
Neighborhoods B.U.I.L.D. Dayton continues to support the Resident Ambassadors in their leadership to bring about community-driven change. We hope to see the Resident Ambassador program coexist alongside a reactivated resident council, which would facilitate programming, and plan events and activities while the Resident Ambassador program will inform residents about local resources and issues. The two groups would serve unique purposes, but ultimately work together to create a positive living environment for fellow residents. My team and I hope to replicate the Resident Ambassador program and incorporate it into other neighborhoods and communities that the Neighborhoods B.U.I.L.D. Dayton community lawyering project serves.
We created the Resident Ambassador program to support resident-led advocacy in a community facing an uncertain housing future. The program model may be applied on a broader scale by other legal-services groups, community-based organizations, and nonprofits to address a variety of issues that impact a community. Programs that support resident-led advocacy initiatives enable residents to come together and learn about issues that impact them. They allow residents to use their collective voice to advocate for their shared interests and have meaningful participation in creating solutions for their community. Additionally, they allow the supporting organization to learn and acquire a greater understanding of the community it serves to improve the quality of services provided.