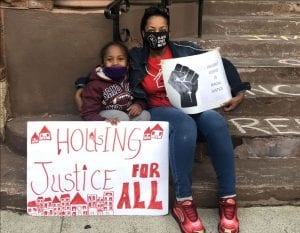 Laura Felts, executive director of United Tenants of Albany, in Albany, New York, had never seen the level of need for housing assistance that she has since last March. Calls to her organization's hotline have tripled. In a typical year UTA gives out about $60,000 in rental assistance funds. In 2020, it awarded that amount just between October and November. There is no end to the need in sight.
And yet Felts says she expects things are going to get much worse, thanks to confusion over whether federal homelessness prevention grants can actually be used to help renters while an eviction moratorium is in place.
In March, as part of the CARES Act, Congress allocated $4 billion for Emergency Services Grants (or ESG) to provide for more shelters and prevent homelessness in the wake of the economic destruction wrought by the COVID-19 pandemic.
In September the Centers for Disease Control issued an eviction moratorium whereby renters could fill out a form demonstrating their financial situation and risk of homelessness, present it to their landlords, and theoretically not be evicted for nonpayment of rent.
But evictions due to lack of payment have persisted across the country, whether because tenants don't know to sign the declaration, courts aren't checking for it, or judges are agreeing with landlords that the ban is unconstitutional.  
Tracy Pitcher, executive director of St. Paul's Center, a housing aid organization in Rensselaer, New York, says tenants she works with who report they have lost jobs and are unable to pay are also dealing with landlords who are accusing them of "abusing" this moratorium. "We receive reports that landlords are hostile toward them, are refusing to make needed repairs, are turning off heat, or are locking them out," she says. "Recently, we have tenants report that their leases are up and their landlords are using that as an opportunity to not renew their leases so they must leave."
And even if the moratorium were working as intended, the time to help tenants and clear up rent debt would be now, argues Felts, rather than leaving everyone in limbo to hit housing court all at once when the moratorium lifts.
Unfortunately, even though some money at least is there, in the Capital Region of New York, and possibly in other places around in the country, it's not being used for that purpose.
In November, Felts learned through CARES NY, a nonprofit that supports local Continuums of Care and contracts with local agencies to administer homelessness funds, that HUD was of the opinion that renters facing financial hardship aren't eligible for the grants until the moratorium expires, because in theory they aren't in imminent danger of homelessness.
This opinion was relayed to CARES NY and then to Felts piecemeal, through HUD webinars and its AAQ (Ask a Question) help desk, which issues non-legally-binding opinions.
"Due to the CDC Eviction Moratorium, the earliest time that a 'covered person' could qualify for Homelessness Prevention under Category 2 of the Homeless Definition due to an eviction action initiated by a landlord or property owner for nonpayment of rent is 14 days prior to [the moratorium's expiration]," reads part of HUD's AAQ response.
Asked to clarify whether HUD's position is that ESG funds can't be used to pay rent for those who are going to be evicted until the CDC's moratorium is lifted, HUD's press office responded: "It is the responsibility of the PHA/Grantee to ensure there is no duplication of benefits.  Determining duplication of benefits is case specific, but in general non-PIH [Public and Indian Housing] funds may be allowable to pay arrearages/prevent homelessness."
We've asked for further clarification specifically about the impact of the moratorium but have yet to hear back. [Ed note: see update at end of story.]
The City of Albany and the County Department of Social Services, the grantees for regular ESG grants and COVID-19 ESG grants respectively, are the ultimate decision makers on funding, but contract the administration out to CARES NY. They heeded the AAQ position HUD provided to CARES NY and didn't make funds available for ESG grants to prevent evictions. On top of that, HUD has indicated through its AAQ responses that groups could be forced to pay back any ESG funds that were used for that purpose while the moratorium was in effect, dating back to last summer. If so, groups like United Tenants of Albany could be financially devastated.
Groups across the country are trying to sort through the confusion and hoping HUD under the Biden administration will offer different guidelines that allow the use of ESG funds to prevent evictions.
Some advocates say that more hasn't been made of the current HUD position because ESG funds have typically been handled by groups primarily focused on dealing with homelessness, not preventing it, and they believe that ESG funds should continue to be prioritized that way, possibly because accumulated back rent is so substantial it could in theory use all of the inadequate allotted funds.
In June 2020, a coalition of groups organized by the National Alliance to End Homelessness published the Housing Equity Framework. The framework argues that because race and gender are better predictors of homelessness than income alone, that programs to house the currently homeless have a better equity outcome than eviction-prevention programs based solely on income, and therefore COVID-specific ESG funds should be prioritized for that population. (They also argue that eviction rarely leads directly to homelessness.)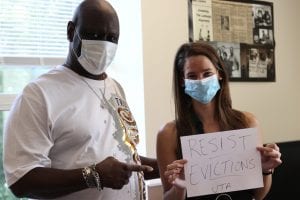 Felts says she wouldn't have had a problem at all if the local CARES Act funding had been prioritized to help the currently homeless from the beginning. However, she reports that the city conducted a prioritization survey, which returned eviction prevention as its top goal, and then UTA was invited to apply for a significant amount of funding to carry that out, even hiring an additional staff member. It was only months into the grant that the HUD guidance was raised, and now that money is sitting unused for either purpose.
Many also feel that the circumstances are now drastic enough that there will in fact be a massive increase in homelessness if the back rent crisis is not resolved before evictions are formally allowed to proceed, dwarfing existing levels. People who are being put out right now are going to have a hard time finding a new place to live, says Pitcher. "Because they lost jobs and are using unemployment to cover very basic expenses, they do not have money for security and first month's rent for another apartment, nor the money to cover moving expenses." Doubling up with others, a frequent post-eviction step, is likely to speed up the spread of COVID.
The study "Averting an Eviction Crisis," issued this month by Mark Zandi, the chief economist at Moody's Analytics, and Jim Parrott of the Urban Institute, found that Americans currently owe $57.3 billion total in back rent. And given current levels of unemployment, that number is only growing.
That study also found that the average renter who is behind on payments owes about $5,600, approximately four months' worth. Zandi and Parrot point out that given these numbers, the $25 billion fund passed by Congress in December to help Americans catch up on rent is deeply inadequate to even address the amount of back rent Americans already owe, let alone the need for rental assistance moving forward.  
In the meantime, United Tenants of Albany and other local groups have been encouraged by their CoC and HUD to use other methods to make it easier for tenants to pay their rent.
Jenn Hyde of Tri-County Services in Rensselaer says her organization has worked on reducing the impact of budget items like food and electricity so that families in need can continue to pay rent. "We know people are going to wind up with huge debts when the moratorium ends, so we're trying to prepare here for it," she says. "We're telling people, 'Pay a little on your rent if you can because that debt is not going to magically disappear.'" But the organization can't risk running afoul of HUD, so they are not issuing homelessness prevention rental assistance. "There is a lot of confusion around ESG grants and until it is cleared up with HUD we won't try to utilize it," says Hyde. "We don't want to run into an issue and have to pay back the funds. We're a charity, and we couldn't handle the impact that would have on our organization.'"
Felts says that her organization is running out of alternative funding, which is frustrating since she knows that ESG grants are going untapped.
Not every region has taken such a cautious approach. As tens of thousands of dollars of ESG funds go unused in the Capital Region of New York, groups in other parts of the country, and even in the same state, are putting ESG funds to use to prevent evictions. In Syracuse, New York, for example, the county executive, court system, and housing advocacy groups came together to create an eviction and foreclosure prevention court, using $6 million of CARES Act funding. Launched in September, the court provides landlords and banks with payments as long as renters and homeowners continue to make payments.
However, many other locations are taking the HUD guidance seriously. "We are hearing reports from across the country about this problem. ESG administrators aren't allowing ESG funds to be used for emergency rental assistance while the CDC eviction moratorium, or other local eviction moratorium, is in place," says Mariel Block, staff attorney for the National Housing Law Project. She reports that she has seen complaints on housing Listservs from groups in Wisconsin and Georgia, and in Philadelphia, just to name a few.
"Our understanding is that HUD has been advising ESG administrators not to release funds to low-income renters while eviction moratoria are in place. This is exactly the time that renters would need assistance in order to avoid eviction when the moratorium is lifted. It is a huge problem that is resulting in large sums of ESG money being withheld from low-income renters in dire need of assistance," says Block. "There is already a severe shortage of available emergency rental assistance—this just makes the problem worse."
Pitcher calls HUD's position on ESG funding "irresponsible" toward both tenants and landlords. "Housing repairs still need to be made," she notes. "Mortgages and taxes still need to be paid. It appears that decision makers in government are choosing to ignore these considerations."
"The eviction moratorium didn't suspend rent," says Felts. "If we can't help tenants and landlords now, when the moratorium is lifted we're going to see mass evictions."
—
[Update: On March 25, a HUD spokesperson provided the following statement in response to a question specifically about the role of the eviction moratorium in ESG decisions:
HUD has no prohibitions on the use of ESG-CV funds for homelessness prevention or eviction prevention, as long as a risk of homelessness can be established. Given the high rates of homelessness and the high rates of COVID-19 transmission and illness among those experiencing homelessness, HUD encourages communities to ensure that people who are currently experiencing homelessness are assisted by these targeted homelessness grants.]
[4/8/21: Corrections. This article originally misstated which entities had received the AAQ guidance and had the final say in determining the allocation of ESG grants in Albany County. It also implied that the community prioritization survey conducted in Albany was a HUD requirement. It wasn't, it was city initiated.]