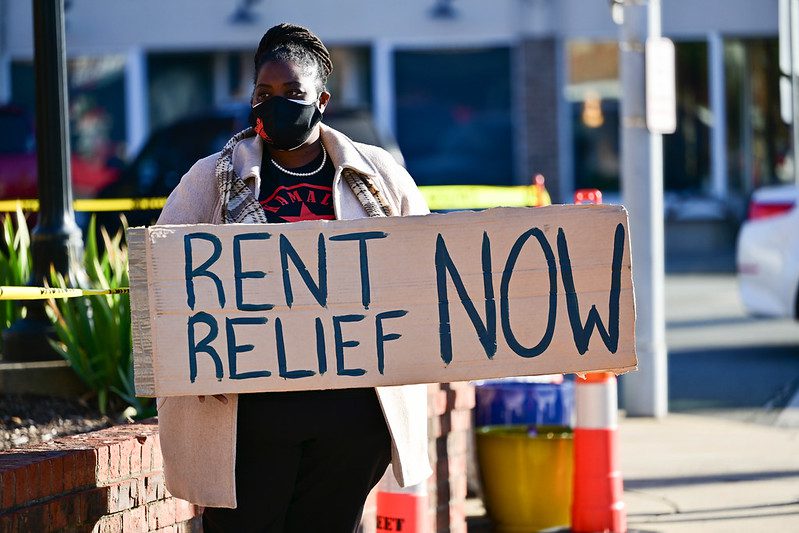 Journal entry—Dec. 9, 2020
I am yelling on a Zoom call again, this one a virtual meeting of policymakers, community leaders, and technocrats talking about Oregon state policy. As a faculty member at Portland State University, I am often invited to lend expertise to discussions about housing and urban policy, especially racial equity, which usually means sharing research and data. In the ninth month of combination pandemic–economic crisis–racial justice uprising advisory committees, my vocal pitch has become unpleasantly sharp. Today there is a protracted argument among Oregon state leaders about whether to return the legislature for emergency lawmaking before the January session. The Oregon eviction moratorium expires in 22 days; for obvious reasons, it's not wise to count on an extension to the CDC's nationwide eviction moratorium, which is also less protective than the local policies.
It has become clear that this lack of urgency is due to the legislature's housing committee having totally failed to grasp the scale of the problem. The committee considering tenant protections and rent relief is estimating that 20,000 Oregon households need assistance. That figure underestimated the households at risk of eviction by a factor of eight. I've pulled up the Census Pulse website so I can cite it: the number of Oregon renter households who are behind in rent and/or can't pay January's rent is more like 150,000 to 175,000. Half of these households are BIPOC (Black, Indigenous, People of Color) in a state that is 85 percent white; some 40 percent of them have kids in the home.
We leave the meeting with no assurance that the legislature will return to address the crisis. At this point, eviction filings will start on Jan. 4, 2021. After the meeting I start my text/email/phone operation, connecting with advocates and organizers to try to figure out what we might expect to happen. How many eviction hearings can be held in a day? Are courts reopening for in-person sessions? We know from looking at states where protections have already expired that tenants are being whipped through to judgment in minutes—when you just can't pay, that's it. Next question: How many physical evictions can the sheriff's office get through in a day?  
It looks like folks will be relying on pure luck—hoping that they are far enough down the list that they might remain housed a little longer based on the capacity of the system to chew and spit. I tag in my colleague Marisa Zapata, who runs Portland State University's Homelessness Research & Action Collaborative, who is similarly making calls and calculations about the shelter system. She talks about how there is absolutely no capacity anywhere in Oregon; What would the houseless-serving organizations do if even 100 families were to show up with their belongings in trash bags? Are there parking lots for folks living in cars? No one has a good answer.
Dec. 17, 2020
The night of the first Oregon Legislative hearing on the eviction moratorium extension continues the pattern of trauma for people in need. Whether applying for assistance programs or providing testimony, they are again and again asked to prove they're in crisis and that they're worth saving. Community Alliance of Tenants staff and tenant leaders have worked hard to prepare for the experience. During a conference call for testimony prep, one renter shared her advice that everyone needed to care for their emotional health during the hearing: "Begging is exhausting. It erodes our dignity. We have to repeat the story of our lowest moments, to many people, many times, repeating again and again these momentary circumstances until they become our identity. Who we are, our strength, becomes invisibilized, as we are reduced to this one moment of pain and fear."
Legislative hearing testimony is called, alternating pro and con viewpoints, so every tenant's story about their crisis is met by a landlord angry about their partial loss of income. We talk about how to tune out personalized attacks on renters and taking breaks.
Those in need are asked to explain their circumstances; landlords face little to no scrutiny of their arguments that they would be harmed by accepting less than full arrears repayment, by allowing payment plans, by additional eviction protections. I want to know which real estate industry companies got PPP loans to cover their staff salaries. I want to know if owners got mortgage forbearance—nearly half of units were eligible under the CARES Act—or have no mortgage, what do they actually need in order to be financially whole? We never learn.
Unlike the at-risk tenants on the call, I have the technology and stable internet connection for the remote session. I am dialed into MS Teams on my laptop; I also have a tablet and phone ready, with multiple text threads open for alerts—there is no publicized wait list, and we have to be ready as soon as our names are called. It's clear right away that too many people signed up for the Thursday night hearing, and there will be a second hearing session on Saturday. I'm pretty sure my name will be recognized by the Speaker for prioritization in the evening testimony list—another privilege.
Dec. 21, 2020
Just 10 days before the moratorium expires, Oregon's legislature extends the moratorium and commits state funds to some relief for the crisis. The compromises worked out during the lengthy period of adjournment in order to appease opponents of extending the moratorium have seriously weakened its ability to protect tenants: There are additional exceptions to the moratorium for landlord repair, conversion, or move-in. There is now a required "sworn declaration" that tenants must submit proactively, or at the latest, at the first court appearance in order to be covered. Landlords are no longer prohibited from initiating an eviction for nonpayment or back rent; landlords must include information about the moratorium with notice, but the tenant must know how to respond to assert they are eligible for the protection. We know from observing other states that this will leave tenants vulnerable to being evicted because they don't understand the process and there is no obligation for court officers to explain how they could prevent their eviction.
The state has also created a complicated combination of funding programs. Seventy-five percent of the funds are in a designated "landlord compensation fund" that owners apply for; prioritized to smaller landlords (as yet undefined) and those with a high percentage (also as yet undefined) of unpaid rent. Like most housing subsidies, participation in this program, which requires accepting just 80 percent of arrears owed and extended eviction prohibitions, is entirely voluntary. Renters whose landlords do not apply can themselves receive support from an assistance fund that does not require the landlord to accept a 20 percent reduction in back rent and has no cap on payment, creating a perverse incentive for owners to insist their tenants apply for these limited funds, adding more bureaucratic burden for struggling people.
Jan. 4, 2021
The new requirement that tenants declare their inability to pay rent due to the COVID-19 emergency must be communicated quickly to the most vulnerable communities. Government websites were slow to update moratorium information; most appear in English only until two weeks after the requirement comes into effect. Community-based organizations are working on translating the new law first into "regular person" terminology and then into multiple other languages to reach the diverse immigrant and refugee population in Oregon. Food box distributions that were supported by CARES Act money have been curtailed; we have to find other ways to get flyers to people who aren't on social media to get the tweet. How many renter households will pack up quickly and leave when they get an eviction notice, not knowing they were still protected? 
Meanwhile, we learn that state agency guidance includes the stinger that the anticipated infusion of funds from the federal stimulus will largely replace, not augment, the state budget commitment, leaving the program underfunded for the estimated need. And yet, the legislative agenda for the 2021 session appears much as it did in January 2020.
Jan. 22, 2021
Little to nothing has changed since the beginning of the month.
We Need to Do Better
Similar processes are happening around the country. I fear that the collective lesson to be drawn from them is that we are not serious enough about addressing this crisis at scale.
Programs like the one Oregon has passed will help a substantial number of renters; but they will also leave an unconscionable number of people, families, and communities behind. We've stuck with yesterday's policy and programs in an unprecedented year of crisis. We had the opportunity to not only fight for a baseline of security for some, but to demand that all of our neighbors are safe and stable, healthy at home, and free from crushing debt during this health and economic crisis. Instead, we have been cobbling together inadequate funding sources, knowing that not enough people will get help, and yet fiddling with the wonkiest of implementation issues rather than insisting on getting people what they need.
With all the consideration we've been giving to unintended consequences from program rules— whether to cap relief amounts, whether to add more renter protections—we've lost sight of the real problem: there is not nearly enough money to meet the needs of folks as we come to the first anniversary of the first state lockdown. The Oregon budget allocation of $200 million amounts to just about $1,300 per household—a single month's rent—if distributed among the 150,000 renter households at risk. Based on estimated payment rates, the state would need to double this outlay just to cover arrears for 2020, and more resources will be needed in 2021. Rent receipts have been falling as folks run out of savings, credit, and social networks to tap, unemployment is going up again, and we're facing the uncertainty of rising rates of infection. To provide real stability for Oregon tenants, we'd need an even greater outlay at a scale that could relieve the cost burdens for folks who are paying their rent only by cutting back on food and collecting bottles for deposit money.
By staying within our lane as housing researchers, advocates, and providers, we've devised the best approaches we could—within the constraints of programs that aren't adequate to this task. We need to be doing big things to match the scale of the big need—"unprecedented times" isn't just the first line of every email, it's a real experience for folks who are experiencing fear, hunger, and harm in almost unfathomable numbers, with no real hope of a safety net to catch them if they aren't lucky enough to make the priority list, or to be able to complete an application, or even to hear about the help they may qualify for.
At the federal level, there should be absolute clarity about the amount of funds that must be allocated to keep people housed—all renters, universally, without facing a future strangled by debt. And then we should allocate all of those funds. The Terner Center for Housing Innovation estimated rent for workers affected by COVID-related unemployment at close to $20 billion per month—yet there was only $25 billion allocated for rent assistance in the December federal stimulus package.
As we allocate those funds, we should also do so in a way that sets us up for a healthier, more just housing system going forward. We ought to be insisting that the GSEs continue to use their ability to create forbearance and refinance programs for the nearly 50 percent of rental housing their portfolios cover, and that recompense for rent arrears take into account those restructured payments. We ought to be insisting that programs of financial compensation to landlords bring stability via added legal protection from eviction, habitability upgrades, and source-of-income protections for longer-term voucher-holding households; that tenant-based assistance recognize both persistently low-income households and those whose incomes may have been just over the income limits but were and are still heavily cost-burdened; and that all programs have clear methods to address the barriers to engagement with government programs for BIPOC, immigrants and refugees, and people who have had contact with the criminal justice system.
July 1, 2021?
My hope is that in six months' time I'll be able to write: "Tenants in Oregon have finally been able to exhale now that they are protected. The organizing by tenants and their allies in Oregon has resulted in expansive support for the folks who have been so harmed by this pandemic. Health authorities have prioritized vaccination for hard-hit communities of color on the frontlines of essential work, pandemic unemployment assistance has rolled out smoothly, the initial rent relief package was supplemented, not reduced, and we are poised to make lasting changes in our policies so that tenants are treated equitably and with dignity, and their stability can last beyond the pandemic."
My fear is that, given that all will not be resolved with the virus or the economy, we will spend June 2021 the way we spent December 2020, in a panic of advocacy calls, horse-trading among industry interest groups, and with tenants bearing the burden of voicing their needs while desperately trying to meet them.
How can we make the changes that last? I know that many of my colleagues think the idea of pushing beyond what we think of as the current political reality for housing is foolish, that we are credible and get "wins" when we are incremental and balanced in our approaches. I also know that during 2020, we've watched social movements sweep across the country, building on years of grassroots organizing—seeing the power that can be built when folks move from the margins to the forefront with their knowledge, experience, and energy. This includes the housing justice movement fighting for safe, healthy, affordable housing and an end to displacement and eviction. We can join this movement with our research, technical knowledge, policy imagination, and advocacy voice. Organizers often say "we make the road by walking." The road will be made when we walk with community, toward a vision of housing justice.