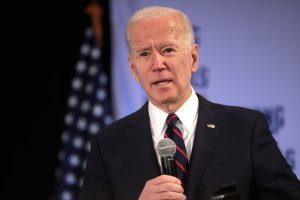 As Joe Biden was sworn in as the 46th president of the United States this week, affordable housing advocates looked ahead to the coming days, months, and years with hope and trepidation.
Biden has signaled that he understands the scale of the country's housing crisis and commensurately vast response necessary to address it. In the hours following the inauguration ceremony, Biden signed an executive order extending the CDC's national eviction moratorium, which had been set to expire on Jan. 31, through the end of March and called on Congress to further extend it to the end of September. He also asked Congress to take on a $1.9 trillion COVID-19 emergency relief package that includes $30 billion for rental and utility assistance and $5 billion to stabilize people at risk of homelessness and to fund rapid rehousing efforts.
In a speech the week before his inauguration outlining his plans for pandemic relief, Biden drew the link between housing stability and the ongoing spread of the virus.
"Approximately 14 million Americans have fallen behind on rent," Biden said on Jan. 14. "If we don't act now there will be a wave of evictions and foreclosures in the coming months as the pandemic rages on. This would overwhelm emergency shelters, [and] increase COVID-19 infections as people have nowhere to go and can't socially distance."
As the Democratic nominee, Biden presented a lengthy checklist of housing and homelessness policies and spending plans that included universal access to Housing Choice vouchers, bolstering the Housing Trust Fund by $20 billion, reducing exclusionary zoning, reimplementing measures rolled back by President Donald Trump including Affirmatively Further Fair Housing, establishing housing as a human right, and much more. In total, Biden's plan would spend $640 billion on housing and homelessness over 10 years. With Democrats taking back control of the Senate there is a chance of some of those ambitious, high-cost bills actually making it through Congress.
Many housing advocates remain concerned, however, that the needle won't move far enough. Low-income Americans were suffering from a lack of affordable housing long before the pandemic hit, but the pandemic has brought new challenges: billions of dollars of rental debt, a looming eviction crisis, and the prospect of long-term unemployment for millions. Coupled with the fact that Democrats have only a one-vote majority in the Senate and the reality that it will still be an uphill battle to even get some of Biden's major housing proposals passed, the future of federal housing action remains an open question.
Still, the range of what's possible is more open now than it has been in decades and advocates are planning to seize this opportunity to push Washington to make the substantial investments necessary to really address the housing crisis with short- and long-term solutions.
"It is remarkable that housing and especially tenancy has become a kitchen table issue," says Noëlle Porter, the government affairs director at the National Housing Law Project (NHLP). "With housing, Black and Brown Americans have been the most burdened by our abdication of responsibility for federally assisted housing and programs that serve tenants, but we're reaching a point where even middle-income, white Americans are unable to afford their rent and that's when it rises to the level of a national issue. [So now,] the president has made speeches that made references to the solutions and put out policy proposals with relief at top of mind. And it is remarkable."
Though Biden's day-one actions were welcome relief for advocates who've been ringing the alarm bells about the tens of millions of renters out of work and at risk of eviction, the lobbying has already begun for Biden and Congress to aim much higher with their immediate-term housing actions.
Going Further with the Rescue
To start, the eviction moratorium Biden extended through March has significant loopholes that have allowed landlords to continue to evict tenants during the pandemic. The current order requires tenants to essentially opt-in to protections, it only applies to evictions for non-payment of rent, and it allows landlords to still file evictions that will kick in as soon as the moratorium ends, among other issues, leaving the door open for landlords to skirt the intent of the moratorium while following the letter of the law.
When Congress considers extending the eviction moratorium through the end of September, housing advocates are demanding they strengthen it to a universal moratorium that covers all tenants and all types of evictions to truly keep people in their homes through the end of the pandemic and beyond.
Advocates are also pushing for Congress to go further than Biden's proposed $30 billion in rental assistance and $5 billion for addressing homelessness. On a Jan. 19 conference call, National Low Income Housing Coalition (NLIHC) President Diane Yentel said the $30 billion proposed combined with cash from stimulus checks in the Biden proposal and the $25 billion in rental assistance and $600 checks from December's relief bill is likely enough to cover the estimated $70 billion in accrued rent and utilities debt, but won't cover rent for long enough to keep people stably housed during and immediately after the pandemic.
To meet that enormous need, NLIHC wants Congress to include an additional $28 billion in the relief package for Housing Choice Vouchers, enough to cover 5 years of vouchers for 500,000 renters. It also wants Congress to provide an additional $44 billion for acquisition funds to help states and local communities buy and convert motels and hotels to serve as shelter and housing. "There's no exit strategy for those people now who are in motels and hotels. We can't be asking mayors to move people back to the sidewalks they were on. . . .  It's a logical bridge between investing in immediate housing needs but also investing in long-term permanent supportive housing," Yentel said on the call.
NHLP is also lobbying to help ensure that tenants aren't hurt by evictions or the debt they accrued during the pandemic through no fault of their own.
"We're asking Congress to halt the reporting of evictions and debt accrued during the pandemic to credit agencies," says Porter. "We're saying this time period is off limits for the harm it can do to tenants. We're going to get you your money, landlords. We're going to get through the battle of the health emergency. But we're not going to let the harms of this pandemic follow people around for 2, 5, 10 years."
She continues, "One of the lasting harms of the housing crisis of 2008 is those bad mortgages and foreclosures still follow people. We bailed out the market but didn't help individuals and say here's the solution to give you a real chance."
Big Ideas for Better Housing
Even though Democrats secured a one-vote majority in the Senate with Vice President Kamala Harris serving as the tiebreaker, it will be a difficult lift to get Biden's full $1.9 trillion package passed, let alone an expanded package. Democrats would need 10 of their Republican colleagues to sign on to avoid a filibuster. But prominent moderate Republicans including Sens. Mitt Romney and Lisa Murkowski have already balked at another huge spending package so soon after December's $900 billion relief bill.
Many advocates are hoping Democrats instead turn to budget reconciliation to get as much of their spending package passed. It is a wonky procedural tool that allows bills to pass with a simple majority. President Barack Obama used it to pass the Affordable Care Act and presidents George W. Bush and Donald Trump used it for their tax cuts.
The fact that it will cost more than $70 billion to help low-income renters climb out of the massive financial hole they've fallen into during the pandemic likely tempers Congress's appetite to also spend hundreds of billions of dollars on housing beyond that immediate-term rent relief and eviction protection. But some advocates are hoping that the pandemic will actually bolster Biden's chances of success.
"The pandemic has made the importance of housing more visible than it ever has been," says Washington Low Income Housing Alliance (WLIHA) Executive Director Rachael Myers. "It's created this opportunity where decision makers, lawmakers, and people in communities all recognize housing is an absolutely essential need for everyone and it's part of health care."
Many advocates have rallied around Biden's proposal to make Housing Choice Vouchers available to anyone who qualifies, the way SNAP food benefits, Medicaid, and other federal safety net programs are, as opposed to its current status where only about one-quarter of those who qualify are actually able to get vouchers.
"Turning Section 8 into a fully funded entitlement would be a huge change," says Steve Berg, vice president at the National Alliance to End Homelessness. "If that became law it would mean people would not become homeless nearly so often. It would mean all the other ill effects of unaffordable housing would be wiped out. Access to schools would be better, people would be able to get jobs more easily. The unavailability of housing is one of the main things driving racial disparities in this country."
There's also a lot of support for Biden's plan to increase the budget for the National Housing Trust Fund, which is used to construct, preserve, rehab, and operate low-income rental housing. In years past Congress has funded it at a little over $300 million. Biden has proposed to increase funding to $20 billion.
Biden has also proposed tying U.S. Department of Housing and Urban Development and Department of Transportation grants to local zoning issues to incentivize localities and states to eliminate zoning restrictions that prevent affordable housing construction. Any housing provider that's suffered through the roadblocks of NIMBY appeals and lawsuits barring new construction can understand why that will be important for getting new affordable housing built.
"If you're going to fund a housing subsidy program and make a major investment, having changes at the state and local level around land use will make those dollars go further," says Urban Institute Vice President Mary Cunningham.
Cunningham recognizes, however, that local NIMBYism will be a major hurdle to overcome. "It's a really hard thing to change. I think about my neighborhood [chat group] and how people feel about new construction and density. I don't know how to convince everyday people they might have to give up a little to live in a society that doesn't have homelessness and people living on the verge of eviction."
[RELATED ARTICLE: What Is NIMBYism and How Do Affordable Housing Developers Respond to It?]
No matter what ultimately gets passed by Congress, NHLP's Porter and others want to ensure low-income renters and other people who have experienced eviction or homelessness have a real voice in designing and implementing policy.
"A lot of what we're asking of the administration is to have seats at the table for organizers and tenants in every conversation," says Porter. "In RAD conversions they go better when tenants are sitting at the table because they live there and know what needs to happen to make the housing better serve them. We want tenant ombudsmen in every conversation."
Frank Woodruff, executive director of the National Alliance of Community Economic Development Associations, wants to see the federal government take a role in rebuilding the capacity of local community development corporations. After all, what good is a massive expenditure on housing if it can't be put to its best use on the ground? Woodruff envisions a tax credit for certified CDCs to help them bolster their capacity. "We want to see support for CDCs to deploy a lot of capital and projects relatively quickly. They've been neglected by the federal government for a decade or two and the capacity has drained a little bit."
Many advocates are pointing to Biden's platform promise to make housing a human right as a potential first step toward the federal government recommitting to building and maintaining public housing.
"State and local governments have been trying, but not being able to make up for the federal government just walking away from housing many years ago," says WLIHA's Myers. "It's such a big need and the scale of the problem is so big. We can't solve it alone. The state can do a lot, local communities can do a lot. But the federal government has to be a major partner."
Several of the advocates and researchers that Shelterforce spoke with want to see the federal government not only fund the $70 billion or more backlog in public housing capital expenditures, but make a real commitment to funding and constructing housing for very low-income Americans that the open market will never serve.
"The [dollar amounts] are so vast," says James DeFilippis, a professor at the Edward J. Bloustein School of Planning and Public Policy at Rutgers University. "But we are also in a moment when the federal government can borrow money for nothing. Are we ever going to be in a moment where borrowing will be so cheap again?"
He continues, "One of the old mantras of my field is to make no small plan because they have no magic to stir people's blood and probably won't get built anyway. The inequity in our housing and our cities has never been more naked than it has been in the last decade. To think the way to respond is to just put more money into things as we have always done them is to not understand the scale of the problem."
What the Biden administration and Congressional Democrats will ultimately pursue on housing will depend in large part on the work of advocates and organizers at the local, state, and national levels in the months and years to come. After all, it was their work that played a key role in forcing Democratic candidates to take on housing affordability as a "kitchen table" issue.
"It's not up to Biden," says Michael Kane, executive director of the National HUD Tenants Alliance. "It's up to us to mobilize in the streets and in the media and put pressure on the political system to get these done. None of this is going to happen without mass mobilization."