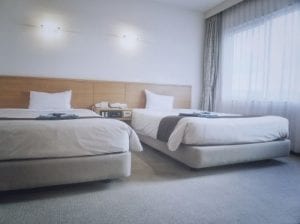 When the novel coronavirus began to spread in the United States earlier this year, cities and states around the country responded with concerted efforts to protect vulnerable populations from contracting and spreading the virus.
Many cities began booking hotel rooms for homeless people in March and April. Using hotel rooms to house the homeless is not a new idea; many places do so, but this response—relocating large numbers of folks without homes into individual rooms—marked a more focused approach to a specific health threat. The argument for using hotels and motels is that the spaces provide individual rooms where people can shelter in place safely in a known and isolated building, with showers and toilets and the ability for medical personnel to attend to residents if needed. 
Now, some state and local governments are looking to create long-term housing for those who have been helped by temporary projects. While efforts are being bolstered by an influx of funds, some activists and policy advocates are pushing for widening the strategy to serve as the basis for long-term housing solutions.        
Contracts, Not Takeovers
For some states and local governments, short-term relocation plans were done to help prevent further spread of COVID-19. However, given the positive impact of these homeless programs, as well as the receipt of additional federal funding, state, city, and county officials are attempting to turn temporary housing in hotel and motel rooms into permanent spaces. The question is how they will do it. Although some states, such as California, have the ability to commandeer property during an emergency—a move that activists have pushed for—governments have not done so and instead rely on contracts. In many cases, such as in California, these started as 90-day deals, but as the pandemic continued to spread they were extended, with renewal periods varying by location. As part of the deals, local governments have provided medical and security staff for each contracted space.
A recent paper by UCLA's Luskin Institute on Inequality and Democracy argued in favor of acquiring hotel rooms as permanent housing for those in short-term housing or soon to be homeless. The report said that even if authorities are able to get the pandemic under control, it will be as much as four to five years before the tourism sector recovers. Already, it noted, there is a large decline in the tourism sector, including hotels in the Downtown Los Angeles core that received large public subsidies when they were originally developed. These modern buildings tend to be located near hubs of entertainment—the UCLA report highlights the hundreds of empty rooms near the Staples Center and the Los Angeles Convention Center in Downtown Los Angeles, only blocks from Skid Row, the heart of the city's longtime homelessness crisis. The report, "Hotel California: Housing the Crisis," suggests using eminent domain to expropriate the properties. The report argues that a combination of the declining tourism business, political movements calling for housing justice, and the influx of federal money makes this a moment when such a move would be politically viable. The report also calls for the public purchase of distressed hotels and motels in areas outside of the business and entertainment hubs that might otherwise be bought by private equity, such as when the Blackstone Group acquired the Motel 6 chain in 2012 after the Great Recession. The Luskin Institute's research identified 95 hotels that fit that description. It did not specify the total number of units those hotels represented, but noted that one hotel the study looked into had 172 rooms.
The UCLA report looked at Los Angeles County, which already had seen homelessness increasing pre-COVID. According to the Los Angeles Homeless Services Authority's (LAHSA) 2020 Homeless Count, conducted in January but released in June, 66,436 people were experiencing homelessness in the county.. The study's authors argued that governments acquiring hotel rooms would not only provide permanent housing for people already staying in rooms because of the pandemic, but would lay the foundation for public housing ahead of expected increases in homelessness due to the pandemic. Ananya Roy, one of the study's authors, said that California's actions in the spring show that non-congregate homeless housing is possible.
Cities like Houston, Columbus, New York City, and Boston secured hundreds of rooms on contracts to shelter older homeless individuals and quarantine those who had contracted COVID-19, in an attempt to avoid community spread. The Centers for Disease Control and the World Health Organization both recommend that people shelter at home and maintain social distancing to prevent the spread; however, that is all but impossible for unhoused people, who live in unsafe conditions or in cramped encampments.
The state of California rolled out Project Roomkey in April, using hotels as temporary shelters and isolation spaces and as of the start of June had moved approximately 9,400 people into hotel and motel units statewide. Authorities including Gov. Gavin Newsom and municipal leaders such as Los Angeles Mayor Eric Garcetti said such a move was possible due to the Federal Emergency Management Agency's promise to reimburse 75 percent of the cost; the exact cost is unclear because multiple counties, municipalities, and the state are involved. In Washington, D.C., leaders relocated more than 2,000 people into hotels as part of their efforts to lessen the negative health outcomes of COVID. The District already has a history of using hotels to house those experiencing homelessness. And yet even as it moved vulnerable people into rooms this year, it also ended  deals with motels that were being used as overflow shelters for families (separate from the hotels and motels used for housing people at risk for the coronavirus), a move that had been planned before the pandemic. Families staying in motels were relocated into short-term housing and shelters until permanent housing was found.
The New Orleans area also launched an expansive relocation effort. Service providers and government officials were able to negotiate deals with some hotels in March, after a high rate of COVID-19 cases hit the city. At least four hotels were contracted for this. Two hotels initially were initially leased, for $289,000 and $257,000 for the first month, respectively, according to documents obtained by local reporters. The leases were renewed, but it is unclear for how much money.
When New Orleans stopped moving unhoused people into hotel rooms at the end of May, it had relocated 617 people in the city and in Jefferson Parish, according to Martha Kegel, executive director of UNITY of Greater New Orleans, the lead group in New Orleans and Jefferson Parish's continuum of care. A "Point in Time" count in 2019 found that approximately 1,200 people were homeless in the New Orleans area. Including an additional 95 homeless people who were moved into hotels by the Department of Veterans Affairs and domestic violence organizations, altogether 712 people were housed in hotels and motels, or almost 60 percent of the 2019 count. People housed in the hotels received food and medical care, according to Andreanecia Morris, executive director of HousingNOLA. Kegel added that authorities had looked at two other hotels in March that said they might be willing to contract, but those were not used. One hotel was in need of major rehabilitation, while the other refused to let anyone with COVID-19 into the building.
In New York City, the municipal government launched plans to move people from shelters into hotels in April. The city's Department of Homeless Services has a history of working with hotels and contracting rooms at higher than market rate to temporarily house homeless individuals. In April, the city began moving more people into hotels to avoid the dangers of mass congregate shelter housing, they were using doubled-up rooms. Advocates such as those at Vocal NY are pushing for individual occupancy hotel housing. Joseph Loonam, housing campaign coordinator for Vocal NY, a harm-reduction organization advocating for people experiencing poverty, homelessness, and mass incarceration, says that from what the organization has seen, many people on the street fear the risk associated with sharing a tight space with others.
Despite a slow start, including missing its goal of 2,500 relocations by April 20, New York City placed approximately 9,500 people in hotels. As of late June, almost 20 percent of the city's hotels were being used to house homeless individuals. According to The New York Times, the average room cost is $174 per night. Officials say the program is temporary, until public health is under control, but there is no set move-out date. The move has been effective in getting vulnerable people out of congregate settings and limiting the spread of COVID-19 among unhoused people, but leaders are not following through on expanding permanent and affordable housing both during the pandemic and in planning for life after COVID-19, according to Loonam.
Other efforts have had mixed results. In Minneapolis, advocates pushed for using vacant hotel rooms during the pandemic. When protests against the police killing of George Floyd broke out at the end of May in the city, some advocates for the homeless who had booked rooms  for unhoused people at a Sheraton in the Phillips neighborhood of Minneapolis learned that the hotel was being evacuated due to the unrest. They were able to negotiate with the owner to move additional homeless people into the hotel. At least 200 people were moved into the building. However, that effort failed; reported fights and damage inside the hotel and a drug overdose led to all of the unhoused residents being evicted from the space. Many of those forced out of the Sheraton joined encampments at Minneapolis' Powderhorn Park. That arrangement was short-lived as well, as authorities cleared the park on Aug. 14.
Some places across the country are realizing that a long-term plan is needed. California is rolling out Project Homekey, a follow up program to Roomkey in an effort to create new long-term housing. The state approved a $600 million plan, with funds disbursed to cities and counties to buy or build new residential units. There is no exact unit goal, given the varying amounts hotels and motels cost around the state. The plan is partially funded with federal relief money from the CARES Act, which must be spent by the end of 2020.
Clear Plans for Long-Term Housing

Few if any authorities have yet created specific plans for transitioning people currently staying in hotel rooms into permanent housing or other accommodations.
In Los Angeles, LAHSA announced plans in June to find housing for 15,000 of the most vulnerable homeless people in the area as part of its "COVID-19 Recovery Plan." That number includes the 4,000 people already sheltered in hotel and motel units through Project Roomkey. When it launched in April, leaders in Los Angeles said that Project Roomkey would see 15,000 rooms occupied by unhoused people. Despite initial gains, occupancy stalled out in the summer, with only 4,177 rooms contracted and 3,753 rooms occupied as of Aug. 26, according to data provided by the Los Angeles County Emergency Operations Center.
"The problems of Project Roomkey are several," Roy says. "One of them is that while government executives have the authority to commandeer hotels during an emergency, in California none have done that so far. They've relied instead on negotiated occupancy agreements, which have been slow going."
Those agreements have been for short-term housing contracts, which have been extended under Project Roomkey. Roy added that even as state and local authorities in California and Los Angeles try to transition to long-term housing, they lack a clear vision for how they will do so. LAHSA put forward a recovery plan that calls for housing 15,000 homeless people through leasing rental units and subsidizing the cost, and buying some houses. Roy says the plan is scattershot; the Luskin Institute report noted that the plan calls for using tools and rehousing strategies that have already been tried and "proven insufficient."
Similarly, some advocates noted that it will take a serious shift in priorities to move from pandemic-focused short-term housing to using hotels long-term. Dr. Robin Petering, policy and education co-chair with the Los Angeles-based group Ktown for All, says that programs like Project Roomkey were by design focused on older homeless people or those with medical conditions that put them at a higher risk of catching COVID-19.
Kegel of UNITY of Greater New Orleans says "we'll be damned" if anyone who was moved into a hotel shelter in New Orleans in the spring falls back into homelessness. But buying up hotels is not part of local strategy there. Instead, the focus is on rapid rehousing and housing vouchers, utilizing CARES Act funds. 
Morris says New Orleans and Louisiana have a history of using FEMA funds for contracting hotel rooms in the wake of disasters such as hurricanes, and with current federal resources made available in the last few months, authorities should take advantage of it and not worry about the cost of buying hotel rooms for the future. Officials "left money on the table," Morris said, arguing that there is an opportunity now to use federal funds for acquiring rooms and units, money that might not be available down the line.
Tenants' Rights and Equity
One thing advocates and housing experts do agree on is that any longer-term housing solution for those currently in short-term hotel programs will need different rules, more akin to other permanent supportive housing models. That is both to deal with new conditions after the pandemic as well as to possibly expand the hotel and motel model to address an expected spike in homelessness this fall when eviction moratoriums are lifted and many struggle to meet rent. One in three Americans missed rent payments in August, according to the U.S. Census Bureau. Not only can being evicted make it harder for a person to rent in the future, it takes a psychological and physical toll on them. hot warns that with a potentially massive spike in homelessness coming, cities and counties must get ahead of the fallout and have rooms as well as long-term options ready for those in need.
Part of that involves transitioning temporary hotel stays into more units of permanent supportive housing. Petering noted that the activations of hotel and motel rooms done in the spring as part of Project Roomkey and other programs included restrictions on travel; people were asked to remain in their rooms to slow the spread of the virus. Going forward, if long-term housing is the plan, those restrictions will need to be lifted to make these places more like actual homes.
One issue repeatedly cited as a challenge last spring was a shortage in supportive staff to help make hotel and motel room arrangements viable, including case workers and medical professionals to help those with addiction issues or preexisting health conditions. However, Roy noted that many of those about to be forced into homelessness due to the pandemic economic collapse will not need those kinds of services as much as the current homeless population does; rather, most will just need immediate housing.
Similarly, advocates and housing experts stressed the need for equity and tenant rights in any sort of permanent or long-term housing solution for those currently in hotels. Vocal NY's Loonam said that means avoiding some of the restrictions put on hotels used as housing during the pandemic, where the focus is on keeping people from moving around and potentially catching or spreading COVID-19.
"We're going to demand whatever is equitable," Loonam said, "[so] that there are no curfews or having to go through metal detectors."
New York City has lost affordable housing in recent years due to budget cuts, says Loonam. Now that there is state and federal money that can be used for permanent housing, whether long-term hotel contracts or other solutions, the most important thing is that it should be used.
"It's an all-hands-on-deck moment for New York and around the country," Loonam said. "We need to invest in creative solutions for a problem that's only getting worse by the month."