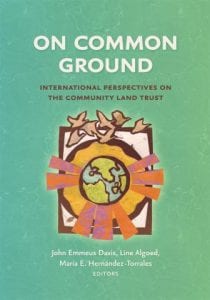 James Tracy: For those who are new to the concept, what is a community land trust (CLT)?
John Emmeus Davis: Here's the prompt that Line [Algoed], Maria [E. Hernández-Torrales], and I provided when we were recruiting practitioners and scholars to write original pieces for our book: a CLT does community-led development of permanently affordable housing on community-owned land. When describing a community land trust, that's a pretty good place to start; that's our elevator speech.
Once the elevator arrives at the top floor, however, and there's more time to talk, you can add details. A community land trust is a nonprofit corporation that owns and manages land on behalf of low-income and moderate-income residents of a particular place. Any buildings on that land are owned by someone else—families, cooperatives, small businesses, urban farmers, etc. Rents and resale prices are controlled to ensure that access to a CLT's land and to the buildings on it remain affordable forever, one occupant after another. The CLT itself is governed by a three-part board, representing (1) people who use the CLT's land, (2) residents of the surrounding neighborhood, and (3) various professional and organizational allies.   
That's the profile of what is often called the classic CLT in the United States. But the landscape of CLTs is remarkably diverse, here and abroad. The 42 authors who contributed to our book came from a dozen different countries. Despite our initial prompt, we never expected that everyone's conception of what a CLT is and does would be identical. It wasn't. But that was OK. Part of our purpose in producing the book was to showcase the model's many configurations and applications. 
Maria E. Hernández-Torrales: Most CLTs are formed through a process of community organizing and participatory planning. The variations among CLTs are largely a result of different communities in different countries adapting this tool to their own situations. 
Line Algoed: Communities answer that question of what is a CLT in their own ways. Some principles, like land being held for the common good, will be found everywhere. Other principles and features vary greatly from one place to another. There are also housing and landholding mechanisms in cities and countries that aren't technically CLTs, but the ideas behind these mechanisms are very similar: land is held in common, with housing in individual ownership.
The CLT model emerged from several social movements. Can you tell us a little about them?
Emmeus Davis: The CLT is an unruly mixture of ideas and elements drawn from precursors in several countries, including the Garden Cities in England, the Gramdan Movement in India, ejidos in Mexico, moshav ovdim in Israel, and Ujamaa Vijijini in Tanzania. Closer to home, the modern-day CLT emerged out of the civil rights movement in the American South. The first CLT, New Communities Inc., was created in 1969 by African-American activists in southwest Georgia who wanted to take their political struggle for voting rights a step further, expanding into the realm of economic rights and economic independence through community ownership of land and the cooperative organization of agricultural enterprises.
Algoed: A continuation of this connection to the civil rights movement can be found in today's efforts of CLTs to fight against economic and spatial racism. Internationally, CLTs are aligned with campaigns of Right to the City to stop displacement and evictions and to promote inclusion of all classes and races. In the global south, CLTs are less well known, but they are part of the conversation about community control of land being an effective strategy for providing security of tenure for people living in informal settlements and for protecting the customary lands of Indigenous peoples and local communities.    
Hernández-Torrales: People in informal settlements are deprived of the most basic services, but their most urgent need is security of tenure to prevent involuntary displacement. In Puerto Rico, we've seen people being uprooted by government actions or market forces from areas they've called home for decades, especially in the wake of hurricanes that clear the way for "disaster capitalists" to gain access to valuable land. We created the Caño Martin Peña CLT as a way not only to improve services and infrastructure in seven informal neighborhoods in San Juan, but also to ensure security of tenure for the families who live there.     
On Common Ground spends a lot of time detailing European CLTs. How do CLTs fit into an economy that has a pretty robust social housing sector?
Algoed: Europe's "robust" social housing sector is, unfortunately, a romanticized idea of what is actually happening on the continent. Currently, only 10 percent of the total Brussels housing stock is social housing, while at least 37 percent of the Brussels population is at risk of poverty. A much larger share of the population has a low enough income to be eligible for social housing, but waiting lists are at least 10 years. The Netherlands does better: social housing makes up 35 percent of the housing stock (up to 55 percent in Amsterdam). But the Netherlands also has very long waiting lists, and rents and prices for market housing are skyrocketing.  
Social housing companies in several cities in Europe, specifically in Belgium, are now exploring the possibility of integrating CLT principles into their housing developments. And in Belgium and France, new CLTs are forming as a complement to social housing, serving populations that are missed by both social housing and market housing. 
It's really interesting to see CLTs emerge in Latin America about the same time as the "pink tide" of left-leaning governments there. What have we learned about CLTs operating in this context? How has the shifting politics of the region impacted the CLT movement there?
Hernández-Torrales: There was no "pink tide" in Puerto Rico. The Caño CLT came to be because of the tenacity of community leaders, who for more than 80 years had suffered the abandonment of government and were living in dire conditions. Despite being located in the heart of the capital city, San Juan, and despite being next to the business district, these poor communities were invisible.
[Related: Community Land Trusts in the Age of Climate Change]
But there was a change in public policy in 2001 to favor the empowerment of poor people. Community leaders along the Martin Peña Canal took advantage of it and proposed legislation for the creation of the Caño CLT. It was the will of the people, however, and their informed and active participation that precipitated social change. 
In the South Asian context, Hannah Sholder and Arif Hasan state, "Given that real estate is one of the most lucrative resources and industries worldwide, the process of claiming rights on land upon which there are multiple claims—whether legitimate or not—is a tricky and sometimes risky business." What are the implications of this statement?
Emmeus Davis: Land is a contested commodity throughout the world, especially in places where people have insecure possession of lands they occupy or land-based resources they freely use like water, pastures, and forests. Even in cities of the global north, however, where the legal rights of tenants and homeowners are comparatively secure, lower-income populations are always at risk of being pushed aside by market forces outside their control.
My friend Chuck Collins talks about real estate being used as "capital storage units," where the world's richest citizens safely "park" their money during periods of economic uncertainty—like the present. That sets up a fierce competition for land and housing. Without the kinds of protections provided by a stewardship entity like the CLT, this is a competition that low-income people—and even moderate-income people—are bound to lose.
Hernández-Torrales: That contest is even more unequal when government sides with the rich. In 2012, the economic crisis in Puerto Rico led the government to enact legislation to attract foreign investors, offering tax breaks and other economic incentives. Most of these wealthy people have been investing in real estate, causing the prices of land to skyrocket. The most precious land is located along the coast, which is precisely where many poor people live. Under the guise of economic development, the government also exercises eminent domain, displacing poor people and causing more poverty and unrest.  
What are some of the common barriers to taking the CLT model to scale? By scale, I mean large enough to make a difference in the housing economy of a city or nation?
Hernández-Torrales: The Caño CLT was born big. Almost 1,500 families in seven communities are CLT members. Our CLT is committed to building housing and keeping it affordable in perpetuity in an area that is constantly at risk of gentrification. To make a real difference, however, development of housing has to occur side by side with development of the capabilities of a community's residents and leadership, so they can fully exercise their rights as citizens. 
Algoed: I agree with what [Hernández-Torrales] says about the Caño. It is a very big CLT that is impacting thousands of people. But CLTs can't solve the housing crises that we see in so many cities. Housing policy is still dominated by attracting high-end developments, to bring in wealthier people, and increase the tax base, following a sort of trickle-down theory to then be able to finance new social housing. But this drives up the price of the entire housing stock, leading to ever more people relying on social housing, or being pushed out of the city. I don't think any CLT with a few hundred homes can solve this. We need to completely rethink this economic model, think about ways in which local communities can maintain control of urban land, based on a broader vision of housing rights. CLTs can be a very good start, however.  
Emmeus Davis: In the United States—and in most other countries—the biggest barrier to going to scale is what you'd expect: access to land and access to money, especially equity. CLTs don't have as much trouble finding debt. Once they get established, CLTs are usually able to get the loans they need to construct and to finance homes. That's because CLT housing comes with a built-in credit enhancement. Private lenders and state finance agencies like that a nonprofit landowner, the CLT, stands behind every deal, protecting both the homes and their occupants; preventing foreclosures.
Equity is harder to get. But no CLT goes to scale without receiving donations of land and donations of debt-free capital for its projects and operations. The philanthropic community has played a role here, but government is the main source of such equity. It is no accident that the cities where CLTs have grown large enough to make a difference are those where municipal officials have made a commitment to the lasting affordability of housing assisted with public dollars or public powers.
But most housing policy, as Line suggests, in most cities and countries is still dominated by a trickle-down ideology. The result is a leaky bucket where public dollars and affordable homes are allowed to trickle away at a steady rate. The CLT is a proven strategy for preventing such planned attrition, but public officials have to want a supply of renter-occupied and owner-occupied housing that remains affordable forever. In the end, the biggest barrier to "going to scale" is that too many public officials willfully ignore the holes in the system they are subsidizing. They can't imagine doing anything different than trickle-down, trickle-out.