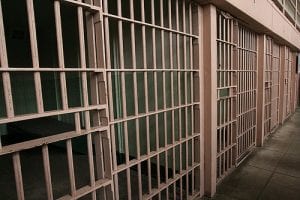 In March, as the reality of just how deadly and widespread the novel coronavirus would be began to sink in, advocates and service providers who work with prison and jail inmates began sounding alarm bells across the country: prisons were sure to become death pits. Eight of the 10 infection hot spots nationally are jails and prisons, according to The New York Times.
The infection rate in New York City's Rikers Island jail is 8.14 percent compared to 1.31 percent in the city as a whole, according to The Legal Aid Society, a nonprofit that provides legal assistance to vulnerable and underserved populations.  On April 1, Rikers' chief doctor responded on Twitter to a letter from a group of district attorneys who warned against the release of inmates they considered a "high risk" to society, referring to the DAs' "failure to appreciate the public health disaster unfolding before our eyes."
On May 6, the state's Department of Corrections and Community Supervision reported a total of 1,143 staff infected statewide, plus 415 prisoners and 53 parolees. Four staff members have died due to the infection, as well as 15 inmates and four parolees. As testing of the inmate population appears to be drastically lacking and many people with the infection can be asymptomatic, advocates expect that the numbers are actually much higher.
Inmates in prisons and jails across New York describe squalid conditions where they are still forced to interact with fellow inmates, must wrap their faces with scarves or fabric scraps, and are told to clean their own rooms but are given no cleaning supplies. Visits from family members and lawyers to these facilities are banned. Guards, too, complain they have not been given personal protective gear, or have been told they are not allowed to wear it, yet are still required to perform highly invasive contraband checks.
As the infection rate at jails in states like California and New York, where the virus first took hold, began to climb and inmates got word out to the public about the conditions they are living in, officials began, grudgingly, looking for criteria to use in determining which categories of inmates to release. And then they ran into a familiar but now heightened dilemma—finding housing for the formerly incarcerated is never easy.
Inmates who are being paroled or released early must have a housing plan arranged before they can walk out of prison. Typically, this is done via family, lawyers, or nonprofit groups that arrange a living situation. "They don't release someone to the street," says Anthony Dixon, director of community engagement for the Manhattan-based Parole Preparation Project. "A parole officer has to go to [the place they intend to live] prior to release to check it out to make sure there are no drugs … that it will be a place that won't present problems."
Finding this type of housing can be a challenge during normal times, but Dixon says with the system now handling those who were already scheduled to be paroled, as well as those released due to COVID-19, there is an overflow. Dixon says he sees hesitancy from some organizations to take in more individuals for fear of overcrowding, and in other cases a hesitancy to move people to new housing situations while the world is paralyzed by a pandemic.
"With 50 percent of those leaving prison in the city going to the shelter system, this is something we are constantly confronting," says Katie Schaffer, director of organizing and advocacy for Center for Community Alternatives, a group that provides reentry services and has been a leading voice for the release of prisoners during the epidemic. Schaffer's group has been active in pushing for New York State to release prisoners to prevent further infections and needless death. At the same time, she acknowledges that release from prison always brings a host of its own challenges, both old and new. "Now with this terrifying deadly virus there are not only the risks that [usually] come with lack of housing, including substance abuse relapse, health issues, and the lack of stability," says Schaffer, "but also the threat of becoming deathly ill."
New York state's move to release prisoners has been slow and piecemeal. In New York state prisons and in the infamous Rikers Island jail, overcrowding has long been the norm despite sustained efforts to reduce prison populations and close facilities. Pressed by advocates and reporters about their plans to confront the current dilemma, Gov. Andrew Cuomo and Mayor Bill de Blasio initially offered little information. But by late March, as infection rates in prisons and jails clearly began to rise above that of the outside world, both started taking action, albeit in small steps.
On March 24, De Blasio moved to release 300 elderly prisoners from Rikers. The prisoners selected had nonviolent offenses, less than a year left on their sentence, and had five preexisting health conditions. "It's a very complicated dynamic, one that we've literally never dealt with before," de Blasio said during a press briefing. "I'm doing what I think is the right thing for this city."
On March 27, Cuomo said his administration would look at freeing aging inmates who were close to their release dates. And in May, state officials said they would release women who are pregnant or postpartum if they had not committed a violent felony or are within six months of release.
As of April 22, New York State Department of Corrections and Community Supervision officials say 55 inmates have transitioned out of state-run correctional facilities into housing and more were expected to be released by the end of that week. A total of 171 inmates have been identified so far as qualifying for release, but the process of identifying inmates who qualify and processing their release is ongoing.
Housing plans are required for all of these releases, and officials would not release data on where they were going. The Department of Corrections and Community Supervision says the process for securing housing has not changed with COVID. It seems those who do not have family to go to may go to emergency or temporary beds in transitional facilities, and inmates and their lawyers are scrambling for limited spots in overwhelmed reentry programs.
Also on March 27, Cuomo announced he would free 1,100 people held on technical and parole violations. So far 785 people have been released under that initiative, which requires those being released to have stable housing and not be a "risk to public safety."
"Wherever we can get people out of jails, out of prisons, now, we are," Cuomo said on March 27 during a briefing on pandemic response when he announced the move.
In late April, Dixon of the Parole Preparation Project reported that inmates with less than 90 days of their sentence remaining were being given motel rooms.
Meanwhile, activists from Legal Aid worked with district attorneys and city officials to secure the release of more of their clients. Legal Aid has filed a number of lawsuits looking to force the state and city to release clients of theirs who they say are at particularly high risk of contracting and dying from coronavirus. "New York abolished the death penalty more than a decade ago, but many New Yorkers incarcerated at these facilities now essentially face a death sentence as COVID-19 spreads and continues to claim lives," Legal Aid attorney Tina Luongo said in an April statement.
De Blasio has pledged to pay for thousands of hotel rooms for the homeless and recently incarcerated individuals who are in danger of contracting the disease. The application and decision-making process is still unclear, but people in the shelter system or who have been released to reentry programs can apply. On April 14, he said 1,500 inmates had been released from city jails, but it is unclear how many of those released due to COVID-19 are occupying hotel rooms. City officials did not respond to a request for the total number of inmates released so far during the pandemic, or how many are occupying hotel rooms.
Bailing Out Inmates
In California, where housing prices are prohibitive and an estimated 150,000 people are homeless, the issue was already on the front burner, but the pandemic has forced further and faster action. Gov. Gavin Newsom signed an executive order on March 18 designating $50 million to secure hotel rooms or buy trailers to house the homeless and formerly incarcerated. Oakland was one of the first cities to act on the agreement, securing nearly 400 hotel rooms in an area near an airport and away from residences. According to a report by the Marshall Project, guards are stationed at the entrance. Residents began moving in in late March, but it is still unclear how many are homeless or were recently incarcerated.
Unwilling to wait for the legal and political process to play out, a number of New York-based organizations are raising funds to bail out those incarcerated at Rikers awaiting trial. Alex
Tereshonkova of Emergency Release Fund, a group that was founded to raise money to bail out transgender inmates but is now working to release as many people as it can, says the organization has raised $475,000 and secured the release of 80 pre-trial detainees.
The Emergency Release Fund works with other nonprofits to find housing and transportation for the released inmates. One of those groups is Gay and Lesbians in a Transgender Society (GLITS), a group whose mission was previously to advocate for transgender sex workers.
Ceyenne Doroshow, the organization's founder and executive director, says she saw the need to provide housing to former inmates as news about the virus spread, and the urgency grew as she began to lose friends to the disease. Doroshow's organization now secures Airbnb apartments and hotel rooms to put up recently released inmates. Referrals are made to GLITS through other reentry groups and through cards that are circulated in prison. Doroshow says she has been inundated with calls from inmates looking to secure housing and she is pained to have to turn many away. Inmates who are selected by the organization are presented with a housing plan and a set of rules and regulations they must follow to stay part of the program.
Reentry is always challenging, says Doroshow, but being released into a pandemic and lockdown comes with many more difficulties. Her group will pick up someone as they are released, take them to their new living space, and provide them with food, Wi-Fi, and cable to ensure they can shelter in place for a mandated 14-day quarantine period, which GLITS requires to reduce potential transmission of the virus. Rent alone costs about $2,000 to $3,000 per month. The group also facilitates transportation for testing and other medical care.
Police and prison guard unions have not been supportive of public-health-inspired releases. Perhaps that's why Doroshow says planned pre-trial releases have been interrupted multiple times without warning by police acting on an outstanding warrant for the person being released. "They don't even bother to tell us and they just walk them right back in," she says.
Services like Doroshow's might be less in demand if it were easier for people being released to live for a time with their relatives. But for those whose relatives are residents of the New York City Housing Authority (NYCHA), that may be difficult. NYCHA has a policy that people who have been convicted of certain types of felonies cannot live in its facilities. In 2017, NYCHA launched a pilot program to allow some individuals with felonies to move back in with their families on a trial basis. The pilot program is great, says Deborah Thrope, deputy director of the National Housing Law Project (NHLP), but, she notes, it is simply too limited to be effective during a pandemic when there is so much need.
Housing authorities across the country have a patchwork of various rules pertaining to screening, visitor rules, and criminal records, which could be adjusted in the face of the extra need for housing. "Local authorities could take a look at these rules and lift some requirements," says Thrope.
HUD also currently has the power to enforce consistent national standards, as the agency was granted waiver authority as part of the CARES Act passed in late March. "They essentially have carte blanche, with just a few exceptions," says Thrope. But HUD has not issued recommendations or directives on accommodating the formerly incarcerated.
NHLP has endorsed a bill sponsored by Sen. Kamala Harris and Rep. Alexandria Ocasio-Cortez that would change many of the screening policies that prevent former offenders from accessing federally funded public housing across the country. The Fair Chance at Housing Act, introduced last summer, would require federally assisted housing providers to consider individual cases and mitigating evidence for those with criminal records. It would also eliminate "one strike" eviction policies and mandate that public housing agencies can only ban a non-tenant from visiting a public housing development "if the person was convicted of a felony that threatens the health or safety of other tenants, employees, owners, or PHAs, and only after a thorough consideration of all mitigating factors, including the familial relationship between the tenant and the non-tenant."
Thrope says she hopes that housing authorities will make changes now that could last longer than the pandemic to make reentry easier for those whose families live in public housing. "If we get best practices in now, the hope is they will stick."
The hope that the COVID-19 pandemic will force a holistic revaluation of the systems our society relies on is as fervent among those working in reentry as it is in those working for justice in economics, health care, or the food chain. Dixon believes that we need a more innovative approach to reentry that recognizes different people's varying needs. "If you look at where we are right now, we're being challenged to reimagine prisons, to change how people are incarcerated," he says. "And we are being challenged to change the pathways for the formerly incarcerated."