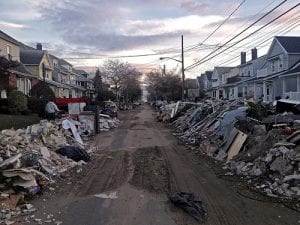 "To me, this feels eerily like when we return from a hurricane," says Vivian Ballou, executive director of Legacy Community Development Corporation, speaking of this era of sheltering in place to contain the coronavirus. It's the stillness, she explains: "The community is kind of quiet, the stores are limited."
She should know. In 2017, Hurricane Harvey devastated Port Arthur, Texas, where Legacy CDC is located, dumping almost 50 inches of water on the town and damaging a majority of its homes. Most years, the community development organization stands on guard to protect low-income families as tropical storms roll through the nearby Gulf of Mexico.
It's difficult work, but there's a silver lining for Ballou and others like her who've shepherded vulnerable families and individuals through disasters: familiarity. The first time a natural or manmade crisis swings through a region can be overwhelming and destabilizing; professionals tasked with helping residents can feel like they're constantly putting out fires and reacting to problems, rather than working proactively.
But whether they realize it at the time, they're learning. And when calamity strikes again—whether it's COVID-19 or some other crisis—they've already laid some groundwork for how to respond.
"We've weathered Harvey, Ike, Imelda, Rita, all of them," says Ballou. "We've learned how to survive from those, to make it through."
Near the Gulf of Mexico, Crises are Routine
California has its earthquakes and landslides, and the Midwest gets hit by tornadoes. But the region that's arguably the most familiar with serious catastrophes is the coastal South—especially areas along the Gulf of Mexico, which experience major hurricanes nearly every year.
In south Florida, Rural Neighborhoods—an organization that builds housing and community amenities for mostly migrant and seasonal laborers—cut its teeth responding to the devastation caused by Hurricane Andrew in 1992. Since then, it has dealt with many others. Executive Director Steve Kirk says the organization is "disaster experienced," accustomed to helping residents prepare for a threat beforehand and recover afterward. With the COVID-19 pandemic and subsequent economic slowdown, it's doing both simultaneously.
On the one hand, residents are absorbing news of potential contagion with growing worry, just as they do when a hurricane is bearing down and television stations broadcast nonstop weather updates. "We know the impact that media has on residents' anxiety. We end up in many instances as the community advocates who translate that information to calm and practical steps forward," says Kirk.
In the case of hurricanes, he and his staff have become amateur meteorologists and interpreters. They're not as experienced with viral disasters, but are still aiming to paraphrase social distancing directives into clear, fact-based advice for residents. "We try to guide people: 'This is what you need to know,'" says Kirk.
At the same time, he and his staff are tending to those who've already been hard hit by job losses. That includes providing direct assistance, like drive-through food distribution. "We've been through that drill scores of times post-hurricane," says Kirk; relationships with food banks and other aid groups are solid.
The organization has also begun applying for help through FEMA. "Because of our disaster experience, we know that as a nonprofit that provides an essential government service like housing, we are eligible for FEMA reimbursement"—something many other affordable housing groups aren't aware of, says Kirk. Unfortunately, the usual FEMA red tape is in place for this crisis, but experience makes it a little bit easier to navigate.
In Port Arthur, where Ballou and her staff develop affordable housing and provide financial counseling for low-income families, calling FEMA also feels routine. So does touching base with organizations like the American Red Cross, Catholic Charities, and the local community bank, all of which have helped out in prior catastrophes and feel less like business partners and more like family.
"When you work through disasters, you develop relationships; they're not just work-related. You're working in intense situations; not as intense as this pandemic, but you're dealing with people's lives, trying to get them out of dangerous homes," says Ballou.
It's hard, though, she adds. Many residents still haven't recovered emotionally or physically from Hurricane Rita, which was 15 years ago. "It's tough when you're in a community that's in constant crisis," says Ballou. "Mentally, it wears on people."
Back-to-Back Disasters in California
Two thousand miles to the west, Community Housing Improvement Program (CHIP) has experience with something very different. Two years ago, wildfires in northern California—first the Carr Fire, then the devastating Camp Fire—destroyed almost 20,000 houses and displaced tens of thousands of people.
Today, CHIP, which is based in Chico and develops and manages affordable housing, is finding that experience to be both a benefit and a disadvantage as the organization navigates a response to COVID-19.
The upside, says CHIP president Seana O'Shaughnessy, is the staff relationships that were built and cemented during earlier catastrophes. "There's a willingness to come together and do what needs to be done," she says.
That's common among organizations that have been through crises together, says Anna Hurt, a disaster recovery and resilience program officer for Rural LISC. "I think that's been pretty universal—they got comfortable working a lot of long hours together in a disaster, got used to calling each other at odd hours," says Hurt. "There's certainly a benefit and a strength in situations like that; they're mobilizing along the same chains."
But the downsides are just as profound, says O'Shaughnessy. The Camp Fire in particular was a huge hit, both to the organization and the region. Not long before the COVID-19 pandemic arrived, CHIP had finally stabilized financially; now it's having to calculate the possibility of residents failing to pay rent they owe the organization. "We're not at a place where I don't think we'll survive this, but it makes the hole we're coming out of after the Camp Fire that much deeper," says O'Shaughnessy. [See related article: Nonprofit Housing Providers Face Down COVID-19]
And for the community as a whole, she adds, "it's just awful." In recent months, the area finally seemed to be turning a corner, with businesses reopening and the rebuilding of single-family homes finally getting underway. "To just have it stop is incredibly hard. 'Resilience' is a word that's thrown around a lot after a disaster, but the back-to-back disasters strain that resilience tremendously."
It's also difficult for individuals on a personal level. After the Camp Fire, entire family and friend networks were disrupted, particularly in and around the town of Paradise, which was largely destroyed by the fire. But still, says O'Shaughnessy, people could come together physically and bond emotionally, and organizations offered extensive assistance in healing from trauma. "Now, I think a lot of that work is disrupted," she says. After all, with COVID-19, parents can't just send kids to their grandparents for some quality time; friends can't gather over beers. "People were traumatized, and now are socially isolated."
O'Shaughnessy and her colleagues have been in regular contact with elected officials and their staffers ever since the fires, and she says that because of those earlier crises, they understand the recovery process and aren't daunted by working with FEMA.
"But there's a million things that need to be changed," she says. "It feels like we don't learn from the disasters." In part, that's because the structure of federal and state recovery processes is too rigid to accommodate different types of disasters or the unique needs of various communities. And the government's fear of fraud is so intense that people with legitimate needs are often pushed out.
"The process to get individual aid through FEMA is incredibly cumbersome and challenging," says O'Shaughnessy. "They do help a lot of people, but there's a whole population who can't get help because of the structure of the system." With COVID-19, individuals aren't applying for FEMA aid, but O'Shaughnessy says the situation is similar as people apply for unemployment. "Navigating that is really hard."
That's not an uncommon finding. The National Low Income Housing Coalition (NLIHC) convenes an 850-member-strong group, the Disaster Recovery Housing Coalition, to explore exactly those issues: how federal disaster efforts can better reach the lowest-income people.
"Even before this pandemic, we'd come to the conclusion that the federal disaster response is in need of reform: it's broken. People with the greatest needs are consistently left behind," says Sarah Saadian, NLIHC's vice president for public policy, who leads the coalition. In the current crisis, Saadian says, those shortfalls are coming into deep relief. "The failures of the federal disaster response, disaster housing response, and existing inequities are resulting in what could be really devastating, especially for people experiencing homelessness and for low-income renters."
The coalition is currently advocating to Congress to increase the amount of funding that can be earmarked for very low-income individuals during the COVID-19 crisis, including those experiencing homelessness.
The Lessons of Hurricane Sandy
The outsized effect of a catastrophe on very low-income communities isn't lost on Staci Berger, president and CEO of the Housing and Community Development Network of New Jersey. Berger was at her job when Hurricane Sandy (some call it "Superstorm Sandy") struck coastal New Jersey in 2012, and she knows firsthand that some communities still haven't fully recovered.
Berger quickly acknowledges that the COVID-19 pandemic is unlike anything anyone alive today has gone through, and the organizations in her network are grappling with a diversity of problems—from scarce personal protective equipment for home health aides working in low-income senior facilities, to homeless shelter providers trying to enact social distancing measures with no additional space, to multifamily developments teasing out the precautions they need to take.
But the staff's observations following Sandy did help the organization jump quickly into the relief effort this time. "Our Superstorm Sandy experience led us to have some immediate policy suggestions that we could dust off the shelf and suggest," says Berger. In particular, she and her colleagues recommended a moratorium on foreclosures and evictions, as well as a funding allocation for rental assistance, and a widely applicable mortgage forbearance program—just as they did after Hurricane Sandy.
"Back then, the need to prevent evictions . . . that was a short-term safety measure, to provide some relief to people who have no control and are living paycheck to paycheck, which is the vast number of renters," she says. Rental assistance is equally critical, she added. "We need to look at ways to raise New Jersey revenue to help the people who are most at risk. That's better for everyone, because if people are doubling or tripling up, they can't practice social distancing."
Back then, she also saw a need for housing counseling agencies that could provide residents with information. "People need accurate information—not just getting it on the internet," says Berger. "After Superstorm Sandy, we had a public outreach campaign, but it took a while for the state and federal governments to get it out there."
Donna Blaze was working in Monmouth County, a coastal region of New Jersey, when Hurricane Sandy came ashore. She remembers well the challenges and needs, and says there are some very big differences between the hurricane and the current pandemic.
"The other storm came and went, the destruction occurred and then the sun came out," says Blaze; she's the CEO of the Affordable Housing Alliance, which provides rental and homeownership help, as well as mortgage and foreclosure counseling. With this crisis, she says, "I'm dealing with so many more unknowns. This has no scope, no beginning or ending, and we don't know what the long-term impacts are going to be."
Plus, she adds, experiencing a national crisis rather than a localized one is significant. Though there isn't the loneliness of suffering a catastrophe while the rest of the nation is enjoying normal life, there are fewer avenues for assistance when literally everyone in the country is affected.
With Sandy, says Blaze, "we had to mobilize tremendous amounts of resources; people came from all across the country to help. Now there's nowhere to draw resources from." Nonprofit organizations like hers are hurting, but can't hold their typical fundraising gatherings to bring in resources. "For so many nonprofits, a good portion of their income is dependent on events: golf outings, galas, luncheons, runs, walks," says Blaze. As a result, many are experiencing a huge drop in fundraising income.
But some of the lessons from Sandy are applicable. Blaze's office struggled during the hurricane; most of the organization's files were on its server, which made working from home almost impossible. After that, the group made sure to transition to cloud-based computing, which is allowing everyone to work securely from home now.
Blaze and her employees also gained a real understanding of the Affordable Housing Alliance's niche during the crisis, something they're utilizing again today.
At that time, says Blaze, it quickly became apparent that after immediate food and mental health needs were relieved, the main problem people were experiencing was housing-related. And that, of course, is the organization's specialty.
It was largely a problem of information. "When you're dealing with social services, people don't know what to ask for, or what FEMA program [they need]. This was a population that hadn't grown up using public assistance. The average person doesn't know how to orchestrate the reconstruction of their home," explains Blaze. And many people had lost their internet connection and even their laptops during the storm.
In response, the organization set up a housing resource center: a site where people could get help in applying for aid. "We said, 'Just come in and tell us what your problem is, and we'll help you figure out the solution,'" remembers Blaze. It worked.
Ever since then, the organization has provided housing counseling, financial literacy classes, and other education options to the public. Blaze believes it can offer something particularly important this time, too.
"Sometimes the stress is overwhelming, trying to get through a simple application. You don't want to add to that stress," she says. "Even just answering the telephone—it sounds corny, but we answer the telephone. We don't have an answering machine saying, 'Press 7 for this, press 8 for that.' If you've never called before, you don't know what to ask for."
Instead, says Blaze, the organization makes sure to have a real live individual answering the phone. They can't give hugs; they can't touch clients on the arm in sympathy. But they can answer the phone and say, "Oh, I'm so sorry you're having to live through this."
And that counts for something, says Blaze. "That's the human part of being in human services."