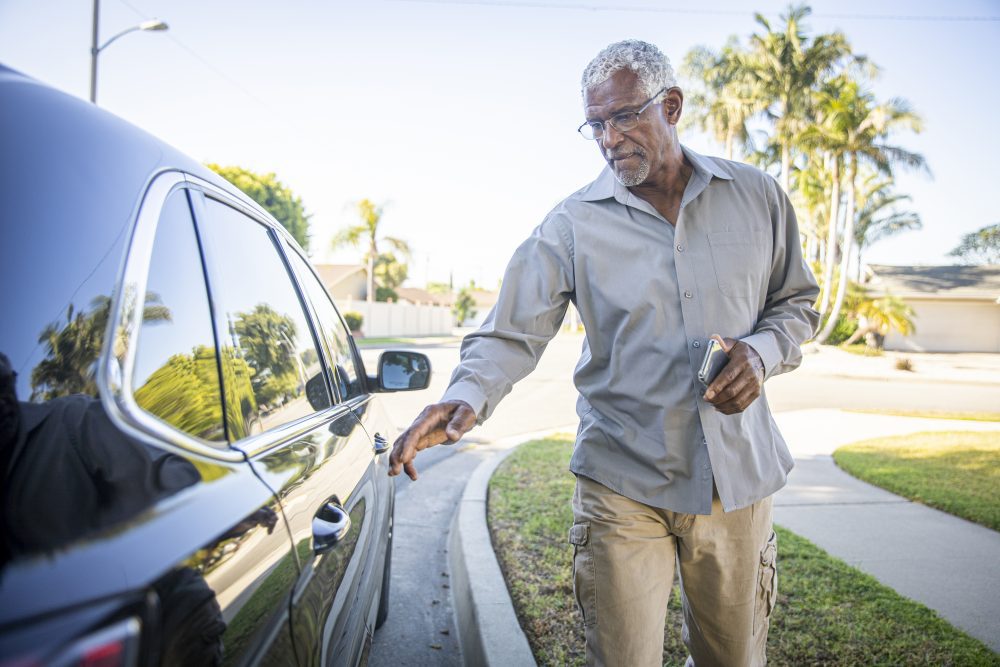 Intuitively, it makes sense: if you can't get to a doctor's appointment because you don't own a car and public transportation is too expensive or even nonexistent, your health will likely suffer. And that makes transportation a key social determinant of health—one that has been recognized as critical for decades, but that's recently been receiving an infusion of new energy and attention.
As an element of daily life that can deeply affect a person's health, transportation is huge. According to an oft-cited 2005 study, 3.6 million people in the U.S. lack access to care because of transportation barriers; roughly 4 percent of children miss at least one appointment each year due to transportation problems. For people with chronic conditions or serious illnesses who need regular, repeated visits, a lack of transportation options could ultimately contribute to a fatality.
Health care systems and insurance companies feel the consequences. Patients who don't get preventive care fall sick more often and cost more money, particularly if they eventually wind up in the emergency room. And a missed appointment means that a provider isn't being reimbursed by an insurance company for care. According to one 2010 report, the annual cost to the system for no-shows is over $150 billion.
But it's not a new concern. Half a century ago, a lack of transportation was rightly viewed as a major barrier to good health care for low-income people. When Medicaid was established in 1966, it included a mandatory benefit, Non-Emergency Medical Transportation (NEMT), which would pay for enrollees' travel to and from appointments.
"The social determinants of health are all the rage now, but at the inception of the program, the framers of Medicaid understood that if people couldn't get to their doctor's appointments, they couldn't get better," says Andi Mullin, project manager for the Center for Consumer Engagement in Health Innovation at Community Catalyst, an advocacy group.
This may well be one of those rare instances in which profits and the interests of low-income people overlap.
Fifty years later, NEMT is still around. NEMT-supported services—administered individually by each state—include taxis and public transportation, as well as wheelchair-accessible vans and ambulettes. The cost is about $3 billion per year, less than 1 percent of all Medicaid expenditures, and studies have consistently found that the service pays for itself. According to a 2018 report by the Medical Transportation Access Coalition, Medicaid saves over $40 million per month by providing transportation to 30,000 patients receiving dialysis, diabetic wound care, and behavioral therapy for substance abuse, for instance.
But NEMT-supported programs aren't particularly well run. "Medicaid enrollees experience rides showing up late—often hours and hours late—or not at all. And that's across states," explains Mullin. Dispatch companies frequently are not fully automated, and beneficiaries often have to sign up at least a day in advance, making the service useless for last-minute appointments.
Enter Big Tech. Starting around 2016 or 2017, ride-hailing companies Uber and Lyft took notice of NEMT-supported programs and their weaknesses—as well as of the broader market for health-care-related transportation, now valued at around $15 billion. At the same time, health and transit-related groups have begun dipping their toes into using ride-hailing for patients, with new software companies springing up to facilitate the process.
The result has been a gush of interest and investment in the sector—and some analysts believe there's much more yet to come. This may well be one of those rare instances in which profits and the interests of low-income people overlap. However, advocates and community development professionals urge caution, pointing out that some elements still have to be worked out for ride-hailing to genuinely benefit poor people's health.
Both Uber and Lyft are investing big in the field. In late June, Arizona announced a partnership with Lyft to provide NEMT transportation to Medicaid beneficiaries, who make up about one-fifth of the state's population; that agreement is the first of its kind, but other states, including Texas and Florida, are in similar discussions. Uber, meanwhile, launched Uber Health last March, a division of the company staffed in part by health care professionals that was created with full HIPAA compliance in mind to protect riders' privacy.
"I think most people who aren't on Medicare or Medicaid don't understand how large of a need it is," says Dan Trigub, the head of Uber Health. But he and his colleagues see the potential market as much bigger than simply NEMT; the company is already partnering with over 1,000 organizations, including pharmacy and meal delivery services. After all, the number of seniors will continue to grow in coming years, and many will need help getting to health-related appointments.
In a recent study, University of North Carolina researchers Mary Wolfe and Noreen McDonald found that the most common organizations partnering with ride-hailing companies are actually health care providers, insurance companies, and transit systems. Many aren't fully committing to using ride-hailing companies to transport patients; they may be running a pilot program or simply offering a discount code, with hopes of formalizing the initiative later. "I think the waters are being tested on the private side," says Wolfe, as institutions try to figure out whether it pays off financially.
A few have jumped in fully. In 2017, for example, Blue Cross Blue Shield announced a partnership with Lyft to provide rides to doctors' appointments to 250,000 households in several different regions, with plans to expand in the next few months. Some hospital systems, like MedStar Health in Washington, D.C., have begun initiatives of their own. And Boston's transit system, the MBTA, offers a very popular paratransit service utilizing ride-hailing companies that Medicaid recipients are eligible for; it's a pilot that's been extended several times. The service is due to become permanent in the next year.
The upsides are obvious. Ride-hailing companies are fully automated and efficient, arrive within minutes of an initial call, and are cheaper than a traditional car service because of the number and location of drivers operating at any given time. MBTA staff, for example, estimate that a paratransit trip in a traditional vehicle is roughly $45; with a ride-hailing service, it's $17. And rider satisfaction tends to be distinctly higher.
The health-care-related outcomes are also strong. CareMore, an insurer active in several states, claims that partnering with Lyft has led to 45 percent shorter wait times and a 92 percent increase in on-time arrivals. And a study by Boston Medical Center showed that by using Uber Health, its clinic reduced its no-show rate by 9 percent.
But the landscape is very new, and that means institutions looking to utilize ride booking for patients are still working out the glitches.
Some Difficulties 
Some small organizations in particular are struggling to make ride-hailing work for them and their clients.
In Oakland, for example, the nonprofit organization Yoots is running a pilot program together with UCSF Benioff Children's Hospital to provide free rides to low-income patients and their families who don't have access to reliable transportation. The initiative uses Lyft, but currently Yoots President Craig Flax has to manually enter patients' information onto a website in order to schedule the first ride, then wait until that ride has occurred to schedule a return trip—which means he has to carry an tablet around with him throughout the day, because the program doesn't work on a smartphone. "You'd think it'd be super, super simple, with all the technology available," says Flax, but it's not.
In Austin, the Community Care Collaborative (CCC) received grant funding from a local transit foundation to offer a no-cost ride-hailing service to patients in its network. The initiative was a success; the rides, using a local rideshare company, were about half the cost of taxis, which the CCC had formerly utilized. Patients described the service as a huge load off their minds and seemed to attend appointments more regularly, says Sarah Cook, senior director of planning, communications, and population health at the CCC.
But the CCC had to designate one employee as a dispatcher, and the job took all of that person's time. "God bless our case managers who'd wake at 5 in the morning to order a ride so someone could get to an X-ray at 7," says Cook. It wasn't a sustainable model.
Luckily for the CCC, Yoots, and other smaller-scale organizations, several software companies have recently launched platforms that assist with dispatching rides for health-related uses. The CCC is talking to one of them, Circulation, to determine its effectiveness and figure out how to make the model work financially. For the CCC, that's critical: the organization offers care to uninsured patients, which means there's no deep-pocketed institution involved. CCC leaders are hoping the transportation service will pay off and lower its own medical costs by reducing no-shows and helping patients visit providers more regularly.
Other Concerns with Ride-Hailing Services
Advocates for low-income people have other reservations about the use of ride-hailing services in health care. The typical Uber and Lyft user is young, healthy, and relatively tech-savvy—and that's a very different profile from those who might benefit from free rides to medical appointments. The latter might need assistance getting in or out of a vehicle, have behavioral health issues, not speak English fluently, not understand how to order a ride, or not even own a smartphone.
Advocates are particularly concerned that the average ride-hailing driver isn't equipped to handle passengers with physical disabilities and get riders not only to the curb but also through a provider's door. "In the traditional Medicaid space, you have vendors who specialize in providing that kind of thing. But Uber and Lyft are one-size-fits-all," says Denny Chan, a senior staff attorney with the advocacy group Justice in Aging.
Others point out that utilizing companies like Uber and Lyft for health care trips requires existing driver networks. That means this fix does nothing for rural areas where the population is too scattered to support ride-hailing services. And that's ironic, given that those are often the places where another transportation option is most desperately needed.
Uber Health director Trigub says the company, and the market, are slowly addressing these shortfalls. Uber Assist, for example, is a small but growing program that uses wheelchair-accessible vehicles. And as demand for ride-hailing grows in sparsely populated regions, he says, so will the company's reach.
And that's true more generally: the role of ride-hailing services in the health care field is very much still evolving. Chan says he hopes health care providers and payers will eventually view transportation even more broadly and fund nonmedical trips as well: after all, for those who can't easily leave their homes, outings to religious institutions, community groups, and even the grocery store can also promote health.
But he and others are quick to point out that there are more immediate battles to fight. First of all, many Medicaid recipients don't even know the NEMT benefit exists. "That's an initial low-hanging fruit," says Chan. "Health plans and state Medicaid agencies need to step up and make sure people know what's in their Medicaid package."
Because if they don't know about it, they can't advocate for it. And NEMT needs its advocates. Last year, the Trump administration suggested a rule that would eliminate NEMT. It has since stated that it will wait until 2021 to do so, but several states have individually proposed waiving NEMT as part of their Medicaid expansion plans.
"It's so odd to me because the whole health care field is beginning to address root causes, and transportation is an obvious one," says Mullin at Community Catalyst. "But simultaneously, [the Trump administration] is trying to eliminate benefits." In response, she said, it's critical that advocates focus on how to improve the service, make it more efficient, and demonstrate its financial benefits.