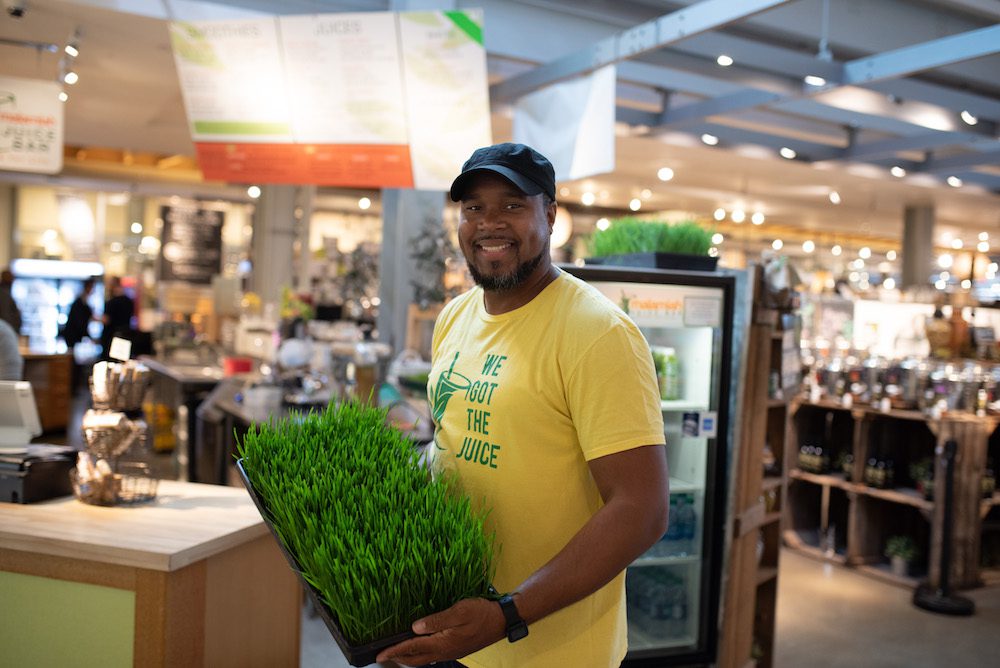 Communities benefit from investments in local food systems. And those investments are growing—from large retailers to incubator kitchens, farmers markets, and urban farms— opportunities to create ownership and access centered on fresh food are increasing.
Communities of color, however, have fewer opportunities in the food economy than whites, resulting in a variety of detrimental impacts, among them health related and the exacerbation of the racial wealth gap. At a time of such innovation and growth in the food economy, why do these discrepancies still exist?
That answer requires looking at our nation's history and the policies that continue to affect us today. Historical, systemic racism and community disinvestment–in the form of policies that created the racial wealth gap–are mirrored in the food sector, preventing people of color from fully participating in the country's food economy. Take, for example, the 1933 Agriculture Adjustment Act: As part of President Franklin Roosevelt's New Deal, this act incentivized white property owners to stop growing crops on their fields in order to raise the price of goods. However, less work meant that thousands of Black sharecroppers were evicted from the land with no other employment options, and they were in turn disproportionately affected by rising food costs as a result of curtailed production.
Fast forward to 1999, the class action lawsuit Pigford v. Glickman found the United States Department of Agriculture (USDA) guilty of racial discrimination against African-American farmers. It was ruled that between 1981 and 1996, African-American farmers were systemically denied farm loans or were forced to endure longer wait times for loan approvals than their white counterparts. Additionally, according to documents filed as part of Congressional hearings, "…officials admitted that in early 1983, the Reagan administration had quietly disbanded and dismantled the civil rights enforcement arm at the (USDA) and that discrimination complaints had not been properly investigated since that time."
It should come as no surprise that the number of Black farmers has plummeted. In 1920, one in seven farmers in the United States was African American; and together, Black farmers owned nearly 15 million acres. By 2007, African-American farmers numbered about one in 70, and owned approximately 4.2 million acres of farmland.
On the retail front, food entrepreneurs have also been hampered by discriminatory policies. As a result of redlining through the National Housing Act of 1934, racial zoning maps inhibited not only the ability of families to secure home mortgages, but also prevented community grocers and restaurants from getting loans to operate in those areas.
It is a legacy that created many of the food deserts we see today. Not only was it prohibitive to establish grocers in communities of color, up until the fall of 2018, Los Angeles had a policy making it a criminal offense to set up as a street vendor. A disproportionate number of these vendors are Latinx, selling food in their neighborhoods. In 2013, there were 1,235 vendor arrests, according to a report by the city's chief legislative analyst. Others faced harassment and/or the confiscation of their goods.
Food entrepreneurs of color face the same gap in ownership as their counterparts in the farming sector. According to the Small Business Administration, in 2013, nearly 86 percent of food-related businesses had white owners, 10.6 percent Latinx, 7 percent Black, and 4.3 Asian.
Breaking Barriers to Food Entrepreneurship in Communities of Color 
Despite the ongoing ramifications of past policies, participating in today's food economy is one of the most promising ways to mitigate their still-present effects on communities of color.
For one, the barrier to entry for entrepreneurs can be low. The ability to grow fresh produce in urban settings is becoming easier, setting up kiosks at farmers' markets or food carts can be done with little up-front cost, and food incubators can provide commercial equipment to help small operators scale. Job training for culinary careers also create opportunities for those with limited experience or formal training.
When people from disinvested communities establish food businesses, they tend to provide food products and services that are relevant and culturally desirable to the community. In addition, these businesses are convenient and with price points that are affordable for families. Food entrepreneurs of color are also more likely to build relationships within their communities that have a range of longer-term impacts, including fresher food offerings and a presence that attracts other business that create a sense of place, meeting spaces, banking services, and medical care facilities—all of which are more likely to offer higher-quality jobs with living wages.
A number of leadership organizations and initiatives–from large to small–are working to improve access to healthy food and creating economic opportunity in the food system, focusing specifically on communities of color.
Moving from Promise To Solutions
In convening leaders working on issues surrounding equity in our food system, Capital Impact Partners, where I work, has discovered a few common themes from organizations working successfully to increase access to healthy food and build inclusive food systems.
Securing capital and business assistance remains the greatest challenge for those looking to start food businesses, especially among groups that have been disenfranchised historically. Most new businesses are started with the help of inherited wealth, and the way that credit has traditionally been dispensed—by neighborhood banks using the "four Cs" – character, credit history, collateral, and capacity or cash flow—puts communities of color at a disadvantage.
Because entrepreneurs in these communities typically do not have the forms of experience, credentials, collateral, or credit history financial institutions traditionally require in their application process, they may have a more difficult path to secure financing. As such, the financial sector has a unique role—and responsibility—in helping to shape a path to entrepreneurship for individuals of color. In particular, mission-driven Community Development Financial Institutions (CDFIs) are well positioned to play a leadership role in this effort. Born out of the civil rights movement, CDFIs have been tasked with the role of returning capital into communities that have long experienced disinvestment: to help finance health centers, education alternatives, affordable housing, and of course, healthy food enterprises.
In 2015, Capital Impact joined other mission-driven partners, including the Fair Food Network, Michigan State University Center for Regional Food Systems, and the W.K. Kellogg Foundation, to launch the Michigan Good Food Fund (MGFF) with the goal of removing the barriers to success facing so many food entrepreneurs across the state.
Following guiding principles and goals identified in the Michigan Good Food Charter, each MGFF partner brings their expertise in financial and technical assistance to implement strategies for providing access to good food, creating economic opportunity in the food system, and addressing issues of social and racial injustice.
Many food entrepreneurs of color have a strong basis for an emerging business, but bringing their work to scale can be hampered due to a lack of formal business planning and perceived management skills. The Fair Food Network's Business Boot Camp provides strategically aligned capacity building and mentorship by blending skills-building sessions, one-on-one coaching, and peer networking with topics ranging from marketing and raising capital to financial health tools to how to tell one's story.  Similarly, Michigan State University's Center for Regional Food Systems provides critical advising for agricultural production, aggregation, distribution, and processing.  La Cocina in San Francisco runs a similar program in which participants who successfully complete their technical assistant training can rent their commercial kitchen space at low rates.
Creating market access for individuals is also critical. Washington, D.C.'s Dreaming Out Loud Urban Agriculture program facilitates urban farming by building infrastructure to allow the storage, facilitate aggregation, processing and distribution of locally grown agricultural products all from one place, and organizing community markets to provide marketing and sales opportunities for food entrepreneurs. They have also partnered with the national Center for Good Food Purchasing to support their program encouraging large institutions to direct their buying power toward five core values including local economies, environmental sustainability, valued workforce, animal welfare, and nutrition.
To further bridge the gap from idea to launch, many individuals require non-debt financial assistance until they are ready for a traditional loan. MGFF launched its Catalytic Investment Awards program to provide seed funding for supporting infrastructure investments, capital expenditures, and predevelopment. This boost often helps take these businesses to the next level so that they are prepared to take on debt.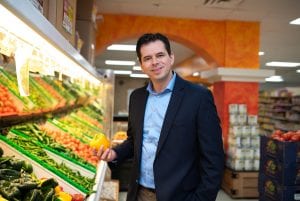 Once an individual is ready to borrow money for their business, there must be a range of flexible capital options to meet the borrower's particular needs. This includes lenders who can provide longer-than-usual interest-only periods to allow for businesses to stabilize before being required to make full principal and interest payments. For smaller enterprises, Los Angeles-based Acción Inclusiva created the Semi'a Fund microloan program, inspired by the needs of street vendors.
For mid-sized loans, organizations like Michigan's Detroit Development Fund and Northern Initiatives have supported a broad range of food enterprises. For much larger operations like food hubs and full-scale grocery stores, Capital Impact can provide financing up to $6 million. Along with providing flexible repayment terms, developing alternative criteria for defining applicants' credit history beyond the traditional credit score models is key, and includes creating credit enhancements to establish collateral and partnerships with established businesses to develop capacity and cash flow.
Racialized Food Economy Policies
We must continue to pursue more equitable and synergistic policies developed with input from community-grounded organizations to change the way we think and talk about race in the building of more democratic, community-driven frameworks in the food economy. In addition to its micro-lending, Acción Inclusiva's Los Angeles Street Vendor Campaign was instrumental in legalizing street vending in the city, and it will continue its advocacy as the new permit system is rolled out to make sure it is fair and just for vendors.
Dreaming Out Loud (DOL) also engages with local policy makers to boost potential for entrepreneurs' long-term success. Recently, the D.C. City Council passed a "cottage food" law, allowing farmers' market retailers to sell a broader range of items, but there were still limitations, as the law allows for a maximum of $25,000 to be generated through each entrepreneur's residential kitchen. DOL is working with city councilmembers to raise the amount to $75,000, which better reflects the amount of money small businesses need to bring in annually in order to survive in the District.  This policy will create greater economic opportunity for entrepreneurs, especially those seeking a lower barrier to entry into the food economy.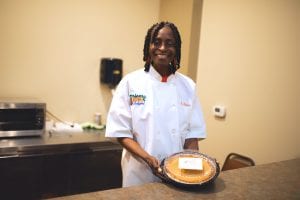 While a number of these Healthy Food Financing Initiatives are happening across the country, the Michigan Good Food Fund is unique in that it concentrated a host of programs in a set geographic region, allowing us to track the impact of strategically transforming food systems over time. According to a , diverse groups of Michigan producers, food processors, retail outlets, and others have taken advantage of a range of loans, technical assistance, and Catalytic Investment Awards from the initiative. Fifty-five percent of these resources went to woman-owned businesses, and 52 percent went to non-white-owned businesses, in a state where only 21 percent of total businesses are non-white-owned.
Food Entrepreneurs of Color Shine a Light on the Path Forward
The number of emerging programs and initiatives helping to grow an equitable food economy make us hopeful, but equally inspiring are those entrepreneurs of color, new and established, who are proof that we can break through historical disenfranchisement to create thriving businesses that are also resources for communities.
Before being forced into exile during the revolution of 1959, Guillermo Quirch managed a meat packing and distribution company in Havana, Cuba. After briefly operating in Puerto Rico, Quirch moved to Miami and launched E&G Trading in 1967. Now a certified Minority Business Enterprise, E&G is one of the largest distributors of food products in the Southeastern United States and was named by Hispanic Business Magazine as one of the top 10 Hispanic American-owned businesses in the United States. Today, E&G Trading provides jobs to more than 500 employees across five distribution centers.
In Harlem, Dennis Derryck created the Corbin Hill Food Project, a values-based organization committed to social justice, racial equity, and food sovereignty. Through a direct-to-consumer farm share program, Corbin Hill delivers low-cost fresh, local produce to communities that had traditionally lacked access to such items. It also grew to supply institutions and community organizations through its wholesale program. Since 2016, it has grown from working with just over 40 farms in New York State to a network of nearly 200 growers through the Northeast.
And just beginning his journey is Javier Fortoso. Once a housepainter, Fortoso dreamed of serving food from his hometown of Cuernavaca, Mexico. Soon after opening Torti Taco in Battle Creek, Michigan, he participated in MGFF's Business Boot Camp. That eventually led to securing a $30,000 loan, enabling him to purchase new equipment and providing critical working capital for greater cash flow. Fortoso has also incorporated some of the lessons he's learned from the boot camp and added three new positions.
Looking Forward
Ultimately, however, CDFIs, funders, investors, government organizations, and businesses all need to be in this fight for the long haul, lifting up a diversity of voices to show how investing in diverse food economies can combat racism, build wealth, improve health outcomes, and foster additional community investment. 
That investment must also go hand in hand with intentionally addressing economic disparities. We have work to do in re-evaluating products and processes to ensure resources are landing squarely in the communities whose assets have been long overlooked or undervalued. Based on our history as a country, driving toward equitable outcomes takes serious, long-term intention. And that intention will have a lasting, transformative impact.