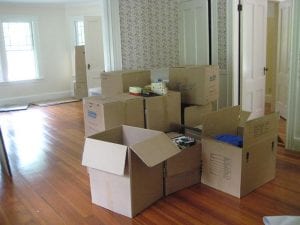 Starting in 2017, researchers at Opportunity Insights and several other universities partnered with the Seattle and King County housing authorities, J-PAL North America, and MDRC to evaluate a housing mobility program across King County, Washington. This pilot, the first under the Creating Moves to Opportunity (CMTO) initiative, builds both on academic findings from our research team, along with years of existing practitioner expertise on housing mobility implementation. This study represents one of the only randomized evaluations of a housing mobility program in the United States.
Though the study is ongoing, data from the first year of the program shows that these services are tremendously effective. When given access to housing mobility services, families with vouchers are roughly 40 percentage points more likely to move to higher-opportunity areas.
Importantly, this program did not require families to move to these designated opportunity areas.
Background on the Long-Term Effects of Neighborhoods
CMTO builds on decades of research into how neighborhoods affect children's adult outcomes. Sociological literature from William Julius Wilson, Douglas Massey, CMTO researcher Stefanie DeLuca, and many others all point to the key role neighborhoods play in shaping the socioeconomic outcomes of low-income children. Much of this work also highlights the significant financial and discriminatory barriers that low-income families faced when they tried moving to higher opportunity areas.  
Much of the economics research in this domain has focused on HUD's MTO program from the 1990s. Early research on MTO found that families whose vouchers required them to move to low-poverty areas reported some improvement in self-reported mental and physical health, but no significant economic benefits for the parents or academic improvements for the children. However, later research by OI researchers Raj Chetty, Nathaniel Hendren and Lawrence Katz found that these children were more likely to attend college and earned significantly more once they reached adulthood.
Though not the focus of this article, one can't view these differences in neighborhood outcomes in a historical or policy vacuum. Many of these differences are the result of explicit and implicit past government policies like redlining and other patterns of systemic disinvestment that denied resources to communities of color while steering public and private capital to largely white suburban communities.
Research to Policy: Creating Moves to Opportunity in Seattle and King County
The United States government spends approximately $20 billion each year on the Housing Choice Voucher program, which provides rental assistance to low-income families. One major goal of this program is to allow broad residential choice for participating families. However, most of the 2.2 million families receiving housing vouchers currently live in relatively high-poverty, low-opportunity neighborhoods. A key component of the CMTO initiative is exploring how to help families move to high-opportunity neighborhoods if they wish to do so. J-PAL North America brought public housing authorities (PHAs) to the table that were interested in piloting housing mobility program evaluations with our research team to learn what services work. Ultimately, with generous foundation support, the implementation leads at MDRC and J-PAL North America launched the first mobility program evaluation with the Seattle and King County Public Housing Authorities (SHA and KCHA).
Given the prior research findings, the team defined opportunity areas with a specific focus on which neighborhoods produced the best long-run outcomes for low-income children. The team was able to do so using linked administrative data like that used in the Opportunity Atlas, an interactive tool that maps social mobility in every U.S. census tract. The team then added more recent data measuring public school quality for low-income students, poverty rate, and several additional factors that correlate strongly with future upward mobility. The final map was then adjusted based on local PHA expertise about the jurisdiction and the relevant available housing stock. Using this process to map opportunity areas has the benefit of including some neighborhoods that might not be identified as high-opportunity with other methodologies, but still produced better long-run outcomes for their local low-income children.  
The study was restricted to families on the waitlist for a Housing Choice Voucher who had at least one child under the age of 15. Eligible families who agreed to participate in the study were then assigned to one of two groups: those receiving the additional mobility services (treatment group), and those receiving traditional PHA services (control group). By randomizing who received the services, our researchers can clearly identify the effects of the housing mobility services on where families choose to move. Randomization also means that our two groups have nearly identical demographics. Families are earning on average about $19,600 in household income, about 60 percent are working, 15 percent are experiencing homelessness, 50 percent are Black, 24 percent are white, 9 percent are Latinx, and the average age of their children is about 6.
In Seattle and King County, the housing authorities partnered with a nonprofit service provider, InterIm CDA, to implement a range of interventions specifically targeting barriers that might keep families from accessing higher-opportunity areas. These services included education about the designated opportunity neighborhoods, rental application coaching, housing locator services, direct landlord recruitment, streamlined lease-up processes, and financial assistance to cover additional costs like security deposits and application fees.
Families in the group that received services were not required to move to opportunity areas with their voucher, and they had access to the rental application coaching and opportunity education regardless of where they chose to search. However, the financial assistance, housing search support, and landlord services were only available to support moves to opportunity areas. This balance both supports families regardless of where they wanted to move, while targeting certain services in the areas where they are needed most.
Initial Results from the Seattle/King County Program
After a year of implementation, the Seattle/King County CMTO program has already yielded impressive results. Roughly 55 percent of families in the group that received housing mobility services chose to move to opportunity areas, compared to only 14 percent in the control group, which received none of the additional services. This result holds when looking across various demographic characteristics including race, ethnicity, income, and housing authority. However, we do see lower rates of opportunity moves among Black households compared to those of other race/ethnicities.
Interestingly, families in the two groups were equally likely to successfully find an apartment to lease using their voucher. This finding suggests that the mobility services didn't impact whether a family finds a unit, but rather made it easier to find a place specifically in designated areas of opportunity. There are also few noticeable differences in terms of unit size or amenities between the two groups, suggesting that those who moved to areas of opportunity didn't face a trade-off in terms of unit quality.
Separate from the mobility program, the PHAs recently tweaked their voucher programs in ways that provide some additional rental subsidies in particular areas or for certain families. KCHA implemented a tiered payment standard that provides additional voucher funding in higher-cost areas, while SHA offers an additional voucher supplement for families with children living in the same opportunity neighborhoods highlighted in the CMTO program. These payment standard reforms likely played a role in making many of the moves to areas of opportunity possible. However, supplemental analysis in our research paper suggests that these reforms alone were not enough to help families move to higher-opportunity areas.
Additionally, it is important to interpret these results considering source of income non-discrimination laws that affect the two jurisdictions. The City of Seattle enacted its SOI law in 1989; a statewide SOI ordinance went into effect in September of 2018 that applied to King County. Though these laws do not prevent landlord discrimination, recent research suggests they can be helpful for families with vouchers navigating competitive rental housing markets.
We are certainly not done learning from the Seattle/King County program. In addition to the quantitative research summarized above, both Stefanie DeLuca and staff at MDRC are adding substantial qualitative analysis of the program. These studies are based on hours of interviews with families, landlords, and implementation staff, and will give us a clearer sense of the "why" and "how" of the Seattle/King County program. Additionally, given the initial success, the CMTO team is running a second phase of the evaluation that will test different combinations of housing mobility services.
Though Exciting, Housing Mobility isn't the Answer for Everyone
Over the years, Shelterforce has published numerous articles on the apparent tension between housing mobility efforts and programs focused on helping families in neighborhoods that have historically faced disinvestment. The successful mobility program in Seattle/King County adds some helpful guidance on evidence-backed mobility strategies, but it also reminds us that some families do not want to move to new neighborhoods. Among families in the group who received mobility services and successfully leased a unit, roughly 40 percent chose not to move to an opportunity area. We'll learn more about these dynamics from the additional qualitative work the CMTO team is doing. However, past research suggests that some families choose to stay due to existing social and familial networks, proximity to certain jobs, or other less tangible assets that might get overlooked in traditional opportunity mapping. Effective housing mobility services empower families to make the best decision for themselves when deciding where to live.
The research, implementation, and housing authority partners in this project are firmly committed to both sides of this issue. Seattle Housing Authority, King County Housing Authority, and public housing authorities across the country are dedicated to developing and implementing evidence-informed, place-based strategies to encourage greater opportunities in presently low-upward-mobility neighborhoods. Similarly, the research and policy teams at OI are exploring place-based efforts around the country to identify and better understand programs and policies that benefit longtime low-income residents without fostering displacement or eroding existing communities.
Next Steps/Where do we go From Here?
In an ideal world, the U.S. wouldn't need housing mobility programs, and all communities would have the resources, power, and capacity to provide their low-income residents with equitable prospects for economic and social mobility. Additionally, low-income families wouldn't face the substantial barriers to housing choice that help maintain residential segregation. Obviously, that is not the reality for millions of families across the country. Communities, researchers, and policymakers must work together to understand and undo centuries of policies that created unequal neighborhoods. While that vital work continues, housing mobility programs offer a near-term way for some families to overcome barriers that prevent them from moving to higher-opportunity neighborhoods.
Lessons from our randomized Seattle/King County study show that housing mobility programs can work, and past research on neighborhood effects show that these sorts of moves have a profound impact on low-income children's long-run outcomes. The CMTO team is eager to share these findings with interested policymakers around the country. OI is already working with a broad coalition of organizations in Charlotte and Mecklenburg County, including the Charlotte Housing Authority, to build on and expand their current housing mobility efforts. We will also be releasing a call for additional partners later this year.