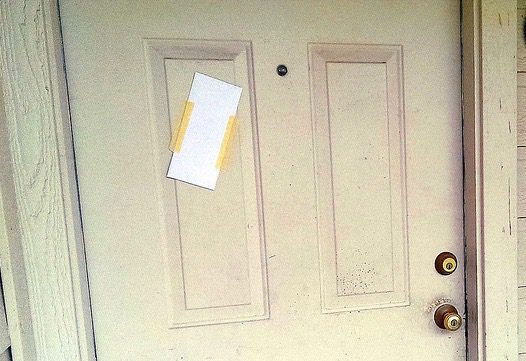 In late December 2018, hundreds of residents of the Hillside Villa Apartments in Los Angeles's Chinatown awoke to find notices posted on their doors alerting them of drastic rent increases that would take effect in six months, on June 1, 2019.
For some longtime tenants, like Adela Cortez and Rosario Hernandez, both Mexican immigrants and residents of Hillside Villa for 30 years, rents were increasing from $850 to $2,500 per month—increases of almost 200 percent. For tenants who moved in more recently, the increases were less drastic. But for almost all of them, functionally, the notices meant their evictions.
The six-month warning—mandatory under a California law meant to help tenants in expiring affordable housing developments—barely softened the news that they would likely be forced to move far away from their community.
Hillside Villa was constructed in the late 1980s with $5.5 million in zero-interest loans from both the federal government and the city's Community Redevelopment Agency. According to the original contract, once 30 years of affordable rents were over, the owner, a for-profit corporation controlled by an individual living in Malibu, was free to raise rents to market rates.
Instead of moving out, Hillside Villa tenants decided to fight back. They immediately started to organize with the Los Angeles Tenants Union (LATU, of which the author is a member) and Chinatown Community for Equitable Development (CCED); formed a tenants association that met every Thursday evening over the next several months, conducting business in English, Spanish, and Mandarin; held a sit-in at their city council member's office and protested at the landlord's home in Malibu; and galvanized the tenants movement across Los Angeles.
Now, even though the city's patchwork of programs to deal with expiring affordable units failed them, the Hillside Villa tenants are on the verge of securing a deal between them, the owner, and the city to extend the building's affordability restrictions by 10 years—a deal that only happened because the tenants organized and put enough pressure on the city to cough up millions of dollars in funding.
A Housing Affordability "Perfect Storm"
Thousands of other households across Los Angeles, however, might not be so fortunate. According to a recent report by the LA Housing and Community Investment Department (HCID), 11,771 rent-restricted units in the city are at high or very high risk of being converted to market rate in the next five years.
The numbers from the entire country are even worse: according to a report by University of Pennsylvania Professor Vincent Reina, published by the Lincoln Institute in November 2018, "over 1 million units [from various federal programs] have affordability restrictions set to expire" over the next 10 years. Reina calls it a "perfect storm for housing affordability."
The bulk of the expiring units have been funded by either the Low-Income Housing Tax Credit (LIHTC) or Section 8 Project-Based Rental Assistance (PBRA), both of which essentially provide subsidies to owners in exchange for renting out units at affordable prices to qualifying low-income tenants. But these agreements only last for a certain number of years, at which point owners are free to exit the program and do what they want with the property.
While we can be confident that many owners will seek additional public funds in exchange for continued restricted rents—especially those in the Section 8 PBRA program, where landlords have the option of renewing and extending their subsidies—affordable-to-market-rate conversions will undoubtedly happen at a greater rate than ever before, as 2020 marks the first year that owners of LIHTC buildings constructed with 30-year affordability covenants (required by law starting in 1990) will begin to have the opportunity to exit the program.
Tens of thousands of families may be displaced as owners determine they can get greater returns on the market. A recent study done by the National Low Income Housing Coalition estimated that 83 percent of expiring LIHTC units nationally are owned by for-profit landlords, and HCID estimates that in LA, 71 percent of all expiring units, LIHTC and otherwise, are owned by for-profit entities.
How Are Local and State Governments Responding?
Professor Reina seems cautiously optimistic about the progress cities are making in dealing with units with expiring covenants. "They have access to the data to figure out which units are expiring, across multiple subsidy programs, where, and when. That's a powerful tool that didn't even exist 15 years ago."
Boston, and Massachusetts, for example, appear to be ahead of the game. In addition to sophisticated tracking systems for these units, a 2009 state law known as Chapter 40T requires advance notice to be given to tenants in expiring units, provides modest tenant protections for when units expire, and, most importantly, mandates that state-approved buyers who promise to keep the buildings affordable receive the first opportunity to purchase them if they are up for sale. A study commissioned by the Community Economic Development Assistance Corporation (CEDAC), a public-private partnership based in Boston, reported that in the first five years after passage of 40T, an estimated 11,000 units were preserved as a result of the law.
New York City claims to have robust programs in place to preserve its affordable housing, though some disagree. According to estimates from the Mayor's Office, the city is ahead of its goal of preserving 120,000 affordable units over the period 2014-2024. This is being accomplished primarily through a menu of tax incentives for owners who agree to keep rents below market  rate. Most prominent is what's called Article XI, which allows certain owners to be exempt from property taxes in exchange for providing affordable rents.
Tenant groups, however, are rightly pushing back on the De Blasio administration's boastful presentation of the numbers, pointing out that in many cases, private landlords are being given millions of dollars in subsidies in exchange for providing units to families that have incomes as high as $140,000 per year. In a report titled Affordable for Who?, the grassroots organization Tenants and Neighbors studied six of the most egregious deals made under Article XI and concluded that the affordability levels in many of these agreements are higher than the median income levels in most communities, and do not serve the needs of people already living there.
Despite these serious issues, it seems that both Boston and New York City are still leaps and bounds ahead of Los Angeles.
Los Angeles Plays Itself
Records show that Los Angeles leaders have been aware of this issue since at least 2004, when the City Council approved an Affordable Housing Preservation Program developed by the Housing Department (HCID). Unfortunately, the city's action has been spotty at best, irresponsible at worst. What's more, the experiences of the Hillside Villa tenants suggest that the city hasn't even been implementing its own policies.
For example, the two pillars of the program are enforcing the state's noticing requirements, and providing outreach to tenants and landlords—to the former to inform them of what's happening and their rights, and to the latter to try to persuade them to keep their buildings affordable. But the city is failing on these terms.
The 12- and 6-month notices received by the Hillside tenants were defective under the state's law; and the threat of a lawsuit challenging the notices provided the tenants with crucial early leverage against their landlord. But this was only discovered after the tenants secured private legal representation from the Legal Aid Foundation of Los Angeles. HCID was not effective at enforcing the state's notice law, beyond confirming to the tenants' lawyers that their interpretation of the law was indeed correct. Futhermore, HCID did not conduct outreach to the tenants or the landlord before their struggle, but it did talk to the landlord once the tenants started raising complaints about their impending evictions. It took intervention by a city council member to get the city involved.
According to a 2017 report, HCID has pursued some financial strategies, especially for projects where owners have existing debt that can be restructured or forgiven in exchange for extended affordability. Unfortunately, projects without debt provide the city with "little to no leverage," but they also make up the "vast majority" of its expiring covenanted portfolio.
HCID has been able to make a few deals here and there, but unlike Boston or New York City, LA doesn't have an effective program or funding mechanism to keep buildings affordable. And although much of this discussion focuses on HCID, the city's elected leadership deserves some blame for seemingly turning a blind eye to this issue until forced by the Hillside Villa tenants to pay attention.
Another HCID report from 2018 analyzed preservation efforts in other cities and provided recommendations for LA. These, too, leave much to be desired.
Beyond a suggestion that city leaders work with the State of California to pass property tax exemptions designed to incentivize extended affordability, the report's recommendations provide almost nothing that will actually propel owners to keep their buildings affordable. HCID recommends a paltry $3 million to subsidize willing owners of city-funded properties (which would save an estimated 56 units), and another $3 million for a loan program to provide rehabilitation money to owners of federally funded properties (to save 100 units).
Again, by HCID's own estimates, there are 11,771 units that may convert to market-rate in the next five years.
The Hillside Villa tenants, for their part, have their own ideas. They have demanded the city use eminent domain to purchase the building to keep it permanently affordable.
"We know that LA has the money, evidenced, for example, by the $1 billion in subsidies promised to just 8 developments since 2005," they wrote in a letter to their city councilmember.
"We strongly believe that working-class tenants of color like us deserve to stay in Chinatown, permanently."