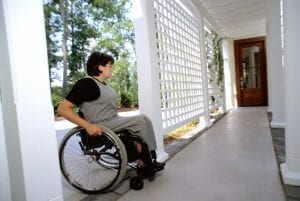 Landlords commonly screen prospective tenants based on criteria such as the applicant's income and resources, creditworthiness, criminal history, and involvement in past landlord-tenant litigation. Typically, housing providers will establish rules or guidelines, which an applicant must meet in order to be accepted as a tenant, and will presumptively or conclusively reject applicants who do not meet those requirements. 
Frequently, these application requirements are programmed into tenant-screening computer systems that automatically retrieve background data about the rental applicant and render automated admission decisions based on the landlord's criteria. Property management and tenant-screening firms like to tout these methods as improving fairness in tenant selection by ensuring that all applicants are treated exactly the same.
Renters with disabilities, however, are often unable to meet the kinds of admission criteria that landlords establish for their properties. If someone has a disability that prevents them from working, they may fail to meet minimum income policies—which often require applicants to make 2.5 or 3 times the monthly rent. Disabilities can also impose financial pressures on individuals that may lead in a number of ways to a blemished credit history, bankruptcies, or evictions—especially when a person endures a prolonged wait for SSI or other disability-related benefits after the onset of a disability. And mental health disabilities may produce behavioral incidents involving criminal charges or convictions. Overall, for applicants such as these, treating them "the same" as other applicants may mean denying them housing for reasons that are directly related to their disability.  
Denying or otherwise making housing unavailable because of a person's disability is unlawful under the federal Fair Housing Act, and depending on the location and nature of the housing, it may also run afoul of other federal, state, or local anti-discrimination laws. To ensure that a housing provider's generally applicable admissions criteria do not effectively exclude applicants because of disabilities, the Fair Housing Act (and similar disability anti-discrimination laws) require landlords and other providers of housing and housing-related services to make "reasonable accommodations" in their "rules, policies, practices, or services" to keep a person's disability from denying him or her equal access to housing. 
In the context of rental tenant screenings, this can obligate a landlord to make exceptions for a person who, for reason of disability, fails to qualify. Such exceptions, or "accommodations," are required if they are "reasonable"—which usually means that the accommodation would not impose "undue financial and administrative burdens" on the landlord. For an accommodation to be reasonable, then, the applicant must generally show that their disability will not prevent them from meeting the basic tenancy obligations.
For example, in the leading case of Giebeler v. M&B Associates, a man who became unable to work because of AIDS saw his rental application to an apartment denied because he did not have income of at least three times the monthly rent, as required under the landlord's policy. But the applicant did have enough income to afford the unit, between federal Social Security Disability Income (SSDI) and a Housing Opportunities for People With AIDS (HOPWA) subsidy, and his mother was willing to co-sign the lease for him. Thus, even though his disability prevented him from meeting the minimum income requirement, it did not prevent him from paying the rent and meeting the other financial obligations of the tenancy. Exempting him from the minimum income requirement would not have imposed undue financial and administrative burdens on the landlord—and was thus a reasonable accommodation that, according to the U.S. Court of Appeals for the Ninth Circuit, "should have been honored."
While the Giebeler case demonstrates how the right to reasonable accommodations may enable an applicant to overcome a denial of admission based on a disability-related failure to meet financial criteria, another recent case demonstrates how reasonable accommodations may assist an applicant in challenging a denial of admission predicated on criminal history.
In Simmons v. T.M. Associates Management, a rental property denied admission to a man with a conviction for indecent exposure—a crime that occurred when he removed his clothing in a public place due to a mental health break. The applicant had subsequently received treatment and his condition had stabilized, rendering unlikely the possibility that he would engage in similar conduct were he admitted to the property.
Notably, the Simmons court declined to follow a decision from a 2009 case, Evans v. UDR, Inc., in which a housing provider had denied admission to a recovering drug addict based on a drug-related criminal conviction. Though active drug use is not a qualifying disability for Fair Housing Act purposes, a history of drug addiction from which a person has recovered, is. Since the applicant in Evans had rehabilitated from her addiction, future drug-related crimes were unlikely and the landlord probably should have been obligated to overlook her criminal history as a reasonable accommodation. But despite acknowledging the applicant had presented "some compelling arguments," the Evans court ultimately decided that denial of housing for past disability-related criminal acts, even if unlikely to be repeated, was "not the sort of 'practical impact' of a disability" that the Fair Housing Act was intended to protect against.  The Simmons court recognized the error of this conclusion, noting that the Evans reasoning "runs headlong into Congress's effort to 'repudiate the use of stereotypes and ignorance' and reliance on 'generalized perceptions about disabilities and unfounded speculations about threats to safety.'"
The Fair Housing Act provides no protection from denials based on convictions for illegal manufacture or distribution of a controlled substance, and the duty to make reasonable accommodations does not require landlords to accept a tenant who would directly threaten the health, safety, or property of others. Beyond these narrow exceptions, however, the Simmons case demonstrates the same logic that should apply any time a rental applicant is denied for disability-related criminal history: if the condition that caused the criminal behavior has been addressed such that the behavior is unlikely to recur, then a housing provider should overlook the criminal history as a reasonable accommodation. Whether future courts extend this reasoning to more serious crimes remains to be seen.
While cases like Giebeler and Simmons show how reasonable accommodations can be used to overcome substantive admission barriers such as credit requirements and criminal history policies, reasonable accommodations can also be crucial in addressing procedural impediments to housing access as well.  An excellent example comes from the recent case of Arroyo v. Corelogic Rental Property Solutions, LLC.
Carmen Arroyo was denied permission to move her disabled son into her apartment in 2015. She had become her son's court-appointed conservator and caretaker after an accident left him unable to speak, walk, or care for himself, and planned to move him into her own apartment upon discharge from the nursing home. Her landlord denied permission after a computer-generated report from a tenant screening company, Corelogic Rental Property Solutions LLC, determined Ms. Arroyo's son had a disqualifying criminal record.
Like the applicants who were initially rejected in the Giebeler and Simmons cases, Ms. Arroyo also wanted her landlord to reconsider the denial of her son's application. To formulate that request, she asked Corelogic for a copy of her son's background report—the disclosure of which is required under federal law. But Corelogic refused to provide her the report, citing a requirement that she hold "power of attorney" authorizing her to receive her son's background report.
Because of his disabilities, Ms. Arroyo's son was not able to request the Corelogic report himself or grant his mother a power of attorney to obtain it. But as his conservator, Ms. Arroyo already had even more authority over her son's legal affairs than a power of attorney would have carried—including the authority to request and obtain a copy of his Corelogic report. She subsequently asked Corelogic to make a reasonable accommodation in its file disclosure policy to enable her to receive the disclosures.  Corelogic refused, ultimately arguing that the Fair Housing Act did not apply to the file disclosure practices of background check companies (and thus that Corelogic had no duty to make reasonable accommodations). The court rejected Corelogic's argument, however, finding that because the type of background information at issue was a tenant-screening report and because Ms. Arroyo sought the disclosures for use in trying to persuade her landlord to admit her son, the accommodation request had "a sufficiently close nexus to housing availability" that the Fair Housing Act did apply.
The Arroyo decision thus establishes that tenant-screening companies do have a duty to make reasonable accommodations for consumers who struggle, for disability-related reasons, to obtain copies of their background reports (at least when those disclosures are sought in connection with the pursuit of housing).  The same reasoning should extend to other interactions consumers may have with tenant-screening companies—such as disputing inaccurate or incomplete information, or placing fraud alerts where identity theft or other misuse of a consumer's information is suspected. 
While in the above cases litigation proved necessary to establish a rental applicant's right to reasonable accommodation, the laws surrounding such accommodations are generally designed to facilitate negotiated resolutions between the parties. A person doesn't need legal representation to request and obtain such an accommodation, and doesn't even need to use legal terms like "reasonable accommodation" or other seemingly magic words to properly present a request. This makes the right to seek reasonable accommodations a powerful tool in the service of advocates assisting persons with disabilities in obtaining suitable housing, and the legal precedents outlined above are expected to persuade more housing providers and tenant background check companies to consider future accommodation requests more seriously and grant them more readily.