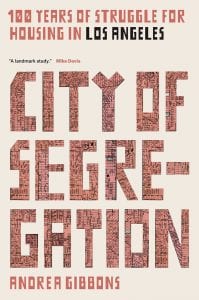 Critical history, the kind that focuses on systems of oppression and exploitation, can tell us a lot more about contemporary issues than economic theories or econometric studies. Andrea Gibbons' City of Segregation, published in the fall of 2018 by the radical publishing house Verso Books, is a perfect example, offering profound lessons on why empowering capitalist processes and actors is the last thing we should do to fight gentrification.
Gibbons, a former tenant organizer in Los Angeles, provides the deepest account yet of the struggle against white supremacist housing policies and practices in LA. She argues that real estate investors and developers today (overwhelmingly men) play the same role that they've always played—they segment and segregate. They deliberately create white, privileged spaces where property values are as high as possible. They reproduce and exacerbate racial hierarchies and extract enormous amounts of wealth. And they wield state and quasi-public power to violently remove and exclude poor people and people of color to get their profits.
But it's not just that these people are bad, motivated by greed, and willing to uproot lives to get their money (all true!). Ultimately, Gibbons shows that capitalist land ownership is the enabling system we must confront, in addition to a long history of violent and systemic white supremacy. Frankly, I can't imagine anyone reading this book and not concluding that reparations, at the local level specifically, are entirely necessary.
From a more mainstream policy perspective, deregulating land markets and allowing profit-seeking real estate developers and investors to go wild with investment in urban areas will not lessen gentrification, the displacement crisis, or the rapid whitening of our cities. Contrary to the declarations of neoliberal urbanists, these capitalist actors do not simply "build more housing" that will supposedly drive prices down for everyone.
In a book filled with penetrating insights, perhaps Gibbons' most brilliant one comes about two-thirds of the way through the book. She implores us to see the massive amounts of money being poured into urban real estate today as a continuation of the extremely profitable strategies that created segregated suburbs in the post-war boom: "Despite this spatial change in the direction of capital flows from suburb to center, the product has remained essentially the same—developers are still producing and selling social space, privilege, and happiness, which means that for the most part they are trying to sell 'white space.'" The implications of this connection for current debates about gentrification and the fight for just and inclusive cities are enormous.
The Beginnings of Segregation
Segregation's roots in Los Angeles trace back to when Anglo settlers conquered the indigenous populations of Southern California in the mid-1800s, violently taking the best land for themselves. The professionalized real estate industry, coming into its own after the turn of the 20th century, along with other associated business interests, then significantly deepened and institutionalized this foundation of white supremacy in the housing market.
The California State Realty Federation, the state's first formal organization of property owners, was created in 1905. Membership, of course, was restricted to whites. Twenty years later, not much had changed. In 1927 the Los Angeles Real Estate Board (LAREB) was firm in its recommendation that homes in white areas should have racially restrictive covenants—contractual agreements that prohibited a home's sale to non-Caucasians—and boasted that Santa Monica is "fortunate with deed-restricted property" and that "the only people of foreign races in Beverly Hills are servants."
Throughout the first half of the 20th century, local chambers of commerce in white neighborhoods across the region—Pasadena, Maywood, Compton, the San Fernando Valley, etc.—coordinated drives to blanket neighborhoods with racial covenants. Real estate brokers sued if they saw such contracts being broken. Charles and Edward Shattuck, two brothers who held leadership roles in LAREB and the California Real Estate Association, owned a company that handled 90 percent of all restrictive covenant procedures in Los Angeles.
Segregation was extraordinarily profitable, and deliberately driven by the real estate industry.
The Black community, confined to a narrow corridor south of Downtown LA, was resisting, in large part behind the bold leadership of Charlotta Bass, who for decades published the California Eagle, a radical newspaper. Their efforts, unfortunately, were ineffective against the powerful forces upholding white supremacy. In 1947 the Eagle reported that only 1 percent of all privately built housing in Los Angeles was available for African Americans. In 1962, that number was only 2 percent.
The Black community's organizing, combined with that of other communities across the country, finally seemed to pay off in 1948 when the Supreme Court ruled in Shelley v. Kraemer that racial covenants were unenforceable in courts of law.=
Another victory came in 1963 when the California State Legislature made discrimination illegal with the passage of the Rumford Act, a precursor to the 1968 Fair Housing Act (FHA). This progress was short-lived, however, as the real estate industry immediately organized to protect its profits. In 1964 the Rumford Act was overturned with the passage of Proposition 14, which amended California's constitution, making it illegal to limit the right of any property owner to sell or lease their properties as they wished.
As Laws Change, so Do Tactics
With the legal and political landscapes shifting, many neighborhoods increased their use of violence, as Eagle Rock did in the late 1940s and early 1950s, starting with cross-burnings and culminating in the bombing of the home of a Black family in 1952. The leaders of this campaign of terror: a white Realtor and a white apartment owner.
Gibbons explains how some of the worst violence in response to Black families attempting to move in occurred in wealthier neighborhoods, where white property owners had the most to lose economically.
The book's many maps illuminate the geography of white violence and the extensive presence of the KKK in Los Angeles County. They also show the exact boundaries of racially segregated areas through the years and the location of business improvement districts (BIDs) currently surrounding Skid Row in Downtown.
Another strategy to maintain segregation was using the complexity of the home-buying process to avoid selling to non-whites, even after the FHA prohibited discrimination by race. A multiyear campaign was launched by the Congress of Racial Equality (CORE) to desegregate an all-white subdivision in Torrance, but despite hundreds of arrests, there simply weren't the legal tools to force the developer to integrate his properties.
And then there was perhaps the main strategy identified by Gibbons: privatization. After the 1960s, there was an explosion of institutions like homeowner associations that allowed rich property owners strict control over access to their neighborhoods. By 1992, "150,000 [such] associations governed an estimated 32 million Americans [and] 11 percent of the housing stock."
Homeowners in all-white Torrance used their power to legally bar physical access to nonresidents demanding integration, just as Lisa Ehrlich's gated community today prevents Burlington tenants from showing up at her door to demand reasonable rents and humane living conditions. In 1950, the Pacific Palisades, where Ehrlich lives, was 98 percent white; today it's 89 percent white, and less than half a percent Black.
Creating Segregation in the 21st Century
This brings us to contemporary Downtown Los Angeles (DTLA), which has been flooded with real estate investment since the 1990s, just as the suburbs once were. The efforts to create segregated white spaces are as deliberate, if less explicit, in this age of color-blindness.
But today's processes are perhaps even more nefarious and harmful because they are occurring on top of existing dense communities, and thus entail the mass expulsion of poor people of color, rather than just their exclusion. We should also understand how it is precisely this history of exclusion and structural divestment that results in the cheap land that makes gentrification so profitable.
Gibbons provides a comprehensive look at how the largest property owners in DTLA have been organizing themselves since the early 1980s to get rid of the main barrier to even higher property values for the entire area: Skid Row, home to LA's largest concentrations of both unhoused people and extremely low-income residents who live in aging, single-room-occupancy hotels, and whose population is 72 percent Black.
Again we see organizations like the Central City Association lobbying city officials and planners to adopt measures that help the market destroy the low-income housing, and working with the police to aggressively criminalize and expel the unhoused population. As these institutions grew more powerful in the 1990s, when the city was too slow to react, the BIDs would take matters into their own hands. They created their own private security teams—initially carrying guns—to patrol the area. Property owners explicitly spoke of "taking back" Skid Row, and reappropriated the "rights" discourse of the 1960s by claiming a right to a Downtown devoid of poor Black people.
In 2006 this politicking culminated in the Safer Cities Initiative. Mayor Antonio Villaraigosa and the LAPD devoted 50 additional police officers, at a cost of $6 million per year, to an 0.85 square-mile area encompassing Skid Row. About 18,000 arrests were made in the first two years alone. An LAPD representative explicitly stated that the "intention is to create displacement."
Today, these strategies continue unabated. Capitalist processes downtown and beyond ensure that housing prices in communities of color continue to skyrocket. Mayor Eric Garcetti has doubled down on his predecessor's criminalizing of homelessness; the LAPD arrested 14,000 unhoused people in 2016, which amounts to 50 arrests a day.
In addition to some analysis of how gentrification operates in Los Angeles outside of Skid Row—in places like Boyle Heights, Echo Park, South Central, etc.—perhaps the only history I would add to Gibbons' account is that of the nascent YIMBY (Yes In My Back Yard) "movement." In the last chapter, Gibbons explains how neoliberalism has "rearticulate[d] a desire and strategy to preserve spatial and racial privilege with an ideology able to justify it in non-racialized terms." The YIMBYs' "all housing matters" approach, hailing "inclusion" as they advocate for market-rate housing construction in gentrifying neighborhoods, mirrors the tactics described by Gibbons where reactionary forces effectively reappropriate the language of the left. As the real estate industry catches on to the political utility of the YIMBYs, whitening investment will increasingly be laundered by progressive rhetoric.
Thankfully, organizations like the Los Angeles Community Action Network, whose history of bold activism for and with Skid Row's residents is chronicled in great detail in Gibbons' book, are still around. And they're being joined by newer and equally militant groups like the LA Tenants Union and the Democratic Socialists of America.
For the foreseeable future, Los Angeles, like many regions across the country, will continue to resegregate by race and class, now with the poor being pushed out of central cities and into distant suburbs. But there's a rising movement fighting back.