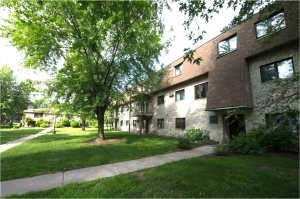 Making housing in high-opportunity neighborhoods affordable and accessible to low-income households and families of color is an essential strategy for expanding access to opportunity. Recent research shows that low-income children whose families move to better neighborhoods experience higher college attendance, health benefits, larger earning gains as adults, and other indicators of economic mobility compared to children who remain in high-poverty communities.
But owners and developers of affordable housing are stymied by high-property values in these neighborhoods. Across the nation's 100 largest metro areas, housing located near high-scoring public schools costs an average of 2.4 times more than housing near a low-scoring public school. As a result, high-opportunity neighborhoods, and the benefits associated within living in them, remain out of reach for many low-income families.
To address this, innovative models of housing acquisition are beginning to emerge, with a focus on increasing access to high-opportunity neighborhoods for low-income households.
Using existing tools of affordable housing finance and focusing on affordable housing supply, these initiatives provide pathways to mobility and create affordable housing by acquiring existing market-rate housing in areas of high opportunity. These models offer a number of practical benefits:
They address the shortage of mixed-income housing in many communities, helping to diversify neighborhoods and schools.
They provide a direct conduit for voucher holders to access properties in high-opportunity areas.
They make use of existing buildings (avoiding the need to gain neighborhood approval for construction or zoning changes).
We at the National Housing Trust (NHT) have developed a new model, called High Opportunity Partner Engagement (HOPE), to acquire multifamily properties that currently have no affordability restrictions in communities with high-quality public schools and make a portion of them affordable to very low-income families.
Partnering with local organizations in communities across the country, NHT is identifying, bidding on, and acquiring market-rate, multifamily rental properties that provide access to quality education. Then we're working with public housing agencies to introduce households with Housing Choice Vouchers in 20 percent of the apartments. The goal is to design and implement a financially feasible and sustainable approach to creating new mixed-income housing.
Recognizing that quality education significantly impacts a child's future success, the HOPE model is specifically focusing on making its acquisitions in places where the primary elementary school serving those properties meets the following criteria:
Ranks 7 or above, meaning "good" or excellent" on the Great Schools index.
Outperforms its peers in at least two of the following three subject areas: math, reading, and science (as reported by GreatSchools).
Appears in the top quartile of the relevant state's ranking of all elementary schools.
In addition to being near high-performing schools, we prioritize properties consisting primarily of family sized units that require minimum rehabilitation.
In July 2017, NHT and HOPE partner CommonBond Communities acquired Pine Point Apartments, a 67-unit unrestricted property in Coon Rapids, Minnesota. This $6.8 million project includes a $1 million renovation with a focus on unit and common area enhancements. Importantly, Pine Point is served by Hoover Elementary School. Students of all economic levels who attend Hoover Elementary outperform their peers in the state in math, reading, and science. We have been phasing new low-income tenants with vouchers in to Pine Point. It is well on track to have 20 percent of units occupied by low-income families by July 2019.
NHT's success at Pine Point, and the success of any developer wanting to provide opportunity to low-income families through a similar approach, depends on a local partner. Local partners offer on-the-ground knowledge of local housing market conditions that can help identify and ultimately acquire a property, while their existing relationships with local public housing authorities can facilitate leasing to low-income families with vouchers.
While HOPE promotes NHT's mission of providing low-income individuals and families with access to opportunity via housing, it is also a successful housing finance model. Properties that fit within the HOPE model are not just those that provide access to good schools, they are properties on which it is economically feasible to meet the market-rate acquisition price based on allowable voucher rents.
The possibility that voucher rents may not be comparable to market rents is a risk in many areas. NHT is reducing this risk by identifying properties in areas where the voucher rents equal market rents, including areas that have moved to higher Small Area Fair Market Rents (SAFMRs). Recently implemented by HUD in 24 metropolitan areas (with the potential for other areas to adopt them voluntarily), SAFMRs recognize the higher rents of some neighborhoods, result in higher payment standards for vouchers in higher-cost areas, and thus increase the number of homes economically feasible for acquisition through the HOPE model.
If housing acquisition programs that create low-income housing options in quality neighborhoods are well-designed and executed, they can be a powerful way to create access to opportunity. The Poverty & Race Research Action Council (PRRAC) is collaborating with NHT to document and disseminate property acquisition strategies such as HOPE that create high-opportunity, mixed-income housing. We believe approaches like these are more important than ever as affordable housing and access to opportunity are increasingly limited, and welcome questions and the sharing of new ideas.