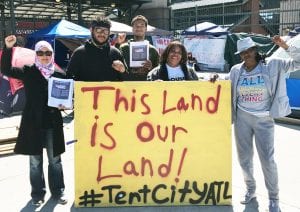 When anything goes wrong in a city, policymakers all too often want to move Black people around, asserted Mindy Fullilove, a clinical psychiatrist at the New School, to an audience at a 2015 conference on equitable development in Washington, D.C.
This has certainly been the formula in the District, going back at least to the redevelopment (what we would today call gentrification and serial displacement) of the Georgetown neighborhood in the 1940s, Foggy Bottom in the 1950s, several Capitol Hill and other Northwest D.C. neighborhoods in the 1970s and 1980s, and today in areas ranging from Shaw to H Street NE and even Anacostia. The proposed conversion of Barry Farm to a mixed-income development, resulting in a loss of 400 affordable housing units despite protests from many residents, is just the latest in a long line of initiatives presumably aimed at revitalizing distressed neighborhoods.
But as Chester Hartman, a prominent urban planner and the first executive director of the Poverty & Race Research Action Council, has often asserted, families have the right to stay put. They have the right to remain in the neighborhoods where their families have resided for decades, if not generations, with access to good schools, safe streets, healthy food, and other public services and private amenities that newcomers to these communities anticipate.
This does not deny the realities of racial segregation, poverty, and uneven development that have long plagued neighborhoods in the District and every other major city in the United States. The costs are real. Residents of lower-income communities, and particularly those with high concentrations of nonwhite populations, have shorter life expectancies and reduced access to good schools; they also are exposed to higher crime rates. This is not by accident. In a 2012 national housing discrimination study, the Department of Housing and Urban Development and the Urban Institute found that white families were told about and shown more homes than African Americans or Latinos, increasing the home search cost for minorities. Steering and exclusionary zoning laws continue to segregate neighborhoods by race and class.
There is new wine in these old bottles. Alleged discrimination on the part of Airbnb, Facebook and other social media—with some homeseekers losing out because of stereotyped ethnic associations with their names and the sound of their voices—has been added to the panoply of traditional discriminatory housing practices.
The D.C. suburbs are much more diverse, but, as Brown University sociologist John Logan has shown, suburban communities are reaching segregation levels that long characterized central cities. Suburbs do not necessarily reflect upward mobility but rather the unaffordability of and displacement from many urban neighborhoods.
The costs of such uneven development are clear in the District. The DC Fiscal Policy Institute reported that in 2016, 24.7 percent of all workers earned less than $15 an hour, far below the $32.50 that the MIT Living Wage Calculator indicates is required to adequately provide for a D.C. family of one adult and two children. The Black median household income of $38,000 in 2016 was just 30 percent of the $126,000 median for white households. Black poverty that year reached 28 percent versus 18.6 percent for all residents. The unemployment rate in predominantly Black wards 7 and 8 was 10.6 percent and 13 percent, respectively, compared with 4.2 percent and 3.9 percent in predominantly white wards 2 and 3. Perhaps most striking, in 2013 and 2014, the typical white household in the District held 81 times the wealth of the typical African-American household ($284,000/$3,500) and 22 times the wealth of the typical Latino family ($13,000).
There is much work to be done, but the solution is not simply to move people around. A key challenge is creating real choice. Families that want to move to communities traditionally denied to them should have the opportunity to do so, and the full force of the nation's fair housing laws should make this a reality. Those who want to stay put should have the same access to public services and private amenities that middle-class families have long taken for granted. Current development priorities in the District will not realize either objective.
Development remains dominated by financial incentives that privilege the privileged. As the DC Fiscal Policy Institute reported, the District provided $300 million in subsidies for the Southwest Waterfront development, marketed as the Wharf. Another $82 million in subsidies were offered for Union Market. But the subsidies for these playgrounds may be dwarfed by what is being offered to lure Amazon to open its second headquarters in the District. Unfortunately, key details of that proposal are not publicly available. (Amazon Founder and Chief Executive Jeffrey P. Bezos owns The Post.)
Different outcomes require different choices. There is no shortage of ideas. The District could decide to implement a far more effective inclusionary zoning law than is in place, pressure the federal government to provide more housing choice voucher certificates for urban and suburban communities, encourage legally enforceable community benefits agreements, invest in limited equity co-ops and housing and commercial land trusts for longtime residents, encourage lenders to make more shared equity mortgage loans, and enforce stronger local hiring preferences and ensure living wages in local development projects. Perhaps most important would be ensuring that neighborhood residents affected by community development initiatives are engaged at all stages.
The District has some of the more progressive resident and tenant protection laws in the country. Its rent control provisions, the Tenant Opportunity to Purchase Act, the District Opportunity to Purchase Act and more reflect successful organizing efforts of the past to preserve affordable housing units. But more is required, and the outlines of at least some of the future organizing objectives are clear.
Segregation, poverty, and the policies that give rise to these outcomes have long been contentious. Uneven development is not the result of inevitable or natural events or the outcome of free market forces. Resolution of the Barry Farm disputes will be no exception. Competing perspectives and interests and the decisions that follow will determine the outcome for this project and for future projects.
One conclusion is fairly certain. As is often stated, if you are not at the table, you are likely to be on the menu.
A version of this article originally appeared in The Washington Post.