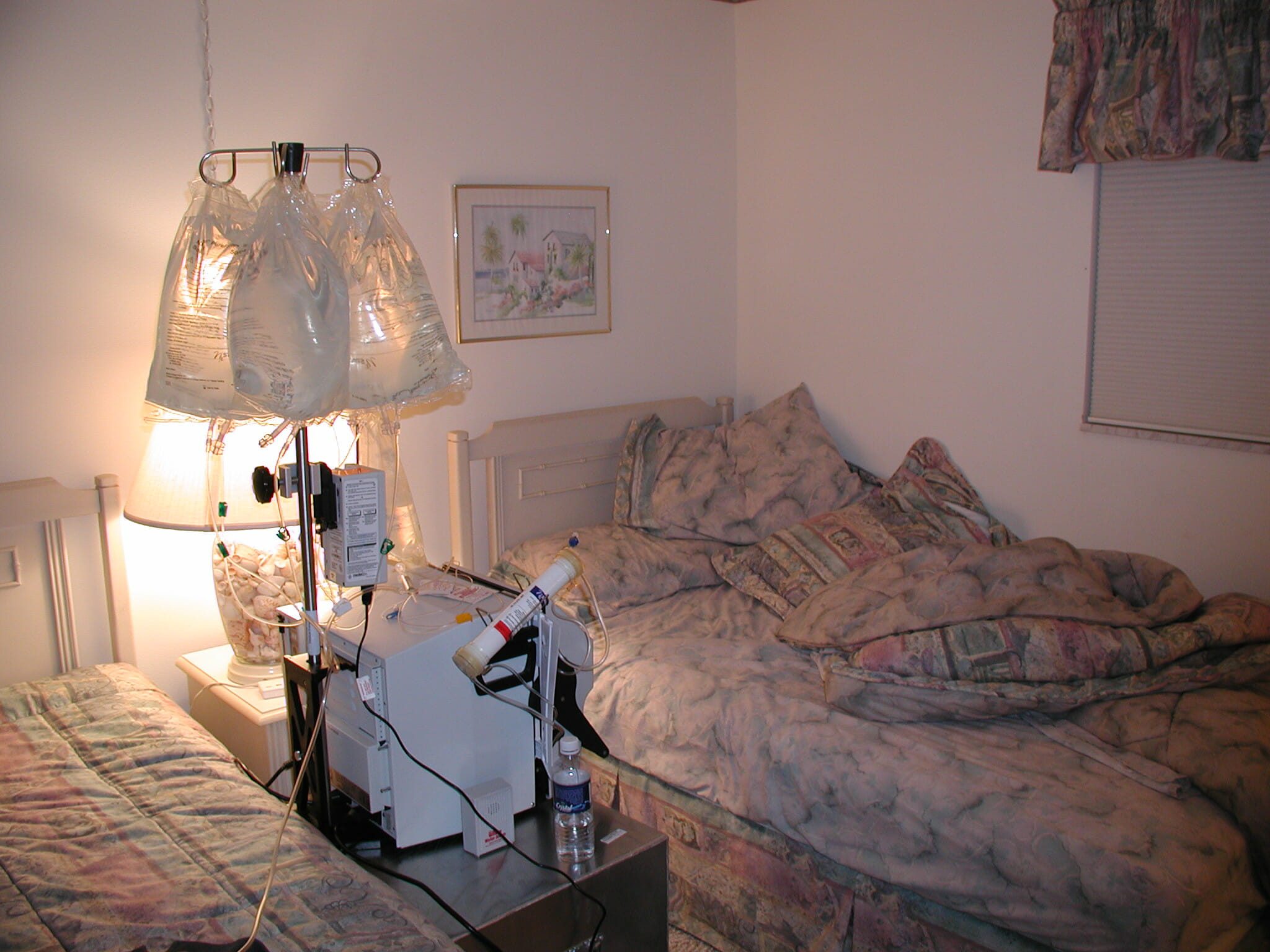 When was the last time you lost power in your house? How many seconds did it take before your mind started to race? Where is the flashlight? How will I cook dinner? Will I have to throw out all the groceries in the fridge? How do I keep the kids warm? How long will this last?
Last fall's hurricanes affected thousands of Americans and forced them to live without electricity and other essential services for months in some cases. In Puerto Rico, the health and death tolls are still being tallied. A little digging reveals that the island's problems are intense—especially for people who have chronic illnesses. A resident of Puerto Rico recently told The Guardian, "There are people I know still dying from having no electricity, people who need medical machines in hospitals."
An estimated 16 million low-income  households in the United States struggle with energy insecurity.
On the mainland, we can (thankfully) expect that our hospitals will have electricity. But, for people who deal with chronic illnesses at home, there is no guarantee the power will stay on. A significant amount of academic and government research has shown how to identify people who require electric-powered medical devices and help them during power outages. What gets less attention is how to help those same people when they are unable to pay their utility bills and face termination of service. Recent estimates suggest that at least 685,000 people in the United States use medical devices that require electricity.
Utility Access and the Social Determinants of Health
The social determinants of health (SDOH) are all of the factors in a person's life that affect their health, but are not strictly medical. These factors include housing and neighborhood conditions, education, employment, social supports, and more. Professionals in these fields and health researchers have documented the impact of social factors on health outcomes, and they work outside traditional professional boundaries to learn how other systems work, and to do what it takes to help their patients address complex needs. In addition, lawyers and medical professionals who work together in medical-legal partnerships respond to the overlapping needs.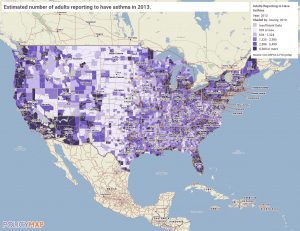 Diana Hernández, assistant professor at Columbia University's Mailman School of Public Health, has done extensive research on the importance of having access to utilities. Her journey to this work came from participating in a medical-legal partnership in Boston. Hernández says housing was a challenge for many patients, but after doing some site visits, she came to the realization that utility access was a key piece of that challenge.
Hernández is one of a small number of researchers who are looking at the effects of energy insecurity on low-income populations. She is both elevating the issue and giving us the language we need to better understand the challenges and opportunities. Complementing the rule of thumb that a household should not spend more than 10 percent of its income on utilities, Hernández defines energy insecurity as, "an inability to adequately meet basic household energy needs." According to her research, an estimated 16 million low-income households in the United States struggle with energy insecurity.
Hernández has developed a conceptual framework for understanding the three dimensions of energy insecurity. Economic energy insecurity refers the financial hardship associated with paying for utilities and managing on a limited budget; physical energy insecurity refers to the physical deficiencies and inefficiencies that may arise from not being able to maintain and upgrade the mechanical elements related to energy, like functional heating and cooling systems, poor insulation, and dated appliances; and behavioral energy insecurity refers to the variety of strategies people resort to as they deal with the consequences of economic and physical energy insecurity. These lead to adverse social, health, and environmental consequences such as thermal discomfort, the disruption of family routines during a shut-off, and psychosocial stress.
According to Hernández, "energy insecurity acts as a mediator in the poor housing to poor health continuum." The negative health impacts of energy insecurity are staggering. According to the American Academy of Pediatrics, "Children are less able to regulate their body temperature compared with adults. As a result, children are more likely to develop significant health effects when they are exposed to environmental temperature extremes."
Children who live in energy insecure homes are hospitalized more often and they have more developmental problems than their peers. There is also evidence that energy insecurity contributes to chronic stress and increased mental health disorders. It can also lead to involuntary displacement, which adds another layer of cost and disruption.
And, as with housing conditions and poverty more broadly, some populations are more at risk for energy insecurity. Closeness to the poverty line, race, and immigration status are all linked to increased rates of energy insecurity, according to the National Center for Children in Poverty. In addition, racial segregation has been linked to worse housing conditions and increased risk of not being able to afford utilities.
Energy Insecurity for Chronically Ill, Low-Income Households
While there are significant harmful effects from energy insecurity for all who experience it, the risks to those who are seriously or chronically ill can be extreme. People who need to refrigerate medicines, and those who are vulnerable to temperature extremes could be considered energy dependent. Many people rely on electricity-powered medical devices, like ventilators, nebulizers, oxygen concentrators, and dialysis machines.
There is no national database or comprehensive estimate of the number of people who use electricity-dependent medical devices at home. One 2012 estimate suggests that nearly 400,000 people with employer-sponsored insurance were using ventilators at home. A 2009 article estimated that 2 million people use home oxygen machines, and cited a number of other devices that require electricity to operate—IV and nutrition pumps, CPAP breathing masks, and heart pumps.
While the exact numbers are unknown, what is clear is that the number of people using electricity-dependent medical devices at home has been increasing, and is expected to continue to rise. "The aging of the U.S. population and shifts toward shorter hospital stays continue to make home health care more common. With these trends, a significant number of medical devices, including infusion pumps, ventilators, and wound care therapies, are now being used in the home," according to the Center for Devices and Radiological Health and the U.S. Food and Drug Administration.
The Financial Impact of Cancer
Families who have been affected by cancer are at risk of losing their jobs while they are also trying to pay the extremely high costs of treating the condition. According to a report on the financial impacts of cancer on families, Family Reach, "Cancer patients and their families pay about $4 billion a year for out-of-pocket costs associated with treatment, and the financial effects on families can be toxic." High costs associated with cancer treatment have "wide-ranging social and clinical consequences including reduced quality of life, increased psychosocial hardship, poorer treatment adherence, and decreased survival," according to Family Reach.
A study released in 2017 found that of breast cancer patients, those who were low-wage workers were the most likely to lose their jobs during cancer treatment. "Between 20 and 30 percent of women diagnosed with breast cancer will lose their jobs . . . endangering their financial security as well as their insurance coverage. But the risk is heavily biased: Poor women are four times more likely to be jobless by the end of treatment than their better-off peers," according to Stat. Only 60 percent of low-income, Medicaid-insured breast cancer survivors were still employed three years later. In addition, "immigrant and minority workers are less likely to be employed in accommodating settings or to have benefits such a sick leave." Perhaps not coincidentally, African-American women tend to have worse breast cancer outcomes than other racial groups.
Medical Certificates: A Safety Valve?
The National Consumer Law Center has created summaries of state provisions that either delay or prohibit utility termination for people who are sick. A review of the summaries shows that most states have some medical certificate process. The provisions are broadly similar, with significant differences in the details.
Most states delay termination of utilities for a household when a medical professional can tell the utility company that a member of that household either has a serious medical condition, or that terminating the utilities will significantly affect their health. Several states also provide protections for households with young children.
The broad contours of the process are also similar across the country:
The utility customer has to talk with their medical provider to get a certificate.
The medical professional has to have a process in place for handling these requests.
The medical professional has to notify the utility company, which has to receive the notification.
The utility company has to do the right thing.
Simple? Only on paper. This requires at least four steps and three different people to do the right thing, often in a short time. Handoffs are hard enough when people are on the same team. When they are at different organizations with different priorities and motivations, it can become extremely difficult. A utility customer may be too sick or preoccupied to take immediate steps to avoid service cutoff. Medical professionals may neglect to send the certificate. The utility company may not receive the request. The person assigned the case at the utility company may not be familiar enough with the rules to do the right thing.
For instance, in 2015 a Michigan man died of hypothermia in his home after his utilities were shut off. He may have been eligible for medical-related assistance, but allegedly did not file the appropriate paperwork. That same year, a Texas man died after the electricity in his home was shut off and he was unable to use his oxygen concentrator. He had a past-due balance of less than $130. In 2017, a Pennsylvania man fought to keep the electricity on for his wife's life-sustaining equipment. Eventually, anonymous donors helped the family pay the balance of the overdue utility bill.
In Pennsylvania, a medical professional must submit certification that shows their patient has a medical need in order keep their utilities connected. If the person pays the new monthly bill (existing past-due amounts are not required to be paid during this period) the certificate can be renewed for another 30 days. It does not matter what your condition is—a person who has cancer and is undergoing chemotherapy, or someone on a ventilator, must still file for a new certificate every 30 days.
Data gathered from the 2017 Medical Certificate Reports of the 10 largest utility companies in Pennsylvania indicate that approximately 70,000 medical certificates were issued in 2017. Each of these 70,000 certificates could be a new request or a renewal—we simply don't know. In addition to not knowing how many households get medical certificates in a year, we also don't have a good sense of the number of households that are eligible for this service. Getting a better handle on both of these elements would improve our ability to understand how the current system works and where there may be gaps. However, the limited quantitative data coupled with anecdotal reports suggests that medical certificates are underutilized across Pennsylvania.
In addition, customers don't always understand their options. Social service providers in Pennsylvania have reported that utility companies have given them incorrect information about how medical certificates work. For instance, a provider for families affected by cancer in Pennsylvania works with a utility company that limits medical certificates to one per year for a period of 60 days. Similarly, a social worker from central Pennsylvania said another utility company imposes a lifetime limit for medical certificates. In Philadelphia, a utility company told customers that they are limited to three medical certificates for the life of their accounts. A medical-legal partnership in suburban Philadelphia said there are recurring issues with utility company representatives providing incorrect information to their clients, including limits on medical certificate utilization that do not exist and failing to tell customers that they can pay their current monthly amount and renew the certificate for another month.
Another significant challenge is the wide variation in how medical professionals respond to requests for medical certificates. There are at least three large medical systems in Pennsylvania that have instructed staff members not to write medical certificates. It is unclear why these medical systems made that choice. The wide latitude given to medical professionals concerning when they should complete a medical certificate is a challenge. The deference to medical professionals is appropriate, but the lack of definition can create conflict or paralysis. One model for how to address the ambiguity is for medical providers to create an internal list of conditions for which medical certificates are appropriate. This model has been employed at St. Christopher's Hospital for Children in North Philadelphia, the site of a medical-legal partnership with a doctor who has a strong interest in the social determinants of health. The hospital instituted a screening process to uncover utility issues that families might have, and adopted standardized criteria for writing medical certificates. Conditions for which medical certificates should be written upon request include asthma; having a child under the age of 2 in the home; chronic medical conditions like heart disease, diabetes, immunodeficiency and/or chronic immunosuppressive, oncology conditions, and sickle cell disease; special-needs patients; and acute conditions that lead to temporary disabilities (such as pneumonia).
Advocates at The Utility Reform Network (TURN) in California, are working to change the law there—in part to loosen the requirements about who can make a certification. TURN has raised the issue of lack of access to a doctor. In California, only one in five people have regular access to a doctor.
What Are Housers to Do?
There are already untold numbers of low-income people who have chronic illnesses and live at home. A nontrivial number of them likely struggle with energy insecurity. While most states have some policies in place to help customers avoid termination of utility services, the protections do not appear adequate. Given that we are expecting an increase in the number of elderly people in the United States at the same time that federal and state health initiatives are working to keep people out of institutions and in the community, this problem will only continue to grow.
There is undoubtedly a cost element driving much of what is happening in the medical world—especially in Medicaid. There are many reasons for allowing people to live at home, rather than in institutional settings. But the focus shouldn't solely be about a hospital's cost savings. For instance, according to a 2012 report in Respiratory Health, "the preferred location for long-term mechanical ventilation is in the home, because costs are reduced (hospital costs $21,570, home care costs $7,050, dollar savings per patient, per month $14,520)." How much household labor is given for "free" that would have been provided by a medical professional in an institutional setting? What does it cost a household to operate a ventilator at home?
Medicaid won't pay for utilities, though customers can sometimes get funds for a utility deposit, at least in Pennsylvania. Given the push to keep people with serious conditions living in their own community, including large numbers who are reliant on medical devices, and the expected increase in the number of elderly in the country, it seems like now is a good time to revisit the issue.
Housers can help move the needle. Make utilities a key part of the discussion when you talk about housing and housing affordability, especially when you talk to health partners. Utilities are, after all, part of housing affordability.