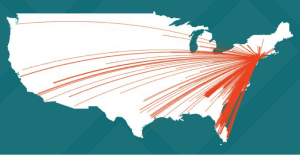 East New York has historically been one of the most affordable neighborhoods in New York City. But an influx of wealthier newcomers and rising prices citywide is beginning to change that. Labeled the "last frontier" by real estate investors, threats of gentrification and displacement loom, and longtime homeowners and tenants face increasing uncertainty.
At the Center for NYC Neighborhoods, a nonprofit that protects and promotes affordable homeownership, we spent the last year analyzing mobility trends among East New York homeowners in foreclosure. Home to tens of thousands of Black and Hispanic working- and middle-class homeowners, the community continues to be battered by the 2008 foreclosure crisis. Its legacy is still felt today, with roughly a quarter of homeowners at least 90 days late on their mortgage payments in 2014. Our findings demonstrate the role foreclosure plays in helping to feed the cycle of neighborhood change and displacement.
By analyzing U.S. Postal Service and sales data, we found that homeowners with mortgage distress who stayed within New York City tended to become renters, contributing to an already saturated rental market in the few remaining affordable neighborhoods. We also found that homeowners who left New York City tended to move to places with more affordable housing, but at the cost of access to jobs, higher transportation prices, and reduced economic mobility.
Why Study Mobility Patterns?
In East New York—as in other urban neighborhoods throughout the country—anecdotes abound about families being displaced from their homes by the two parallel crises of the past decade: the foreclosure crisis and the rental housing affordability crisis.
Yet, in spite of on-the-ground observations, "displacement" is a loaded word for some researchers and policymakers. Some of them maintain that displacement caused by gentrification doesn't exist, or if it does, its effects are minimal. However, a growing body of evidence indicates that displacement is, in fact, occurring, at least in so-called "superstar" cities like New York City and San Francisco, which attract high-skilled workers in growing fields like tech and finance, and where demand for housing in the urban core exceeds supply.
Yet little evidence exists regarding who is being displaced, where they are going, and what role financially vulnerable homeowners have in the displacement phenomenon. We sought to begin to fill these gaps by looking at East New York residents who left their homes between 2012 and 2016, focusing on homeowners who were facing foreclosure at the time they moved.
To analyze mover trends, we relied on United States Postal Service change-of-address data along with legal records and public sales data. We compiled the names and addresses of 1,699 homeowners who had foreclosure proceedings initiated against them since 2012, as well as smaller control groups of homeowners who were not in mortgage distress when they moved, and renters in 1-to-4 unit homes. With this information, we identified where East New York residents relocated as well as the characteristics of their new neighborhoods. 
Homeowners Joined an Already-Saturated Rental Market
Two-thirds of the mortgage-distressed households we tracked became renters, most finding apartments in New York City neighborhoods with less costly housing than East New York. In doing so, they joined thousands of other renters who have been priced out of their homes as gentrification spreads from Manhattan into the outer boroughs of New York City.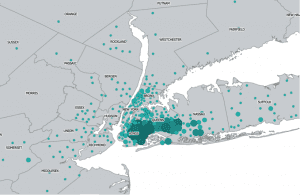 In Brooklyn, these flows of displaced homeowners and renters have a distinctive pattern: families are pushed from northern and central Brooklyn further and further east. For several years, East New York was the landing spot for low-income families priced out of trendy neighborhoods like Bedford-Stuyvesant, Williamsburg, and Fort Greene. But now East New York families are picking up and heading to the more affordable neighborhoods of East Flatbush and southeast Queens, where rents are somewhat lower—at least for now.
Seeking Housing Affordability, But At a Cost
Our analysis also found that over one-third of mortgage-distressed households left the city entirely. Some movers headed to the few New York City suburbs with affordable rental housing. Most of the rest moved to the suburbs of southern cities, particularly Atlanta and Orlando, confirming a trend in demographic patterns that has been observed for several years.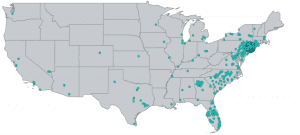 But moving to places with more affordable housing costs than New York City comes at the cost of proximity to jobs, transportation, and economic mobility.
Take Henry County, Georgia, for example. That was one of the main destinations for East New York movers, according to our research. Located on the edge of Atlanta's suburbs and exurbs, Henry County is one of the fastest-growing counties in the country. But while the area boasts significantly lower housing prices than East New York, its transportation costs are much higher and it has one of the lowest prospects for upward economic mobility in the country.
East New York as a Microcosm
Studying movers with mortgage distress raises a number of questions that require further inquiry. Only survey-based, follow-up research can truly determine the circumstances of each family, and future research should look to evaluate changes in the life circumstances of individuals after their move. Longitudinal research could help determine whether the moves were only stops on a journey, or long-term destinations.
While we focused on East New York, our findings speak to the experience of New Yorkers in many neighborhoods where the first tugs of gentrification are being felt. Because of its concentration of low-rise buildings and low-income residents of color, East New York offers a unique case study to understand trends affecting homeowners and tenants in small buildings across the city. It also can serve as a case study for other communities across the nation caught in the push-and-pull of the housing affordability crisis and gentrification.