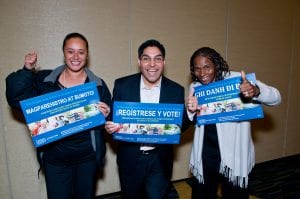 The demographics of Doug Jones's victory in the Alabama special Senate election were a resounding reminder that fighting against voter suppression tactics and supporting voting in communities of color and low-income communities–whether through registration, rides, or other support (all of which, if done in a nonpartisan way, is fine for 501(c)3s to do), really does make a difference. We've seen this time and again, whether with transit proposals or affordable housing bonds. Turnout matters.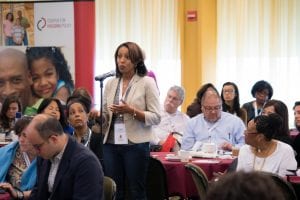 Twelve large housing developers have sent a letter calling on Congress as it considers the tax bill to preserve the Low-Income Housing Tax Credit; preserve the tax exemption for private activity bonds; and offset the impact of a lower corporate tax rate on Housing Credit investment. While we think these are good things, we notice that none of the signatories to that letter appear to be among the 2,500 groups who signed on to an earlier letter calling for any savings from Mortgage Interest Deduction reform to be directed toward affordable housing. That would seem like a no-brainer to organizations that build affordable housing. In the current climate, we really do need to consistently pull together for the good of the whole, not just the particular programs we use directly.
We're guessing that some payday loan companies may have shed a tear at Walmart's recent announcement that it will soon roll out a service that will offer employees the option of accessing their paychecks before scheduled pay days. Walmart has been working with fintech company Even on this for over a year, and in conjunction with another company named PayActiv, it will allow employees to withdraw up to 50 percent of their earnings between bi-weekly pay periods interest-free. In a statement, a company spokeswoman said, "Traditional approaches to workforce well-being often focus solely on physical health, but we know from listening to our associates that financial well-being is just as important." Arguments for an increased minimum wage aside, we know this policy will help many workers avoid the traps of payday loans and better manage the large dips in cash-flow that are commonplace with hourly work.
Another Obama-era policy has been reversed, and this time it has to do with home mortgages. Late last week, HUD announced that after only one year of insuring FHA mortgages that carry Property Assessed Clean Energy program (PACE) liens, it would cease doing this. The PACE loan program was established to help homeowners increase a home's energy efficiency, with repayment structured to be part of a property tax bill. In some states, however, the PACE loan repayment is prioritized over the actual mortgage, and HUD cited the potential for increased losses to the Mutual Mortgage Insurance Fund in cases of default as a reason for its decision. The other reason HUD cited, interestingly, was a concern over a "lack of consumer protections associated with the origination of the PACE assessment, which are far less comprehensive than that of traditional mortgage financing products." The irony of this administration's claiming concern over consumer protections—considering its silence on other consumer loan protections, attacks to Dodd-Frank, and threats to the CFPB—is not lost on us.
A new normal in America's rental market is emerging, as reported by the Joint Center for Housing Studies. In its newly-released report for 2017, JCHS paints a picture of nearly half of all renter households being cost-burdened (over 50 percent of income going to rent), and a market that is disproportionately stocked with high-end rentals and single-family homes, but little at the low to mid end. Along other findings, the report includes its suggestions for best addressing these realities and mitigating their ramifications for the housing market and beyond.
In not-so-great-news, we learned this week that for the first time in seven years, the homeless population has risen in the U.S. The increase is mostly due to a surge in homelessness in cities like Los Angeles, which had a 26 percent rise this year over 2016, and New York. But there is a silver lining: Veteran homelessness has gone down by 46 percent since 2010.
Is there a way we can provide housing for the homeless and save money? A Los Angeles program that houses those who are homeless and ill is doing just that. Housing for Health has saved taxpayers thousands of dollars in hospitalization costs, according to a three-year study, and more than offset the cost of housing. That's pretty great news, especially when you consider the fact that program participants also improved their mental health.
The Federal Home Loan Bank of San Francisco, which has awarded more than $880 million for the construction or rehabilitation of below-market-rate housing, contributed to the creation of nearly 120,000 new and rehabilitated housing units in the U.S. But that's not all. The grants contributed to the creation of 500,000 full-time jobs, more $76.5 billion in economic activity, and $26.6 in labor income. "For every $1 million in [Affordable Housing Program] funding, $86 million in total economic activity is generated." Talk about economic benefits.